About Me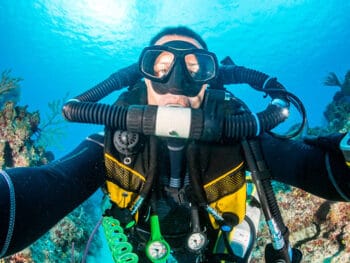 Hi! I am Scott Maldonado, and you are welcome to my website, DiveAeris.com. I've got an excellent flair for diving with abundant experience in this beautiful sport.
Having become a professional writer, I will be putting out several informational articles concerning diving with the ultimate goal of improving your diving.
A Little About Diving
Diving is a fascinating underwater activity that gives everybody the chance to connect with nature underwater. It requires special breathing equipment and wears (wetsuits, masks, and fins). People opt for diving for the recreational aspect, but it can also be for professional purposes.
Why Diving?
Diving is enjoyable and relaxing, giving divers an exciting feel that makes them raring to go again. Beyond that, it comes with several benefits, and if you are looking for some motivation, you should read further.
1. Connect With Nature
There is more to nature underwater. This is one of those factors that makes diving quite enjoyable. Literally, you get even closer to nature, allowing you to appreciate more about your environment.
You get to see a larger part of the marine life first hand, from uncommon fishes to several glitters underwater. All these are enough to liven your mood and promote your feelings. Interestingly, you can share or relive moments by capturing them on cameras.
2. Increases Muscle Strength and Body Flexibility
Diving is almost similar to swimming in the sense that you have to engage most of your body muscles. Moving around in the water requires some effort as you get to face water resistance and currents.
As you get involved in diving, you tend to build more muscle strength, body flexibility and also increase your endurance. Diving alone is almost similar to another fitness exercise.
3. Improves Blood Circulation and Lowers Blood Pressure
As you engage your muscles underwater, your blood circulation increases, and more oxygen is needed by your body. Regular diving sessions can boost your cardiovascular system and ensure efficient nutrient distribution to tissues.
Your heart and lungs work more and improve well enough to ensure a constant supply of energy. You are also at a lesser risk of developing heart attacks or strokes.
4. Aids Concentration and Relieves Stress
There is a refreshing and healing feeling associated with water. Diving goes beyond swimming underwater. You need to exercise your mental strength by concentrating on your balance and the marine environment.
While underwater, you also focus on your breathing, taking it deeply and slowly. This way, you relieve your body of stress and end up leaving the water in a calm state.
What Does Dive Aeris Provide?
Primarily, this website aims to provide every useful and legitimate information needed to help you improve your diving. At least, you would find this website extremely beneficial to your development (even as a beginner) while you also practice safely.
This website, DiveAeris.com, will not only hasten your development but also help you avoid any unnecessary spending. Hence, I will also be providing accurate and genuine reviews of several diving accessories.
Other informational articles on my website will be guides, how-tos, and useful tips, all related to diving. Therefore, you should expect a significant overall improvement in your diving with every regular interaction with my website.
Why Trust Dive Aeris?
You have every reason to trust my website; every piece of information posted on this website has undergone serious scrutiny to ascertain its validity. Hence, all that is left for you to do is decide what works for you and use them appropriately.
For better comprehension and accurate interpretation, all forms of technical words and other ambiguities will be avoided. You should expect all information to be well explained, understandable, and easy to make use of.
As a highly experienced diver, I will also be sharing some successful parts of my diving journey to speed up your comprehension. As a result, you can be sure of the genuineness of my articles.
Keep in Touch
I appreciate any questions, comments, and suggestions you may have concerning diving. Kindly direct every question, comment, or request through the contact page or via email at [email protected].
By mail:
1781 Gateway Avenue
Bakersfield, CA 93306
I am always available, and I will respond in a timely fashion. Happy diving!
Scott Maldonado