First, let's talk about where the Florida Keys are and what is special about them. They are a chain of tropical islands lying on the southern tip of Florida. The oases of Florida Keys are paradises for scuba diving, snorkeling, boating, and dolphin watching.
Colorful coral reefs and exotic marine life are the hidden gems of the underwater world in the Florida Keys, rendering them one of the fascinating destinations for scuba diving in South Florida!
There are five main areas in the Florida Keys: Key Largo, Key West, Islamorada, Marathon Key, and Lower Keys. These islands can be a perfect escape for your summer vacations! Scroll down to read more about underwater diving in the Florida Keys!
On Which Islands Can You Scuba Dive in the Florida Keys?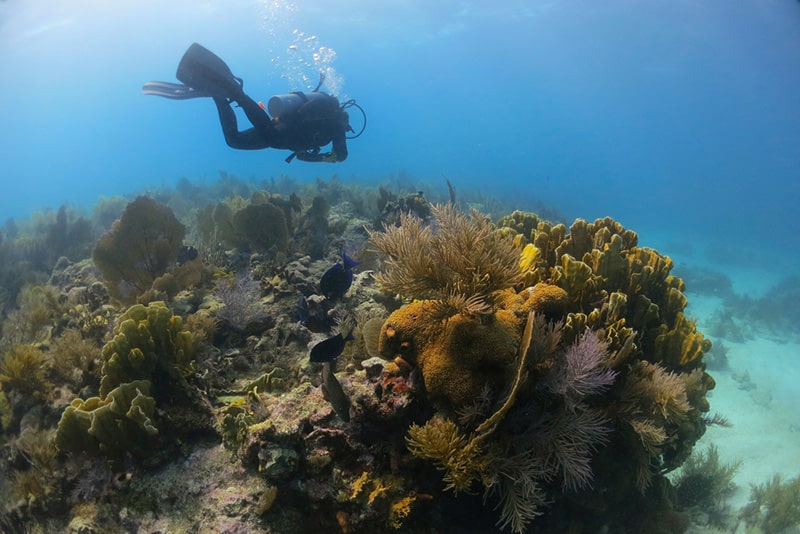 As you all know, the Florida Keys are famous for their diverse undersea biodiversity and perennial warm weather. These are the superb conditions for scuba diving and snorkeling. Therefore, the locals have always been exploiting watersports to attract tourism.
Thus, you can tell divers can access almost any Florida Keys island for a fabulous experience. It is because there are numerous spectacular dive sites stretching along this string of tropical oases.
Among all the exotic islands, Key Largo is perhaps the most popular destination for underwater diving. Many people across the world call it the "diving capital." Ergo, if you can only spend a couple of days in the Florida Keys, Key Largo is an optimum choice!
What's more, a fascinating fact is that the Florida Keys house the only living coral reef barriers in the United States! Hence, colorful fishes appear so regularly that you can catch sight of them at any time of the year.
More specifically, marine life highlights include bottlenose dolphins, West Indian manatee, green sea turtles, Cassiopea jellyfish, and lionfish. The Cassiopea jellyfish often hangs upside down and releases poisons, so remember to watch them from a safe distance.
Every island in the Florida Keys can offer unforgettable diving holidays for divers with different skill levels because many types of diving are available. For those who favor coral reef diving, it's a great idea to dive during the mini lobsters season!
Check the video below to understand the world under tropical islands better:
Top Most Spectacular Dive Sites in Florida Keys
When it comes to diving spots open to tourists in the Florida Keys, there might be hundreds of them. However, it will be an ideal initiative if you opt for some reputed sites for a more memorable diving adventure.
I will reckon some of the most popular dive sites in north-to-south order for you to visualize easily. Check my suggestions below now!
1. John Pennekamp (Key Largo)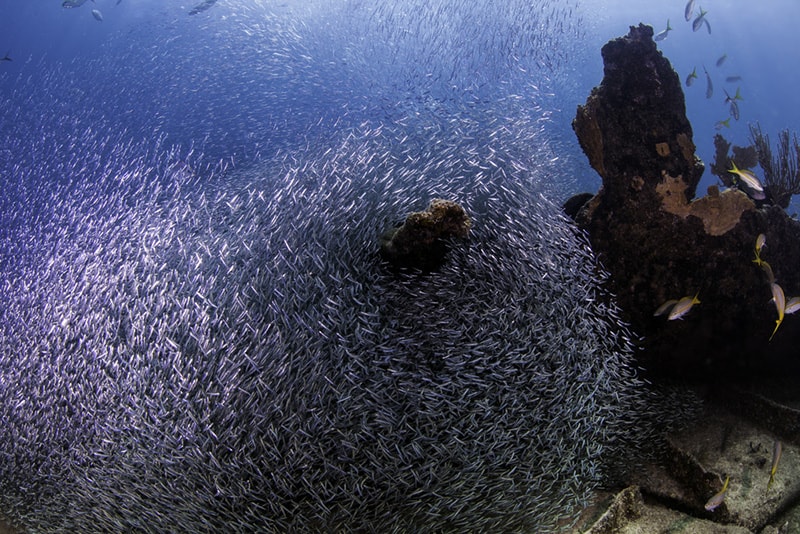 It will be a big mistake if you forget to visit John Pennekamp on your underwater diving trip. This park is a signature tourist attraction in Key Largo as it houses several extensive living coral reef systems and marine life!
The reefs themselves live and cater for different species of aquatic animals, hence offering scuba divers impressive underwater sights. Besides, there is also a Spanish shipwreck in the John Pennekamp Park, which attracts thousands of visitors across the globe.
Watch a short video about diving John Pennekamp with the link below:
=> Check out the best dive sites in Destin, Florida here!
2. Christ of Abyss (Key Largo)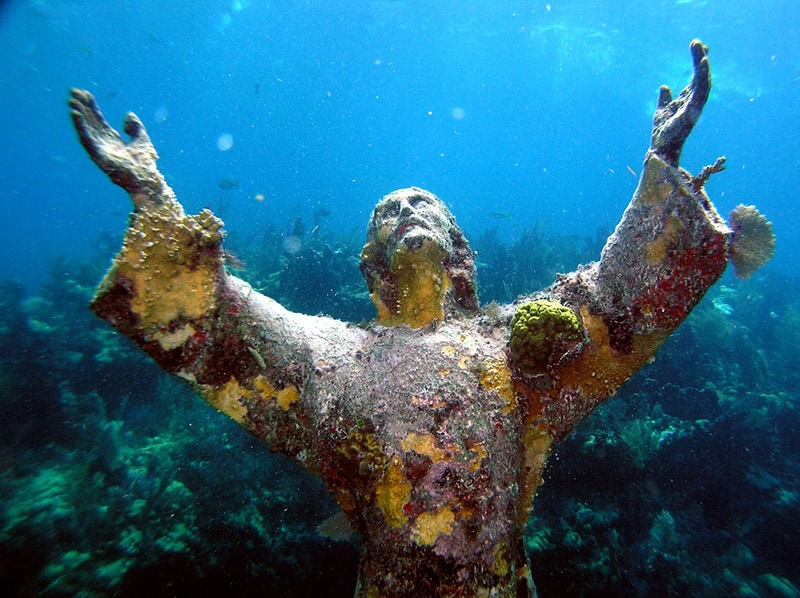 Another interesting dive site in this list is the Christ of Abyss. Its historical background is fascinating because the original purpose of this statue is not for recreational diving!
The Italian sculptor Guido Galletti made this sculpture out of bronze for Egidi Cressi – the first person ever to invent scuba diving equipment. In 1965, the statue was donated to the John Pennekamp Coral Reef Park to praise the American's conservation efforts.
Nowadays, Christ of Abyss has become one of the most popular diving and snorkeling spots on earth. Encrusted coral and sponge are home to enormous schools of fish. Eagle rays and southern stingrays are the most noticeable wildlife features at this site.
A diving enthusiast records a trip to Christ of Abyss with his Gopro:
=> Read on: Scuba Diving in Sarasota – The Unrivaled Guide in 2023
3. Molasses Reef (Key Largo)
Unlike other reefs in Florida, the complex of Molasses Reef is not confined to a specific area but stretches on the seafloor. In other words, this can be the most extensive coral system in the whole United States!
Not surprisingly, the species of coral reef are super diverse, making Molasses Reef an ideal home to several marine creatures. In particular, there are sponges, seaward sand chutes, star coral, and massive brain coral that form terrains such as ledges and caves for sea life to live in.
The most typical fishes include filefish, parrotfish, and angelfish. Furthermore, divers can also observe crabs, moray eels, lobsters, and different kinds of turtles. Larger animals like rays and nurse sharks also appear in the vicinity of Molasses Reef.
Enjoy a clip about shark diving at Molasses Reef with the link under:
=> Check out the completed guide to scuba dive in Venice, Florida here!
4. Sombrero Reef (Marathon Key)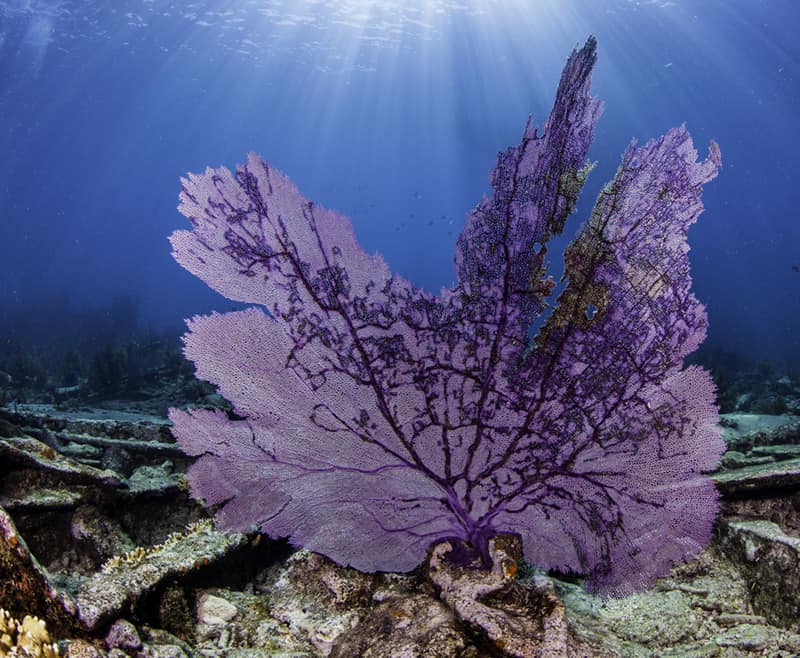 Sombrero Reef is eight miles off Key Colony Beach, so you can reach it on a boat trip. This site is well-known in Marathon Key. Therefore, there are many mooring pins and boats that help divers commute from and to the land.
The reef lies 30 feet underneath the water, adjacent to a 142-foot lighthouse. This dive site is truly a dynamic and vibrant aquatic community with brain corals, finger, lettuce, and gorgonians. Sea fans, rods, plumes, and sponges are also healthy with tons of different types.
Not only divergent fauna systems but also diverse marine species contribute to the breathtaking scenery at Sombrero Reef. Hiding in the groove and finger are rainbow parrotfish and spotfin butterflyfish. What's more, there are also neon gobies, Spanish hogfish, and damselfish.
Click the link under to watch a recorded adventure to the magical Sombrero Reef:
5. USS Wilkes-Barre (Key West)
The story about USS Wilkes-Barre is super fascinating as its adventure is truly a fantasy. This ship was built in 1942. During World War II, it was one of the Cleveland-class cruisers that served on the fierce battlefield.
Thirty years later, in 1972, people used the USS Wilkes-Barre to test underwater explosives. The ship ended up breaking into two separate pieces. Since then, it has become a popular dive site in the Florida Keys.
The ship is 608 feet long and lies 145 feet under the water. At this depth, divers can witness a wide variety of aquatic animals. There are manta rays, mahi-mahi, sailfish, grouper, amberjack, barracuda, sharks, and giant sperm whales.
A more straightforward look at the USS Wilkes-Barre is captured in the video below:
6. Duane Wreck (Islamorada)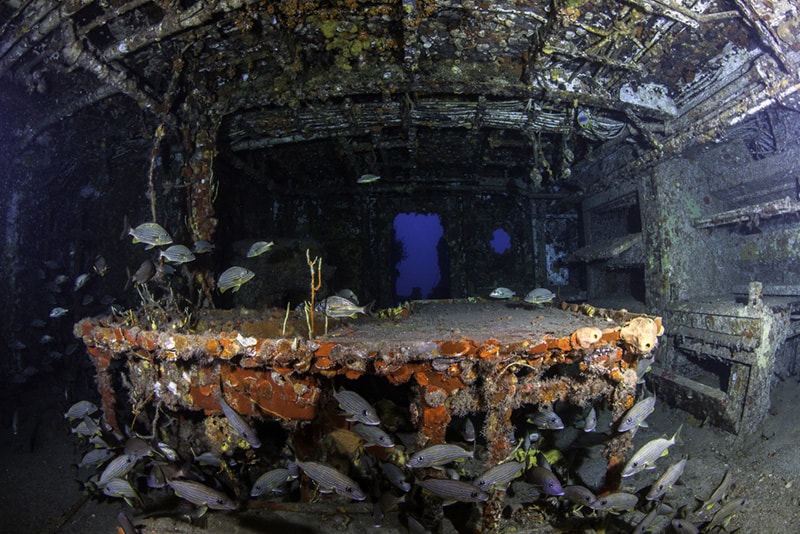 In 1987, people intentionally caused the USCG Cutter Duane to sink as an artificial reef to conserve marine life. The ship is extra-large, about 327 feet long. Divers usually have to go down as deep as 105 feet to reach this dive site.
After a long period underwater, massive coral reefs have grown on this shipwreck, making it an ideal home to several fish species. When diving the Duane Wreck, you can have visual enjoyment out of Atlantic spadefish, goliath grouper, reef shark, nurse shark, and bull shark.
In addition, this sunken ship lies close to the Gulf's stream. Therefore, the surrounding areas might have strong and dangerous currents. Sometimes, bad wave conditions even make the site undivable. Hence, divers often need special training before diving the Duane Wreck.
The video below will better describe the undersea scenery in the Duane Wreck:
7. Looe Key (Lower Key)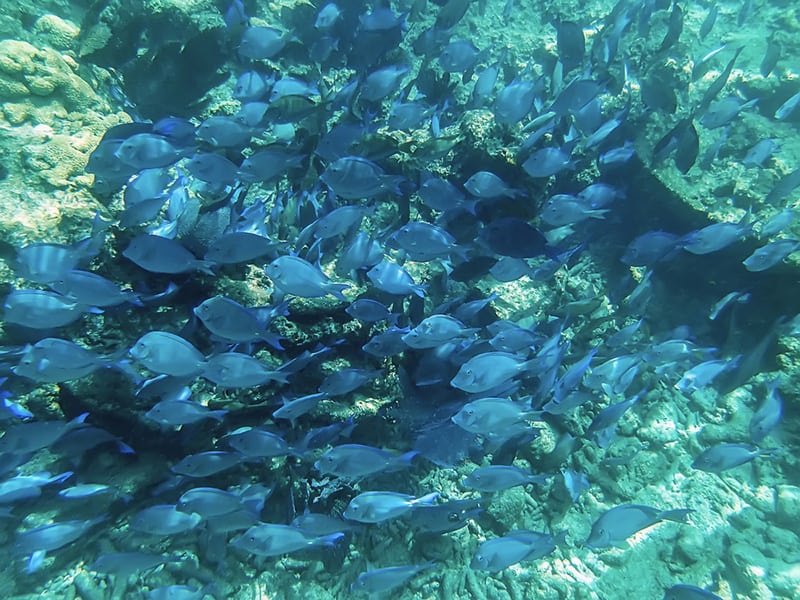 This reef is indeed an incredible spur and groove formation. The name "Looe Key" stems from a British Man of War. The diving spot has a U shape, which helps create a unique coral system with barrel sponges and rare black coral.
The local authority has always been taking good care of the Looe Key as it is an essential foundation to preserve wildlife. Thus, the ecosystem there has an excellent opportunity to thrive and flourish. Most divers regard it as the most beautiful ecological community in the world.
When experiencing scuba diving at Looe Key, you will be taken aback by the magical world under the water! The size of the reef is imposing and will challenge your expectations. Moreover, you can see various pelagic species you have only heard of before!
Check the underneath video for marine life scenes at Looe Key:
Divers Guide
Diving the Florida keys with the Debutante Divers
After reading about the amazing spots above, you may be able to imagine the Florida Keys as a fascinating wonderland for underwater diving! The following section is also a fun and important part! Keep scrolling down to understand more about diving conditions and other requirements!
1. Diving Conditions
Thanks to warm weather, all diving destinations in Florida are indeed suitable all year round. The Florida Keys are no exception! However, the wind and currents are not predictable and not seasonal, either. Thus, you had better check the weather forecast before scuba diving!
| | | |
| --- | --- | --- |
| Season | Weather features | Water temperatures |
| Spring (March – April) | Sometimes choppy, less windy | 75°F – 79°F |
| Summer (May – September) | Barely windy, calm sea, hurricane starts from mid-June | 83°F – 87°F |
| Fall (October – November) | Barely windy, calm sea, hurricane lasts until mid-November | 76°F – 83°F |
| Winter (December – February) | Sometimes windy, choppy | 69°F – 76°F |
2. How to Wear Diving Gadgets?
The first thing you shall do is put on your scuba wetsuit. Diving clothes are often bodysuits with a zip, so they are easy to wear. Make sure you opt for a set of clothing that has good elasticity so that you can propel through the water smoothly!
Following this, you should learn to assemble your diving gear, which is indispensable. You can have your instructor or teacher get all the gadgets together. However, I will still give a brief instruction as a reference!
Typically, the diving apparatus consists of three main components: a scuba tank, a diving BCD or a buoyancy control device in other words, and a scuba regulator. If you already have all the instruments with you, let's get started!
In the initial step, you have to scrutinize your tank visually to ensure that its O-ring is clear of defects. This will help make a good seal with the regulator when we attach them later. Next, wrap the scuba BCD around the tank valve and secure the tank straps.
Remember to pull the secure traps tight so that your tank won't be loose and fall out while you're under the water. It's best when the tank valve is at the same height as the neck of your BCD.
All diving regulators will come with a dust cap to protect the filter. Hence, before connecting them to the diving apparatus, you must discard the dust cap. Regulator mouthpieces should be on your right-hand side.
After tightening the yoke screw, attach the low-pressure inflator to the BCD. Once this step is done, secure the alternate air source (or octopus) on your vest. The ideal location is under your chin and in the middle of your rib cage.
Lastly, verify the tank's pressure by slowly opening the valve. When you hear the unit pressurized, you can open the tank valve all the way back. After making sure your scuba tank is full of oxygen, put on a diving mask together with a pair of scuba fins and dive!
3. Tips for Buoyancy Control
Though you will go under the water's surface while diving, it is crucial to be able to float. The first action you need to do is to calculate your weight. This measurement will allow you to know whether to add or subtract weights.
Second, do away with the air in your BCD and check your buoyancy control on the water surface. By doing this, you can estimate your rate of ascending when diving. After that, practice some scuba diving maneuvers so that you don't sink but float down.
Once you dive into the water, you should hang around a specific spot for a while. In other words, you don't need to move around, which is sometimes unnecessary but stay at one depth. The ability to hover underwater is indeed a benefit when you bring a scuba camera to take pictures!
Check the link below for lessons about buoyancy control:
Different Styles of Scuba Diving in Florida Keys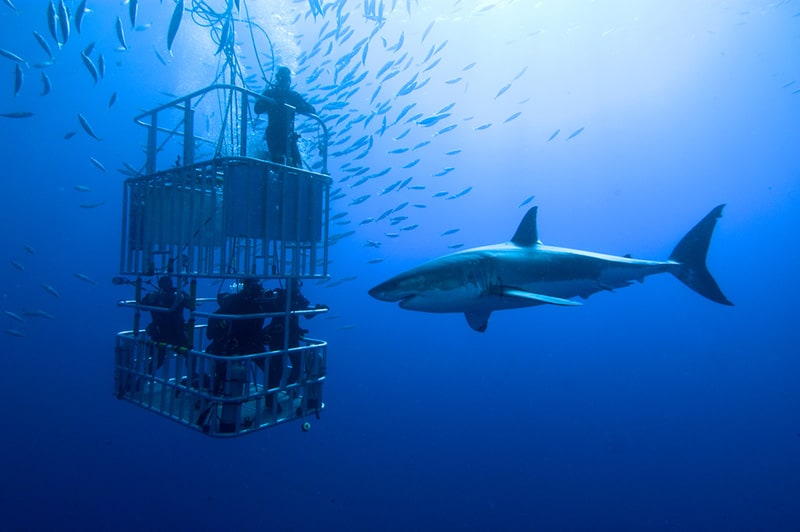 People across the world know the Florida Keys as a utopia for scuba diving. With a diverse ecosystem and various unique diving spots, this place can offer more than one type of underwater diving. Let's find out what they are!
Coral reef diving
Approximately two-thirds of coral reefs in entire Florida sit in Biscayne National Park and the Florida Keys National Marine Sanctuary. The latter is a preserved area surrounding the string of islands in the Florida Keys.
Ergo, these oases are truly wonderlands for coral reef diving! Divers can catch sight of different reef species with many colors, shapes, and sizes. There are many dive sites that have great reef systems in Florida, but the Florida Keys perhaps own the best reef complex in the world!
The coral ecosystem stretches along the seabed, from shore diving spots to offshore ones. Its structures are sophisticated and diverse, forming arches and caves for sea animals to live in. Therefore, you can stand a chance to witness a broad range of marine life.
Besides, there are also artificial coral reefs that accommodate both divers and snorkelers. These kinds of reef systems usually aim to conserve aquatic fauna and flora and serve commercial purposes.
Wreck diving
The number of shipwrecks in the Florida Keys is super impressive! People estimate that there are roughly 1000 wrecks of different types around these islands. No wonder why wreck diving is also a popular recreational activity in this area.
This massive range of sunken ships lie all over the Florida Keys oases, from Key Largo, Key West to Islamorada and Lower Key. Each craft has an interesting story behind it, so don't forget to read a bit about its adventure before going on a dive!
Some wrecks are attached to artificial reefs, and some allow sponges and coral to grow naturally. These ships have stayed under the water long enough to cater for a wide variety of aquamarine creatures such as parrotfish, jacks, barracuda and goliath grouper.
In addition, shipwrecks often sit in the open sea and at a great depth. Sometimes, you may have to dive as deep as 160 feet to reach a wreck dive site. Therefore, you might need a certificate to experience wreck diving in the Florida Keys.
Statue diving
There are solely a few places in the world nowadays that can offer statue diving. Key Largo is one of them! You may stand a chance to admire a sculpture in a museum before but trust me, observing the undersea bronze statue in the Florida Keys is another fantastic experience!
To be more specific, the Christ of Abyss has stood under the water for more than 50 years. The encrusted coral and sponges thrive and become homes to several species of underwater animals!
Shark diving
If you are a brave and passionate adventurer, you may jump for joy when reading this! Yes, you read it right, the Florida Keys can be an ideal destination for shark diving! Unlike other states in Florida, where sharks appear occasionally, these islands are homes to many types of sharks!
In particular, the Florida Keys can grant you an opportunity to witness tiger sharks, hammerhead sharks, bull sharks, lemon sharks, blacktip sharks, reef sharks, dusky sharks, and more! One fantastic thing is that you can swim with one of the fastest shark species – the mako shark!
Furthermore, there is a famous diving center called Keys Shark Diving. This operation offers shark cage diving trips that can last an entire day. Surprisingly, both beginners and professionals can participate in these tours!
Best Diving Centers in Florida Keys
Since islands in the Florida Keys are renowned for scuba diving, there are loads of prestigious diving centers there. Below are the top 7 well-known businesses that will live up to your expectations!
Where to Stay in the Florida Keys
It can take a whole week to experience the exotic islands in the Florida Keys fully. In that case, you may have to stay overnight on these oases. The underneath table will help you compare different accommodation services in the Florida Keys.
Hotel & Resort
Address & Contact
Price
Amenities
Almond Tree Inn
● 512 Truman Ave, Key West, FL 33040.
● +1 (305) 296-5415
From 671$
Private in-room porches and patios, a tropical garden, a heated outdoor pool, a hot tub, a koi pond, on-site parking.
Orchid Key Inn
● 1004 Duval St, Key West, FL 33040.
● +1 (305) 296-9915
From 702$
Continental breakfast, a sleek bar, a heated outdoor pool, a hot tub, a furnished sundeck, palm trees.
The Gardens Hotel
● 526 Angela St, Key West, FL 33040.
● +1 (305) 294-2661
From 589$
Exotic gardens, a heated pool, a poolside bar, an aviary, ponds, fountains, a wine bar, bike rentals, massage services.
Santa Maria Suites Hotel
● 1401 Simonton Street, Naval Air Station Key West, FL 33040.
● +1 (305) 296-5678
From 859$
Morning muffins, a daily wine hour, poolside beverages, two heated pools, tropical gardens, a gym, a Japanese restaurant.
Oceans Edge Resort & Marina Key West
● 5950 Peninsular Avenue, Naval Air Station Key West, FL 33040.
● + 1 (877) 935-0862
From 559$
Complimentary loaner bikes, a cafe, a Caribbean bar and grill, six outdoor pools, a fitness center, a dog park, a marina, an area shuttle.
Havana Cabana At Key West
● 3420 N Roosevelt Blvd, Key West, FL 33040.
● +1 (305) 294-5541
From 409$
An outdoor pool, a poolside bar, a hot tub, a food truck, live entertainment.
Southernmost Beach Resort
● 1319 Duval Street, Naval Air Station Key West, FL 33040.
● +1 (305) 296-6577
From 809$
Four on-site bars, three outdoor pools, a private pier and beach, free beach chairs, complimentary access to a fitness center and parking.
Tranquility Bay Beach House Resort
● 2600 Overseas Hwy, Marathon, FL 33050.
● +1 (844) 489-9665
From 318$
Three pools, a putting green, a grilling area, a Mediterranean-style cafe, a beachside bar.
The Moorings Village
● 123 Beach Rd, Islamorada, FL 33036.
● +1 (305) 664-4708
From 557$
A heated outdoor lap pool, a tennis court, a fitness center, a bar, boat docks, hammocks, teak loungers.
Bungalows Key Largo
● 99010 Overseas Hwy, Key Largo, FL 33037.
● +1 (305) 363-2830
From 1399$
Free watersport equipment and yoga classes, an infinity pool, a gym, a spa, a sauna, a steam room, six restaurants and bars.
Postcard Inn Beach Beach Resort & Marina
● 84001 Overseas Hwy, Islamorada, FL 33036.
● +1 (305) 664-2321
From 589$
Four on-site bars/restaurants, a beachfront bar, a private beach, two pools, a marina.
Frequently Asked Questions
There are many exciting things about the Florida Keys wonderland, and you can read about some of them from the sections below. However, there are still some commonly asked questions about these islands. Check them out now!
Is Key Largo the Diving Capital of the World?
The Florida Keys have the third largest coral reef system in the world. The fascinating thing is that most coral dive sites are in Key Largo! This explains why this island is a paradise for scuba divers across the globe.
The waters around Key Largo are rich in beneficial nutrients, allowing sponges, grooves, fingers, and different types of corals to flourish. The authority has also built John Pennekamp Coral Reef Park to conserve the coral ecosystem.
Additionally, Key Largo owns many shipwrecks, facilitating wreck diving trips for tourists. These sunken ships accommodate several undersea species such as fish, crabs, turtles, octopuses, and sharks.
Do People Go Night Diving in the Florida Keys?
Yes, they do! This activity is open to all tourists coming to the Florida Keys. These oases have long been reputed for abundant reefs and vivid marine life. The magical underwater panorama at night will be more mind-blowing!
When night falls, the vast ocean becomes more uncanny than ever. If you are audacious enough, you can always ask instructors to guide you on a diving trip. However, one obvious thing is that the visibility at night is terrible. Hence, remember to bring pieces of scuba lights!
Conclusion
The undersea world in the Florida Keys is picturesque beyond your imagination. Once you see the beautiful reefs and multi-colored fishes in real life, you will realize that no words can explain these underwater spectacles.
If a mysterious power urges you to go scuba diving in the Florida Keys, you can always use this article as a reference. One pick from the list above can do wonders for your holidays and make your summer memorable!
I hope you can reap multiple benefits from my scuba diving topic. If you really do, don't hesitate to share it with your family and friends because they also deserve an unforgettable vacation in the Florida Keys!