Summer is also the time when water sports are more popular than ever, especially scuba diving. California is one of the most famous states that provide divers with stunning seascapes as well as abundant sea life.
Since many years ago, California has been well-known for iconic kelp forests, vibrant coral reefs, and majestic marine animals. Here, you may effortlessly spot pristine beaches, steep slopes, plus rugged canyons, highlighting the magnificent beauty of the blue ocean.
This article covered some vital information about scuba diving in California. Check out to find which is the best dive spot for you. In addition, some of the most prevalent aquatic sports to do in this state are also included.
Best Dive Spots in California
Diving in California can become one of the most memorable experiences for all marine enthusiasts. Nevertheless, this state offers so many fantastic dive sites that people coming here do not know where to start for the first time.
Don't worry because I'm here to help. Let's scroll down thoroughly and find out which place is the most suitable for your needs. My detailed reviews about each spot can help a lot.
1. Northern California
Below is a list of the most popular diving destinations in the northern part of California. Just choose a place, immerse your body in the clear blue water, and discover how stunning the underwater world truly is.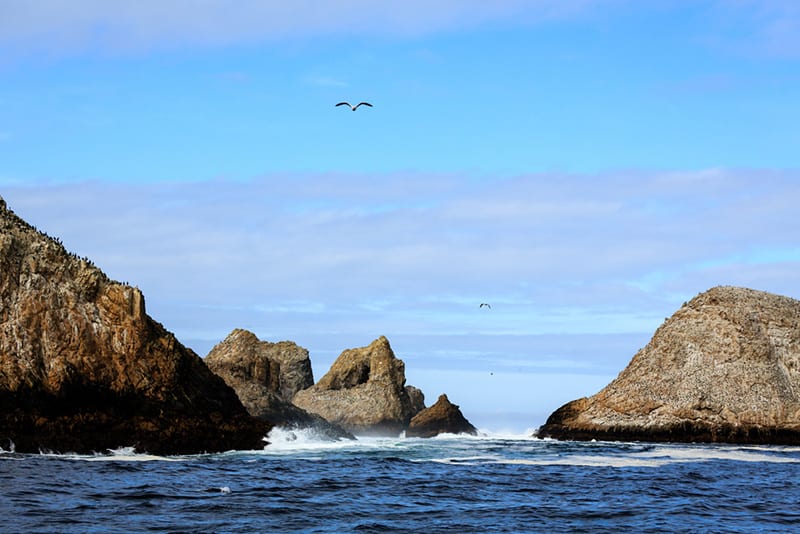 The Farallon Islands are located about 30 miles off the San Francisco coast, providing divers of all levels with two main dive spots and beautiful underwater scenes. In addition, it is one of the most well-known ecotourism sites in the world due to its rich marine life.
Southeast Farallon & Maintop Island
The southeast of Farallon Island will not let you down while giving unique diving experiences through rare sea creatures and plants. This place is home to the majority of seals and sea lions that are the primary food sources of sharks.
Therefore, it is understandable why California white sharks include this water as one of their migrating sites. However, it is unsafe to dive with these dangerous predators regardless of how experienced you are.
Therefore, if you want to scuba dive with sharks in California, book a tour from a reliable company to maximize your safety. Fortunately, most dive operators in Farallon Islands offer shark-watching protected by a cage, enabling entry-level and professional divers to attend.
Because white sharks only appear from September to November, booking a cage dive is often more difficult and too crowded to see clearly. For that reason, I highly recommend you search for a reliable dive operator and book in advance.
Besides, if you are more experienced, it will be best to dive down to 50 feet thanks to your scuba tanks, facilitating observing white sharks more closely and personally.
Middle Farallon & Noonday Rock
For seasoned divers, they may want to dive in more challenging conditions, enabling them to upgrade their skills and have more thrill experiences. Most of the waters around Middle Farallon and Noonday Rock can fulfill these dreams.
This dive site provides pinnacles, steep slopes, craggy walls, and deep canyons that require much effort to overcome below the surface. That rugged underwater topography is home to vivid sponges and strange fish like rockfish and scorpionfish.
In addition, you spot various species of whale here as well. If you are a big fan of this enormous creature, you really should not skip diving in the Middle Farallon. It gives excellent opportunities to watch humpback, blue, gray, and killer whales between summer and fall.
Due to harsh diving conditions, beginners and recreational divers are not welcome. It would be best if you were certified to dive with nitrox to be allowed to enter the waters.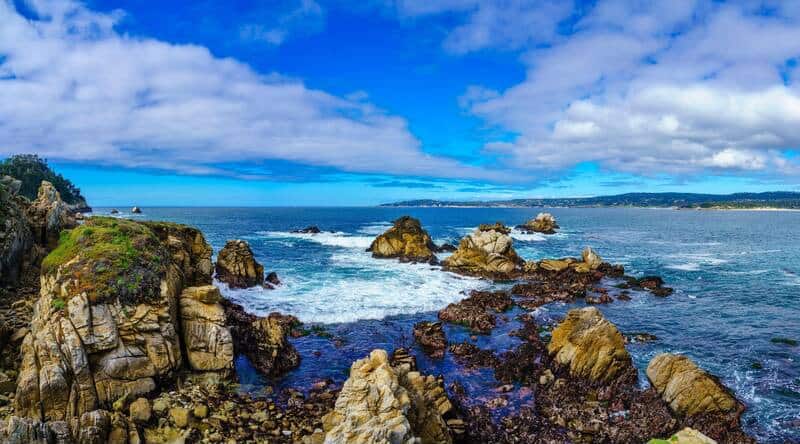 Whaler's Cove, which is found in the northern part of the Point Lobos State Natural Reserve, is one of the most popular dive sites around Monterey Bay. Along with the Bluefish Cove, it is one of the two only destinations that permit 15 pairs of divers to explore daily.
When diving here, you will be impressed with a majestic forest of kelp and abundant marine life. This spot offers nutritious plankton in large numbers, making it a prominent location for pelagic critters, including whales, dolphins, and leopard sharks, visiting for food.
Besides, the underwater world at Whaler's Cove is also home to various animals such as harbor seals, otters, wolf eels, octopi, and crustaceans. The crystal-clear water combined with stable diving conditions makes the spot exceptional for novice divers.
Calm diving conditions accompanied by a warm climate make the Breakwater one of the most accessible dive sites in Monterey Bay. This location offers an intermediate depth that ranges from 10 to 60 feet, meaning it is perfect for dive courses to take place.
Aquatic life at the Breakwater is vivid with numerous colorful coral reefs, sponges, and nudibranchs, making it incredible for underwater photography. However, it is still a little boring with the lack of giant creatures, including dolphins, whales, and sharks.
The main reason is that the Breakwater is too close to land, meaning it is too crowded and noisy for predators, naturally favoring quiet places. Therefore, wildlife sightings are less popular here.
Nevertheless, a few sea lions visit occasionally between fall and winter; thus, always remember to bring a scuba camera with you if you come across them by chance.
Lovers Point has its marine life, which is less diverse than other dive spots around Monterey Bay. However, its flora is spectacular and abundant as compensation. There is a lot of kelp and seagrass here, making the underwater scene so green and lush.
Nevertheless, watch out for your scuba fins because they are easy to tangle when you cruise through kelp forests. Lovers Point is fantastic for shore diving since you can effortlessly spot tiny jellyfish and starfish on the surface, thanks to the excellent visibility.
Although advanced divers find Lovers Point's tranquil water less challenging, they may have missed the entry spot on its west side. It is tough enough that it won't be an ideal option for the inexperienced.
In addition, it is worth remembering that even the warmest waterway at Lovers Point can make you lose lots of heat if you stay underwater too long. Hence, it is highly advisable to bring a dive watch during your adventure to monitor the bottom time.
Excessive dive time can cause some dangers that even lead to death. Check out my article about How Dangerous Is Scuba Diving for more details!
Thermal protection is always a priority of any diver. See What to Wear Scuba Diving if you have no idea how to keep your body warm.
The Youtube video below is about Monterey Bay, a famous area to dive in Northern California. Watch it and see how charming diving here is.
2. Southern California
Southern California is famous for rich marine life, splendid kelp forests, and ideal photographers' conditions. Below are its four most outstanding dive sites to visit.
This place is situated in the Santa Barbara Channel, part of Naples State's conserved underwater park. It has been famous for its 30-feet-high anemone walls for a long time, helping it attract a lot of divers to explore and experience until now.
The Naples Reef boasts not only an eye-catching coral reef but also rich marine life. It is home to many rare animals such as harbor seals, red gorgonians, sea lions, etc. What's more, you even find a shipwreck here, which explains why wreck divers visit frequently.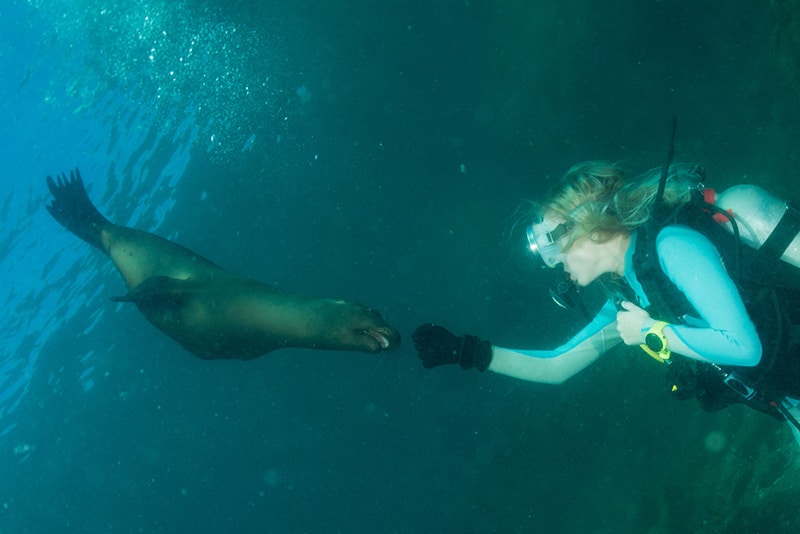 Catalina Island is another must-see destination in Southern California. It allows for various types of diving, which facilitates exploring incredible underwater vistas. Do not skip visiting this place if you plan to scuba dive in Los Angeles since it takes you only two hours to reach.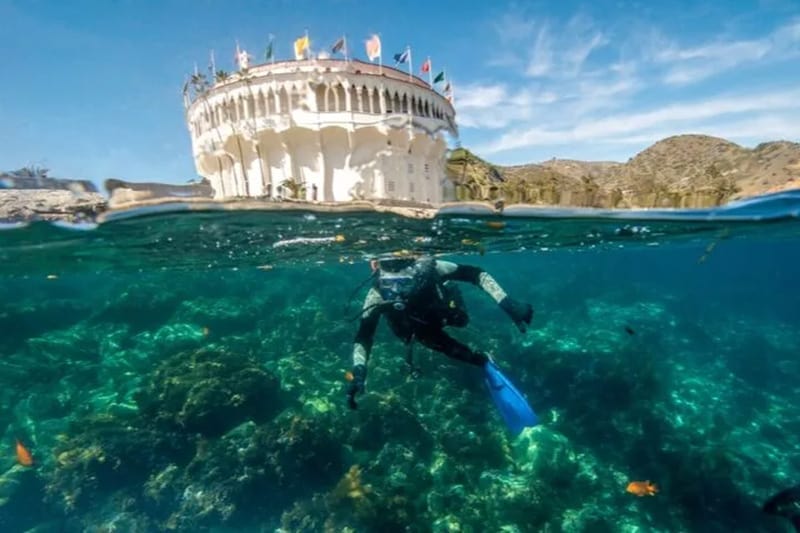 The underwater topography in Catalina Island is highlighted by several sharp pinnacles and complicated cave systems. In addition, the weather here is so pleasant while its visibility is excellent; thereby, divers of all experience levels can enter the water.
Catalina Island is perfect for diving, snorkeling, kayaking, and more. Besides, its sea life is diverse as well. When diving here, you have a chance to spot flying fish, orange Garibaldi, black sea bass, etc.
The following video shows you stunning footage of Catalina's kelp forests.
Wreck Alley is named after the fact that there are plenty of shipwrecks here. Moreover, it is one of the most well-known sites for wreck diving in California, giving you an array of amazing underwater adventures.
Nowadays, eight wrecks are sunk at different depths in the Wreck Alley area, with HMCS Yukon and Ruby E being the most popular. While Ruby E has started to deteriorate after 30 years, HMCS Yukon is the newest addition and still remains intact.
HMCS Yukon may not be a great option if you are an entry-level diver. Its internal structure, which looks like mazes of stairways and corridors, can cause difficult navigation. Hence, if you are not appropriately trained and experienced enough, you will likely be lost.
However, HMCS Yukon is inhabited by numerous strange coral and rare fish, which is ideal for underwater photography. Besides, Ruby E is an easier choice for everyone, and most dive operators recommend it.
When you come here, a vibrant and magnificent view is open in front of your eyes, with schools of colorful fish swimming peacefully and anemones blooming in glory. The Ruby E's inside is more accessible than the HMCS Yukon since you need only a scuba light to see clearly.
Unlike the Wreck Alley, where divers must access by boat, La Jolla Cove is something for shore diving lovers. It is a stunning beach located in the southern part of La Jolla Bay, preferred mainly by new divers and snorkelers due to its calm diving conditions.
Although La Jolla Cove is small, it is still one of the outstanding destinations for scuba diving in California, thanks to its extensive sea creatures. Here, you can spot the Californian goldfish, moray eels, horn sharks, and more.
When you dive more northward, you will reach a grand kelp forest where California sea lions and seals live. Besides, leopard sharks choose La Jolla Cove as a favorite part of their migration route, explaining why it is easy to spot them here.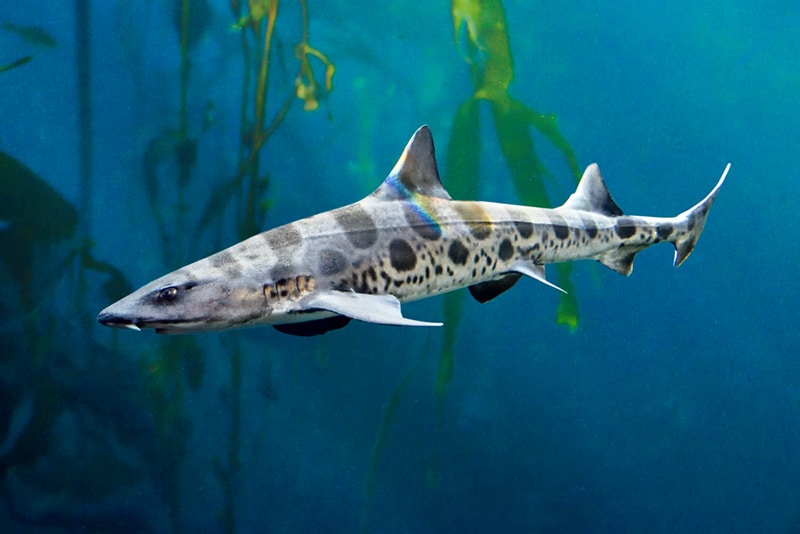 Divers Guide
Here is a general guide on the time and transportation to California. Be careful when deciding since I believe all of you want to have a perfect trip.
1. When to dive in California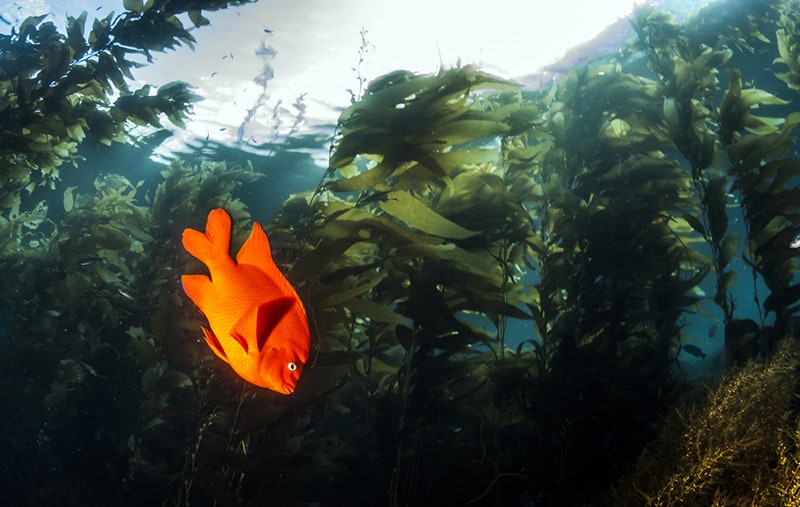 Diving conditions in California are ideal all year round. With a long coastline, this state gives a variety of diving destinations suitable for divers of all levels. This means that there are locations where you must deal with strong currents and shallow places for beginners.
California also offers excellent visibility and pleasant water temperature. The average water temperature can go up to 68 degrees Fahrenheit in the summer. Meanwhile, it maintains between 57 to 59 degrees Fahrenheit during the winter months.
Although you can visit California anytime, keep in mind that you must pay attention to the migration season if you want to see a particular creature. Luckily, most pelagic animals such as sharks, dolphins, and whales can be spotted from spring to fall except gray whales.
In addition, because most dive sites in California are located within natural marine reserves, you should be consulted whether your destination is available to dive before any trip.
2. How to Get There
Both San Francisco and Los Angeles provide you with global airports and international flights to California. In addition, traveling by plane is popular in the USA; thus, you can take a domestic flight when moving between two states.
Which Water Sport Can You Do in California?
Among different locations in California, San Diego is an ideal destination to try the majority of extreme water sports. This county offers you beaches, bays, and lakes with perfect conditions to practice activities that will satisfy thrill-seekers.
Let's look at the top 7 best aquatic sports to enjoy on California's sunny and windy beaches.
1. Surfing
Surfing is an official sport in California, and you can try this extreme activity anytime in the year. San Diego is a notorious destination that most surfers must pay a visit to because its shoreline offers a wide range of beaches suitable for all experience levels.
Besides, scuba diving in Venice Beach California provides you with an exceptional opportunity to ride over amazing waves. The best time to surf in California is between fall and winter when strong swells from the northeast begin to appear.
i6
2. Kitesurfing
Kitesurfing is a perfect combination of paragliding, surfing, and wakeboarding. It requires fewer special skills compared to windsurfing, while it seems safer to practice. Kiters take advantage of wind energy to pull their giant kites across the water, which creates a lot of fun.
Scuba diving in San Diego can be exceptional because this site has a wide range of pristine underwater caves and sun-kissed beaches to explore. In addition, its weather conditions are also ideal for kitesurfing.
Watch the video below and learn how wonderful the kite season is in California.
3. Stand-up surfing
Stand-up surfing functions as an excellent workout for your body core, enhancing the strength of your muscles and improving flexibility at the same time. It maintains the thrills of surfing while offering more relaxation.
You need to have a giant floaty board and a long canoe-style paddle to do stand-up surfing. One of the best places for this sport is the La Jolla coastline in San Diego, where you can glimpse colorful fish swimming cheerfully beneath.
4. Flyboarding
Flyboarding was invented in 2012, but it quickly gained popularity among numerous fascinating aquatic sports in California. The main reason for this is that it is simple to learn and suitable for all ages.
With just a little ability to control your body combined with excellent flips and dives, you can experience ultimate freedom at the height of 50 feet.
5. Wakeboarding
Wakeboarders ride a board attached to a boat that pulls them across the water like skiing. This extreme sport requires you to perform excellent skills from various other games, including water skiing, surfing, and snowboarding.
Today, a few dive shops in San Diego provide beginners with supporting tools and training courses if needed.
6. Kayaking
Kayaking is an effective way to burn calories while allowing you to enjoy the natural beauty of California. Diving can help you keep fit as well. Read my article about How Many Calories Do You Burn Scuba Diving for more information!
While normal kayaking can be done over tranquil waters, extreme kayaking is not an easy task for inexperienced people. You have to overcome strong currents in harsh weather conditions, which means your survival is endangered at all times.
Therefore, this extreme water sport should be prohibited for entry-level paddlers. The cave systems around La Jolla Cove in San Diego are an incredible choice for kayakers who are eligible to participate.
I ensure that the incredible rock formations and exclusive fish species will not let you down.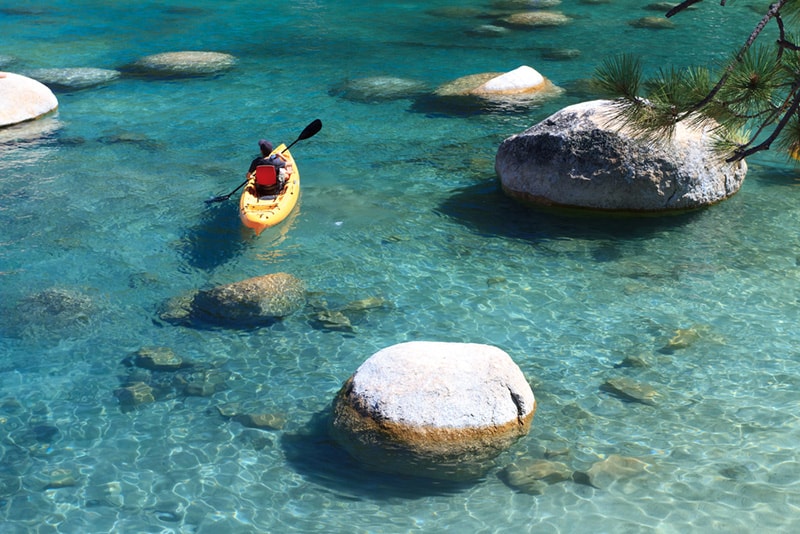 7. Parasailing
Parasailing involves pulling a person connected to a parasail wing by a motorboat and propelling his or her body upwards over the water. It is not required to have experience levels for attendants; thereby, just join in if you want to try.
This extreme water activity brings a lot of recreation as well as enjoyment. You may feel like you're flying in the blue sky of California and see stunning views underneath. Let's visit Long Beach since it can offer exceptional opportunities for parasailing in this state.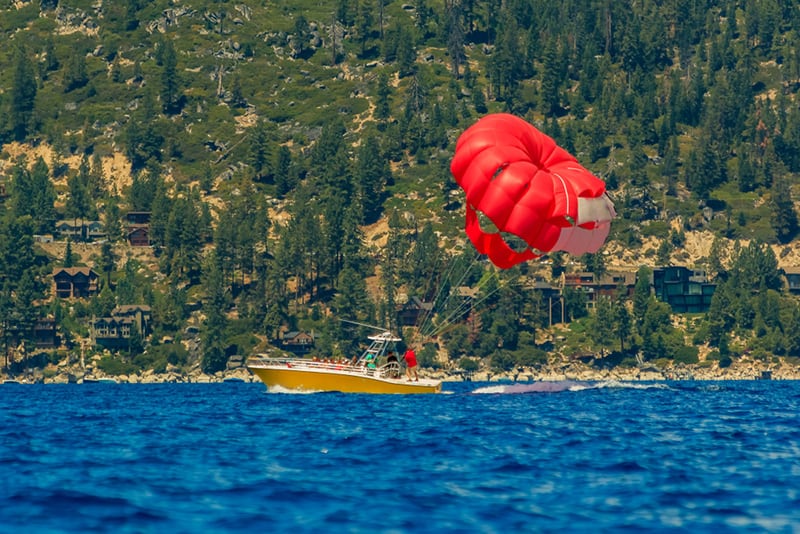 Best Dive Operators in California
If you are looking for a reliable company to book a dive tour, you might want to consider some or all of the options listed here. Below are some of the best dive operators in California.
Best Resorts in California
There are numerous factors in choosing a place to stay, including those discussed below. However, I highly recommend you spend at least one night in one of the following options.
Resorts
Star
Popular amenities
Address & Contact
The Ritz-Carlton Bacara, Santa Barbara
5
Pool, spa, beachfront, air conditioning
● 8301 Hollister Ave, Santa Barbara, CA 93117
● (805) 968-0100
Rush Creek Lodge and Spa at Yosemite
3
Pool, spa, free Wi-Fi, free parking
● 34001 CA-120, Groveland, CA 95321
● (209) 379-2373
Bahia Resort Hotel
3
Pool, free parking, hot tub, beachfront
● 998 W Mission Bay Dr, San Diego, CA 92109
● (858) 488-0551
Resort at Squaw Creek
4
Pool, spa, free Wi-Fi, all inclusive available
● 400 Squaw Creek Rd, Olympic Valley, CA 96146
● (530) 412-7034
Paradise Point Resort & Spa
4
Pool, spa, hot tub, beachfront
● 1404 Vacation Rd, San Diego, CA 92109
● (858) 274-4630
Frequently Asked Questions
Are there any wonders that delay you from scuba diving in California? The answers to the most frequently asked questions in the section below may lend you a hand.
How Much Does It Cost to Go Scuba Diving in California?
It depends on the locations you want to visit. For example, you will have to pay $119 per person per dive in Catalina. This cost has included all rental dive equipment except for scuba gloves. If you just want to take a one-tank dive, the price will be lower at $109 per person.
>> Read on: How Much Does It Cost to Go Scuba Diving
How Old Do You Have to Be to Scuba Dive in California?
PADI regulates that a child must be at least ten years old so that he or she is allowed to attend a dive course. That is also the minimum age for scuba diving in California.
>> Read more: SSI vs. PADI: Which Is Better?
Conclusion
It is common to beat the heat in California by scuba diving. However, to make your trip unforgettable and pleasant, it is essential to know a few must-see locations and must-do activities. Otherwise, you may waste money unconsciously on this paradise for divers.
By now, you may have an idea of where to go when diving in California. In case you travel with your family, let's consider Farallon Islands since it is perfect for inexperienced and seasoned divers. Besides, remember to try surfing if you have never played an extreme sport before.
Have you visited any dive sites I have mentioned above? Do you have some suggestions and remarks to make? Kindly send them to me through the comment section below. Please share this article on social platforms to help more people know if you think this article is helpful.