Northern California's shoreline is ideal for scuba diving because it comes with plentiful crescent beaches and majestic underwater rocks. This enables divers of all experience levels to enjoy the splendid beauty of nature here.
In general, diving conditions in Northern California are colder than in most other parts; hence, equipping yourself with a wetsuit, thick gloves, and sturdy booties is vital to keep warm. Besides, diving through dense kelp forests is also a good idea to see the marine life's abundance.
Scuba diving in Northern California is an effective way to relax because it allows your body to float freely as if it were in a weightless environment. In this article, I have explained thoroughly how to enhance your diving experiences as well as the necessary guidelines before any trip.
>> See Also: Scuba Diving in California: The Comprehensive Guide in 2023
Best Dive Spots in Northern California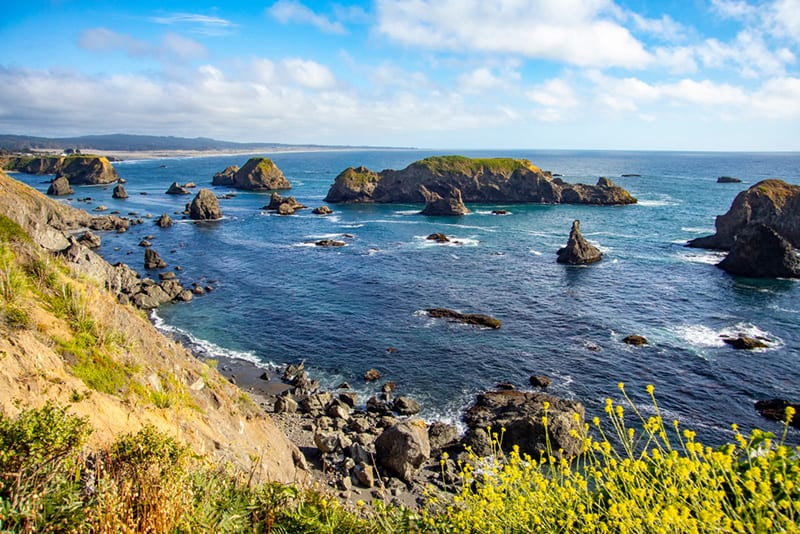 It is crucial to consider the most suitable diving destination in Northern California for you. In case this is the first time you have come here, you are likely to wonder whether you are experienced enough to dive somewhere.
Below are some of the reasons why you should choose a dive spot instead of others. Each location has its own advantages and disadvantages. Please do not skip any information because I think it may help you a lot.
1. Gerstle Cove, Salt Point State Park
Gerstle Cove comes first in my mind when considering an exceptional diving destination for some reasons. First of all, this site is ideal for both entry-level and professional divers, which means your whole family can enjoy it.
Besides, the water in Gerstle Cove is relatively shallow, making it one of the best places for shore diving. However, diving conditions are not perfect at all times due to easily variable weather and visibility. For example, you cannot see more than 5 feet today, but it can be 40 feet tomorrow.
Rich marine life is another advantage of Gerstle Cove, thanks to this dive location being a part of the state marine reserve. When diving here, you have a chance to spot rockfish, a few species of nudibranchs, colorful sea stars, lingcod, and so on.
More impressively, Gerstle Cove is great for other topside activities, especially camping. There are two nearby campgrounds so that you can have fun or relax with your family after long dives. Furthermore, this place provides divers with extra services, including parking and showers.
Learn more about the Gerstle Cove's marine life by watching the video below.
2. Glass Beach, Fort Bragg
After walking about 300 feet, you come to a stunning beach filled with colorful glass: green, brown, and crystal. This location was once a landfill of a bottling plant, and now its smooth sea glass contributes to giving picturesque seascapes when being reflected under sunlight.
Although Glass Beach offers straightforward entry points that you can access from the shore, it is not a perfect choice for beginners due to a few certain factors. There are numerous strong currents here, along with chilly water temperature.
For that reason, you must be an intermediate or advanced diver to deal with rough diving conditions in Glass Beach. On top of that, if the seawater temperature goes down to extremely low, you will need to wear a drysuit instead of a 7 mm wetsuit to keep warm.
This requires proper training since drysuits are not a simple kind of clothing that divers of all levels can tackle. Glass Beach is home to a giant kelp forest, rockfish, and other rare creatures, creating a thriving aquatic sea life. All of them can be seen all year round.
Additionally, spearfishers and abalone hunters also love visiting due to the abundance of fish species here.
Excessive heat loss causes some dangers or even death. Read How Dangerous Is Scuba Diving for more details.
In case a drysuit cannot provide you with enough warmth and protection, see What to Wear Scuba Diving to get some other ideas!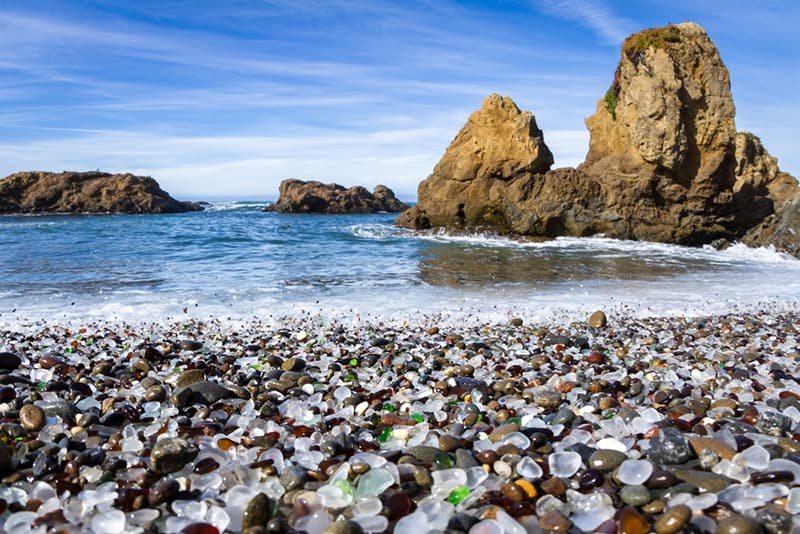 3. Bluefish Cove, Point Lobos State Natural Reserve, Monterey County
As its name implies, there are a large number of blue rockfish commonly found here. Besides, thanks to a unique upwelling process, the water in Bluefish Cove is very nutritious. This enables it to nurture a thriving ecosystem with diverse sea creatures.
Bluefish Cove is a natural habitat for many fish species like cabezon or also known as scorpionfish, vivid corals, different nudibranchs, and more. Its nutrient-rich water is home to dense kelp forests, without a doubt.
The diving conditions in Bluefish Cove are not ideal for everyone. Its surface often comes with large waves and surges, making it unstable for inexperienced divers to explore. Plus, the depth changes considerably when ranging from 20 to 65 feet.
Therefore, you must be at least intermediate level to be allowed to dive in Bluefish Cove. Concerning safety risks, I do not highly recommend this site for beginners. Additionally, you should know some other survival skills to use in emergencies. Swimming is an example.
>> Check out Do You Need to Know How to Swim to Scuba Dive to know more about its benefits.
Besides, knowing how to swim is also particularly practical when diving in Bluefish Cove because it facilitates moving between destinations. To be more specific, you can take a surface swim instead of kayaking from Whaler's Cove, offering the best views along the way.
Watch the Youtube video below and see how fantastic a dive can be.
4. Coral Street, Pacific Grove, Monterey County
You will have world-class diving experiences at Coral Street, thanks to its abundant sea life and magnificent rock structures. The underwater depth is diverse, and thereby, both beginners and professionals can enjoy it.
For someone who is not a thrill-seeker, just go down to a few feet below the surface, and you can spot various animals. While many nooks and crannies are filled with colorful sponges, diving through coral reefs gives you a chance to see cucumbers, sea stars, and rockfish.
And if you are a diver who always wants to challenge your limit, Coral Street is still an excellent choice because its maximum depth is up to 80 feet. In this quiet water, you are more prone to spot white sharks gliding around.
Although Coral Street can provide you with incredible opportunities to scuba dive with sharks, do not forget that they are one of the most dangerous predators in the ocean. So please remember to observe at a safe distance as well as try to avoid provoking directly.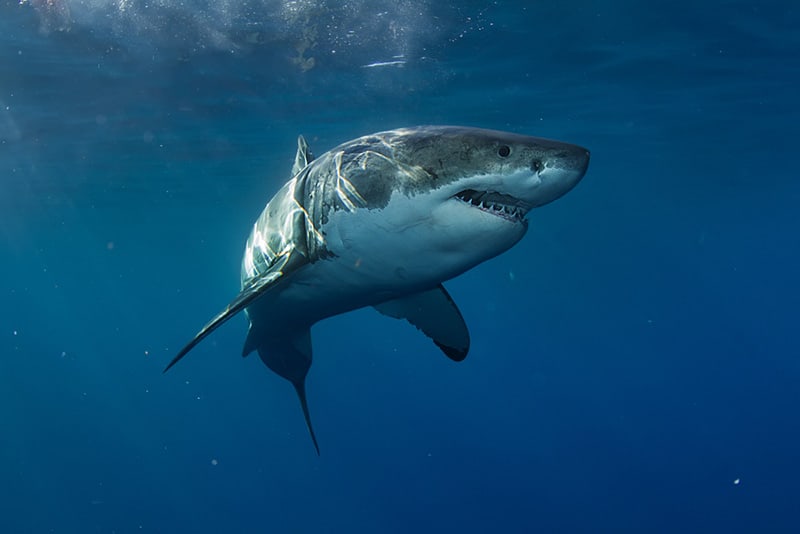 5. Stillwater Cove
Most dive sites in Northern California cannot offer you calm waters to immerse in, but Stillwater Cove is an exception. Its unique terrain helps to keep solid swells and winds outside, ensuring diving conditions inside are always stable.
Scuba training courses often occur in the area near shore. Meanwhile, experienced people should dive more toward the northern part, home to white sea anemones and blue rockfish.
In the meantime, on the south side of Stillwater Cove, sea nettle and moon jellyfish decorate underwater vistas. This contributes to creating fantastic footage about a magnificent aquatic kingdom. It is advisable to bring a scuba camera that allows for excellent wide-angle photos.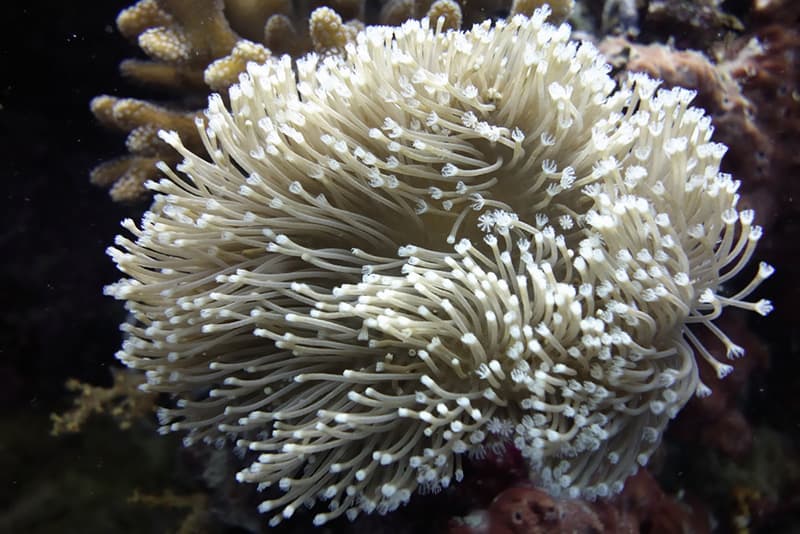 6. Smuggler's Cove, Sea Ranch
Smuggler's Cove is a paradise for abalone hunters due to the large number found here. This location is kept out of most northwest winds, so diving conditions are really ideal. The depth changes considerably from 20 to 100 feet, making it perfect for different experience levels.
Smuggler's Cove offers easy entry points. In addition, its diverse underwater ecosystem combined with shallow waters also attracts a lot of shore divers. This diving destination is famous for urchins, Pycnopodia starfish, Pacific tomcod, etc.
Besides, you can spot bottlenose dolphins swimming at Smuggler's Cove if you are lucky. These gentle critters are listed endangered, and you will only see them once in a blue moon. So keep in mind to pack a GoPro into your dive kit to capture valuable records.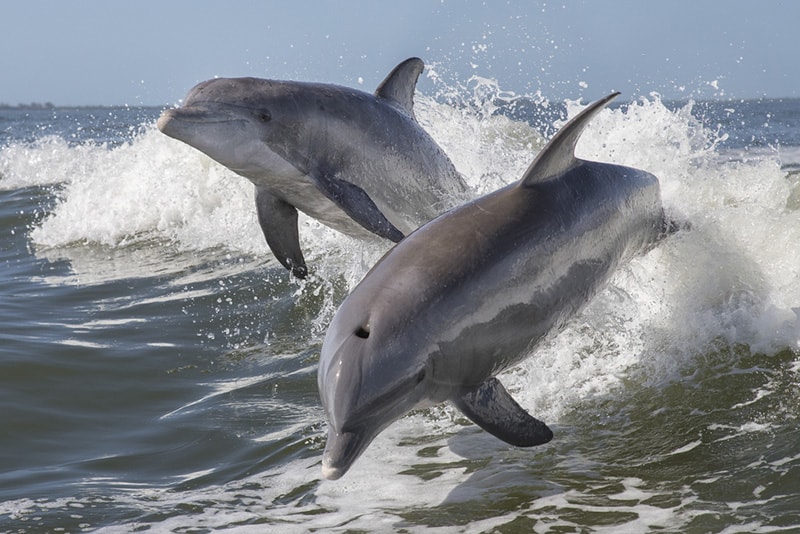 7. Van Damme Cove, Van Damme State Park
Van Damme Cove is one of a few places in Northern California offering excellent visibility and ideal diving conditions. Located just two miles from the Mendocino's south, this site is a perfect option for snorkelers aside from scuba divers.
Located in a unique position that prevents most northwest swells, Van Damme Cove is suitable for diving all year round. Thanks to magnificent rock formations and majestic reefs, its underwater seascapes are extraordinary.
Like any other place in Northern California, there are plentiful giant kelp forests under the surface of Van Damme Cove. However, they are less healthy and lush than in the past due to the explosion of purple sea urchins.
Enormous aquatic animals are not commonly found in Van Damme Cove. Nevertheless, its marine life is still fascinating, with Dungeness crabs, red abalone, and nudibranchs. Additionally, it is a good idea to see fish-eating anemones, a curious wolf eel, and a mola mola.
Some creatures are so friendly; hence, it is easy for you to interact with them. But be careful since you cannot imagine how dangerous they will be when angry or being provoked.
The following video will give you an overview of how magnificent the underwater world of Van Damme Cove is.
Divers Guide
Having understood which is your perfect dive site, you should now keep in mind some travel information. Otherwise, you may visit Northern California on bad days and end your trip with disappointing experiences.
1. When to Go
The weather in Northern California changes considerably, even between weekdays; thus, it is so challenging to find the best time to dive. Nevertheless, based on suggestions of seasoned divers, there are some periods to consider.
Firstly, between summer and fall is the time when you are more likely to dive since swells and winds are not too strong. If you pay a visit to Northern California in winter, you still have some great diving. Avoid visiting this place in spring because its water visibility is the poorest.
2. Dive Conditions
In general, diving conditions in Northern California are more chilly than in other parts. Water temperature is lowest in spring and highest in fall, ranging from over 40 to mid 50 degrees Fahrenheit. Therefore, you must be equipped with at least a wetsuit to prevent heat loss.
In some cases, you can wear it with your scuba BCD outside to have extra warmth. A drysuit is optional based on whether you are experienced enough to use it.
Visibility is dependent on the weather, ranging from 5 to 50 feet according to different dive sites. There are always strong winds and swells in all destinations, so diving in coves with protected terrain will be the safest.
Some dive spots are suitable for both novice and advanced divers, but others are only for professional people. Hence, please check whether the place you plan to go to requires which level of experience.
You can take a lengthy surface swim or choose kayaking to reach different dive sites. In addition, it is a good idea to hire a boat that brings you to some far-off destinations.
Marine Life in Northern California
The aquatic life in Northern California is diverse, with a wide range of animals and plants that you hardly see on land. I have listed the top five famous sea creatures commonly found on California's North Coast.
The following section gives you an overview of their habitat as well as where to spot them.
1. Harbor Seals
Harbor seals are easy to spot, thanks to their gray coloration. These gentle creatures have a vast body that weighs up to 300 pounds for males and 250 pounds for females. Harbor seals often spend plenty of time sunbathing on beaches along the Northern California Coast.
For that reason, on bad days when you cannot dive, it is possible to get a glimpse of them when walking, surfing, or kayaking along the beaches. However, these animals are famous for their timid nature, and you should observe from a distance to avoid bothering them.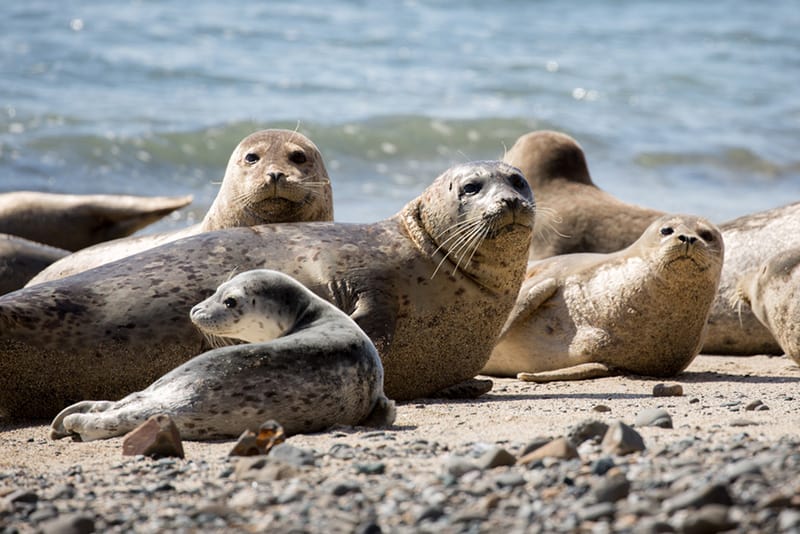 2. Blue Rockfish
In Northern California, you often find blue rockfish in sheltered areas such as Bluefish Cove and Stillwater Cove. Besides, scuba diving in San Diego is also a great way to see schools of colorful blue rockfish swimming around underwater rocks.
The habitat of blue rockfish includes rocky shores and kelp forests. Jellyfish and crustaceans are their two main food sources. One thing about blue rockfish that interests me is their long lifespan, up to 24 years.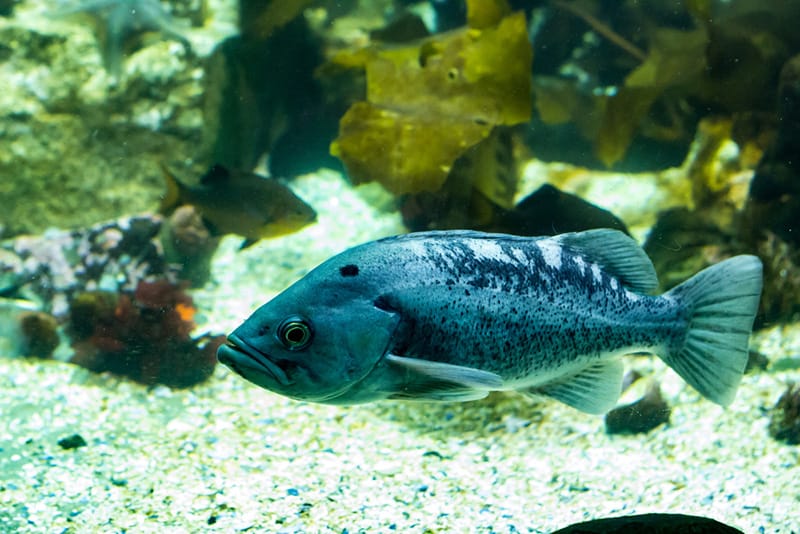 3. Cabezon
Cabezon lives in shallow waters which are very close to the shore, but it can be found at 758 feet. This means that you can see it regardless of how deep you plan to dive.
These extraordinary sea creatures are not energetic animals, which explains why they spend most of their time just sitting. Let's pay much attention to rock crevices or under the kelp canopy during a dive. Remember to bring a dive light to see these tiny critters more clearly.
Another critical thing to keep in mind is that you should not touch cabezon eggs directly since they are poisonous.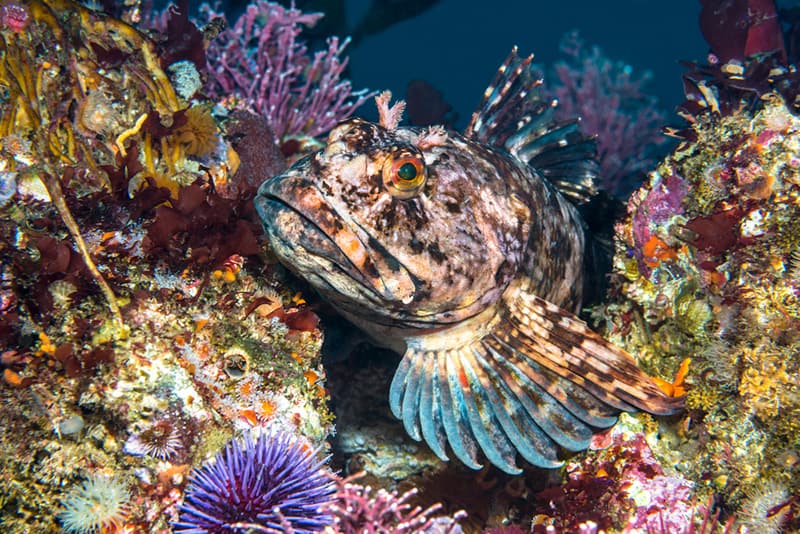 4. Lingcod
Gerstle Cove is an excellent choice to spot lingcod. Also, Baja California is highly recommended. This animal mainly lives near the rocky bottom and kelp forests. Lingcod can use anything from squid, octopus, and crab for its food sources.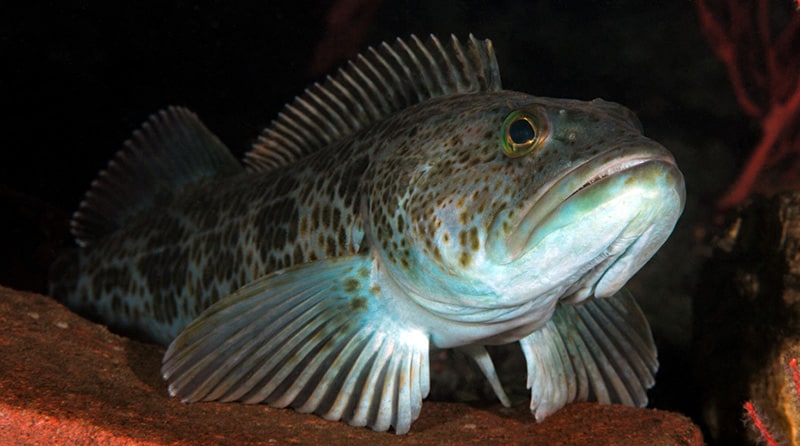 5. Red Sea Urchins
It is common to spot red sea urchins when diving in Northern California due to their fast-growing rate. Shallow waters and rocky reefs are their major natural habitat. Because these animals feed on bull kelp and brown algae, they are considered harmful to the development of kelp forests.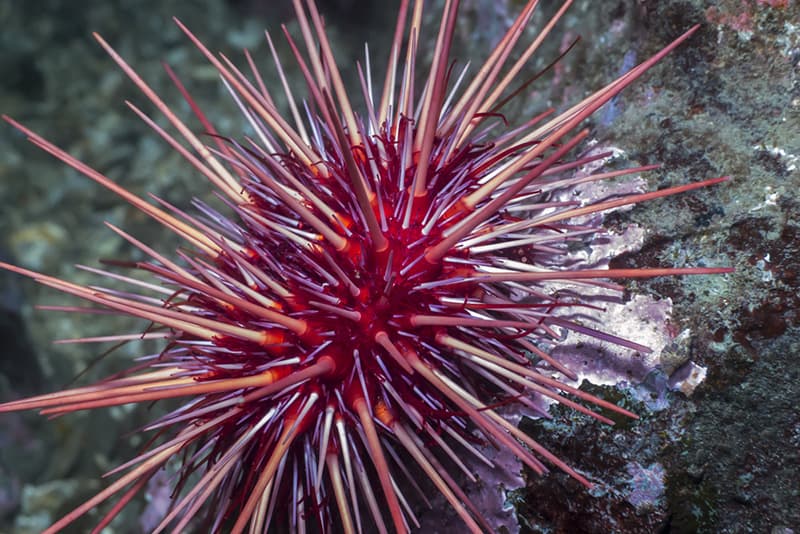 Best Dive Operators in Northern California
Below are the three most reliable dive operators in Northern California. If you pay a visit to that place, let's consider these options. I believe their first-class services and professional staff will not let you down.
FishEye Scuba – offers open water scuba courses and incredible diving experiences with its premium trips. Call (916) 850-1145 or visit https://fisheyescuba.com/ for more details.
Bamboo Reef Scuba Diving Centers – provide you with Monterey dive tours, rental equipment, and certified training courses for freedivers. Contact (415) 362-6694 and check out https://www.bambooreef.com/ for further information.
Sonoma Coast Divers – suitable for anyone who wants to become a scuba instructor, sells all you need for a dive trip. Phone (707) 586-0272 or visit its website at https://www.sonomacoastdivers.com/.
Best Resorts in Northern California
The following table offers critical information on the top five most recommended resorts in Northern California. There are great options for tight-budget divers and also a few suggestions for people who love luxury.
No one is better than others, so your decision primarily relies on your preferences.
Resorts
Star
Popular Amenities
Address & Contact
The Cliffs Hotel and Spa
3
Hot tub, spa, pool, beachfront
● 2757 Shell Beach Rd, Pismo Beach, CA 93449
● (805) 773-5000
Seascape Beach Resort
4
Free parking, free Wi-Fi, spa, pool
● 1 Seascape Resort Dr, Aptos, CA 95003
● (831) 688-6800
Allegretto Vineyard Resort Paso Robles
4
Hot tub, spa, pool, free parking
● 2700 Buena Vista Dr, Paso Robles, CA 93446
● (805) 369-2500
Edgewood Tahoe
5
Fitness center, free Wi-Fi, spa, pool
● 180 Lake Pkwy, Stateline, NV 89449
● (855) 681-0119
Timber Cove Resort
3
Free parking, free Wi-Fi, beachfront, breakfast
● 21780 North Coast Highway 1, Jenner, CA 95450
● (707) 847-3231
Meritage Resort And Spa
4
Hot tub, spa, pool, free Wi-Fi
● 875 Bordeaux Way, Napa, CA 94558
● (866) 370-6272
Conclusion
The underwater world in Northern California is so strikingly beautiful and silent that you cannot hear anything except the bubbles from your breathing regulator. Therefore, you escape from the bustle and hustle of life in cities while your mind is refreshed with new ideas.
Every dive spot I have mentioned above is worth at least a visit. And if you do not have enough time, I think you have already selected a perfect destination after reading my article. In addition, I hope you get practical knowledge about marine life in Northern California as well.
Do you have some questions, comments, or suggestions about scuba diving in Northern California? Kindly leave them in the comment section below. Sharing this article can help your friends know valuable tips. Use any of the following social media links to do that.
Related Articles: