Scuba diving can offer you fascinating experiences through magnificent cave systems, diverse marine life, and stunning seascapes. However, just a simple issue relating to clothes can destroy your enjoyable adventure.
For that reason, your considerations about scuba diving attire should be prioritized when you prepare for a dive trip. A wetsuit that helps maintain your body heat and protects it from dangerous sea creatures must be included.
Besides, males and females will have different choices to decide what to wear under their wetsuit. Therefore, I have written this article after spending lots of time researching information on the Internet as well as consulting advice from seasoned divers.
Your questions about what to wear when scuba diving will be answered thoroughly. In addition, I also attached a list of valuable items for women to reference. Scroll down to read more!
What Should You Wear When Scuba Diving?
As a diver, it is common to know that the deeper you go, the colder you get. Hence, even though you plan to dive in tropical destinations, wearing at least a dive short is a must. Additionally, what you choose to wear may change considerably depending on different diving conditions.
1. Diving Shorts
Diving shorts are designed to fit alright males and females; thus, you do not need to dive into various brands in the market to find a suitable one for your partner. The primary purpose of these shorts is to give scuba divers an extra layer of heat retention when diving in cold water.
Besides, diving shorts will facilitate putting on and off your wetsuit, which means that most are made from light and thin material, especially neoprene fabric. Thanks to that, it is easy for you to get a sense of softness and comfort although diving for a long time.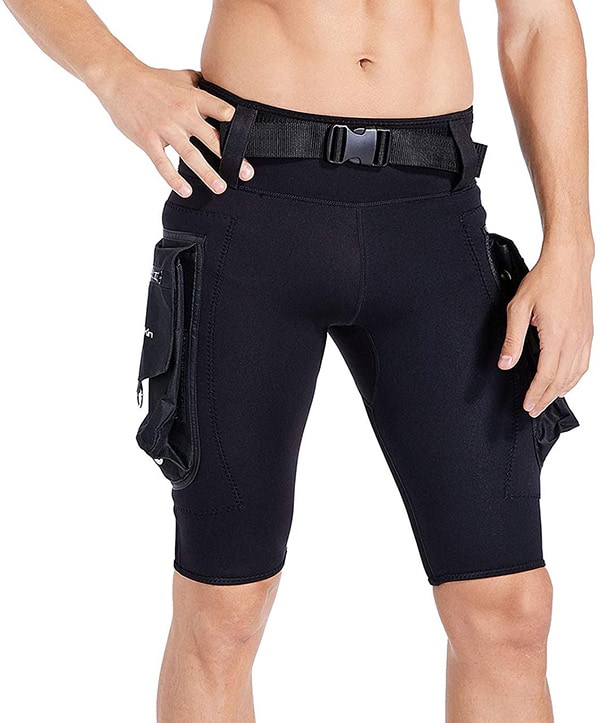 2. Board shorts
Some scuba diving attire can spoil your diving experiences, as it is correct for board shorts. Although they are mainly designed for male divers and seem suitable for most aquatic sports like swimming and surfing, they are not the perfect choice for diving.
The main reason is that board shorts are usually difficult to give you a snug fit. Hence, they are more prone to wrinkle and bunch up when worn under a wetsuit.
Moreover, if you do not straighten the board shorts out after wearing your wetsuit, they can prevent your blood from circulating freely, leading to decompression sickness.
Therefore, male divers should only wear board shorts when scuba diving on Hawaii's Big Island. That's because the tropical climate there does not require them to wear a wetsuit to keep warm; thus, they will get greater flexibility and maneuverability.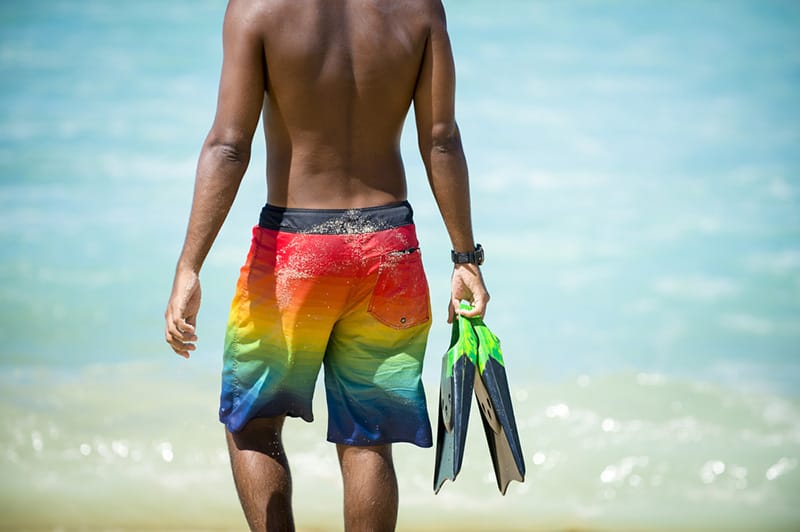 3. Compression Shirts
Compression shirts work well for both men and women and are perfect for numerous outdoor activities, including scuba diving, swimming, surfing, sunbathing, etc. A compression shirt will help to protect your upper part from cold temperatures.
While a full sleeve shirt is the best option for males, female divers prefer a sleeveless one.
4. Scuba Gloves
A pair of scuba gloves is not a must-item when you dive in tropical waters like Hawaii; however, I highly recommend you have one. The main reason is that you cannot foresee all the dangers you may encounter when below the surface.
For more details, let's read the following article: How Dangerous Is Scuba Diving: Top 7 Risks You Should Know!
In that case, scuba gloves are able to maximize your safety because they prevent your hands from touching directly harmful sea creatures. In addition, wreck diving, as well as cave explorations, can also benefit from this by reducing accidental scratches.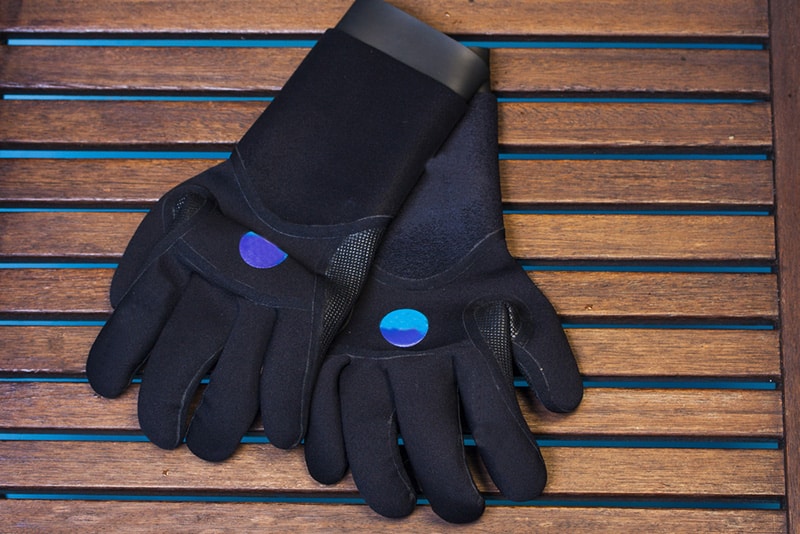 5. Buoyancy Compensator Devices
Scuba BCDs are commonly known as indispensable items for controlling your buoyancy when diving. Additionally, they also play a vital role in providing you with a layer of thermal protection apart from your wetsuit.
A BCD enables you to get neutral buoyancy using a built-in inflator or deflator effortlessly. This means you can maintain a certain depth to explore the underwater world instead of sinking to the bottom due to heavy equipment.
Another advantage of scuba BCDs is their convenient design, usually in the form of vests or jackets. Thanks to that, you stabilize your body and adjust the position of your arms, legs, etc., to move in the water more efficiently.
Besides, even cheap models like travel BCDs often offer mounting points that you should use to attach other dive gear. Some tools such as a console dive computer and a scuba light are helpful for your survival, while an underwater camera can enhance diving experiences.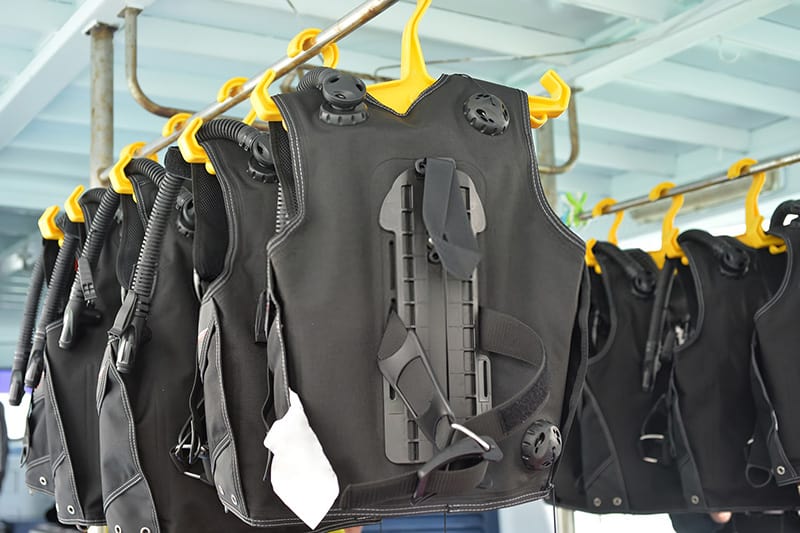 6. Wetsuits or Drysuits?
Both wetsuit and drysuit are designed to provide comfort and safety while diving. Nevertheless, each type will work best for different diving conditions and user needs. This section will compare them based on a few key features that affect your choice.
Criteria
Wetsuits
Drysuits
Water Temperature
Below 75° F/24° C
Below 60° F/16° C
Insulation
Keep scuba divers warm.
Keep you dry instead of warm.
Waterproof
No
Yes
Fit
Designed to give you a perfect fit.
Loose-fitting to be worn with additional insulating layers.
Mobility
● More compact.
● Move faster.
● More cumbersome.
● Move slowly.
Material
Mostly closed-cell foam neoprene.
Vulcanized rubber, foam neoprene, crushed neoprene, or heavy-duty nylon.
Buoyancy
Control through a scuba BCD.
Control through the amount of air in the suit.
Maintenance
Easy
Difficult
Training & Price
● Cheaper.
● Easier to use.
● More expensive and more complex.
● Require properly training on how to use.
Lifespan
5 to 10 years
Over 15 years
Diving Conditions
Best for warm waters.
Suitable for various climates, especially extreme cold waters.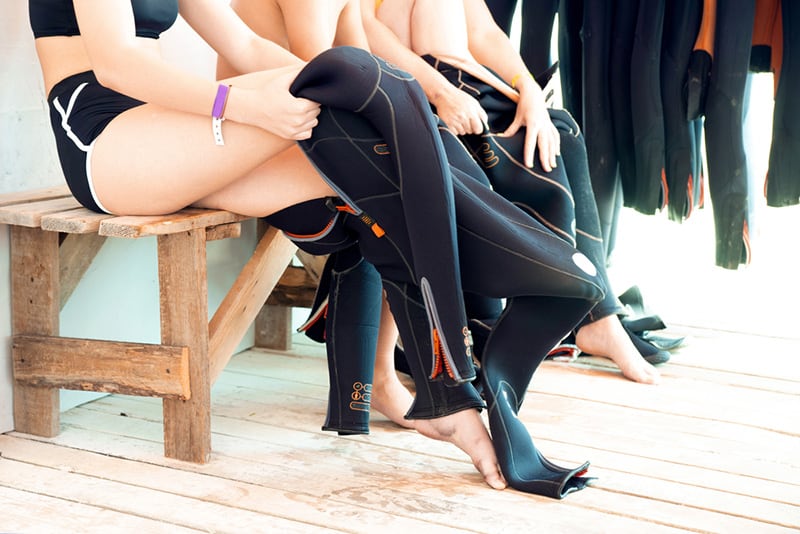 Learn more about How Many Calories Do You Burn Scuba Diving here!
What Do You Wear Under a Wetsuit Scuba Diving?
Although it seems okay to wear nothing under a wetsuit, I believe some troubles like no private place for changing clothes may frustrate you. Furthermore, if you rent a wetsuit in a dive shop, you should wear it with your underpants as a bare minimum of courtesy.
Here are some of my suggestions according to gender.
1. For Women
Women have more confusion when considering what to wear beneath a wetsuit; thus, their options are more abundant. Below are the most popular items that I have found.
Sleeveless Vest
Sleeveless vests are another name for sleeveless compression shirts, and they are mostly favored by women who do not want to wear bikinis under their wetsuit. This type of vest can offer wearers more freedom as well as comfort when diving underwater.
Since these compression shirts have no sleeves, which means your arms and shoulders are free to move, they are the best choice for entry-level divers and swimmers. Despite being made from lightweight fabrics, they can still give excellent heat loss prevention.
Full-Body Jumpsuit
Female divers are generally more susceptible to getting cold than their male fellows due to their smaller body size and a slower metabolism. This means that women will lose heat faster than men, especially during an icy dive.
To avoid that, females should wear a full-body jumpsuit with exceptional insulation abilities to ensure enough warmth. The thickest item is not always the warmest. Sometimes, it will make ladies feel heavy and bulky when worn beneath a wetsuit.
Therefore, I highly suggest you focus on finding a model made from first-class waterproof materials; take neoprene as an example.
Fast Drying Women's Bathing Suits – Bikinis or One-Piece Swimsuits?
All ladies want to wear a swimsuit that fits them most and can help them be more confident, but choosing the right style is not an easy task. Take a quick look at the following table to get some tips as well as know more about the benefits and drawbacks of each type.
Criteria
Bikinis (Two-Piece Swimsuits)
One-Piece Swimsuits
Advantages
● A wide range of options.
● Suitable for anyone who wants to have tan skin.
● Dry quicker.
● Offer more security.
● Perfect for diving in strong currents.
● A great choice for female divers who do not prefer little fabric clothing.
● Use as a bodysuit.
● Accentuate your body shape.
Disadvantages
● More skin shown.
● Less protection from the sun.
● Feature a classic look.
Tankinis
Tankinis look like one-piece swimsuits, but they are, in fact, two-piece items that include a sleeveless vest for the upper part and a diving short for the bottom body. Tankinis' innovative design, combined with wrinkle-free properties, makes them convenient to be worn under a wetsuit.
The manufacturer used the mixture of spandex and cotton or Lycra and nylon to produce tankinis, reasoning why quick-drying is one of their most tremendous upsides. Therefore, you do not need a changing room after a long dive.
All you must do is just take off the wetsuit, let your tankini be exposed for a few minutes in the sunlight, and it will be dry on its own.
2. For Men
Male divers are highly interested in the advantages of scuba diving attire, while female ones care more about its fashionable aspect. For that reason, most items in the list below will focus on the protection properties or thermal retention abilities.
Rash Guard
A rash guard is ideal for warm diving, but it still works well for cold diving when combined with a wetsuit outer. The fundamental function of this item is to protect your skin from harmful UV sun rays and sea life stings.
Besides, scratches caused by scuba tanks that you wear on your back will be eliminated quickly, thanks to a rash guard.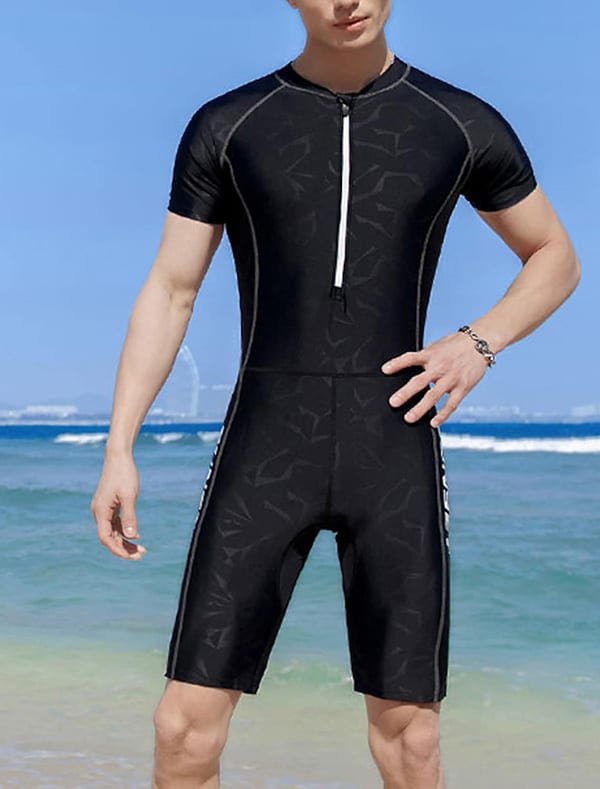 Leggings
Since a rash guard can only protect the upper body, leggings will do this for the bottom. Its decent thickness and fitting design will prevent itchy stings from jellyfish and sea lice.
However, leggings cannot offer enough warmth when you dive in icy waters; thereby, wearing them under a wetsuit will be highly recommended.
Speedos
Unlike board shorts, speedos are indeed an overwhelming choice for male divers because of their incredible benefits. They are made from Lycra material which is extremely thin and lightweight, giving you a sense of comfort.
Besides, speedos are constructed with the mind that as little fabric as possible, so it is convenient to wear beneath a wetsuit. Additionally, its compact design can avoid bunching up and shifting like board shorts.
What Should Women Pack for a Scuba Diving Trip?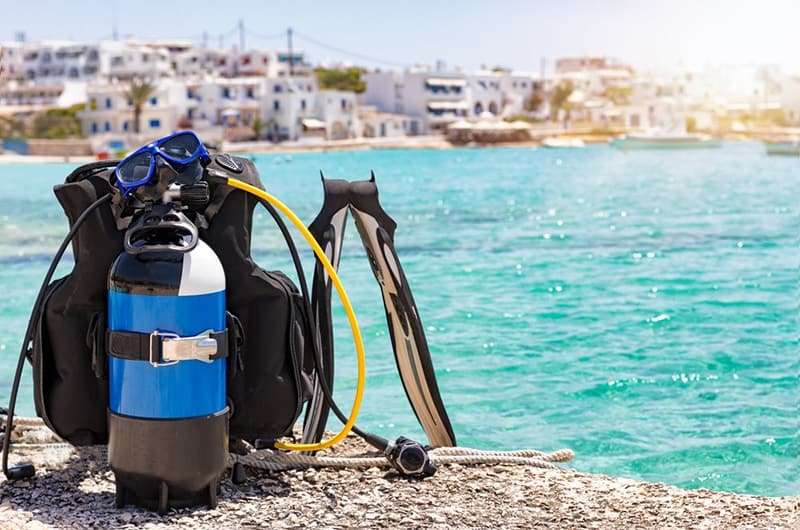 In case you still have no idea what to bring for your next diving trip, I hope the following list can lend you a hand. I have listed all the essentials that ensure premium comfort during a journey. It should be only used for reference, and you may need to adjust some items.
Two wetsuits – You will wear your wetsuit most of the time you are below the surface; thus, bringing at least two items is an ideal option. You can save a significant amount of money when using your own and renting one from reliable dive shops.
A pair of diving socks – Wearing scuba fins without socks or booties can make your feet painful. So remember to pack at least one pair in your luggage to ensure utmost comfort throughout the trip.
A few pairs of undies and bras – They are practical. If you do not prefer one-piece swimsuits, these items will make you feel comfortable wearing them under your wetsuit.
A ripskirt – you will need it to wear over your wet bikini bottom after scuba diving. Its wrap-around style combined with adjustable velcro closure allows you to smoothly put it on and off.
Toiletries – some essential items I highly recommend are deodorant, toothbrush, toothpaste, lotion, eye drops, etc.
Sunscreen – you spend the most time on a liveaboard, so you will likely get burned.
A pair of sunglasses – if your eyes are sensitive to strong sunlight, they will help a lot.
A GoPro for scuba diving – I believe most divers want to capture stunning underwater footage during their dive. In case you are a tight-budget person, renting an affordable scuba camera from dive operators is highly advisable.
Dive certifications – You must meet some special requirements about training so that you can attend unique activities like Black Water Dive, Hammerhead Dive, etc. Remember to bring your SSI or PADI certificates when diving in open water.
Finally, a laptop and expensive items are not suggested, while makeup is useless for scuba diving.
Conclusion
When scuba diving, you probably need to wear something to make sure that your skin is protected from cold temperature and UV sun rays. Besides, what to wear under your wetsuit can profoundly influence your diving experiences, so please consider this.
Whether you are a man or woman, I recommend you equip yourself with a pair of scuba gloves and a BCD to maximize safety. In addition, for female divers, one-piece swimsuits may be ideal for wearing underneath their wetsuits.
Are any other questions still making you wonder about your decisions? Do you have suggestions and comments? Kindly forward them to me via the comment box below. And if you find this article valuable, please share it with your friends and family members.