The lands near the Gulf of Mexico are fantastic since they are suitable for numerous water activities. One of the most famous diving destinations is Sarasota. Besides, Venice, which lies to the South of Sarasota, is also renowned for scuba diving!
Although a small city in Florida, Venice is popular among divers worldwide. It is because there are various colorful offshore reefs housing vivid marine animals. On top of that, this region holds exhibitions of fossilized sharks' teeth that date back to millions of years ago.
Scuba diving in Venice will be an unparalleled experience as divers can stand a chance to play the role of treasure hunters! If the previous line stimulates your curiosity, scroll down to grasp a more in-depth understanding of dive-related issues in Venice!
What Is Fun About Scuba Diving in Venice, FL?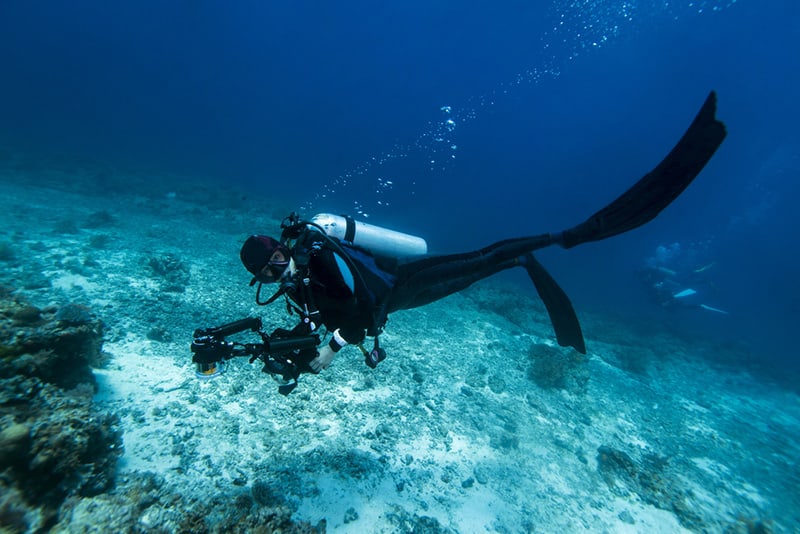 If you know a bit about underwater diving in Florida, you can virtually relate to how it's like to scuba dive in Venice. Because they share the same warm weather, Venice is suitable for watersports all year round, like Florida!
Though there are only a few shipwrecks in Venice, the natural coral reef systems are beyond human's imagination! Both soft and hard corals stretch along the seabed and attract different aquatic creatures such as jewfish, barracuda, and groupers.
In addition, the native ledges act as ancient river beds that house multiple crabs, fishes, and freshwater animals. Hence, visitors to Venice can take an archeological dive under the water to study the geological horizons and historic fossils.
Shark tooth diving makes Venice an excellent diving spot among cities in Florida. There are indeed displays of sharks' teeth under the seafloor in Venice. These objects are from creatures that lived as long as a million years ago!
Finest Dive Sites in Venice, Florida
Perhaps you have just realized that Venice is an incredible diving destination. But you may also wonder what are the top dive sites in this city at the same time. Don't worry, as I got you at this point! The list below will be the perfect answer!
1. The Boneyard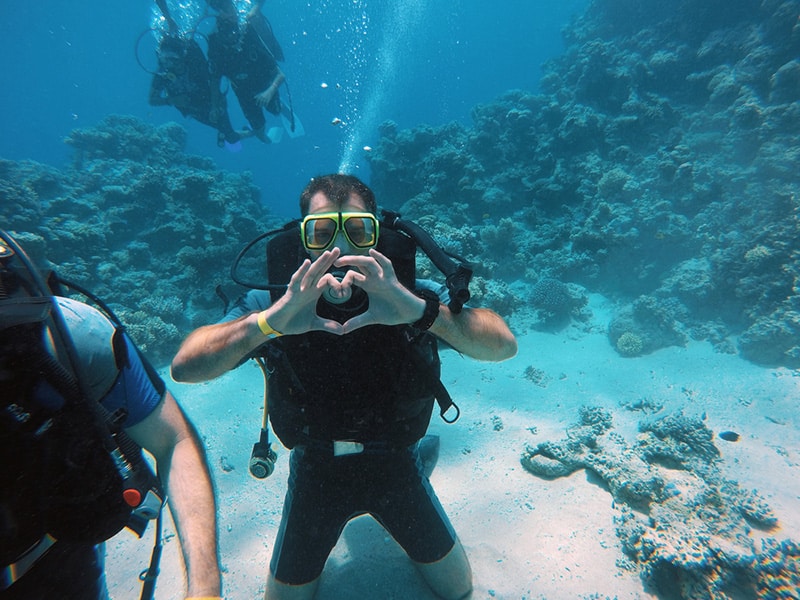 The Boneyard is quite far from the shore. Hence, you can reach this place by boat or canoe. The maximum depth (about 30 feet) is suitable for beginners and professionals. Additionally, the average visibility on sunny days ranges between 5 and 10 feet.
Rumor has it that there was a river in prehistoric periods flowing to the sea of Venice. What's more, this watercourse carried the death matters of animals from ancient times and emptied them to the ocean.
As a result, the Boneyard has become a museum of fossilized teeth and bones. To be more specific, you can come across megalodon's teeth, which might cost thousands of dollars. Sometimes, you can even find bones of mammoths if you are lucky enough!
Check this video for real-life experience at the Boneyard:
=> See more amazing dive spots in Florida Keys here!
2. Caspersen Beach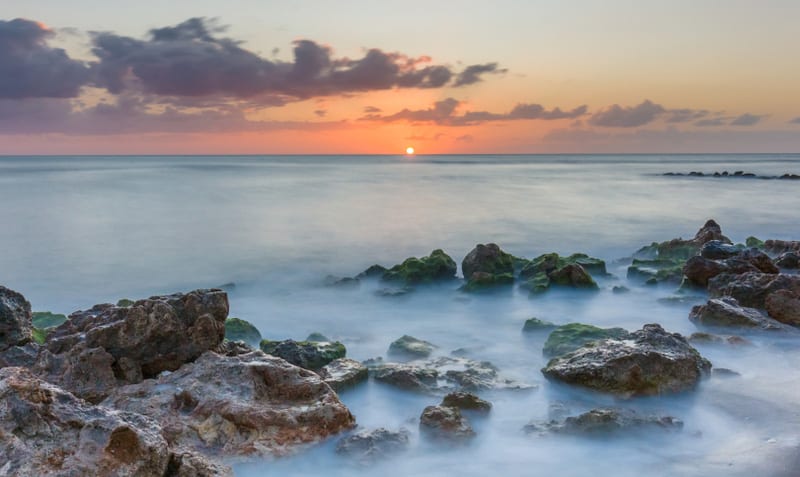 The Caspersen Beach is indeed a get-away paradise. The pristine sand is teeming with beautiful seashells, and the atmosphere is exceptionally refreshing. And surprisingly, this tranquil seaside is also a breathtaking dive site!
Have you ever questioned why there are multiple fossils of sharks' teeth at Venice beach? It is because the currents from Caspersen beach have carried them there! Anyway, you can fill up a whole scoping basket when you scuba dive in this area!
However, since Caspersen beach is virtually untouched, it is far from the downtown or any residential areas. Thus, you might have to walk a few miles if you want to dive at this site.
A diver put his journey at the Caspersen Beach on record. Click the link below to watch him shark tooth diving:
3. Venice Jetties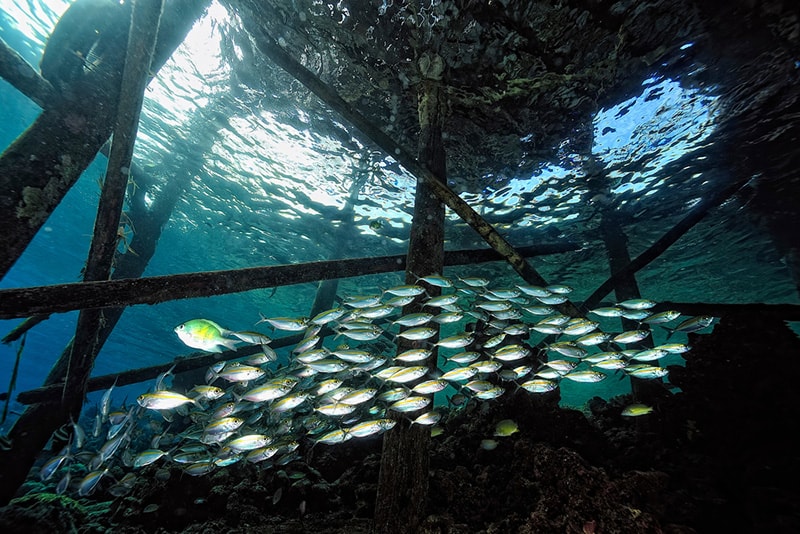 The piers are usually adjacent to the shore, hence ideal for beginners. Divers afraid of the vast ocean can also watch the wildlife by diving into the Venice Jetties. In other words, this dive site is a perfect place for offshore diving!
There are different species of fish swimming around the Venice Jetties. In particular, snappers, groupers, and barracuda often appear in the vicinity of the jetties. If visibility is more than great, you can see them right from the piers!
You may also witness some beautiful turtles and jellyfish. It might be a bit inconvenient if you climb up to the pier to take photos of marine life. Hence, if you can afford an underwater camera, bring them to seize the beautiful moments!
4. Army Tanks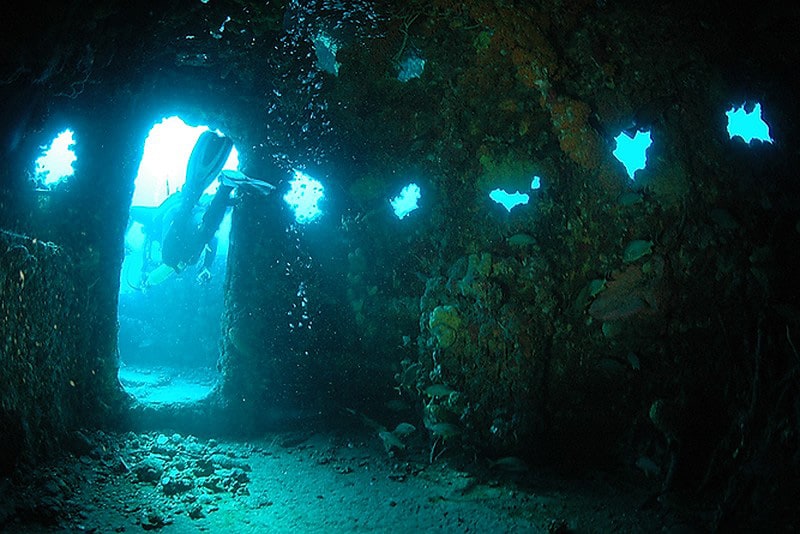 If you are an adventurous individual, you can try wreck diving to watch the mysterious and maybe terrifying sunken ships or aircraft. A perfect way is scuba diving at the Army Tanks in Venice, Florida!
Specifically, five intact army tanks sunk to the seafloor near Venice. These sunken armored cars, together with artificial reefs, are homes to a wide variety of sea life. The visibility in this dive spot is excellent all year round.
Nevertheless, you have to dive as deep as 60 feet if you wish to observe those incredible undersea creatures. This depth level can exceed the diving ability of beginners. Therefore, you had better own a certificate before diving in the Army Tanks.
Diver Guides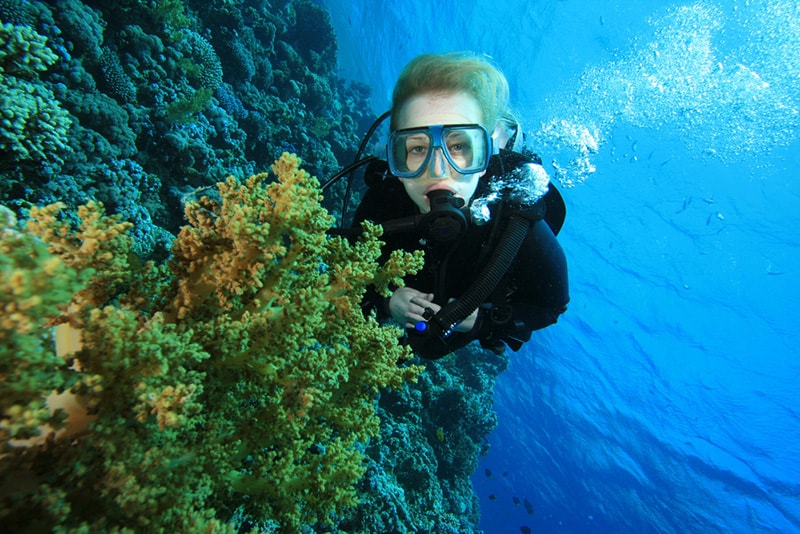 Before heading to Venice to chase the dream of scuba diving, you may need to acquire general knowledge about diving conditions in this city! Let's examine whether Venice is suitable for your diving plans and whether you are qualified enough to dive in Venice!
Don't forget to check out my divers guide to scuba diving in Destin, Florida here!
1. Diving Conditions in Venice, FL
Venice's climate resembles that of Sarasota as both lie on the Gulf of Mexico. If you guess that Venice has warm weather, you have already hit the nail on the head! Besides, you need to know some more helpful information, so scan the table below!
Air temperature
74°F – 85°F
Water temperature
84°F (average)
● Coolest: January
● Warmest: July
Visibility
10ft – 100ft
2. Who Can Dive in Venice?
As you all know, Venice is suitable for different kinds of diving. In particular, you can try both shore diving and offshore diving. Moreover, you can also opt for wreck diving or shark tooth diving, which is a must-try. Luckily, all these scuba diving types fit people of all ages!
Typically, people with good health can all go scuba diving if they want to. For kids, they must be older than eight. By contrast, there are virtually no age limits for adults. If you think you can bear staying a long time underwater, you can dive in Venice.
Besides, you must wear safety equipment before getting into the water. As long as you put on the necessary gadgets, you are secure enough to participate in scuba diving. Nevertheless, you should be able to swim or float on the water.
If you want to dive deeper (about 100 feet), you will have to practice some scuba diving exercises. It is because some dive sites, especially shipwrecks, are treacherous. A scuba tank or a wetsuit can not protect you against unforeseeable dangers but skillful techniques!
Furthermore, you can dive on your own or with a group. No matter what is your option, it's a great idea to hire an instructor to guide you on your diving trip!
3. Scuba Diving Certification
It does not sound bad when you have a little understanding of different types of qualifications, in terms of underwater diving. Generally, there are three popular certificates. I will give pieces of brief information about each.
First, NAUI is a well-known certification. It is the abbreviation of the National Association of Underwater Instructors. They can offer courses of various levels such as introductory, technical, specialty, etc. During these training classes, divers can go deep to 60 feet.
Another recreational diving membership is PADI, also known as the Professional Association of Diving Instructors. They have courses for people with different skill levels, from beginners to advanced divers.
The last candidate is SSI or Scuba Schools International. SSI membership is a good value of money, as their low price does not sacrifice their high quality. This organization also offers online classes!
There are many debates over which certification is the best. In particular, people often contrast NAUI with PADI, regarding their prices and services. The battle between PADI and SSI is also fierce so make sure to do a little research before choosing a specific course!
Watch the underneath video for a brief diver guide from PADI:
Venice – A Renowned City for Shark Tooth Diving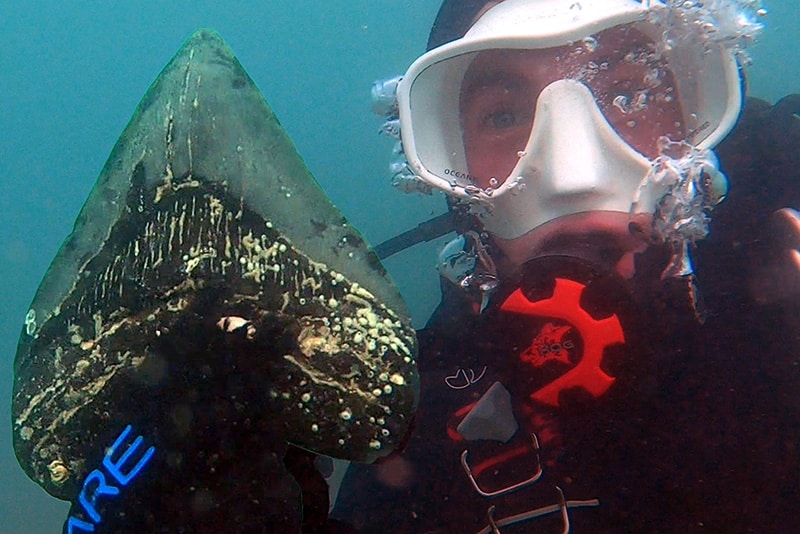 When thinking about Venice, you can relate to the term "Happiest Seaside Towns in America". On top of that, people also call it "Shark Tooth Capital of The World" since the city houses unique underwater museums of fossilized sharks' teeth!
Fossils of teeth come in different sizes and shapes. Some can be as small as your fingertip and some can be bigger than an adult's hand! A common feature is that they are usually black. If you are lucky, you can find giant teeth from prehistoric megalodon!
Contrary to what you think, seeking sharks' teeth can be an effortless task. Sitting along the seaside might be a straightforward approach! The wave will bring you some tiny teeth together with shells and pebbles.
If you wish to challenge yourself more, go on an offshore diving tour! You can swim further to the vast ocean to observe vivid fishes while hunting for sharks' teeth! Remember to be gentle and discreet so that you won't hurt the undersea wildlife!
Screws from Venice Dive Center record their adventure to hunt for megalodon's teeth. See how their trip is by checking the video below:
Best Dive Operators in Venice, Florida
Your experience might be lackluster if you don't know how to dive correctly. Hence, take a look at some suggestions below! These organizations offer high-quality equipment as well as guided diving trips!
Top Hotels & Resorts in Venice, Florida
If you want to stay overnight in Venice rather than go on a short scuba diving tour, you can skim over the recommendations below!
Hotels / Resorts
Address & Contact
Price
Amenities
Best Western Plus Ambassador Suites Venice
● 400 Commercial Ct, Venice, FL 34292
● +1 (941) 480-9898
From 226$
Complimentary cooked breakfast, free parking, a heated outdoor pool, sundecks, a fitness center, a convenience store, meeting space
Fairfield Inn & Suites by Marriott Venice
● 2935 Executive Dr, Venice, FL 34292
● +1 (941) 488-4343
From 313$
A convenience store, a hot tub, an outdoor pool, an exercise room, free parking and breakfasts, business space
Ramada by Wyndham Venice Hotel Venezia
● 425 U.S. 41 Bypass N, Venice, FL 34285
● +1 ( 941) 315-8474
From 210$
Free parking, a restaurant, a gym, a bar, a convenience shop, an outdoor pool, a sundeck, a hot tub, laundry facilities, meeting space
Holiday Inn Express Venice
● 380 Commercial Ct, Venice, FL 34292
● +1 (941) 584-6800
From 270$
Complimentary hot breakfasts, free guest parking, an outdoor swimming pool, a fitness center
Inn At The Beach
● 725 W Venice Ave, Venice, FL 34285
● +1 (941) 484-8471
From 207$
An outdoor heated pool, a hot tub, in-room dining tables, ocean views
Hampton Inn & Suites Venice Bayside South Sarasota
● 881 Venetia Bay Blvd, Venice, FL 34292
● +1 (941) 488-5900
From 303$
An outdoor pool, an exercise room, free parking and breakfasts, a business center, a meeting room
Frequently Asked Questions
There are some shared issues among divers and visitors to Venice, Florida. Therefore, I have listed some of the most common questions. Check the answers below if you have the same queries!
Is It Expensive to Dive in Venice, Florida?
It is contingent on different factors. Generally, the minimum amount of money spent on scuba diving in Venice is 70$. This can go up to 600$ or more. However, you have many options to choose from!
The expenditures for underwater diving in Venice include payment for diving equipment. If you rent them from dive operators, you will spend less! There are also gadgets of different brands, whose prices differ from others'.
If you book a charter trip and hire instructors, you will have to invest more money. Likewise, attending diving courses before practicing in real life also eats up your budget. Thus, don't forget to consider those aspects!
=> Learn more about how much to go scuba diving here!
Why Are There Several Sharks' Teeth in Venice?
Around 370 species of sharks lived in Venice during prehistoric periods. The giant megalodon inhabited there too! Besides, there is a fact that a single shark can produce more or less 25 000 teeth during its lifetime!
Besides samples from ancient creatures, you can also find teeth from modern sharks. It is because they still swim around this area occasionally. Amid their biological process, several rows of teeth fall out to make way for new ones!
Conclusion
In summary, scuba diving in Venice is a fascinating and unique experience. Specifically, no place other than Venice can offer incredible shark tooth diving trips as the city itself is a museum of prehistoric fossils.
Besides some famous dive sites, this article allows you to gain knowledge of diving conditions, recreational certifications, and fine diver operators. Additionally, information about hotels and resorts in Venice will help you prepare for your holidays!
Please share it with your family and friends if you find my topic helpful and exciting. I hope my content will do wonders for your trip to Venice and your scuba diving experience!