Although Lanai is not the most famous destination to scuba dive in Hawaii, I think that it can still bring you excellent diving experiences. That's because the island's underwater world provides you with the chance to see picturesque lava formations and diverse sea life.
When immersing the body into Lanai's sparkling blue water, you will be impressed by cathedral-like caves along with vivid coral reefs. Besides, unique marine creatures such as yellow tangs, sharks, green sea turtles, and whales are also familiar.
To help you know more about scuba diving in Lanai, I have written this article that will offer a significant amount of knowledge. If you are in a hurry, let's take a quick look at three main points: best dive sites, things to do, and best dive operators.
Best Dive Sites in Lanai
Lanai is well-known for its incredible underwater topography and abundant marine life. This island offers more than 35 dive spots, and many of them are home to spectacular scenes, making you feel like being lost in an underwater wonderland.
I have listed the top 5 best dive sites that should not be missed in case you come to Lanai. Check it out and find out which is your dream destination!
See more amazing dive spots in the Hawaii's Big Island here!
1. Lanai Cathedrals
This dive spot includes two churches named First Cathedral and Second Cathedral, formed by hot lava flows thousands of years ago.
The Lanai Cathedrals' complex structure makes people think it is suitable for professional divers only. In fact, this dive site offers large entrances as well as exits, which means that it is accessible for all experience levels.
First Cathedral
To be specific, First Cathedral is an excellent choice for underwater photography. Its massive ceiling has various holes that enable sunlight to pour into the cavern. Thanks to that, when diving here, you will feel like you are in an underwater church with colorful stained glass windows.
Besides, the sunlight contributes to illuminating Lanai's turquoise water. At the same time, it also highlights Hawaiian endemic fish species such as frogfish, pufferfish, and tropical reef fish.
In addition, do not forget to bring a GoPro camera so that you can take great diving shots and share them with your friends.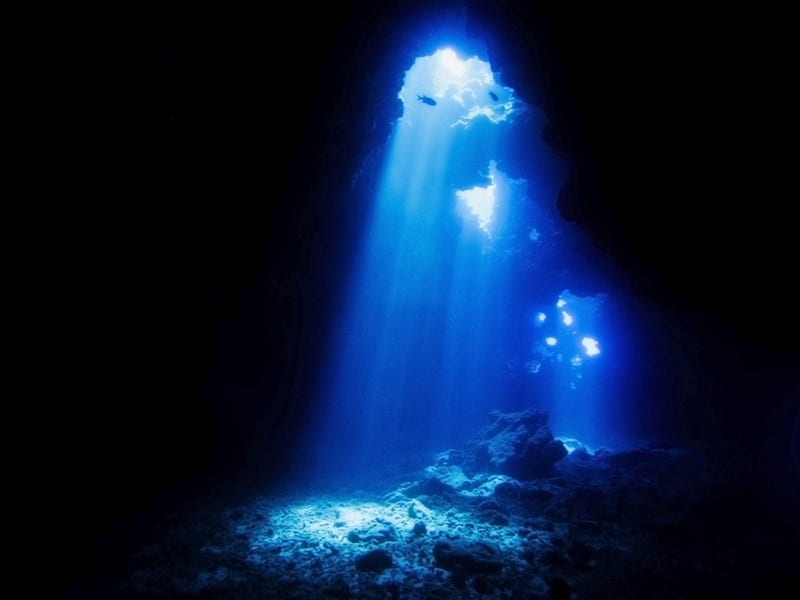 Second Cathedral
Meanwhile, Second Cathedral provides you with picturesque seascapes and rich underwater ecosystems. Like a church on land, it comes with numerous small chambers aside from a vast central hall, creating an intricate cavern system as well.
These modest caves are home to sharks, dolphins, rays, and other smaller creatures, while black coral and vivid sponges are found in the lava walls.
Another fantastic feature of Second Cathedral is that you have more significant opportunities to see rare pyramid butterflyfish and nocturnal fish. However, a dive light should be attached to your scuba BCD's mounting point to facilitate visibility due to low-light underwater environments.
Additionally, it would be best to visit Lanai Cathedrals in the morning when water conditions are the calmest.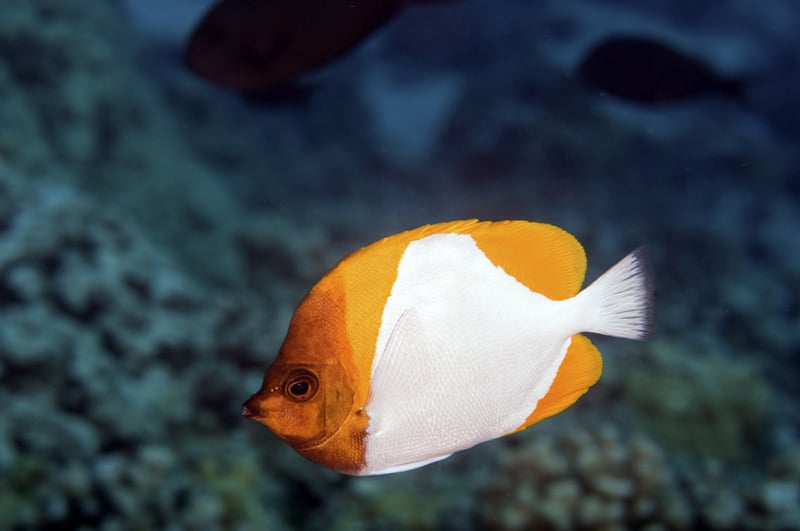 Read more about Scuba Diving in Maui island here!
2. Barge Harbor
Barge Harbor is located on the south side of Lanai. This dive spot provides you with diverse marine life and spectacular underwater vistas. Besides, it is pretty shallow, and thereby, it is a safe choice for snorkelers and beginners.
For advanced divers, the maximum depth of Barge Harbor is up to 110 feet, which can satisfy the most demanding ones.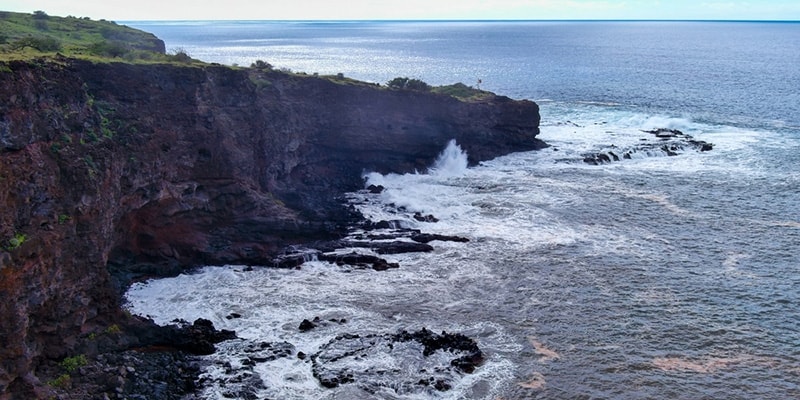 Don't forget to check out the best dive spots in Kauai island here!
3. Knob Hill
You can challenge yourself by diving through enormous lava arches and rough underwater ridges in Knob Hill. Additionally, this dive site offers you the chance to spot strange invertebrates, colorful sponges as well as giant rays.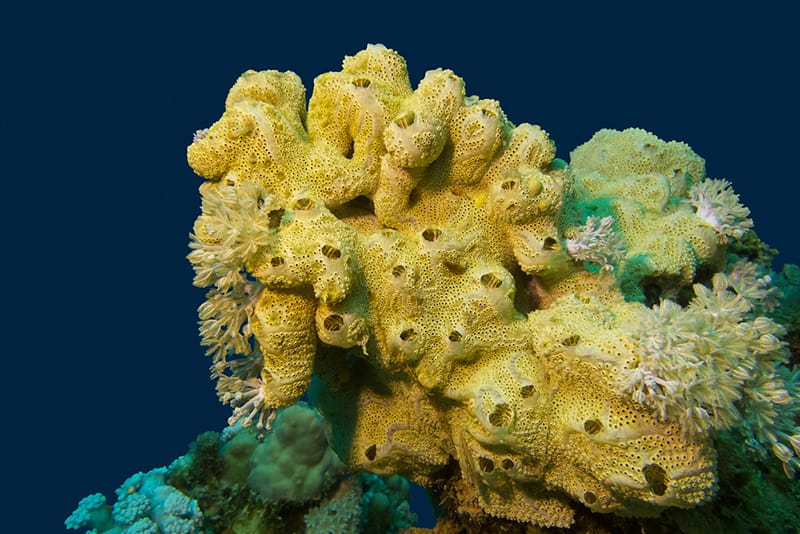 See more great dive spots in Oahu island here!
4. Shark-Fin Rock
This exciting destination is named after a nearby shark-fin-shaped rock, and nowadays, it is well-known as a symbol of courage. The main reason is that Shark-Fin Rock includes various rugged and threatening cliffs on its north side.
In addition, the location of Shark-Fin Rock is another advantage, which is explained by the fact that it can provide divers with better visibility than anywhere in Lanai. Thanks to that, it is effortless to enjoy the entire underwater beauty through vibrant red sponges and coral reefs.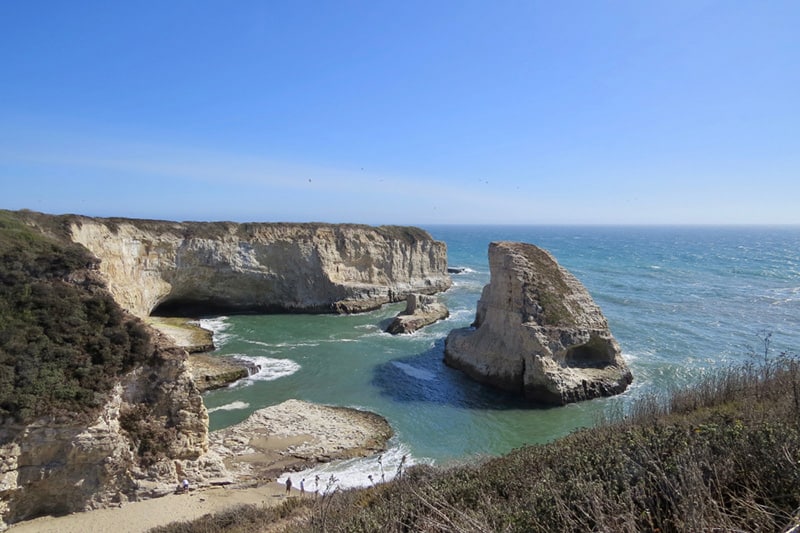 5. Monolith
Monolith is best for seasoned divers because its unique underwater topography can offer different difficulties for them to explore. It comes with a 110-feet-long lava ridge that challenges reckless adventures. Besides, you can find black coral and basslet fish while diving here as well.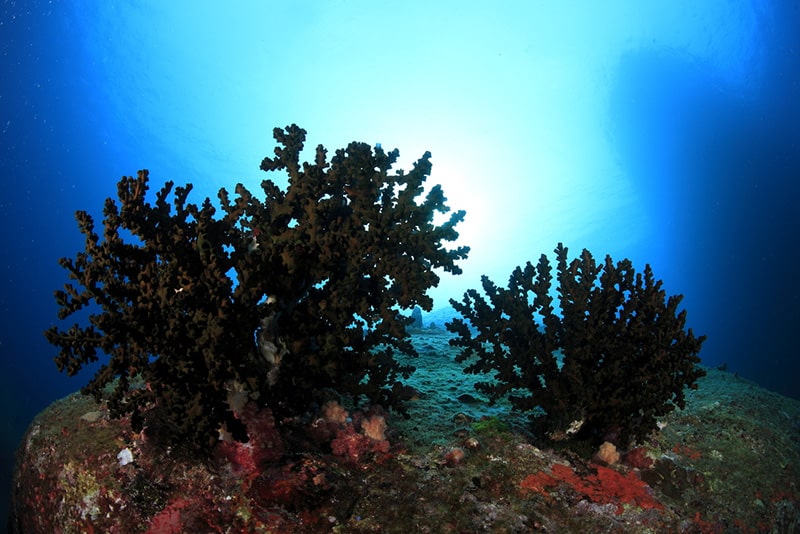 Things to Do in Lanai
Lanai attracts tourists by its wide range of activities to explore the island safely and interestingly. Below are several popular things to do. All of them are favored by most divers and should be added to the "to-do" list if you want to make your diving adventure more fantastic.
Hiking and biking are the best ways to explore natural landscapes as well as learn more about history and culture. Besides, they are beneficial to your health and enable you to test endurance.
Scuba diving is one of the most popular activities in Lanai because it enables drivers to enjoy the absolute beauty of lava architects when they are below the surface. Two magnificent cathedrals beneath Lanai's south coast have been world-famous dive sites for a long time.
Additionally, scuba diving also helps you explore shipwrecks and spot unique creatures in Lanai.
Lanai is a paradise for anglers, especially those who hunt strange and large animals. Yellowfin tuna is one of the most favored species here.
Snorkeling and swimming at Hulopoe Beach
Hulopoe Beach offers you stunning scenes with endless sand dunes and crystal clear blue waters. Hence, it is no doubt that it is one of the finest destinations for snorkelers and swimmers.
In addition, the magical underwater world of Hulopoe Beach attracts lots of divers to explore. Schools of colorful tropical reef fish gliding around coral fingers are found easily here. Plus, this dive site allows you to scuba dive with dolphins and green sea turtles.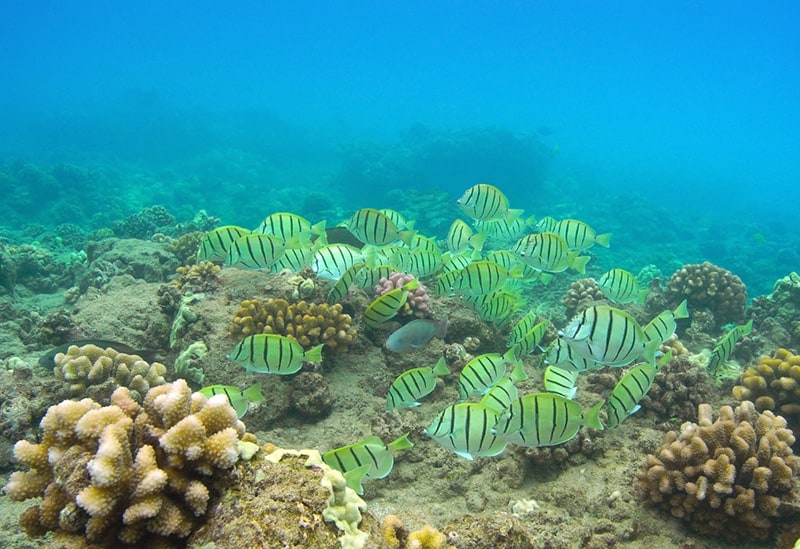 Is Lanai Worth a Day Trip? Check out the video below for more information:
Which Is Better Molokai or Lanai?
Molokai and Lanai seem to be less welcoming compared to other locations in the Hawaiian chain of islands. However, both still ensure providing you with top-quality accommodations, excellent dive spots, and spectacular underwater vistas.
For that reason, you should not skip paying a visit to these two islands once in your life. Supposing that you have limited time and only choose one to drop by, this section will help you decide which is better for your next vacation.
Molokai
Lanai
Advantages
● Most roads are paved.
● Molokai scenery is greener.
● It is a budget-friendly option.
● Renowned for historical and cultural values.
● There are three first-rate resorts to stay.
● It provides tourists with more activities to do.
● The weather in Lanai is drier.
● You can get to Lanai by air or ferry.
● It is often considered as a luxury destination for honeymoons and weddings.
Disadvantages
● No resort options.
● Flying is the only way to get to Molokai.
● The size of Lanai is only about half that of Molokai.
● Most roads are unpaved.
● Not an ideal choice for divers on a budget.
Best Dive Operators in Lanai
This part will suggest some reliable dive operators in Lanai to make your scuba diving tours more convenient and comfortable. I also attached a brief introduction of the service they provide and their contact in case you need to search for further information.
Extended Horizons Scuba Dive Shop – supports shore dives, provides diving courses, and enriches your knowledge about conservation. Call (808) 667-0611 or visit https://extendedhorizons.com/ for further information.
Dive Maui – offers guided dive trips to Lanai Cathedrals, rental scuba gear, and whale-watching tours. Phone at (808) 661-7333 and check out https://goscubadivemaui.com/ to get more details!
Lahaina Divers – gives first-time divers excellent diving experiences, offers fantastic private charters, and maximizes your safety with their skilled staff. Contact (808) 667-7496 and visit https://lahainadivers.com/ to book now!
Best Resorts in Lanai
There are not many decent choices about accommodations in Lanai. However, I have tried my best, and as a result, three standard options have been listed for you to compare as follows:
Resorts
Star
Popular amenities
Address & Contact
Four Seasons Resort Lanai
5
Spa, pool, beachfront, free Wi-Fi
● 1 Manele Bay Rd, Lanai City, HI 96763
● (808) 565-2000
Hotel Lanai
3
Free parking, free breakfast, free Wi-Fi, air conditioning
● 828 Lanai Ave, Lanai City, HI 96763
● (808) 565-7211
Sensei Lanai – Four Seasons Resort
5
Spa, pool, beach access, free Wi-Fi
● 1 Keomoku Highway, Lanai City, HI 96763
● (800) 505-2624
Frequently Asked Questions
If you have some issues related to scuba diving in Lanai, this section should be worth your much attention. I have taken the time to collect some of the frequently asked questions here. Kindly read carefully for more information.
How Do You Travel to Lanai?
There are two common ways to go to Lanai. The former is by plane, and the latter is by ferry. Because there is no direct flight from other states on the continent to Lanai, you must fly to international airports on Maui and then catch a connecting flight to reach your destination.
However, the most outstanding downside of traveling by air is its high cost. Therefore, if you are a diver on budget, I highly recommend getting to Lanai by taking a ferry. You will only have to pay $30 and wait around 45 minutes for a one-way ride.
How Do You Get Around Lanai?
Since Lanai still maintains a lot of unpaved roads, you should rent a four-wheel-drive vehicle to travel around smoothly. That kind of vehicle will allow you to get to any destination effortlessly, even though most paths are off-road.
Conclusion
Without a doubt, scuba diving in Lanai is a worthy investment. Premium services you can receive from luxury resorts and gorgeous scenery you see when below the surface will not let you down. In addition, pristine coral reefs are another appealing reason why people come here.
Lanai Cathedrals is definitely a destination not to be missed when diving in Lanai. I make sure that the diving experiences you have here are not found anywhere else in the world. Besides, Lanai has some must-do activities, and I assure you will regret skipping them.
If you have any comments or questions, I'll appreciate it if you forward them to me using the comment section below. Furthermore, you can help other divers know about this helpful information by sharing my article. The following social buttons will lend you a hand.