Experiencing scuba diving in Pensacola, people can spend quality time exploring many exciting things in the ocean. Besides, you can also opt for numerous outdoor activities available anytime along the seashore.
Pensacola is the westernmost city in the Florida Panhandle. Its seasonal nature is a humid subtropical climate with a short winter and a hot and humid summer. This favorable condition enables different activities associated with scuba diving.
If you do not know where to dive, you should pay a visit to Pensacola. To help you know better about the region, this article will inform you of interesting things about the undersea, fundamental equipment for scuba diving, and aquatic activities as well. Let's start now!
What to See in Pensacola
The sea in Pensacola is the natural habitat of various species, for example colorful fishes and artificial coral reefs. Also, many old ships are at the bottom of this place, such as USS Oriskany (CV-34) and YDT-14.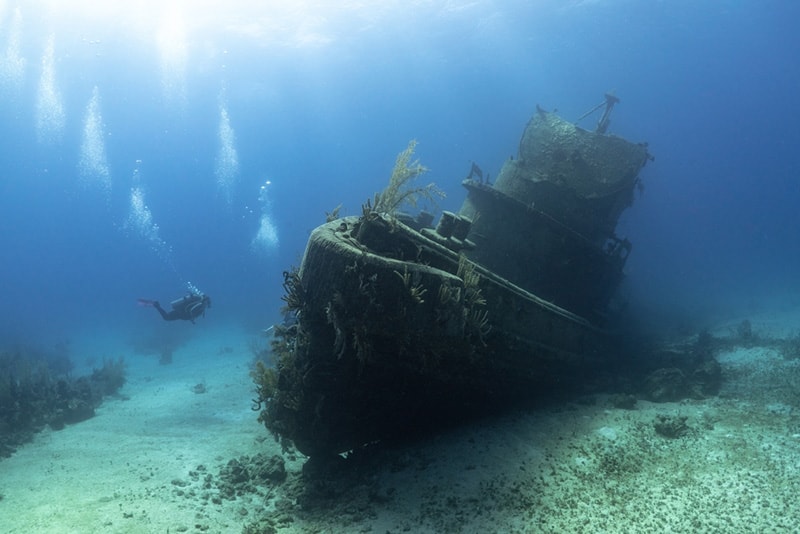 As for fish, you could come across mullet, red drum, speckled trout, and flounder. Besides, you can see the snapper family – the most popular offshore species. Gulf fish, Sharks, Rays, sea turtles, jellyfish, and crustaceans are also common in Pensacola.
Interestingly, the waters of Pensacola beach are home to multiple artificial reefs. These artificial reefs are primarily composed of prefabricated concrete structures and sunken ships that lie on the ocean floor.
In addition, you can catch up with their beloved animal – the Dolphin. If you are lucky, you can come across a baby Spinner Dolphin, who has a dark gray back, a pearl-gray side panel and a white belly.
Best Dive Sites in Pensacola
You have multiple choices of diving in Pensacola to gain valuable experience. However, you had better know fascinating destinations to have a memorable journey. The recommendations below may help you a lot.
1. Portofino Reef
For those who do not want to dive into deep areas, Portofino Reef would be a good idea. In particular, this place is known as a shore diving site with a depth of 12 feet – deep enough to explore the magical world's undersea.
Scuba diving here helps you know what artificial reefs are and how they look like. Despite being manufactured, these reefs resemble natural ones. In addition, small fish families usually surround and sometimes follow you.
Let's see the video below to know how Portofino Reef looks!
2. USS Oriskany
Initially, I do not know much about it until I see it with my naked eyes. It is impossible to estimate the size of the ship without directly diving here. There are still countless nice things at any water level for you to explore despite diving many times.
Do not worry about anything if it is your first time. Experienced divers are willing to instruct and help you choose your favorite diving sites. Moreover, they also inform you about essential tips to get the best feelings during scuba diving.
3. Joe Patti Barge
The majority of you notice the Joe Patti Memorial Reef. You take a chance to see the metal artwork put on the barge including all kinds of artistic objects in Pensacola.
Moreover, you could find many fishes such as spadefish and baitfish. Besides, you can easily collect colorful shells and sea stars available on dunes. The shallow wreck is also suitable for those who fear depths.
The video below is the moment of the Joe Patti barge sinking for an artificial reef off Pensacola, Florida:
4. Timber Holes
Unlike many other dive sites, Timber Holes have holes of various sizes created by rotted trees for a long-term period. This typical feature may stimulate your curiosity about the unique nature of the Creator.
Its depths range from 120 to 130 feet so that you can see many aquatic species. For instance, starfish, sea-horse, and giant whales.
The video below reveals what you experience when coming to Timber Holes!
5. Ft. Pickens Jetty
Here is an additional option that you should notice. It is a diving area with a depth of 10 to 50 feet, but it anchors airplanes, concrete culverts, jeeps, golf carts.
Additionally, species like grouper, snapper, flounder, spadefish, and guitarfish are also found here. However, diving time depends on the tide, and you have to follow several strict rules before diving.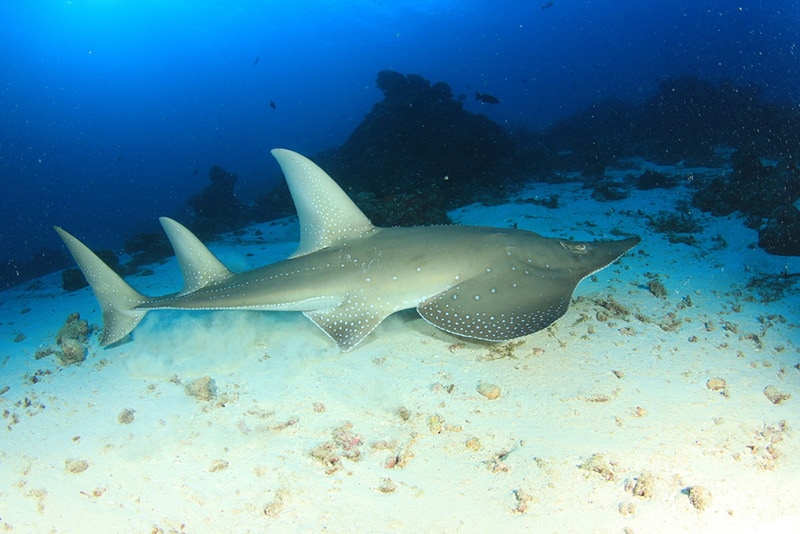 Types of Diving in Pensacola
Scuba diving in Pensacola includes different branches, wishing to meet all of the needs of you. Below are two popular diving types, each of which has unique features. That's why Pensacola conveys a deep meaning in you' minds.
1. Natural Bottom Diving
Some might wonder: 'What are the interesting things the bottom delivers to you?'. Then, they get the answer immediately when they see the smooth movement of small fishes in the bottom of the sea with their naked eyes. That's so fascinating!
Its name shows that you would spend time diving at the bottom of sites. It sounds simple, but it will undoubtedly surprise you how particular its structure is. It is the location of limestone ledges with sinkholes on the surface.
What's more, you might notice that small fishes use this place to hide from predators. They move smoothly following in a herd, which looks so lovely!
Because of the depth of diving sites, more experienced people are encouraged.
2. Wreck Diving
In the US, most wreck diving sites are mainly in Pensacola. Therefore, it is the best option for those who love exploring ancient ships. Sometimes, you find it interesting to touch and take photos with them.
Remarkably, you easily find rich ecosystems where various fish families migrate. Many believe that wreck diving is a widespread interest of those who have set foot on Pensacola several times.
Diving Guide
If you decide to go on a diving trip in Pensacola, don't overlook this section. You had better glance at these lines and then remember. However, just read quickly to notice!
Firstly, I will mention the favorable time for scuba diving during the year. Then, you come to the requirements of clothing and equipment. Last but not least, you can make notices of some instructions on how to get to Pensacola.
1. Diving Conditions
Pensacola always welcomes all of you in every corner of the world during the year. However, summer is a good season because the water is cleaner and calmer. Therefore, you could have incredible feelings.
In addition, the table below brings you a better preparation for diving:
| | |
| --- | --- |
| Average annual temperature | 67°F – 87°F |
| Average water surface temperature | 58°F – 85°F |
| Visibility often averaging | 80 ft – 100 ft |
| Coldest time | January |
| Warmest time | July |
2. Requirements
It is a fact that you should learn diving lessons and prepare the necessary equipment before jumping into the sea. That aims to help avoid unexpected accidents or dangers during your trip to explore marine life.
Firstly, you need to adapt to the water pressure and wrap yourself in a wetsuit. Besides, learning to use diving equipment is also essential because it helps you move smoothly under the sea. For example, scuba tanks are a must for your sufficient breath.
In addition, you will be examined about basic swim skills, in which you can maintain yourself in the water. Some available courses will be expected if you don't know how to float initially.
See also: NAUI vs. PADI: Which Training Agencies Are Better?
Before opting for Pensacola to dive, some usually pay attention to the payment because they do not know whether scuba diving here is cheap or expensive. Typically, it costs you $70 – $200 for a single dive; however, the price is $200 – $600 in cases of the support of instructors.
3. Transportation
The geographical location surrounded by the ocean of Pensacola makes tourists come here by plane rather than any other vehicle. Many flights will finish at Pensacola International Airport – the Gateway to the Gulf Coast.
Do you know how to commute after landing at the destination? How about going on public transportation in Pensacola? It is the ECAT system where you could get the fixed-route bus service. In addition, it guarantees your safety during the trip!
Besides, booking a taxi is also a good idea to travel around the area, costing about $20. If you go directly to the beach, the bill will be $35. Vehicles, in particular, bikes, cars, coaches are other choices you should consider when commuting to Pensacola.
Outdoor Activities in Pensacola
Pensacola is a paradise for water activities in which you can release all stress, depression, and daily concerns. The activities are varied to have multiple choices based on personal interests.
Scuba diving
If you wish to have an unforgettable experience, you should not overlook scuba diving! There is no doubt that Pensacola is famous for its aquatic world which has artificial coral reefs, marine creatures, and shipwrecks. To see this magic spot, let's start with scuba diving!
When grasping diving techniques, you are able to dive in great depths in different sites. In other words, many incredible things at the bottom of the sea are waiting for you. It seems that you are going to be a real discoverer in your life!
Paddling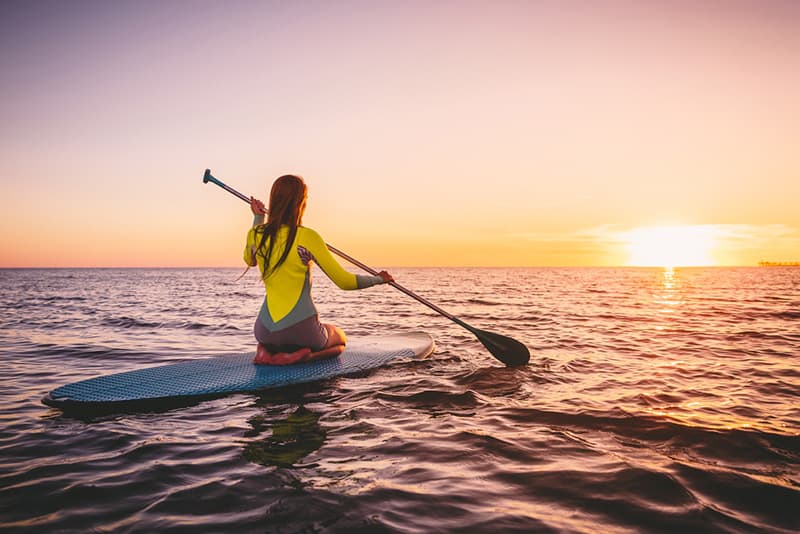 Along with diving, paddling is a popular activity in Pensacola
If you want to join a slower kind of amusement, Pensacola would satisfy you with a wonderful activity. It is paddling! Its speed helps you enjoy nature and relax slightly while sailing, that's why you can be free to control yourself.
Paddling is one of the popular activities which offers a peaceful experience to you. Taking a vessel and paddling around the Pensacola Bay Area allows you to see an utterly picturesque view as a masterpiece in real life.
Surfing
In case you come to Pensacola in summer, the weather is so favorable for you to go surfing. Because of the clear and warm water, you can stand on the surfboard driving on any waves. I used to try this incredible experience. Interestingly, the photos of this moment are beautiful!
Unlike paddling, surfing requires several skills like keeping balance on the surfboard. Initially, you may find it hard to manage, but don't worry since there are some classes for beginners. In addition, professional instructors will help you adapt and improve easily!
For example, the class "Learn to surf" is organized on the Gulf Coast, where you can take a one-hour instruction before coming to practice. The lesson usually lasts 2 hours, and its total fee is from $100 per person.
Snorkeling
Some think that they do not want to snorkel because its nature is quite similar to scuba diving. However it is totally wrong, snorkeling does not require sophisticated equipment like scuba diving does. Therefore, it is easy for you to have a try!
Actually, there are countless different sites for snorkeling in Pensacola. Therefore, it is quite hard to pick out one but I bet you will become a fan of "John Pennekamp Coral Reef State Park" after your snorkeling experience.
Diving Operator
Typically, Pensacola has a variety of diving operators, meeting different needs among you. It is pretty challenging for you to decide which they should choose. It is time you searched for references. The information below is worth noticing!
Dive Pros – provides the best education and dive certifications (PADI and SSI). Please call (850) 456-8845 or click https://www.florida-divepros.com to get more details!
Jolly Roger Dive Charters – offers boat-renting services and suggests suitable diving sites, plus gives immediate help at any time. Just phone at (850) 889-6085 or access its website https://jollyrogerdivecharters.com/ to book now!
MBT you – sells professional diving equipment and sets a flexible schedule fitting your timetable. You can visit its website https://mbtyou.com/ to shop around before your trip!
Best Hotels in Pensacola
After a whole day of scuba diving, it is time you need to take a break and relax. A suitable accommodation certainly helps you. Hotel chains in Pensacola are modern and have appropriate facilities available. Here are the most popular hotels you might seek!
Hotels/ Resorts
Star
Address & Contact
Best For
Facilities
Oyster Bay Boutique Hotel
5
● 400 Bayfront Pkwy, Pensacola, FL 32502-6158.
● +1 (850)-912-8770
Couples, groups, families
● Non-smoking rooms.
● Free parking.
● Free WiFi.
● Facilities for disabled guests.
● Tea/coffee maker in all rooms.
Residence Inn by Marriott
3
● 6000 Cobble Creek Road, Pensacola, FL 32504.
● +1 (850)-476-8383
Couples, friends
● One swimming pool.
● Non-smoking rooms.
● Free parking.
● Pets allowed.
● Free WiFi.
● Airport shuttle (free).
● Exceptional breakfast.
Hilton Garden Inn Pensacola
3
● 1144 Airport Blvd Pensacola, FL 32504.
● +1 (850)-479-8900
Couples, friends
● Air conditioning.
● Private Bathroom.
● Garden yard.
● Coffee maker in all rooms.
● Free WiFi.
Perdido Beach Resort
4
27200 Perdido Beach Boulevard, Orange Beach, AL 36561.
● +1 (251)-981-9811
Business, couples, families, groups
● Three swimming pool.
● No smoking room.
● Restaurant.
● Free parking.
● Facilities for disabled guests.
● Free WiFi.
● Near sea.
● Tea/coffee maker in all rooms.
● Bar club.
Frequently Asked Questions
This article has provided considerable information about Scuba diving in Pensacola. However, I notice other issues that need the answer. Do not overlook the lines below if you also have the same questions!
How Much Does It Cost to Get Shark Cage Diving in Pensacola?
The price of a shark cage diving in Pensacola depends on diving sites and how many tanks.
Here is the particular payment (per person):
Inshore Dives
Midshore dives
● Two Tank Dives: $100
● Three Tank Dives: $130
● Night Dives: $125
● Two Tank Dives: $125
● Three Tank Dives: $140
Night dives
Offshore dives
● $140
● Two Tank Dives: $160
● Three Tank Dives: $185
● Night Dives: $175
(source scubaschedules.com)
What Is the Nearest Airport to Pensacola?
The airports near Pensacola are divided into three groups: international, domestic, and local. For each of them, I will offer typical ones and give some details you need to know.
Are There Coral Reefs in Pensacola Florida?
Unlike the Caribbean and the Florida Keys, Pensacola does not have coral reefs. In contrast, there are two artificial reef systems in the region, including the USS Oriskany – the largest artificial reef in the world.
Besides, the wealth of marine creatures and shipwrecks compensates for the lack of natural reefs, leading to many visitors coming to this destination during the year. In other words, there are always countless exciting things waiting for exploration!
Conclusion
Pensacola is a must-go destination for scuba diving, where you can make your vacation meaningful and memorable. It is worth visiting to explore tons of marine creatures and shipwrecks. Hence, do not ignore this attractive land!
This article might provide everything you acquire, which lets you perceive better about scuba diving in Pensacola. If you want to help others, don't hesitate to share this article!
Related Articles: