Scuba diving in Molokai can be fabulous since you will primarily benefit from beautiful landscapes, ideal water conditions, and abundant sea life. In addition, you also have extra choices to join in fascinating aquatic activities during your vacation.
The island of Molokai owns Hawaii's longest coral reef, which provides many marine creatures with their primary food source. Rare hammerhead sharks are easy to be seen here. Additionally, if you want to enjoy unspoiled beaches, Molokai is your best option.
Have you ever scuba dived in Molokai? If this is your first time, you should read my article carefully because some information given here may help you a lot. Common problems related to best dive spots, where to stay, and things to do have been fully cleared.
Let's get started!
What to See in Molokai
The underwater world of Molokai is magical, with numerous fascinating creatures, various pristine coral reefs, and countless tropical fish species. Thanks to the unpopularity of tourism activities, this island can offer exciting adventures into untouched volcanic terrain.
When diving in Molokai, it would be best if you noticed sharp ridges and dark cracks, which are home to macro animals such as octopus, frogfish, as well as lobster. Besides, there are some unique sites to keep in mind if you want to get a close glimpse of Hawaii's typical creatures.
For example, the South Coast of Molokai has a wide range of pristine coral reefs; thus, there are a lot of Hawaiian green sea turtles and white-tip sharks living here. Additionally, those fringe reefs also provide a natural habitat for rare fish, including parrotfish, wrasses, trumpetfish, etc.
More impressively, Molokai is one of the most renowned places in the world where you will have great opportunities to spot hammerhead creatures. Pailolo Channel, which lies on the southeast of Molokai, is a must-visit destination in case these sharks are your beloved animals.
In addition, you can even catch humpback whales migrating to the warm waters of the Pacific Ocean during the winter months. Furthermore, if you are lucky, you will have a few chances to see Hawaiian monk seals sunbathing on Molokai's beaches.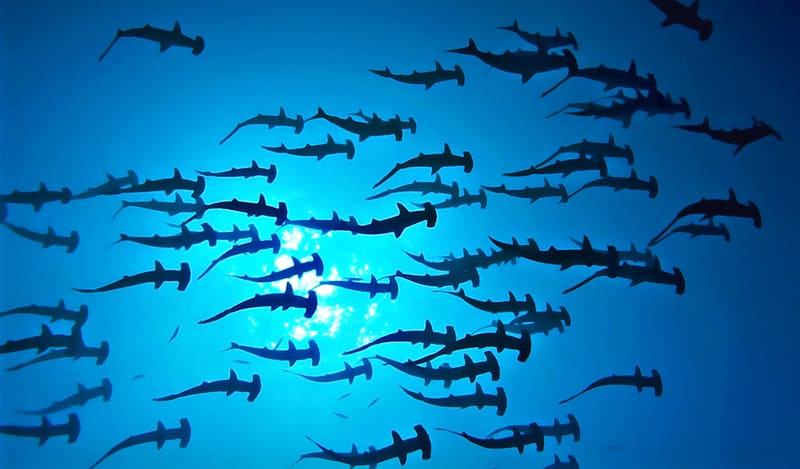 Best Dive Sites in Molokai
Molokai can offer you up to more than 40 spectacular destinations, but only some of them are worth visiting. These dive spots are located around Pailolo Channel and off the south shore. Below is a list of the top 4 finest places for you to reference.
1. Fish Bowl
This dive spot cannot be accessed effortlessly because of strong currents caused by Pailolo Channel located between Molokai and Maui. Besides, the maximum depth of Fish Bowl is up to over 100 feet; hence, it will only be an ideal choice for seasoned scuba divers.
However, after overcoming challenges to get there, I believe the rich marine life that Fish Bowl can offer will make you feel worthy. Just diving about 55 feet or deeper, it is simple to see white-tip reef sharks, octopuses, plus schools of brilliant fish species.
In addition, eagle rays and hammerhead sharks are sometimes found here. Always bring a scuba diving camera to prepare for underwater photography because they may appear suddenly.
See more wonderful dive sites in Kauai island here!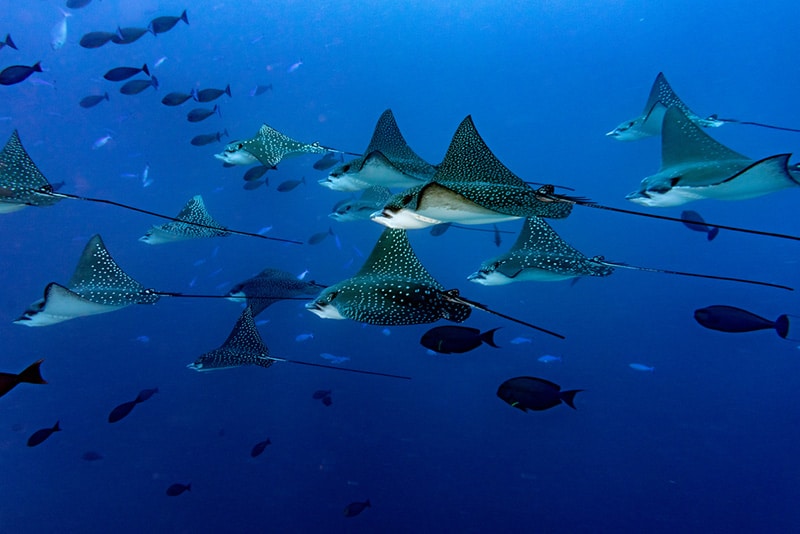 2. Fish Rain
Fish Rain, another popular destination in the Pailolo Channel, is a perfect choice for drift divers. The meaning of its name originates from the fact that solid currents create a scene like a rainfall of colorful tiny fish.
This contributes to giving incredible seascapes, and at the same time, making divers feel like immersing themselves into a pool full of fish. Starting at a depth of about 80 feet, you will find common aquatic critters such as tiger sharks, Galapagos sharks, and even monk seals.
Besides, a few typical tropical fish species like mahi-mahi and bluefin jacks are easy to spot here. When diving in Fish Rain, everything you need to remember is to bring two scuba tanks. This helps ensure your exploration is not interrupted by suddenly running out of breathable air.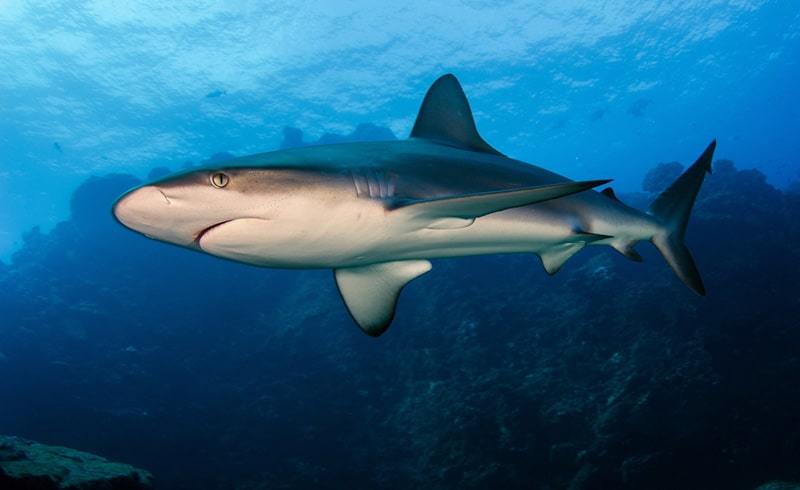 3. Hole in the Wall
Hole in the Wall is a part of Pailolo Channel – the windiest location in Molokai. Therefore, there is no doubt that countless strong currents and winds are found here. This destination is a giant volcanic pinnacle, and its depth ranges from 40 to 100 feet.
The rough underwater topography of Hole in the Wall nowadays attracts considerable divers who love challenging themselves. Moreover, this dive site is well-known for its diverse sea life as well. Some rare types are spotted here, including snowflake corals, antler corals, and black corals.
When going deeper, you also have a chance to see manta rays, longnose hawkfish, and moray eels that are swimming gently around coral fingers. What's more, Hole in the Wall is one of the best places in Molokai to see humpback whales in the winter.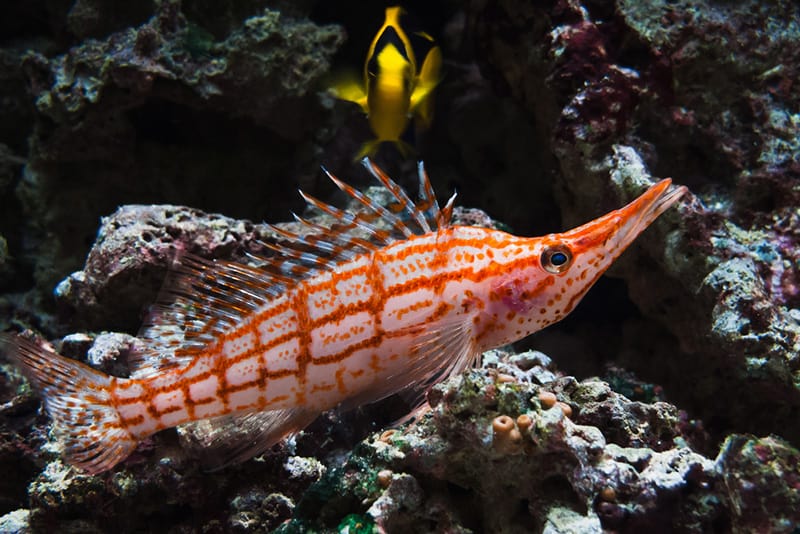 4. The Cove
The Cove is the most accessible dive spot on this list. That's because it can offer shallow areas to maximize safety, as well as calmer diving conditions. These competitive advantages make the destination suitable for both entry-level and advanced divers.
About the underwater ecosystem, The Cove is plentiful with tropical species, including butterflyfish, porcupine puffers, white-tip reef sharks, and lobsters. Some pelagics like manta rays and whale sharks are found here as well.
In addition, the underwater vistas of The Cove are also highlighted by vivid antler coral reefs. In the meantime, mysterious black coral trees will require you to dive more than 50 feet to see.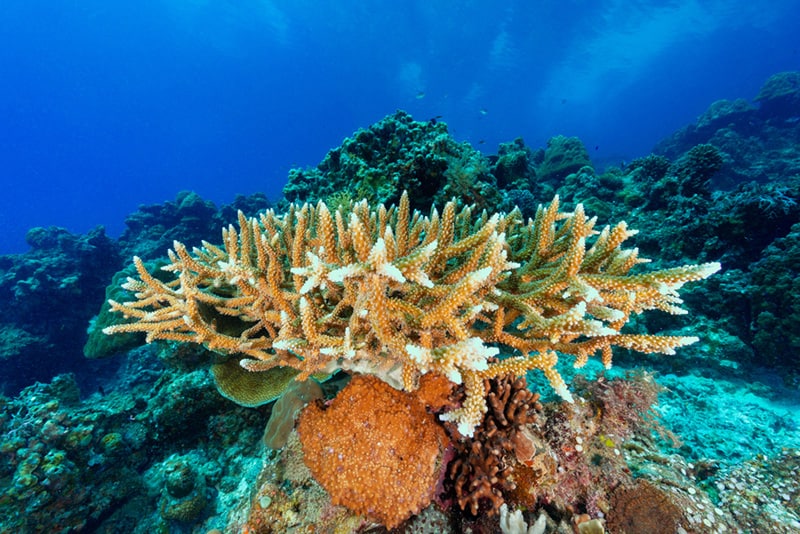 Divers Guide
This section focuses on giving you a detailed guideline you need to follow when you come to Molokai. Two smaller subtopics you should definitely pay much attention to are diving conditions and transportation.
Besides, remember to take a quick look at my suggestions about reliable dive shops to book a tour as well as the best resorts to stay. After all, I hope the information you receive here will make your trip to Molokai more comfortable and secure.
Read more: Things You Should Know to Scuba Diving in Lanai
1. Diving Conditions
In general, diving conditions are perfect for all experience levels, while the weather in Molokai is pleasant year-round. Besides, the east side of this Hawaiian island has more significant rainfall than that of its west coast, meaning that the eastern scenery will be greener.
To be more specific, I have created the following table with some particular criteria that you may find practical.
Air temperature
● 79°F (26°C) – 86°F (30°C)
Water temperature
● 76°C (24°C) – 80°C (27°F).
● A scuba wetsuit with thickness from 3 to 5 mm will be best for summer.
● 6-7 mm wetsuits should be your top priority during the winter months.
Currents
● Strong in Pailolo Channel and summer
Water visibility
● 50 -100 feet
2. Transportation
The two best ways to travel from other Hawaiian islands to Molokai are taking a flight or ferry. Although there are two major airports here, only Molokai Airport can provide you with international flights to Oahu, Maui, and Big Island.
In the meantime, traveling to Molokai by boat can allow you to have single-day trips. The main reason is that there are always two ferry rides departing from Lahaina, Maui to Kaunakakai, Molokai, and vice versa.
When in Molokai, you can travel among various diving destinations by car, bus, taxi, mule, and horse. Nevertheless, since most public and taxi services are so limited, I highly recommend you rent a car to maximize time and cost.
3. Hammerhead Dive
Hammerhead dive requires that you must be an advanced diver and have an impressive ability to control your body buoyancy underwater. Besides, you need to make sure that you have good health and are excellent at adjusting air consumption for a long dive.
Because no dive operators in Molokai support diving with hammerhead sharks, and thereby, you will have to book a tour of Dive Maui in Lahaina.
In addition to particular requirements about experience level and recent minimum dives, bringing a dive computer is a must to ensure utmost safety. It facilitates constantly tracking dive time and remaining breathable air, which is so vital to your survival under emergencies.
Check out the Youtube video below to see how incredible a hammerhead dive can be!
Molokai Activities
Molokai boasts the longest coral reef among numerous destinations of the Hawaii island chain. Notably, its underwater sea life is so abundant and diverse with countless tropical fish and rare pelagic creatures such as manta rays, monk seals, hammerhead sharks.
With consistent weather and warm water temperature all year, it is apparent that this island is suitable for a variety of aquatic activities, from scuba diving, snorkeling, sportfishing, kayaking to boating.
Scuba diving
The south coastline of Molokai provides you with multiple world-famous dive spots such as Fish Bowl, Fish Rain, etc. Let's participate in a scuba diving tour operated by reliable local companies to explore the splendid beauty just beneath the surface.
In addition, do not forget to glide through the pristine 28-mile-long reef to catch typical Hawaii animals like manta rays, green sea turtles, and spinner dolphins.
Snorkeling
Kumimi Beach is one of the most well-known snorkeling sites in Molokai. It is easy to spot schools of colorful tropical fish swimming around coral fingers when you visit here. Besides, octopuses, moray eels, and eagle rays are possibly found as well.
The waters around Molokai are incredibly calm, crystal-clear, and can offer excellent visibility. Thanks to that, you can admire spectacular underwater topography as well as gain fantastic experiences effortlessly.
Both scuba diving and snorkeling are worthy of trying at least once in your lifetime. If you have limited time in Molokai, let's read my article about Snorkeling vs. Scuba Diving. It gives a thorough comparison of the two types of diving above and suggests which is better for you as well.
Kayaking
You will have great adventures in Molokai by taking part in kayak or SUP excursions. Off the coast of Molokai should be your top choice in case you have no idea where to go. However, kayaking and stand-up paddleboarding are two dangerous water sports.
Therefore, experienced instructors should always guide you to avoid regretful accidents. Kayaking alone is completely risky, especially if you are inexperienced because you cannot anticipate the danger you may encounter.
Boating
Joining a boat tour is highly recommended to see humpback whales in Molokai. That's because a boat ride will give you more effective opportunities to interact with these gentle creatures. When visiting Molokai, do not miss whale-watching tours departing from Kaunakakai.
In addition, in case you do not have enough time to explore all popular dive sites in Pailolo Channel, going on a boat tour is an ideal choice for sightseeing on land.
Best Dive Operators in Molokai
A reliable dive operator can ensure high-quality services and exceptional diving experiences. I have listed three notable options as follows. If you have ever used any of them, please let me know by posting your reviews in the comment section.
Molokai Fish and Dive – sells fashionable T-shirts and fantastic souvenirs, plus offers awesome sportfishing adventures. Please call (808) 553-5926 or visit http://www.molokaifishanddive.com/ to get more details!
Lahaina Divers – give diving courses, rental gear, and private charters. Phone at (808) 667-7496 and check its website https://lahainadivers.com/ to book now!
Maui Diving- Scuba & Snorkel Center – provides scuba instruction and equipment, operates boat dives as well as certification classes for beginners. Contact (808) 667-0633 and check out https://mauidiving.com/ to attend a training course today!
Best Places to Stay in Molokai
Molokai's tourism is not as flourishing as other Hawaiian islands, so it is simple to understand why there are no five-star resorts or high-end hotel chains here. However, everything has pros and cons. Thanks to that, the pristine beauty of Molokai has been maintained until now.
Let's stay at one of the locations I listed below to enjoy Molokai's tranquil atmosphere as well as immerse yourself in the lush landscape and relax after a tiring day at work.
Resorts
Star
Popular amenities
Address & Contact
Hotel Molokai
3
Pool, beachfront, air conditioning, Wi-Fi
● 1300 Kamehameha V Hwy, Kaunakakai, HI 96748
● (877) 553-5347
Molokai Shores
3
Pool, free parking, free Wi-Fi, beachfront
● Kamehameha Highway, Star Route, Kaunakakai, HI 96748
● (808) 553-5954
Puu O Hoku Ranch
–
Wi-Fi
● Mm 25, Kaunakakai, HI 96748
● (808) 558-8109
Molokai Wavecrest
–
Pool, beachfront, Wi-Fi
● 7148 Kamehameha V Hwy, Kaunakakai, HI 96748
● (800) 367-2984
Kaluakoi Villas
2
Pool, free parking, Wi-Fi, beach access
● 1121 Kalua Koi Rd, Maunaloa, HI 96770
● (808) 552-2721
Frequently Asked Questions
If you have any issue related to scuba diving in Molokai, the following part is always ready to help. I have searched on the Internet and collected a few frequently asked questions here. Kindly read all of them for further information.
How Do I Get From Maui to Molokai?
Unfortunately, the ferries from Maui to Molokai have recently stopped working, so the only way to travel is by plane. Fortunately, there are always direct flights from Maui's two main airports to Molokai.
Are Molokai Beaches Safe?
Most beaches in Molokai are unexploited, pristine, and more deserted than they are in other Hawaii islands. Although the majority offer stunning underwater scenes as well as rich marine life, not all of them are safe enough for water activities, for example, scuba diving and snorkeling.
For that reason, you had better get a consultation from local divers to decide whether that beach is suitable for diving. Besides, advice about what should be packed into your dive kit is also encouraged.
Conclusion
Molokai is one of a few sites on the planet where you have a chance to find rare animals and plants when below the surface. The blue water areas of this island are home to hammerhead sharks and some endemic Hawaiian coral species.
To sum up, the most effective way to get to Molokai is by plane. In addition, Fish Bowl is highly recommended if you love spotting hammerhead sharks, while The Cove is best for seeing various types of coral.
If you want to share your tips or experiences about scuba diving in Molokai, I'll appreciate it if you forward them to me using the comment section below.
Furthermore, you can help other divers get valuable knowledge by sharing my article. Kindly click any of the following social media buttons.