Scuba diving is a great way to plunge into the crystal-clear water and enjoy stunning seascapes. And Catalina Island is a place where you can do that with plenty of fun. Its famous lush kelp forests and diverse sea life has attracted thousands of divers visiting here every year.
Diving on Catalina Island has something for everyone, from professionals to complete novices. Discover the splendid undersea beauty with colorful fish species and gorgeous aquatic palaces. Catalina Island is perfect for long vacations and day trips with numerous things to do.
If you plan to pay a visit to Catalina Island this summer, there is some helpful information to know. This article has been written to clear your thoughts about where to go, when to go, and what to bring.
Besides, I have also suggested a few reliable dive operators and the best resorts to stay at. So, let's get started.
Best Dive Spots in Catalina Island, California
Scuba diving brings a lot of fun; however, it would be best if you knew how to get incredible experiences during your trip. I have highlighted the top five best dive spots on Catalina Island for you to consider below.
I also attached detailed information about each site as well as what you could see when diving there. Let's start learning!
>> Read on: The Best Dive Spots in Northern California
1. Italian Gardens
The waters around Italian Gardens are found off Avalon Harbor on Catalina Island's east coast and only accessed by boat. Its emerald kelp forests are from 30 to 100 feet below the surface. Meanwhile, the maximum depth is up to 130 feet, ideal for advanced divers to visit.
This dive location has rich marine life, including lobsters, abalone, kelpfish, Garibaldi, octopus, and nudibranchs. Of course, the giant black sea bass is a typical inhabitant here, and you often see it from July to October.
Diving in Italian Gardens is relatively easy with mild currents. Also, its blue water is best for underwater photography, especially wide-angle shots. Although novice people can dive here, they must always carefully take care of their scuba fins to avoid getting entangled in the kelp.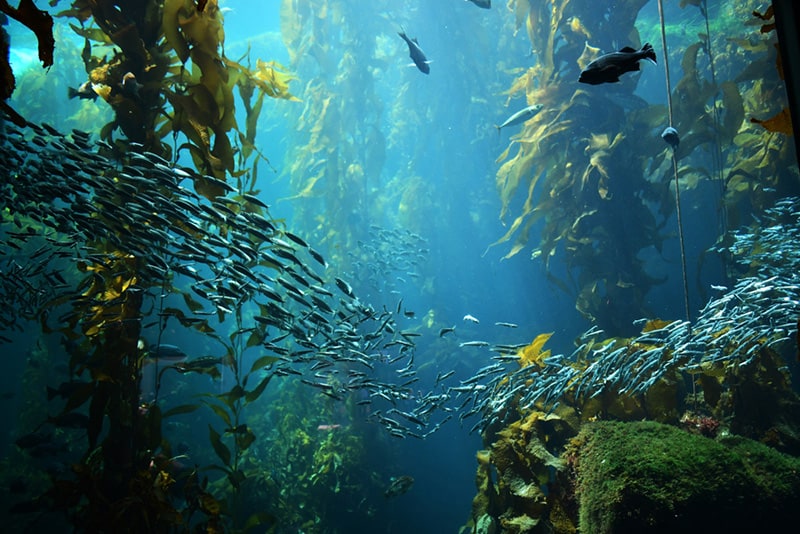 2. Casino Point Dive Park
Casino Point is not only a mecca for beginners to scuba dive in Southern California but also an exceptional choice for snorkelers worldwide. That's thanks to its ideal diving conditions combined with diverse marine life.
The crystal clear water is warm all year round, while excellent visibility makes it easy to see underwater without a scuba light. Besides, this place offers you a wide range of depths from 10 to 75 feet, perfect for both shallow divers and advanced adventures.
However, it is highly recommended that you not dive beyond your limits. See the reasons here: How Deep Can You Scuba Dive!
Traveling to Casino Point is straightforward because it is located a few miles from Avalon's ferry station. This means that your exploration into the sea at Casino Point can be done within a day, helping you spend time visiting other fantastic dive sites.
Although Casino Point is rated for novice divers, its challenging underwater topography also attracts a lot of professionals to explore.
Craggy rock walls, massive boulders, sharp pinnacles, and a sandy seabed at this dive spot are typical characteristics that cannot be found in other areas.
The undersea world at Casino Point gives you plenty to see, including endemic sea animals, majestic shipwrecks, and enchanted kelp forests. Its marine life is teeming with schools of colorful fish species, spiny lobsters, sea urchins, moray eels, and so on.
In addition, vibrant anemones also decorate your view, while Garibaldi – the iconic fish of California, is commonly seen here. Besides, take some time to tour several deep wrecks where angel sharks, horn sharks, and bat rays make their home.
It is simple to spot strongly thriving kelp forests and their frequent residents, such as giant kelpfish, California sheephead, and massive black sea bass. These rare sea creatures often swim freely along the forest's outer edges; hence, you can find them anytime during your dive.
Nevertheless, some animals are only active at night, so you cannot see them except when the sun goes down. But remember that you must be at least 12 years old to attend a night dive. My article titled How Old Do You Have to Be to Scuba Dive explains why.
Night-time diving requires excellent navigation and communication through the dark, but I believe it is a beautiful experience. You will adventure into an unknown world where you have a chance to broaden your knowledge about nocturnal aquatic life.
The Youtube video below explores why Casino Point is a hotspot for visitors.
3. Isthmus Cove
Isthmus Cove provides you with three nearby dive sites: Lion's Head, Cherry Cove, and Bird Rock. Thanks to that, you always find something suitable regardless of your experience level. While intermediate divers most favor Cherry Cove, the rest is perfect for beginners.
Lion's Head is the best choice for fish photography due to its abundant sea life. It is common for you to spot mantis shrimp, bat rays, moray eels, octopus, leopard sharks, and kelpfish here. The surface is stable with no current, while the maximum depth is only 60 feet, ideal for shore divers.
Bird Rock is full of rock walls and reefs, which are home to a variety of marine life such as crabs, lobsters, jellyfish, and bat rays. This place is one of a few diving spots on Catalina Island, enabling you to see playful harbor seals.
Majestic underwater rock formations are one of the most remarkable structures to see in Cherry Cove. Experienced divers mainly visit this location due to its maximum depth of 90 feet and moderate currents. Leopard sharks and giant sea bass are common sightings as well.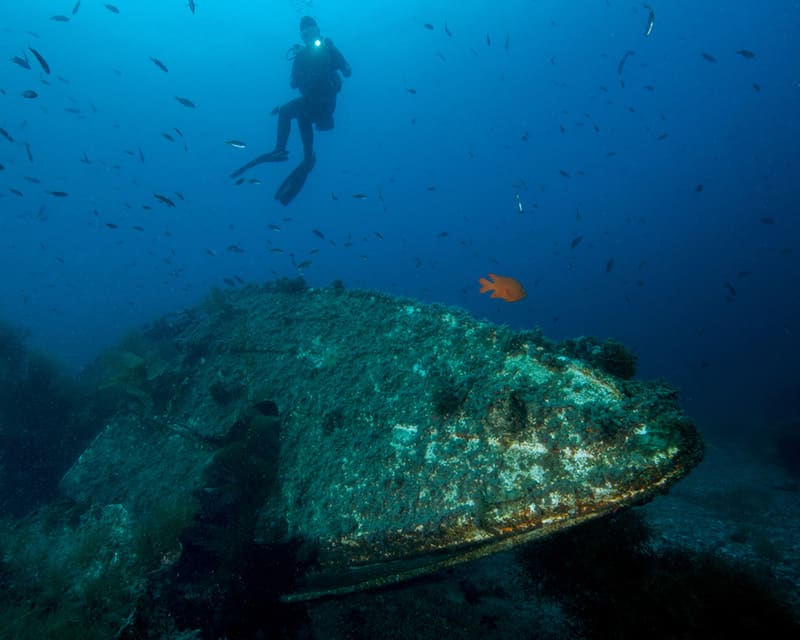 4. Blue Cavern Point
Blue Cavern Point caters to divers as a marine reserve with stunning caves and a flourishing aquatic ecosystem. It has become home to numerous sea animals, including soupfin sharks, sea lions, harbor seals, and giant black sea bass.
Because most caverns are shallow, Blue Cavern Point is an incredible option for shore diving and drift diving. Also, it is suitable for diving all year round, thanks to warm waters and excellent visibility. Located far offshore Catalina Island, this spot is highly accessible by a private boat.
However, this place comes with strong currents and a maximum depth of up to 130 feet, restricting it only to professional people.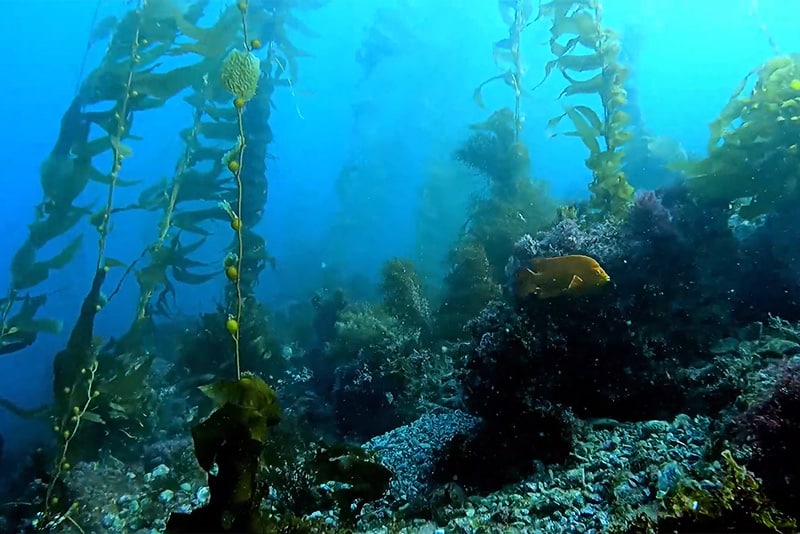 5. Farnsworth Bank
Located two miles off the backside of Catalina Island, this diving destination provides scuba enthusiasts with incredible experiences.
However, due to strong currents, unstable weather conditions, and a substantial maximum depth of up to 150 feet, this place is only suitable for advanced or certified people.
The abundant marine life is truly their reward for reckless adventurers visiting here. Farnsworth Bank is a perfect home to the rare Purple Hydrocoral, a kind of hard coral living in an icy climate.
This plant type is one of the endemic coral species in California; thus, you cannot see it in other locations. The stunning purple color functions as an excellent backdrop for underwater photography.
It also contributes to highlighting bright orange Garibaldi, lingcod, and colorful reef fish. In addition, Farnsworth's prolific marine life boasts having various uncommon animals like white seabass, yellowtail, torpedo rays, etc.
Aside from scuba diving, many other extreme water sports such as kayaking, surfing, and windsurfing can be done in Farnsworth Bank. The unique terrain combined with large swells and massive underwater pinnacles makes this dive site become a paradise for thrill-seekers.
In terms of transportation, this spot is accessed only by boat. Most local dive operators place Farnsworth Bank as the final destination in their journey to scuba dive in Los Angeles.
The following video reviews Farnsworth Bank's rich marine life. Learn some valuable tips about identifying fish species with it.
Divers Guide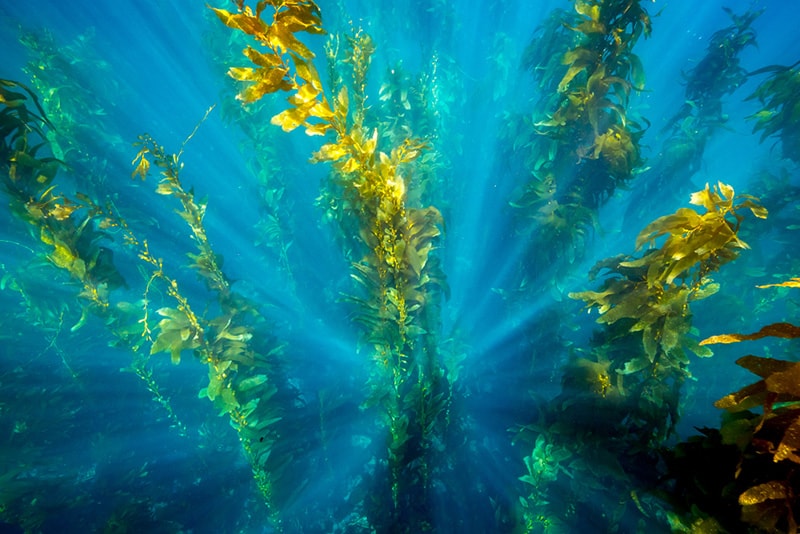 You cannot make your journey to Catalina Island perfect without preparing well. That's why this section has come to help. After you read the following tips, your priority about what to bring and when to go will be more transparent.
1. Best Time to Dive in Catalina Island
Catalina Island is suitable for scuba diving all the seasons throughout the year, thanks to its subtropical climate. Choosing which time is best to visit depends on your preferences and budget. Here is a comparison of the two most popular seasons for tourists: summer and winter.
Summer months
Winter months
Advantages
● Warmer water temperature.
● Perfect for family vacations.
● Most aquatic sports, including kayaking, surfing, and so on, can be done this time.
● Ideal for on-land activities such as camping, hiking, biking, rock climbing, and so on.
● The best choice for people who love nightlife.
● More affordable hotels and housing.
● Easier to book a tour.
● The water visibility is clearer.
● Great time to see giant kelp forests strongly thrive.
Disadvantages
● More crowded.
● Higher hotel and housing costs.
● Need to book a tour in advance.
● Dropping water temperature causes heat loss more effortlessly.
● A wetsuit is a must for scuba divers.
● Harder to take family vacations.
2. Dive Conditions
The ideal weather conditions make Catalina Island diveable all year round. The warmest water temperature is during summer, which ranges from 65 to 72 degrees Fahrenheit. Meanwhile, the water is coldest in winter when the average temperature falls between 50 to 63 degrees Fahrenheit.
Icy divers will most love visiting Catalina Island in January and February since this period offers the fewest crowds. Although scuba diving in summer does not require thick insulation suits, keeping the body warm is imperative to dive during the winter months.
That's because the freezing water is more prone to excessive heat loss, which results in severe health dangers or even deaths. See more risks caused by poor thermal retention with the following article: How Dangerous Is Scuba Diving.
The underwater visibility at Catalina Island is perfect for scuba diving from July to December, with September to November the best. Diving during the winter months provides you with excellent water visibility, ranging from 40 and 60 feet.
Thanks to that, it is simple for you to admire the abundance of Catalina Island's marine life as well as take a lot of amazing pictures using your scuba camera. In contrast, summer is not the time giving the best visibility, especially between April and June, due to plankton blooms.
The high density of plankton often clouds the water, which lowers your visibility. On bad days, you cannot even see more than 20 feet. However, summer and fall are frequently visited by black sea bass and large bait balls, making your trip more fun and fascinating.
Catalina Island offers various dive sites whose maximum depth changes considerably from 20 to 130 feet. Nevertheless, strong currents can occasionally appear in some dive spots; thus, you need to check whether your destination requires advanced levels or not before visiting.
3. How to Get There
There are two common ways to reach Catalina Island. The first one is catching a 15-minute flight on a helicopter from the California mainland, which can cost you a lot. Meanwhile, joining an hour-long ferry ride is economical for most scuba divers.
You will take a passenger ferry that departs from Long Beach, Newport Beach, Dana Point, or San Pedro. Catalina Express and Catalina Flyer are two of the most reliable companies delivering this service.
The average cost for a round-trip ticket is often $75, enabling you to save a lot of money for other water activities. In addition, the most exciting feature of ferry rides is that they give tourists a chance to get a free whale-watching tour on the road.
Catalina Island is also accessed by private boats that pick up visitors from Costa Rica. However, this choice is less popular than the two above because it is regularly a part of scuba tours operated by local dive shops.
4. What to Bring
You must bring at least a 7mm wetsuit to combat the icy waters at Catalina Island. If you visit this place in summer, a 5mm model is highly recommended. Seasoned divers can wear drysuits to keep them warm better.
Consider many different kinds of clothing to wear under your wetsuit by reading my article about What to Wear Scuba Diving. Besides, you need to bring other vital equipment such as scuba tanks, scuba regulators, and weight pockets.
Scuba tanks, with the support of primary and secondary regulators, will ensure you have enough air to breathe underwater. In addition, weight pockets built into your scuba BCD allow you to achieve neutral buoyancy more easily.
Nevertheless, these types of dive gear are usually bulky to pack into your suitcase; hence, it is a good idea to rent them from local dive operators at a reasonable price point. Additionally, some essentials like sunscreen, sunglasses, and beach towels should be included as well.
It is advisable to include an air-integrated dive computer and a scuba light to maximize your safety. While the dive computer can connect to your scuba tanks to track air consumption rate and bottom time, the dive light gives you excellent underwater navigation.
In case you cannot afford high-end models, see cost-efficient dive computers here. Likewise, a dive watch is another incredible option for tight-budget people. If you have no idea about using a dive computer, learn here: How to Use a Dive Computer!
Best Dive Operators in Catalina Island
Knowing where to book a guided tour is the primary thing to do on Catalina Island, especially if this is the first time you have come here. Among numerous local dive operators available, it is not an easy task to find out which is the most reliable.
For this reason, I have compiled a list of popular dive shops on Catalina Island that you should go for.
Diving Catalina – offers wonderful trips to Casino Point, sells gift cards, and rents dive gear. Call (310) 510-8558 and visit https://divingcatalina.com/ for more details.
Catalina Scuba – gives scuba tours for divers of all levels, rents high-quality diving equipment, and offers premium services for freedivers and snorkelers. Contact (562) 248-6006 or check its website at https://www.catalinascuba.com/ to book now!
Catalina Divers Supply – provides you with affordable gear rental and operates scuba classes, boat dives, and night dives. Phone (310) 510-0330 or visit https://www.catalinadiverssupply.com/ for further information.
Best Resorts in Catalina Island
There are many hotels as well as resorts to stay in on Catalina Island, and all these endless choices come with different services. I will be discussing a few critical factors that may help you make a better decision.
Resorts
Star
Popular amenities
Address & Contact
Hotel Metropole
3
Spa, beachfront, free Wi-Fi, air conditioning
● 205 Crescent Ave, Avalon, CA 90704
● (800) 300-8528
The Edgewater
2
Beach access, free Wi-Fi, breakfast
● 415 Crescent Ave, Avalon, CA 90704
● (310) 510-8474
Catalina Island Inn
3
Free Wi-Fi, air conditioning
● 125 Metropole Ave, Avalon, CA 90704
● (310) 510-1623
Catalina Canyon Inn
3
Pool, free parking, free Wi-Fi, air conditioning
● 888 Country Club Dr, Avalon, CA 90704
● (310) 510-0325
Seaport Village Inn, Avalon
1
Free parking, free Wi-Fi, free breakfast, beach access
● 119 Maiden Ln, Avalon, CA 90704
● (310) 510-0344
Frequently Asked Questions
Do you have questions related to scuba diving on Catalina Island? Did you miss some essential information while reading my article? You should take a look at some of the frequently asked questions and their short answers in the section below.
Do You Need a Wetsuit for Catalina?
As I mentioned above, the water temperature at Catalina Island drops considerably during the winter months. Therefore, wearing a wetsuit is a must to have enough thermal protection. In the meantime, it is optional to wear warm clothing in the spring and fall.
Summer is when the water is warmest, so if you are accustomed to cold diving, you can choose not to wear it.
Are There Sharks on Catalina Island?
Scuba diving with sharks is an exciting experience for thrill-seekers when they come to Catalina Island. Fortunately, this place gives you fantastic opportunities to meet a variety of shark species like horn sharks, angel sharks, swell sharks, and white sharks.
Besides, while diving off Catalina Island's coastline, it is frequent to encounter blue and Mako sharks. As an entry-level diver, these ocean predators are dangerous to approach alone, so please make sure that seasoned divers guide you in emergencies.
Can You See Whales From Catalina Island?
The waters surrounding Catalina Island are bottomless; thus, whales are not common sightings here. Instead, you can see at least six dolphin species along with California's typical creatures, such as sea lions, harbor seals, and even bald eagles.
Can You Swim on Catalina Island?
Little Harbor is a fabulous beach for swimming, thanks to its stunning sandy and mirror-like water. In addition, its unique terrain also protects it from powerful Pacific waves, making it the safest beach for kids!
Descanso Beach is another beloved destination for swimming lovers. Divers visit here to enjoy pristine beauty, sparkling white sand, and blue water, which is warm throughout the year.
Can You Snorkel in Catalina Island?
Catalina Island provides you with numerous fantastic snorkeling sites such as Lover's Cove, Casino Point, and Descanso Beach. In case you cannot afford a luxurious underwater camera, let's go for a GoPro at a lower cost.
This lets you not miss out on capturing gorgeous footage of Catalina undersea wildlife.
Conclusion
Catalina Island is one of the most sought-after diving spots in Southern California. This place has been world-famous for excellent underwater photography and majestic kelp forests. In addition, it is also a haven for not only scuba divers but also snorkelers and aquatic sports enthusiasts.
To sum up, I will choose Casino Point as my favorite diving destination. It would be best if you visited Catalina Island in September due to its pleasant weather conditions. Moreover, traveling by ferry is a cost-efficient way to reach this location, and everyone should try it at least once.
All your suggestions concerning scuba diving on Catalina Island are welcomed. Kindly leave them in the comment section.
Also, I would appreciate it if you would share this informative article with friends and other divers. Kindly click on any of the corresponding social media buttons below.
Related Articles: