Scuba diving in Kauai is a unique way to explore its diverse ecosystems, stunning seascapes combined with majestic volcanic ridges. Besides, you also have opportunities to spot endangered monk seals that are only seen in Kauai's neighboring island of Niihau.
Located on the north of the Hawaiian Islands, Kauai offers various spectacular diving destinations suitable for divers of all levels. In addition to picturesque underwater scenes, Kauai's mellow atmosphere is attractive to anyone who looks for peace in mind.
So, if there is still something that hesitates you to scuba dive in Kauai, I hope it will be cleared when you read this article. Furthermore, you can get some other valuable information such as rich marine life, famous dive sites, and reliable dive operators on this island.
What Can I Expect to See While Scuba Diving in Kauai?
Below is a list of popular marine creatures in Kauai, along with famous sites to see them. Do not skip this section since I make sure that you will feel regretful if leaving the island without spotting all of them.
1.   Hawaiian Green Sea Turtles
Green sea turtles are some of the renowned native animals in Hawaii, and spotting these ancient creatures is truly a must-do activity when you scuba dive in Kauai. However, due to the state's strict conservation policies, you are not allowed to touch or harm those Hawaiian gentle turtles.
Hawaiian Green Sea Turtles are plentiful on Kauai, and this island can provide you with a few remarkable destinations to see them both above and below the water. Kauai's south coast offers you numerous places, including Brennecke's Beach, Poipu Beach, and Koloa Landing.
Kauai's north side does not have as many watching spots as its south shore. Turtle Cove and Tunnels Beach are the two most popular sites for you to consider. Besides, it would be best if you kept in mind that the period from May to September is the best time to view green sea turtles in Kauai.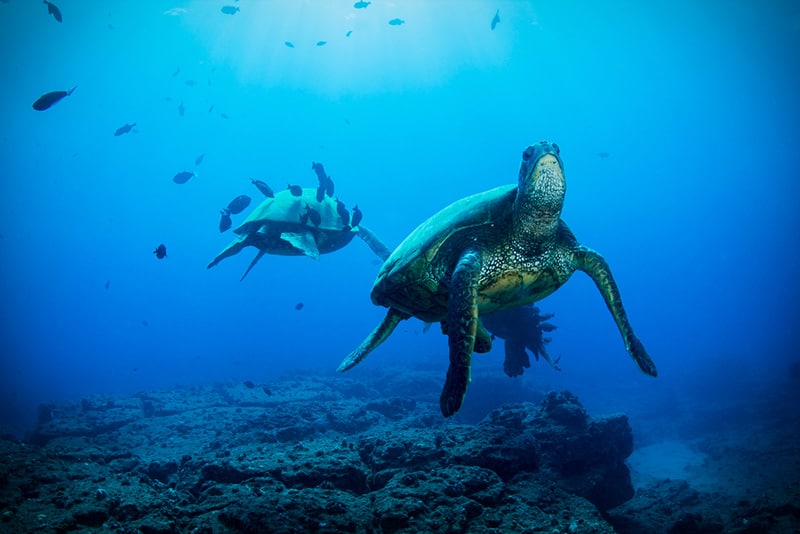 2.   Dolphins
The Hawaiian island of Kauai is home to four dolphin species, and you can find spinner dolphins most frequently in this water area.
Kauapea Beach on the north shoreline and Napali Coast are well-known dive spots where you can effortlessly see and swim with these funny creatures.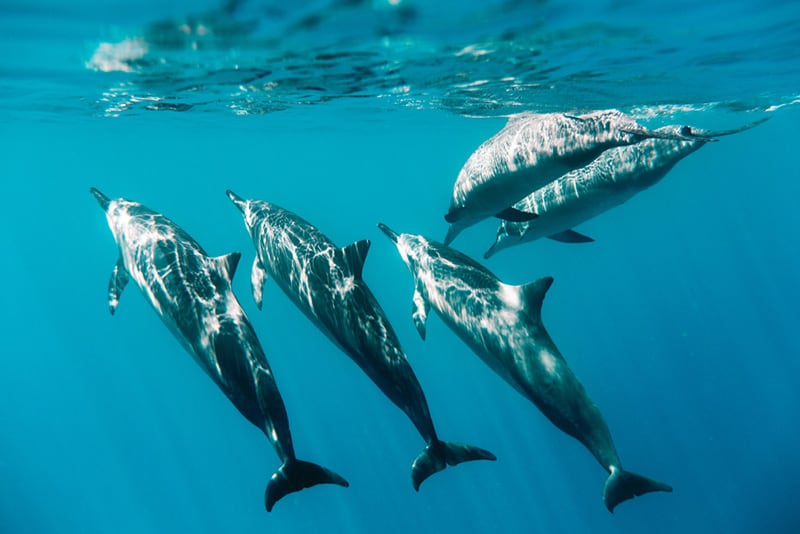 3.   Humpback Whales
Like most other islands in Hawaii, you can observe humpback whales from off Kauai's coastline. If these giant friends are your beloved animals, let's come here during the winter months to get a close glimpse of them.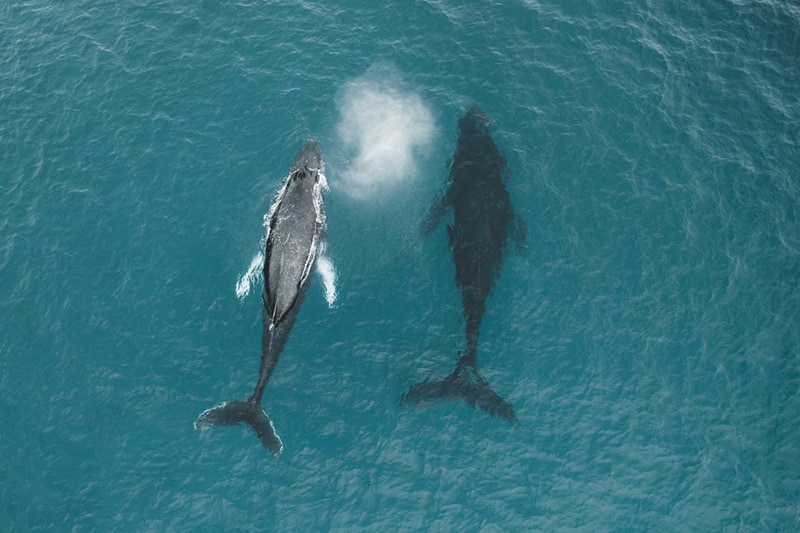 4.   Monk Seals
Kauai offers Hawaiian monk seals a rich feeding source, and there is no doubt that it is one of the most outstanding islands to spot these rare animals. As reported by NOAA Fisheries, only more than 1400 monk seals are left in Hawaii.
Hence, with the largest population estimated at about 1100 monk seals, Kauai is really a paradise for anyone who loves spotting this critically endangered creature. Poipu Beach and uninhabited beaches along the Napali shoreline are favorite places of Hawaiian monk seals on this island.
However, unlike humpback whales, there is no monk-seal-watching season, which means that you can only catch these rare animals by chance. Besides, monk seals appreciate their private time and are not keen on interacting with humans; thereby, you should observe them afar.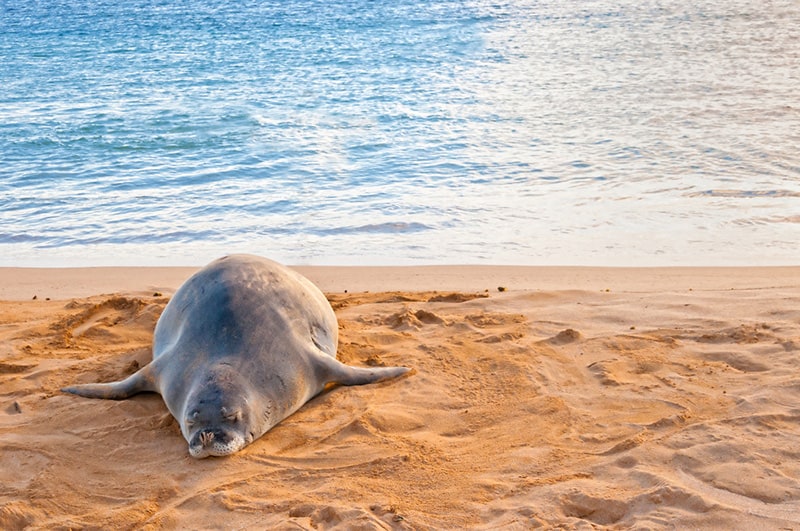 Best Dive Sites in Kauai
Over 50 dive spots spreading across Kauai can make you feel overwhelmed about where to go. For a quick answer, read the following part to know the top 5 best destinations that should be prioritized.
You may like to check out my guide to Scuba Diving in Hawaii's Big Island here.
1.   Vertical Awareness
Vertical Awareness is located on Niihau, which is also known by its local name, "Forbidden Island." The origin of that native name is because this island is home to the most endangered species in Kauai.
This dive spot is the main feeding ground as well as a natural habitat of the rarest mammals in the world – Hawaiian monk seals. Therefore, the possibility of catching these fantastic creatures here is higher than anywhere else on Oahu or Maui.
Additionally, while scuba diving in Vertical Awareness, you have exceptional opportunities to see white tip reef sharks, manta rays, and hammerhead sharks. Besides, stellar underwater topography is another good point of this destination.
Remember to bring a GoPro or any other scuba cameras if you visit Vertical Awareness since I believe that you probably will not want to skip capturing gorgeous underwater footage here.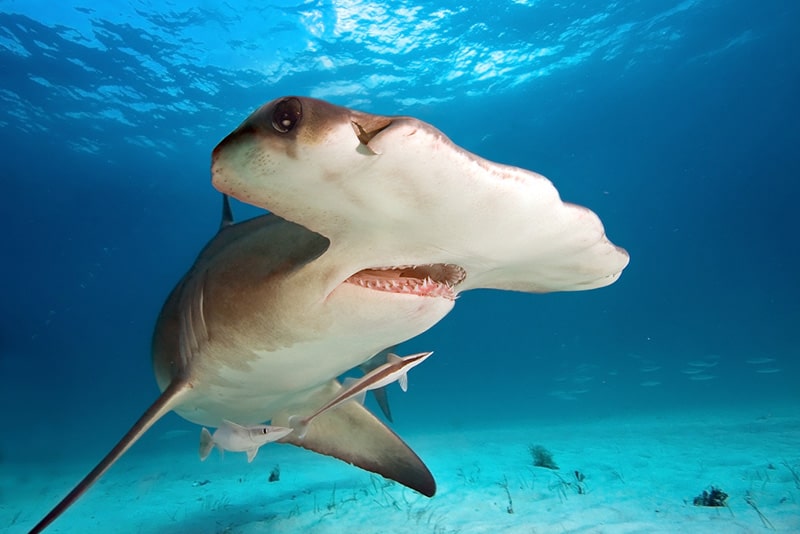 Keep reading: Scuba Diving in Lanai – Things You Should Know!
2.   Sheraton Caverns
This famous destination on Kauai's southwest is the major reason why scuba diving in Kauai is the most prominent compared to other choices. Few places on Earth match the abundant sea life and majestic underwater lava formations in Sheraton Caverns.
Situated near Poipu Beach, it is obvious that there is a wide range of Hawaiian green sea turtles, strange tropical fish species, and huge reef sharks here. Furthermore, the calm waters with no strong current make this place ideal for all experience levels.
However, one drawback of the dive spot is that you will need a scuba light to fully enjoy Sheraton Caverns' grand beauty. Besides, shore diving is not highly welcomed here.
If you come to Kauai, scuba diving in Sheraton Caverns should be added to your to-do list. The video below will show you its breathtaking underwater vistas.
3.   Tunnels Reef
Tunnels Reef is well-known for its excellent water visibility, magnificent lava architecture, accompanied by massive aquatic creatures such as sharks and manta rays. This dive site on the northeast of Kauai is a perfect choice for shore divers as well.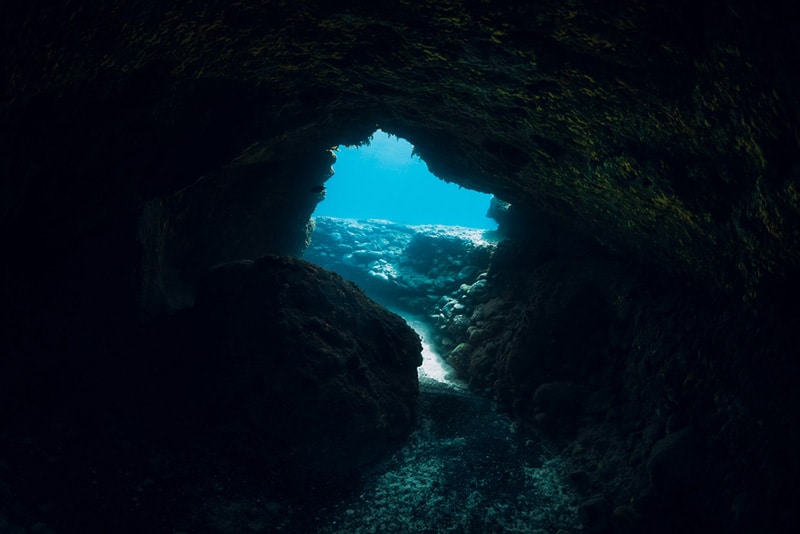 Check out the Divers Guide to Scuba Diving in Molokai here!
4.   Koloa Landing
In addition to Sheraton Caverns, Koloa Landing is another fascinating diving spot at Poipu you should not skip. Both entry-level and advanced divers also prefer this destination because of its easy access as well as rich marine life.
You will commonly find Hawaiian green sea turtles swimming elegantly here. More impressively, vivid coral reefs and colorful schools of tropical fish are also seen. Additionally, Koloa Landing is also an ideal site for diving courses.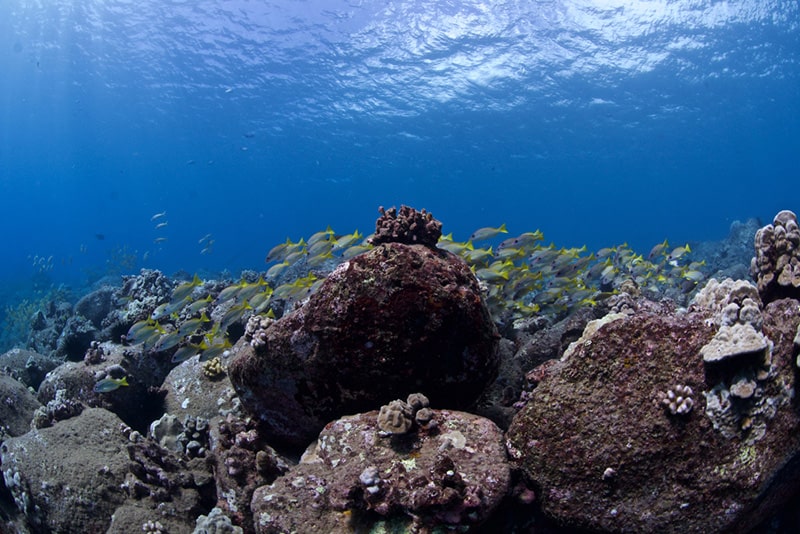 5.   Mana Crack
As its name suggests, Mana Crack provides you with rugged and unique underwear terrain that includes tremendous valleys, sharp volcanic peaks, and weird-shaped coral reefs. Therefore, this dive site located on Napali Coast is ideal for drift divers and reckless adventurers.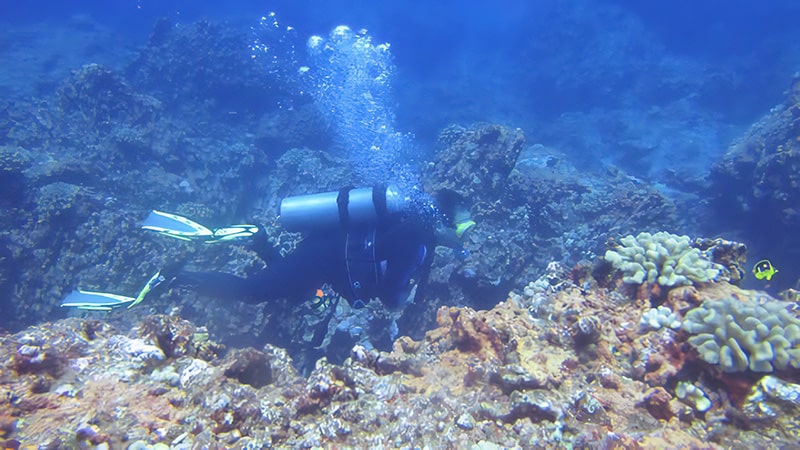 Is Maui or Kauai better for scuba diving?
Both Maui and Kauai can provide you with impressive landscapes and great diving opportunities. However, each island has its own pros and cons, which will be perfect for different divers as well as their needs.
The below table can equip you with a piece of knowledge that considerably affects your final decision. Let's check it out!
Learn more about Scuba Diving in Maui here!
Maui
Kauai
Weather Data
● Average temperatures: 72°F (22°C) – 81°F (27°C)
● Average temperatures: 72°F (22°C) – 79°F (26°C)
Pros
● The weather is reliable with more sunny than Kauai.
● Better water visibility.
● Sea conditions are calmer.
● Perfect for beginners.
● Maui offers divers numerous types of diving.
● Easier to travel around.
● Commercial activities are fewer; hence, Kauai is more laid back.
● The scenery on land is more abundant.
Cons
● Commercial activities are more; thus, Maui is busier.
● The underwater topography is less challenging than Kauai.
● The weather is rainier than in Maui.
● Lower water visibility.
Best Dive Operators in Kauai
If this is the first time you scuba dive in Kauai, I highly recommend you attend a diving tour operated by trustworthy local dive companies. I have searched on the Internet and attached a list of the top 3 best dive operators in the section below.
Dive Kauai Scuba Center – famous for delivering popular scuba diving tours, providing rental equipment, and supporting certification courses. Contact (808) 742-7422 or visit https://divekauai.com/ to book now!
Seasport Divers – offers boat dives with hot showers and camera wash stations as well as gives novice divers detailed guidelines. Please call (808) 742-9303 and check out https://seasportdivers.com/ for more information.
Fathom Five Divers is well-known for giving excellent shore dives, offering top-quality staff, and delivering useful scuba diving classes. Phone (800) 972-3078 or visit their website at https://www.fathomfive.com/.
Best Resorts in Kauai
Choosing a decent place to stay in Kauai is not an easy task since this island provides you with a variety of high-quality accommodations. Do not worry because I am here to help you! The following table will present the top 5 finest resorts you should consider when visiting Kauai.
Resorts
Star
Popular amenities
Address & Contact
Grand Hyatt Kauai Resort & Spa
5
Pool, spa, free Wi-Fi, beachfront
● 1571 Poipu Rd, Koloa, HI 96756
● (808) 742-1234
Koloa Landing Resort at Poipu
4
Pool, spa, free parking, free Wi-Fi
● 2641 Poipu Rd, Koloa, HI 96756
● (808) 240-6600
Sheraton Kauai Resort
4
Pool, free parking, free Wi-Fi, beach access
● 2440 Hoonani Rd, Koloa, HI 96756
● (808) 742-1661
Kauai Beach Resort & Spa
4
Pool, spa, free Wi-Fi, beachfront
● 4331 Kauai Beach Dr, Lihue, HI 96766
● (808) 245-1955
The Westin Princeville Ocean Resort Villas
4
Pool, free Wi-Fi, beach access, air conditioning
● 3838 Wyllie Rd, Princeville, HI 96722
● (808) 827-8700
Frequently Asked Questions
I have gathered some frequently asked questions related to this subject from around the Internet. Besides, I also attached their short answers in the following part. Take a look in case you have missed a few important pieces of information while reading.
How Much Does It Cost to Scuba Dive in Kauai?
You will need to pay at least $310 for a single-day trip to Kauai. With that cost, you will be provided:
However, your breakfast and dinner, as well as other gear, are not included in the package.
In case you want to know the general cost for a scuba diving trip anywhere, check out my article about How Much Does It Cost to Go Scuba Diving for further information!
Can You Swim With Sharks in Kauai?
The Hawaiian island of Kauai is able to give you great opportunities to swim with sharks. The only thing you must do is dive in Hanamaulu Bay.
Nevertheless, always keep in mind that sharks are one of the most feared carnivores in the ocean and their behaviors are sometimes unpredictable. Therefore, you need to learn by heart safety cautions as well as survival tricks to use in emergencies.
In addition, not diving beyond your limit is another effective way to keep yourself safe. Read my article about How Deep Can You Scuba Dive for more details here!
Are There Dangerous Critters on Kauai?
You can completely feel secure when scuba diving in Kauai since there have never been any reports of harmful creatures found underwater in the past. On land, fatal snakes are not seen, while centipedes and wild boars are only spotted in rural areas at a low frequency.
The Bottom Line
Although scuba diving in Kauai depends much on the local weather, this Hawaiian island is still an appealing destination thanks to its lush tropical rainforest and stunning natural scenery. Moreover, excellent underwater topography also contributes to making Kauai paradise for divers.
When on Kauai, you should not skip seeing rare monk seals. They are one of the endangered species in the world, and you cannot spot them on any other Hawaiian island. Additionally, remember to drop by Sheraton Caverns, which is the most wonderful dive spot in Kauai.
And if you find this article useful, let's share it with your family members or friends by clicking on the corresponding buttons below. Your questions and suggestions are welcomed as well. All you must do is post them in the following comment section.