Scuba diving in Miami is a great way to explore the underwater world and get up close to its thriving ecosystem. The warm waters and fantastic diversity of marine life make Miami a perfect place to dive.
There are many local operators in Miami that offer scuba diving trips and lessons. Thanks to that, regardless of your diving experience, you will be able to find an excellent trip that is right for you.
Miami is home to several shipwrecks and stunning coral reefs, which explains why it should be your prime destination! This article will discuss in detail everything you must know for a dive trip in Miami.
Best Places to Go Scuba Diving Around Miami, Florida
No matter what time of year it is, Miami is a great place to go scuba diving in Florida. With countless locations spanning along the coastline, I make sure you can find a spot that's perfect for you at ease.
In this section, I will share with you some of my top favorite destinations for diving around Miami. Whether you seek stunning coral reefs, colorful tropical fish, or majestic sunken ships, the following list can serve well. Just pack your dive gear and get ready for an adventure!
1. Jose Cuervo Artificial Reef
Located 150 yards offshore Miami Beach, Jose Cuervo Artificial Reef is a notable underwater wonder that every scuba diver can easily access thanks to a pair of fins. With a full-face mask that helps to protect you from most contaminants, it is simple to enjoy stunning aquatic scenes.
This dive site initially includes a 22-ton heavy concrete bar that has been intentionally sunk to boost diving activities in Miami. Nowadays, the margarita bar functions as an excellent natural habitat for various tropical animals.
Thanks to incredible water visibility that enables you to see more than 25 feet underwater, it is effortless to discover rich marine life in Jose Cuervo Artificial Reef. Some popular companions during your dive include yellowtail snapper, parrotfish, and spiny lobsters.
Besides, the maximum depth at this location is only 20 feet, which means that divers of all levels can enjoy it. Jose Cuervo Artificial Reef is the best choice for family vacations as well. If you are looking for somewhere for beginners, do not skip visiting here.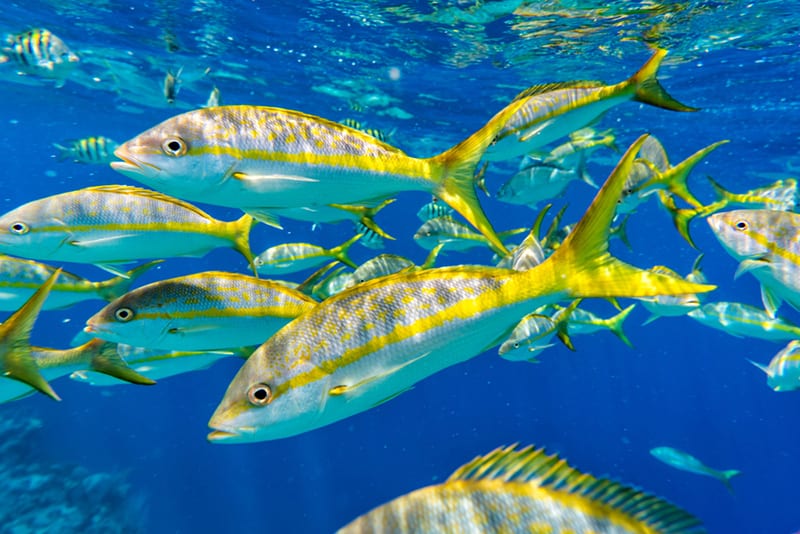 2. Biscayne National Park
With 12 feet maximum depth, some advanced divers may find that Biscayne National Park cannot challenge their limits. However, do not be in a hurry because there are still numerous fascinating things for you to explore.
Biscayne National Park comes with about 95% of its acres submerged in the water. Therefore, there is no doubt that diving is one of the most effective and exciting ways to admire the resplendence of this dive spot.
If you have no idea where to go in Biscayne National Park, there are a few must-see locations to keep in mind. First of all, head to Maritime Heritage Trail, where you will find a wide range of shipwrecks.
The majority of wrecks have been placed at shallow depths, making them ideal for snorkelers and entry-level divers. In addition, there are some exotic items that require you to go deeply to get a close glimpse as well.
You can also explore a nearby lighthouse called Fowey, a gorgeous natural reef named Trump Reef, or the most well-known artificial reef like Key Biscayne Artificial Reef. All three dive sites I have mentioned above are popular with locals and tourists.
Additionally, Biscayne National Park is a treasure trove of abundant aquatic life. It is home to hammerheads, tiger sharks, manatees, and a few tropical fish species. Moreover, you do not even need to scuba dive in Hawaii to swim with gentle sea turtles since Miami offers the same.
Remember to pack a GoPro for scuba diving into your suitcase so that you can capture stunning footage of colorful sea creatures. In case you are a tight-budget diver, cheap underwater cameras are also good choices. Check the most fashionable models here!
See how incredible scuba diving is in Biscayne National Park with the following video.
3. Neptune Memorial Reef
It will be a big mistake if you leave Miami without scuba diving on one of the most extensive artificial reefs in South Florida – the Neptune Memorial Reef.
A long trip into the blue water allows you to enjoy exceptional experiences of a city ruin that has been lost for thousands of years.
Resting at 45 feet below the surface, the construction of this place is inspired by the lost city of Atlantis and is surrounded by schools of vivid tropical fish. The spectacular view of the marine life here makes you feel like you are swimming through a majestic aquatic palace.
Besides, the ideal living conditions in Neptune Memorial Reef also help corals to thrive. Flourishing finger-like corals contribute to creating an excellent backdrop for wide-angle diving shots. Meanwhile, unique structures such as arches and statues accentuate your object.
Although the water areas in Neptune Memorial Reef are calm as well as clear, with underwater visibility up to 35 feet, this dive spot is mainly recommended for professional people. Novice divers may encounter difficulties in deep waters or controlling their scuba gear.
Check the video below for some valuable tips for a fantastic trip to Neptune Memorial Reef.
4. Emerald Reef
Located one mile on the eastern side of Key Biscayne, Emerald Reef is constructed by three shallow patch reefs, making it one of the most exquisite natural reefs in Miami. With only 20 feet of maximum depth, this dive site is truly the perfect option for snorkeling and amateur diving.
Emerald Reef is home to various rare coral species, including elkhorn coral, brain coral, hard coral, and pillar coral, along with a few common tropical fish. It is simple to spot lobsters, blue tang, and damselfish gliding around vibrant coral reefs during a dive.
Stunning coral formations, combined with crystal clear water and excellent visibility, are the three most important factors making Emerald Reef a tourist hotspot for scuba diving in Florida.
In addition, Emerald Reef is situated in a unique terrain that gives it a lot of sunlight. Therefore, underwater photographers can get gorgeous diving shots at ease thanks to good lighting conditions.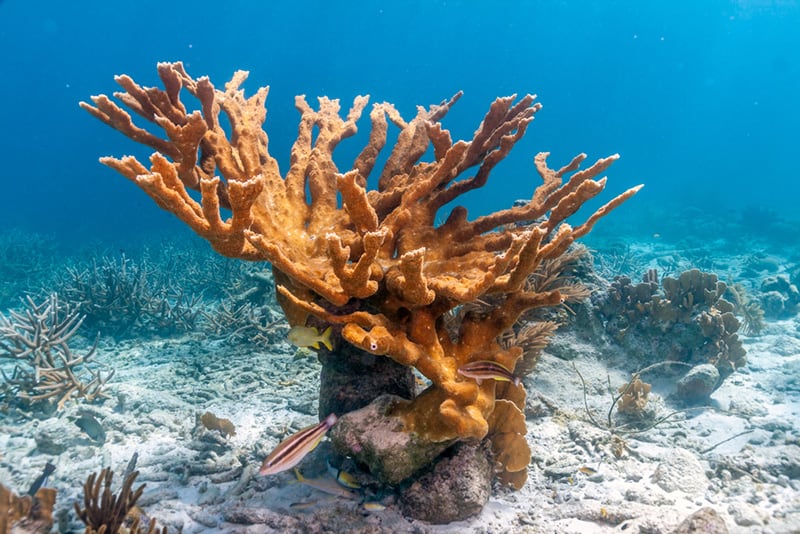 5. Ginnie Springs
This dive site is an excellent choice for thrill-seekers. It includes a three-spring cavern system that has been decorated intricately and beautifully. The water in these underwater caves is mirror-like, which enables you to see the sky clearly from the bottom.
However, due to the rugged and challenging terrain, this place is only suitable for advanced and certified divers.
Explore the magnificent underwater world in Ginnie Springs with the following excellent video.
6. Devil's Den
Devil's Den provides you with exceptional opportunities to explore crystal clear waters, ancient rock formations and so on. This place is home to a variety of majestic caves where you will have plenty of chances to discover extinct animal fossils!
Do not forget to bring a scuba light when exploring these mysterious caverns. The low-light conditions may make it hard to see the cave structure or find the entrance.
In this video, you will see stunning seascapes in Devil's Den.
7. Half Moon Shipwreck, Key Biscayne
Just 10 feet below the surface, Half Moon Shipwreck is highly accessible, even for kids! This dive spot lies offshore between Virginia Key and Key Biscayne, where you will find yourself diving with colorful tropical fish species and vivid coral reefs.
The marine life in Florida is different from what it is in California due to distinct climates; hence, scuba diving in Miami also broadens your knowledge about sea creatures. The blue water here offers you common encounters with damselfish, lobsters, angelfish, and porcupine fish.
Nevertheless, a significant disadvantage of Half Moon Shipwreck is that it requires fewer challenges when diving compared to other sites. For that reason, if you are someone who is looking for thrilling experiences, I will not highly suggest this location.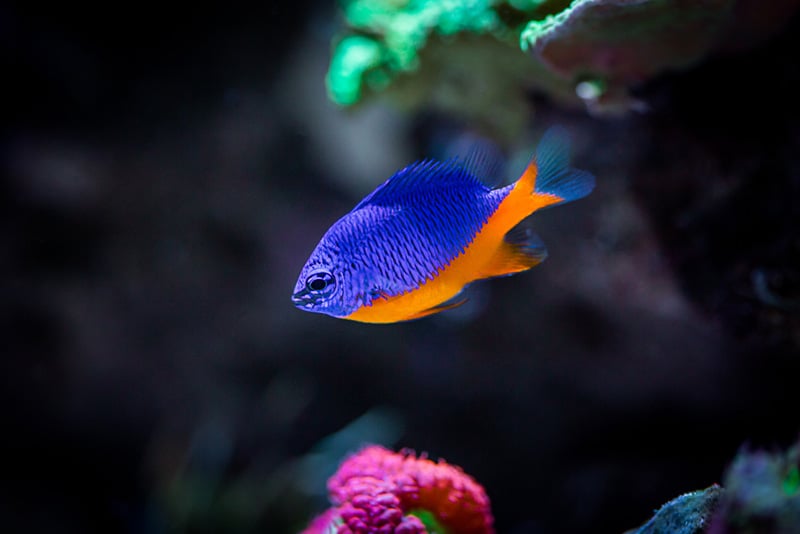 8. Dry Tortugas National Park, Key West
Diving in Dry Tortugas National Park is relatively affordable when you only have to pay $200 on average. However, most adventures into the sea taken here are deep dives, which means that entry-level divers and snorkelers are not advisable to come here.
A shipwreck known as Tortuga is placed at a depth of 115 feet below the surface. This requires you to equip yourself with a complete dive kit. Vital gear you should bring includes your BCD, a set of primary and secondary regulators, as well as two scuba tanks to access the destination.
If this is the first time you explore a wreck, there is no need to worry much because the entrances are pretty easy to enter. Nevertheless, remember to watch out for jellyfish and lionfish during the penetration process.
See other dangerous sea animals in my articles: How Dangerous Is Scuba Diving.
Do not forget to keep an eye on lush seagrasses where you can find most tropical sea animals such as starfish, queen conchs, lobsters, and more. There are also a few strange coral and sponge species to spot but do not touch on to ensure safety.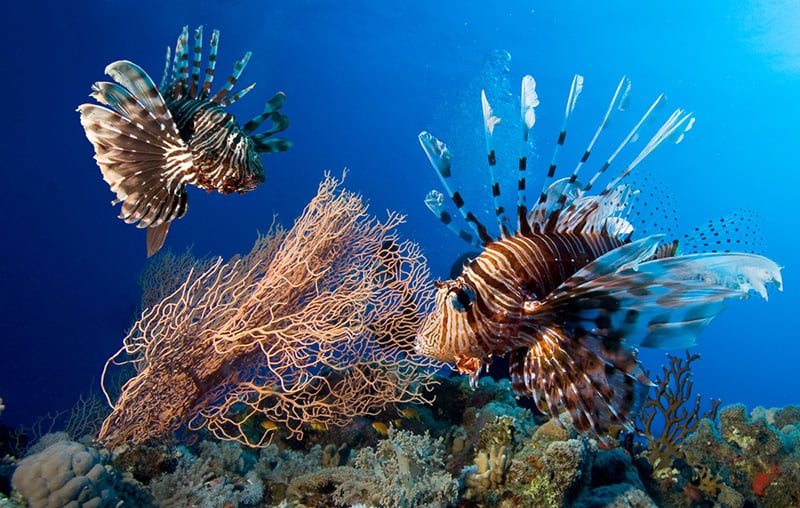 9. Sheri Lynn
Sheri Lynn is a Dutch shipwreck that lies at a depth of 90 feet in the water, becoming one of Miami's most notorious artificial reefs. You have countless chances to encounter large pelagic fish species when visiting here.
Grouper, mahi-mahi, and sharks are the top three most frequent sightings during a dive in Sheri Lynn. Also, it is possible to spot ruins of the ship like chevron tanks, cement mixer tanks, bulkheads, and so on.
Sheri Lynn is only suitable for advanced divers due to its dangerous depth. However, booking an adventure tour with an expert sounds safer if you are new to wreck diving. I make sure the unimaginable experiences you can get in Sheri Lynn will be worthwhile for a lifetime.
I believe you will not waste your precious time on Sheri Lynn.
Best Dive Operators in Miami Florida
I have compiled a list of Miami's most reliable dive operators, so you can rest assured that you are getting the best service possible. Whether you are inexperienced or seasoned, diving with a professional divemaster will be safer and more comfortable.
So what are you waiting for? Book your trip today!
Ace Diving Miami – provides snorkeling and scuba diving instruction, offers guided tours as well as excursions, and gives technical diving for certified divers. Phone (786) 241-3194 and visit https://www.ace-diving.com/ for further information.
Grove Scuba – supports a full set of scuba equipment for rent, provides private charters and wonderful dive trips, and operates specialty courses. Contact (305) 443-1313 or check its website at https://www.grovescuba.com/ to book now!
Tarpoon Lagoon Dive Center – offers unique scuba courses, affordable gear rental, and explorations for divers of all levels. Call (305) 532-1445 or visit https://www.tarpoonlagoon.com/ for more details.
Best Resorts in Miami Florida
Miami is a popular destination for scuba divers. There are many great places to stay while diving here. Below is a list of the best resorts in Miami to consider, based on previous feedback and my own experience.
The options are plentiful, ranging from beachfront resorts to luxurious hotels on land. Let's get started!
Resorts
Star
Popular amenities
Address & Contact
JW Marriott Marquis Miami
5
Wi-Fi, Paid breakfast, Parking, Accessible Outdoor pool, Air-conditioned
● 255 Biscayne Blvd Way, Miami, FL 33131
● (305) 421-8600
Miami Marriott Biscayne Bay
4
Free Wi-Fi, Paid breakfast, Parking, Accessible, Air-conditioned, Laundry service
● 1633 N Bayshore Dr, Miami, FL 33132
● (305) 374-3900
The Guild Downtown | X Miami
4
Free Wi-Fi, Paid parking, Accessible, Outdoor pool, Air-conditioned, Kid-friendly
● 230 NE 4th St, Miami, FL
● 33132(512) 623-7480
Four Seasons Hotel Miami
5
Free Wi-Fi, Breakfast, Parking, Accessible, Outdoor pool, Air-conditioned
● 1435 Brickell Ave, Miami, FL
● 33131(305) 358-3535
EAST Miami
4
Free Wi-Fi, Breakfast, Paid parking, Accessible, Outdoor pool, Air-conditioned
● 788 Brickell Plaza, Miami, FL
● 33131(305) 712-7000
Conclusion
From the coral reefs of Key Biscayne to the wrecks off Fort Lauderdale, scuba diving in Miami is endless. With its clear waters and rich marine life, Miami offers divers an unforgettable experience.
Among various diving destinations in Miami, I highly recommend Biscayne National Park for its picturesque seascapes, ideal diving conditions, and diverse aquatic life. In the meantime, Half Moon Shipwreck and Sheri Lynn are great options for wreck divers.
Do you have any comments or suggestions for this article? Please leave them in the comment section below. Help other scuba divers know more about diving in Miami by sharing this article. Please use any of the following social media links.
Related Articles: