To begin with, you may wonder where Sarasota is. Let me tell you about this beautiful city! Sarasota lies in the southwest of Florida, a coastal state in the US. The area is renowned for beaches stretching along the Gulf of Mexico!
Sarasota's official limits contain Sarasota Bay and several keys such as Casey Key, Lido Key, Coon Key, and a part of Siesta Key. Therefore, it is one of the top destinations to scuba dive in Florida! Besides, the city-county also owns the nearby mesmerizing Venice beach.
Scuba diving in Sarasota can live up to your expectations! You can experience different diving types including coral reef diving, wreck diving, and even shark tooth diving. By joining these activities, you will have an opportunity to visit the incredible world of marine creatures!
Keep reading and find out some interesting information in the sections below!
Why Is Sarasota an Ideal Place for Scuba Diving?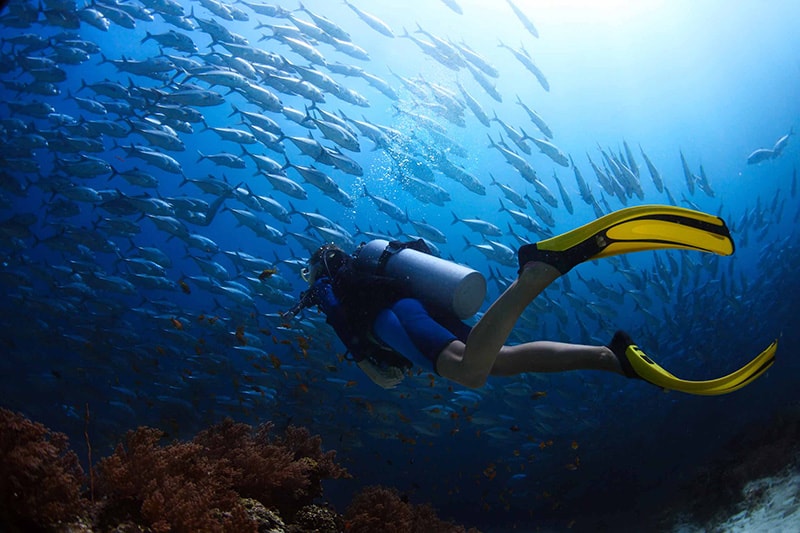 The reason behind the above question has something to do with Sarasota's exceptional geographical location. Since the city adjoins the water of the Gulf of Mexico, it offers several dive sites with perfect ocean temperatures for scuba divers!
Additionally, scuba diving in Sarasota can include a wide range of underwater activities. Specifically, divers can stand a chance to admire extensive natural coral reef systems with colorful schools of fish. They are also able to swim through some shipwrecks under the seabed.
What's more, Venice Beach in Sarasota is home to a shark teeth collection! You can have an unparalleled experience of discovering a display of teeth from different species of sharks. This type of diving will do wonders for your trip to Sarasota!
On top of that, several dive operators and liveaboards offer excellent services in Sarasota. You can wish to book some professional dive instructors to accompany you on your underwater journey. If you are a beginner, contact them for private courses!
When diving enthusiasts want to spend summer holidays in Sarasota, they can always choose from many beachfront hotels and resorts. As long as you can afford scuba diving in Sarasota, the city is one of the optimum options for your vacations!
Best Dive Sites in Sarasota
This may be the section that piques your interest the most. It is essential to learn about some famous spots for scuba diving before setting foot in Sarasota! The list of five dive sites below will challenge your expectation!
1. Bay Ronto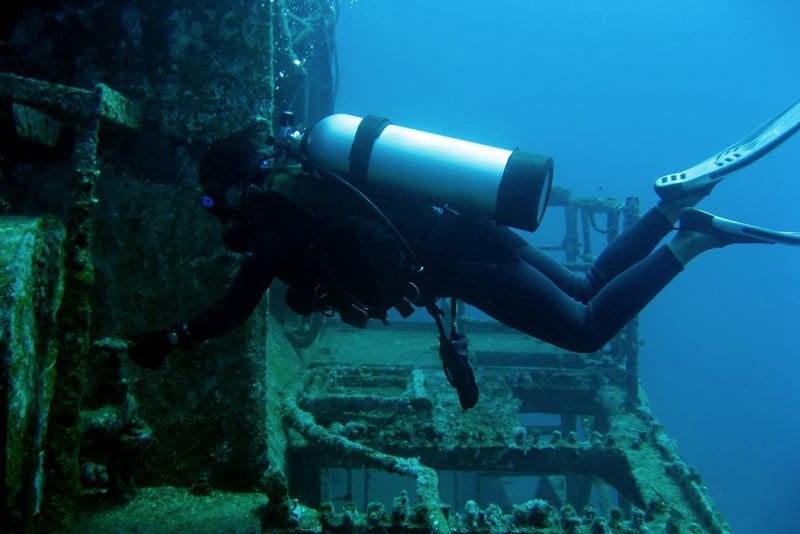 The British freighter Bay Ronto is about thirty miles from the coast of Sarasota. This cargo ship was built in Newcastle in 1905. On its journey to transport wheat to France, a massive hurricane with strong gusts sank the Bay Ronto within minutes!
Today the ship Bay Ronto is known as one of the largest wrecks in Sarasota. When diving in this area, you can stand a chance to watch huge schools of spearfish swimming around. The visibility is excellent, even though the ship is under great depth.
Typically, divers can reach the Bay Ronto by boat. Since the ship is quite far from the seaside, you should undergo some special training before being qualified enough to dive the freighter. Don't worry because you can always seek help from diving centers in Sarasota!
=> Check out the best dive spots in Destin, Florida here!
2. Venice Beach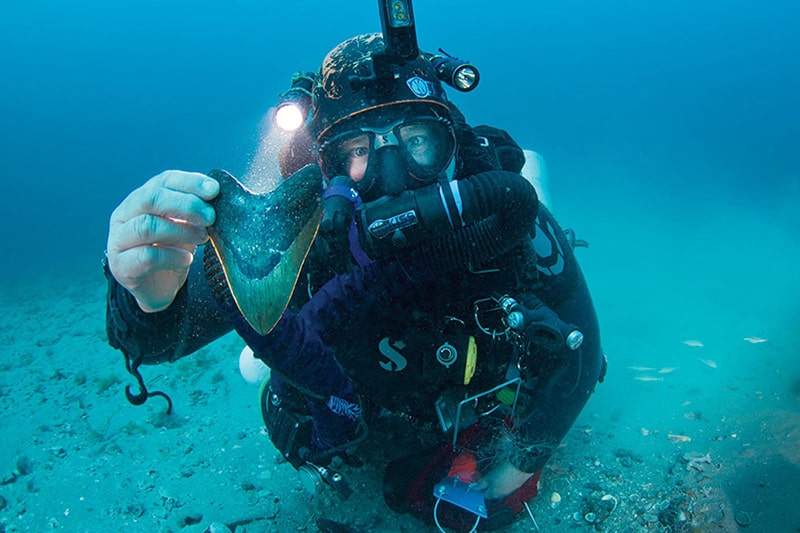 This site does not lie in Sarasota but is under the control of Sarasota County. What's more, it is not far from the city. You will have to travel only about 18 miles to reach Venice beach! There are some fascinating features about the spot that you will never want to miss!
Fossilized sharks' teeth make Venice beach stand out among dive sites in Sarasota. Come here and enjoy shark tooth diving if you want to try something new rather than coral reef or wreck diving! It will be an unforgettable experience.
In particular, there are teeth from sharks that appeared in the era of dinosaurs. Therefore, they are often larger than teeth from modern sharks. The exhibition of teeth is not confined to any area under the water, so divers can swim around to find them, like hunting mysterious treasures.
Read on: Scuba Diving in Venice, Florida – The Completed Guide in 2023
3. Siesta Key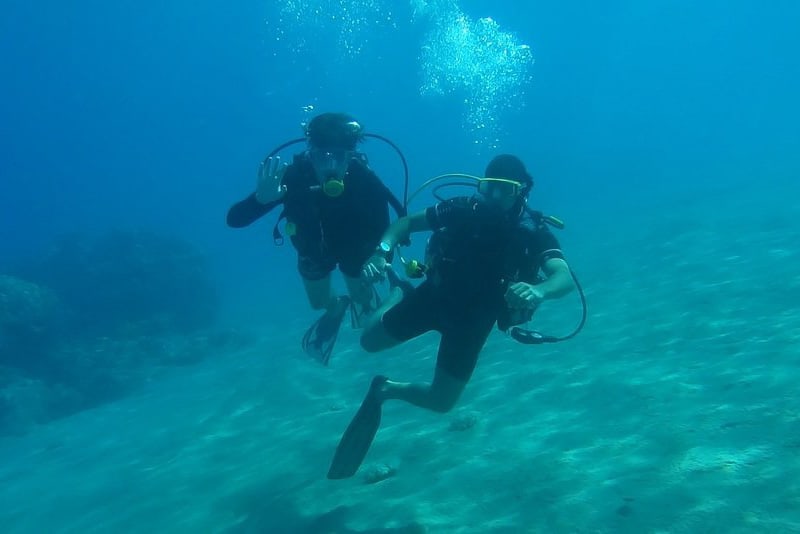 Siesta Key is a laid-back barrier island in the Gulf of Mexico. Like Venice Beach, a portion of the key belongs to Sarasota County. The place also offers shark diving and ideal diving sites such as sunken ships and natural coral reefs.
Specifically, artificial and natural coral reef systems in Siesta Key are homes to different aquatic animals. There are tarpons, groupers, jacks, trout, snapper, mackerel, and snook. Octopuses and turtles also appear at the site.
The small fishes above are often the prey of larger mammals. Hence, you can also wish to see some manatees, dolphins, and sharks swimming around. However, remember to be careful with poisonous stingrays and jellyfish!
=> Check out the best dive spots in the Florida Keys here!
4. M-4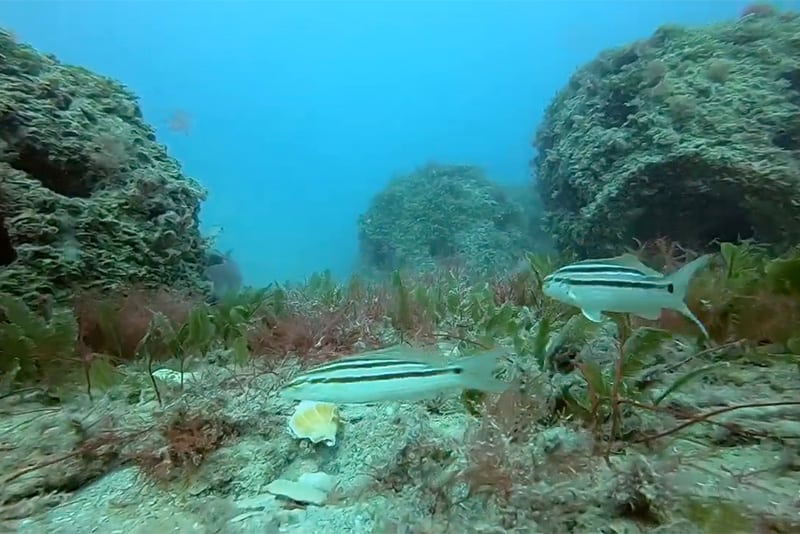 M-4 is an artificial coral reef system in Sarasota. It has been open to divers worldwide since 1998. Nowadays, M-4 is one of the most well-known diving spots among Florida diving enthusiasts.
You will have to dive nearly 13 meters under the water to access this site. As an artificial reef, M-4 houses a broad range of sea life, attracting many tourists worldwide. The bottom line is that the biodiversity in M-4 is as diverse as that in natural reefs.
In particular, you can have the opportunity to catch sight of lizardfish, Spanish mackerel, grouper, and snapper in different sizes. There are also barracuda, medium octopuses, amberjack, and a few species of jellyfish.
5. New Pass Bridge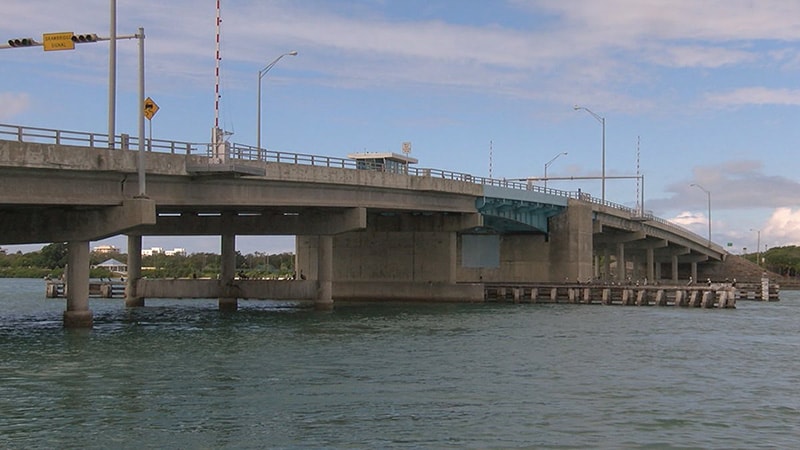 If you ask the local people in Sarasota about an ideal place to dive, they will recommend the New Pass bridge. You may never think of diving under a bridge, but this dive site will not let you down! Let's find out why!
The water is clean enough to offer excellent visibility for scuba divers. Moreover, several types of fish and marine animals inhabit the water under the New Pass bridge. Sheepshead, grouper, snapper, and king mackerel are the most popular.
Because of its commercial value, the city council usually pays great attention to this dive site's environmental condition. The authority often has divers pick up debris under the water to conserve the dive spot.
Divers Guide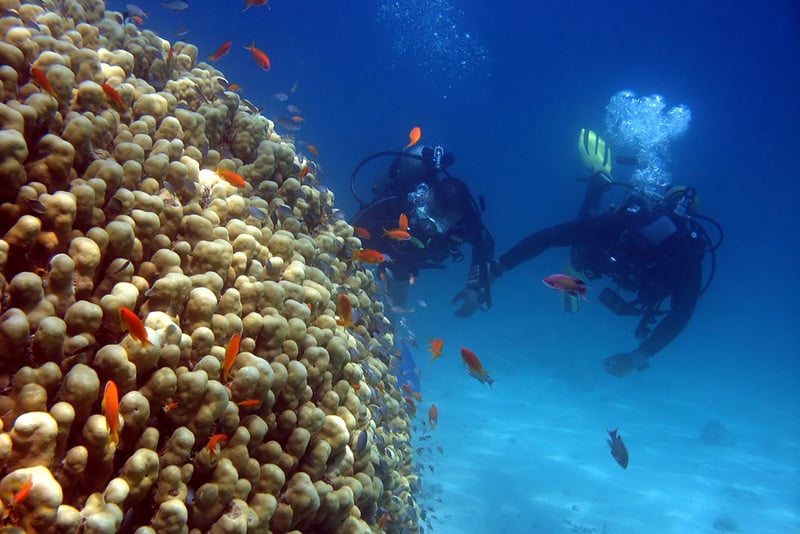 Diving tutorials may also have a crucial role to play in your scuba diving journey in Sarasota. As you wish to have a safe and enjoyable experience, this section will help answer your questions about diving conditions and diving prerequisites.
1. Diving Conditions in Sarasota
Scuba diving is a perennial activity in Sarasota due to its warm weather. There are also several dive sites open to tourism. However, you have better check some information about the climate in Sarasota if you desire the best adventure.
The table below covers some basic facts about scuba diving conditions in Sarasota.
Air temperature
70-90°F (22-32°C)
Water temperature
68-84°F (20-29°C)
● Coolest in February
● Warmest in August
Rainy Season
From June through September
Visibility
20-50 feet
2. Fitness Requirements
Scuba diving is a great way to keep fit and keep yourself active during summer vacations. It's also a fascinating recreational activity for water lovers. However, you may have to reach a certain fitness level before safely experiencing underwater diving.
The requirements for this watersport are not over the top because people from different age groups can scuba dive. As long as you are in good condition, you can always dive under the water. Nevertheless, kids may need approval from their parents.
Typically, the ability to swim is necessary for scuba diving. You will need to swim between 100 and 200 meters to reach the offshore dive sites. Furthermore, divers must be able to float before attending any diving courses.
Underwater diving can be a challenging task for self-teaching. Therefore, people often go to diving centers for tutorials from professionals. You will stand a chance to learn about some theoretical knowledge and introductory scuba diving exercises before practicing in open water.
If you are a lightweight or flimsy person, don't worry about heavy diving gadgets. You can feel a bit exhausted when carrying the scuba tank out of water. But as soon as you bathe yourself in the water, the pressure will make these burdensome gears virtually weightless.
The oxygen from your scuba tank is usually dry. Hence, remember to keep your body hydrated by drinking lots of water before diving. What's more, you should not smoke when you dive, since it will harm your lung functions.
3. Shark Tooth Diving
You can wish to find several fossils of sharks' teeth on the seabed. Therefore, you don't need to excavate to look for them. Sharks' teeth often appear in the same area as small debris and pebbles.
While shark tooth diving, you will not harm the natural coral reefs of marine creatures underwater. These fossilized teeth can be worth a fair amount of money. However, most divers simply like the joy of hunting for treasures from animals living millions of years ago.
The best time to look for sharks' teeth is early in the morning. This period allows divers to have a good vision underwater. It will be greater if you go shark tooth diving after a storm has struck because strong waves reveal new sand layers.
There are sharks' teeth coming in different sizes and colors. The most common hue of fossilized teeth is black. Therefore, if you grab something that is black and has a triangular shape, it is in high probability a fossil of shark tooth!
The local people residing near shark tooth dive sites may tell you that taking away these samples is harmless to the environment. However, you should only take pictures of them to preserve these incredible dive spots!
The 5 Most Fascinating Activities in Sarasota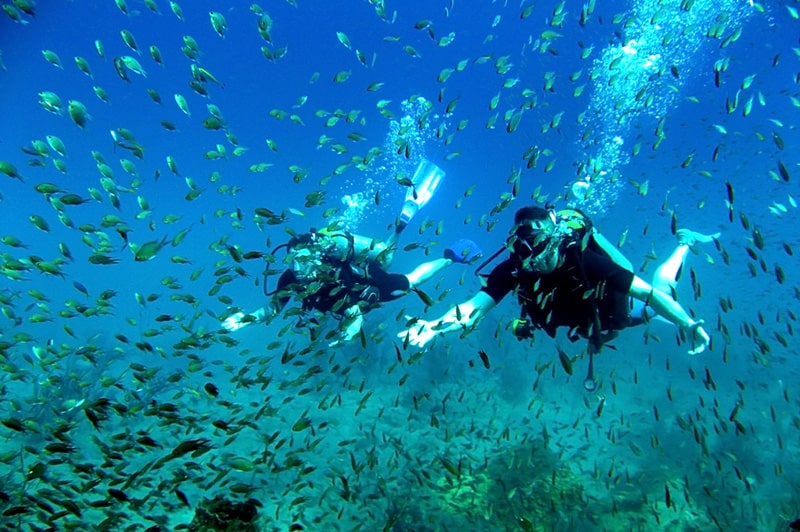 Since Sarasota is adjacent to the Gulf of Mexico, its natural attractions are copious. Hence, there are various water-related sports. These activities will grant tourists an opportunity to admire the wildlife and spectacular landscapes.
If you search for exciting things to do in Sarasota, this part of my article can be helpful. Let's find out what should be on your to-do list when you visit this coastal city.
Boat tours
Like other coastal cities, Sarasota offers one of the best boat trips. This is a perfect way to see the sandy beaches from a broad angle. What's more, you can also witness marine animals swimming around while floating on the water's surface.
To be more specific, you will stand a chance to observe sea turtles and jellyfish. Remember to bring a camera to take some photos of what's in front of your eyes! If you go further offshore, you can see dolphins as well!
Visit an aquarium
Paying a visit to an aquarium in Sarasota is also a perfect way to see aquatic life. By strolling around different exhibitions, you can wish to broaden your horizon and observe some species of animals that you have only heard of before.
The Mote Marine Laboratory & Aquarium in Sarasota ranks among the state-of-the-art buildings in the world. Its facilities are ground-breaking with extensive glass reservoirs. The excellent archways enable visitors to admire schools of fish swimming over their heads!
This aquarium houses many marine creatures, from sharks to seals. Species of animals that rarely appear are conserved in this building. Therefore, you can acquire an exhaustive knowledge of the aquamarine biodiversity in Sarasota.
Mote Aquarium is also a place for researching marine animals. When you visit the laboratories, you can see scientists studying aquatic animals and writing reports after scuba diving in open water!
Scuba diving
Sarasota is a perfect place for underwater diving. The Gulf of Mexico's water and the weather is warm all year round, making diving a perennial activity. Moreover, diving in Sarasota can serve different purposes.
This city has a broad range of dive sites that pique the curiosity of divers worldwide. It's a mistake not to mention the extensive natural coral reef systems, where several sea species reside. Artificial reefs also offer habitats to different marine creatures.
What's more, Sarasota county owns a fossilized sharks' teeth museum under the water. Divers can expect to immerse in the water and hunt for those fascinating treasures. People coming to this city can also try scuba diving in an aquarium!
Snorkeling
Snorkeling is also a popular option besides diving. The bottom line is that you don't have to put on several heavy gadgets but a mask! And you can still watch schools of fish swimming alongside your ears!
This recreational activity does not require any qualifications, so people of all ages can equally have an unforgettable experience. Almost all snorkeling spots are close to the shore. Hence, you don't need to swim a long distance.
If you still want to protect yourself against any possible danger, you can always hire a professional instructor. He will accompany you on your snorkeling trip and ensure you are safe while watching the underwater world.
Kayaking
Participating in kayak tours in Sarasota is also an exciting thing to do. You can have an opportunity to float on some breathtaking tunnels in this city. Sometimes, you will even catch sight of some turtles!
Like scuba diving, there are multiple kayak centers in Sarasota. They provide equipment rentals and kayak training. You will get a map to navigate your routes while kayaking!
Best Diving Centers in Sarasota
It is a mistake not to research renowned diving operators and stores in Sarasota. If you wish to experience scuba diving fully, ask a professional instructor to guide you! Below are some of the best diving centers in Sarasota!
Scuba Quest Sarasota – sells diving equipment, scuba diving courses, first aid tutorials, supports both beginners and professionals, offers an annual discount. Visit their website at https://www.scubaquest.com/ or contact via +1 (941) 366-1530.
Keys Huka Dive – offers dive training, dive charters, snorkel tours, advanced scuba courses, dive trips, dolphin cruises, first aid tutorials, marine services. Find out more at https://www.keyshukadive.com/ or dial +1 (305) 609-7725.
Florida Underwater Sports – offers equipment rentals, open water diving courses, dive charters, gift cards, rescuing tutorials, cave diving tours. Feel free to visit https://www.floridaunderwatersports.com/ or ring +1 (941) 870-4461.
Top Hotels & Resorts in Sarasota
If you wonder whether Sarasota has some fine hotels and resorts to stay in during your holidays, I will answer your question in this section! This coastal city can offer one of the most prestigious tourist accommodation services!
Hotels / Resorts
Address & Contact
Price
Amenities
Carlisle Inn Sarasota
● 3727 Bahia Vista St, Sarasota, FL 34232
● +1 (844) 369-2275
From 141$
Airy dining room, hot breakfasts, a hot tub, an outdoor pool, meeting space, in-room coffee makers.
Kompose Boutique Hotel Sarasota
● 965 University Pkwy, Sarasota, FL 34234
● +1 (941) 330-1160
From 441$
Sauna session, a fitness center, peloton session, pool and jacuzzi, in-room Keurig coffee tray, breakfast buffets, secured parking, pet-friendly.
Siesta Key Palms Resort
● 1800 Stickney Point Rd, Sarasota, FL 34231
● +1 (941) 786-4778
From 222$
Two pools, free bicycle rentals, a game room, massage appointments, yoga & activity deck, barbecue grills, in-room dining tables, free wireless internet.
Lido Beach Resort
● 700 Benjamin Franklin Dr, Sarasota, FL 34236
● +1 (941) 388-2161
From 479$
A free shuttle, private beach, two heated pools, three jacuzzis, a fitness center, a tranquil garden, a tiki bar, a seafood restaurant.
The Westin Sarasota
● 100 Marina View Dr, Sarasota, FL 34236
● +1 (941) 217-4777
From 449$
A refined restaurant, a rooftop terrace, a pool, a bar, an eatery, a lobby bar, a spa, a gym, free breakfasts.
The Ritz-Carlton Sarasota
● 1111 Ritz Carlton Dr, Sarasota, FL 34236
● +1 (941) 309-2000
From 1149$
Three chic restaurants, a poolside food service, a tiki bar, a refined spa, a golf course, a free shuttle, and an outdoor pool.
Frequently Asked Questions
The sections below may partly answer your questions about underwater diving in Sarasota. However, there are perhaps more queries for a more conclusive understanding of this coastal city. Below are some popular inquiries.
Is It Safe to Dive in Sarasota?
As you all know, Sarasota can offer scuba diving all year round. It's also one of the most fantastic places to try this activity. All the dive sites open to tourists are usually safe and authorized by the government.
However, problems under the water are unpredictable. It is because there are several factors contributing to any unexpected occurrences. For example, you may get attacked by marine animals or get entangled in shipwrecks.
Therefore, you should go scuba diving with a professional instructor so that you can ask for help in an emergency. Moreover, it's crucial to equip yourself with the necessary gadgets before diving under the water.
How Many Artificial Coral Reefs Are There in Sarasota?
There are nearly 40 artificial reefs in Sarasota. They are usually shipwrecks, and you can find them both in open water and near the shore. These dive sites have an integral role in creating and restoring habitats for sea animals.
Besides, they also help make the dive sites in Sarasota more diverse. Some of them, ergo, are available to tourists. They offer divers a chance to admire the wildlife under the seafloor!
Is Shore Diving or Offshore Diving in Sarasota More Interesting?
It depends on different factors. Each has its advantages and disadvantages. Divers' tastes also form opinions over the merits of shore diving and offshore diving. Nevertheless, they share a common feature that allows you to see incredible marine life.
For shore diving, you will need to swim a short distance to the dive site, about 100 to 200 meters. Thus, all swimmers can take part in scuba diving in spots close to the seaside. This is also an ideal activity for kids.
For offshore diving, this is probably a more dangerous activity. You may need to travel to the dive spot by boat. You should already be trained and qualified, since you might dive up to 100 feet underwater. A guide is also essential!
Conclusion
To sum up, you can not fully experience and explore Sarasota if you don't try scuba diving. There are numerous famous dive sites in this coastal city that will not upset you! The aquarium can be an ideal and safe dive spot!
Furthermore, never forget to scrutinize some diving conditions to keep yourself from any abrupt happenings! A list of hotels above can also do wonders for your trip to Sarasota!
If you find my topic helpful, don't hesitate to share it with your friends or family. It's a great pleasure to provide all of you with beneficial information about Sarasota and scuba diving in this city!