When it comes to scuba diving, Southern California probably should be your first choice because of its rich marine life and stunning underwater scenes. In addition, this place is one of a few destinations that give exceptional diving experiences at night and sunrise.
Southern California is home to majestic kelp forests as well as different rare animals like Garibaldi, sea lions, sheepshead, leopard sharks, etc. With numerous dive spots and gorgeous beaches along the coast, this location serves divers of all experience levels well.
This article focuses on helping you choose the most suitable destination while scuba diving in Southern California, aside from a travel guide. Some reliable dive operators and resorts for your reference are included as well. Let's get started.
Best Dive Spots in Southern California
Here are some of my favorite dive sites when I visit Southern California. While some are only suitable for beginners or seasoned divers, some work well for both. But remember, wherever you plan to go, please check out the weather and visibility before diving there.
1. San Diego
Diving destinations in San Diego are not as diverse as other locations in Southern California. However, I believe all the two dive spots reviewed below will not disappoint you.
Cortez Banks
Cortez Banks waters provide excellent opportunities for surfing thanks to their massive waves. When the conditions are right, you might even see waves up to 150 feet in height that can satisfy the most demanding thrill-seeker.
Meanwhile, the marine life in Cortez Banks is diverse, with critters like red sea urchins, lobster, yellowtail, and tuna. However, this dive site has some limitations that make it less attractive to the majority of divers.
Firstly, reaching Cortez Banks requires a boat, which can be an additional expense. Moreover, the diving conditions can be unstable and are suitable primarily for advanced divers.
It's important to note that Cortez Banks is typically only dived in the fall when the swell is down and done on multi-day charters out of the Los Angeles or San Diego areas.
Few dive boats go out there now, as it's a long haul and the availability of dive charters has decreased in recent years.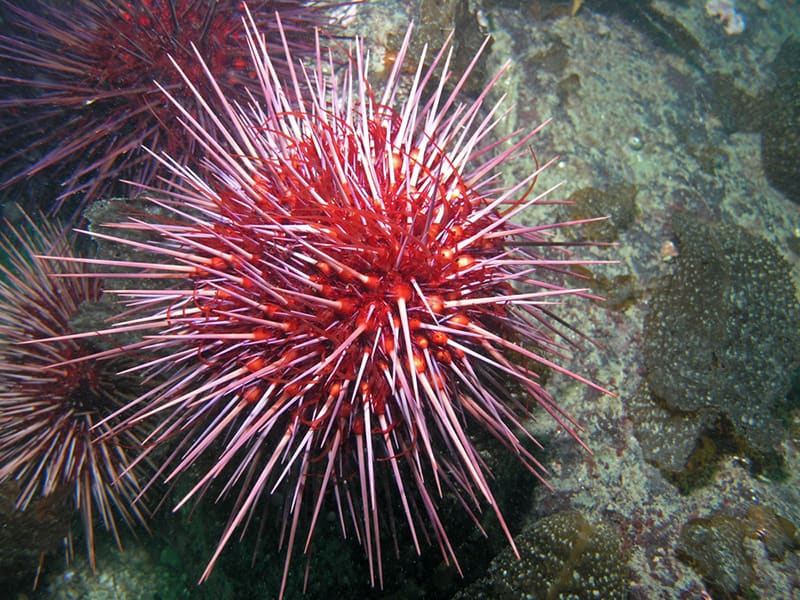 La Jolla Cove
Shore divers favor this fantastic destination near San Diego for some reasons. First of all, it offers an easy entry point, which means that it is so accessible for people regardless of how experienced they are.
Secondly, the dive site also comes with a variety of sea creatures, making its underwater world magnificent to explore. You just dive down to 40 feet, and you can spot a giant kelp forest home to black sea bass, bat rays, rudderfish, etc.
Besides, seasoned divers will also love this water because they can go deep up to 80 feet below the surface, which allows for seeking rare animals. Remember to bring a GoPro when scuba diving. Maybe one day, you will accidentally capture a mysterious unknown creature.
In addition, La Jolla Cove is one of the most prominent dive spots in Southern California that offers the opportunity to observe sharks in their natural habitat.
Species like sevengill, tope, leopard, blue, mako, and juvenile great white sharks can be found here, though they are generally not aggressive towards divers.
The best time to spot these sharks is between fall and early winter. When it comes to diving conditions at La Jolla Cove, it's important to note that the water temperature can be quite cool, and a wetsuit or even a drysuit is recommended year-round.
Visibility can be poor in early spring, so bringing a dive light with you during this time is highly advised.
See how wonderful it is to dive into La Jolla Cove with the following video.
2. Oil Rigs of Orange County and Los Angeles County
Various oil rigs can function as underwater artificial coral reefs off the Southern California coasts. Eureka is an excellent site for people to scuba dive in the Los Angeles area. Meanwhile, Orange County gives incredible experiences during a rig dive as well.
Under the blue ocean, you will easily find a strongly thriving ecosystem here. Artificial rigs are now turned into healthy reefs that offer a natural habitat for numerous sea creatures. This explains why you can spot a large number of rockfish, Garibaldi, mussels, scallops, and more.
In addition, sea lions and a few shark species are also seen here. Besides, oil rigs' support parts create a system that looks like an aquatic maze. This dive site can operate well, whether you expect to take incredible footage of rich marine life or complicated underwater structures.
Nevertheless, diving to explore oil rigs is only allowed for professional divers due to the complicated nature as well as its level of danger. Some rigs have a maximum depth of up to 700 feet, such as Eureka, which is unsafe for everyone.
Besides, oil rigs are often placed in strong currents and surges, requiring divers to be experienced enough to deal with unexpected circumstances. Visibility is restricted, and volatile diving conditions are two other factors.
Unless you are a certified advanced diver, you should not dive alone. A seasoned instructor is always recommended. Additionally, it is essential to include a dive computer that transmits signals about your survival and a scuba BCD that improves buoyancy control.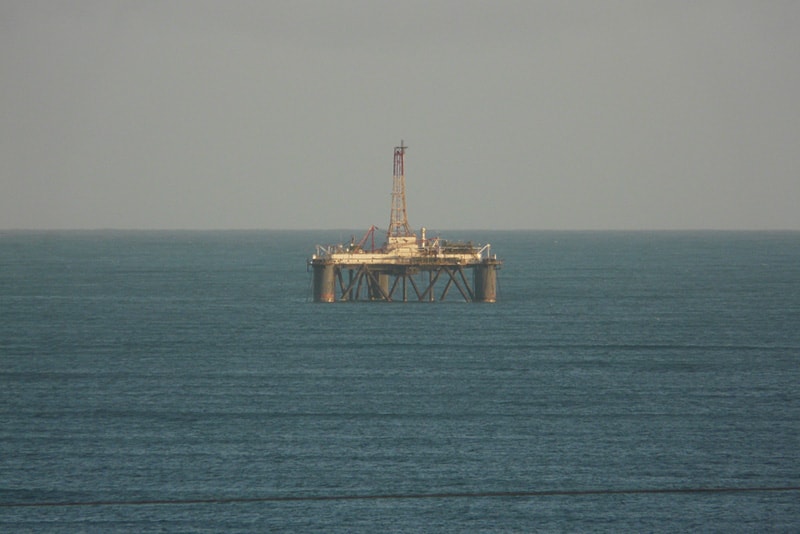 3. Catalina Island
Spring through fall is the best time to visit Catalina Island. Meanwhile, there are some diving destinations you should not skip if you want to ensure your trip is fascinating.
Casino Point
This site provides easy entry and exit; thus, it is suitable for both entry-level and professional divers. Below the surface of the Casino Point is a giant kelp forest that offers food sources to aquatic animals such as sharks, whales, and dolphins.
Diving through kelp forests can be an incredible experience but always watch out for your fins because they are easily stuck. Casino Point has abundant sea life, which includes various rare creatures. You can spot Garibaldi, California Sheephead, moray eel, and more.
The underwater topography is excellent as well. It has numerous rocky reefs along with sharp pinnacles, which creates a rugged terrain that challenges advanced divers to explore. There are a few small shipwrecks, so wreck diving is one of the most popular activities at Casino Point.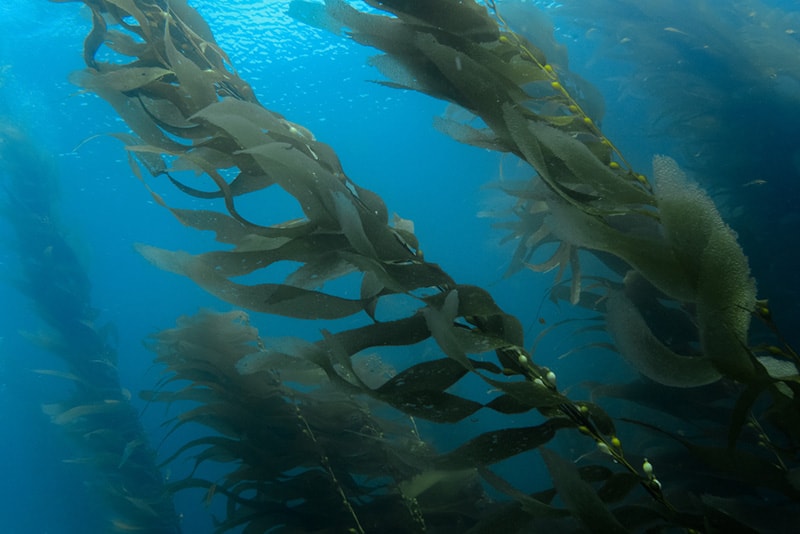 Farnsworth Banks
Farnsworth Banks is located on the west side of Catalina Island, giving divers a chance to see stunning underwater vistas as well as rich marine life. There is a wide range of mountains under the sea, making the spot challenging enough for thrill-seekers.
In addition, this dive site is filled with schools of colorful fish species, torpedo rays, tuna, and sharks. The plants are diverse, ranging from corals and sea anemones to blue sponges.
Besides, Farnsworth Banks is one of a few places in California allowing for purple hydrocoral observation.
Nevertheless, one significant disadvantage when diving in Farnsworth Banks is its massive depth and strong currents. This explains why novice divers are not welcomed here. Lastly, remember to visit between December and April, which is gray whales' migrating season.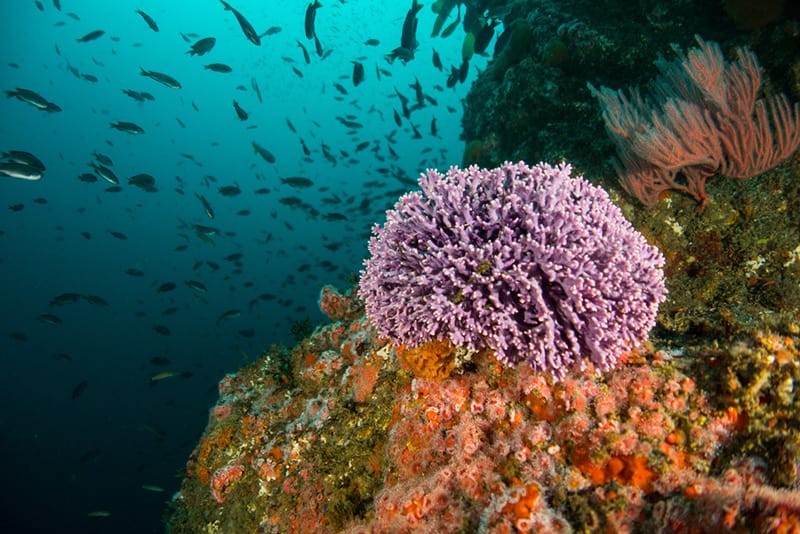 4. Laguna Beach
Laguna Beach is famous for stunning seascapes as well as rich marine life. Besides, it also provides you with numerous spots that will suit both inexperienced and experienced divers. Let's scroll down to find out more!
Reef Point
Reef Point comes with a variety of rocky coral reefs, making it dangerous for beginners to dive but appealing to advanced divers to challenge their limits. And keep in mind that regardless of how experienced you are, you should not dive beyond 60 feet at this dive spot.
>> See How Deep Can You Scuba Dive to find out your maximum depth!
Reef Point offers you excellent visibility up to 35 feet in good weather conditions. Besides, high waves and mild currents are often found here, which means this location is also perfect for many aquatic sports such as surfing, kitesurfing, wakeboarding, etc.
The sea life in Reef Point is thriving with plentiful strange animals that you may have never seen before. Its healthy reefs are home to Zoanthid Anemones, octopus, nudibranchs, blennies, and so on.
In addition to complicated cave systems, Reef Point also features walls and swim-throughs that will appear gorgeously in front of your underwater camera.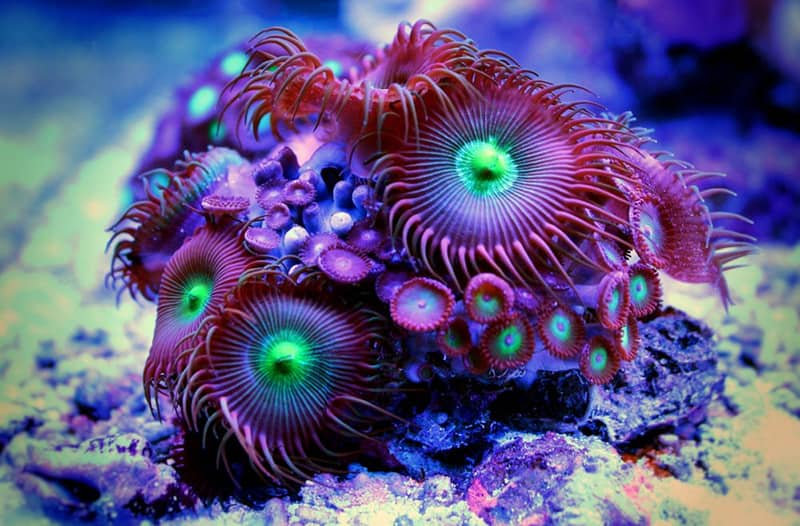 Shaw's Cove
Because Shaw's Cove is prevented from most large swells, the diving conditions here are pleasant and stable most of the time. Furthermore, thanks to that, the visibility is enhanced as well. Therefore, divers of all levels, especially beginners and families, love visiting this place.
When diving in Shaw's Cove, you easily spot a few endangered animals such as horn sharks, leopard sharks, sea lions, and of course, the California endemic fish – Garibaldi. However, the state's rules require you to keep a distance from some specific species, such as sea lions.
If you see a sea lion sunbathing or sleeping on a rock at Shaw's Cove, please do not approach it closely. Otherwise, you may be in trouble.
Watch the video below and find out which sea animals you can spot when diving in Shaw's Cove.
Diver's Cove
The waters in Diver's Cove are calmer, while the weather is ideal for most aquatic sports. An accessible entry combined with shallow depths explains why most training courses happen here. Besides, this also means that Diver's Cove is best for entry-level divers.
Thanks to a conservation policy of the state's authority, the marine life at Diver's Cove is protected well from fishing. Just dive down to a few feet, and a magnificent underwater world is open to your eyes. You will spot anemones, starfish, urchins, bat rays, mussels, and more.
And in case you want to see more strange animals, let's go deeper on the south side of Diver's Cove. While shallow waters seem perfect for snorkeling, deep diving will allow you to get a glimpse of dangerous predators, including leopard sharks, swell sharks, stingrays, etc.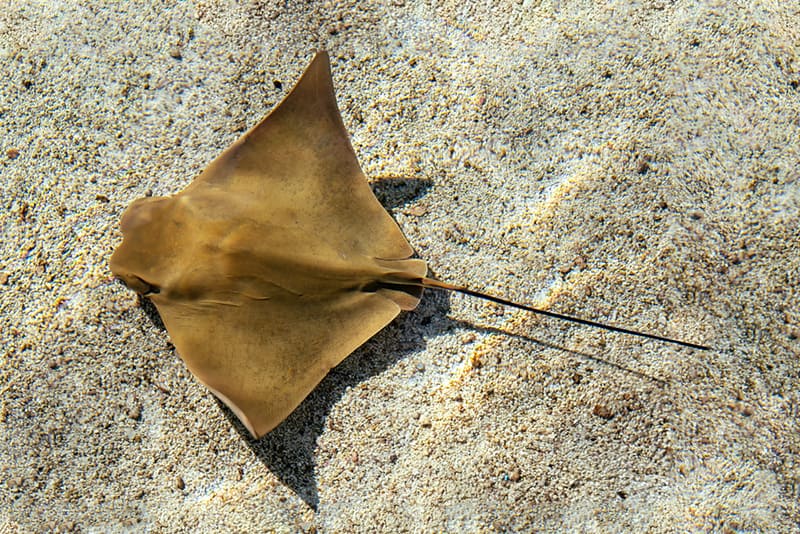 Divers Guide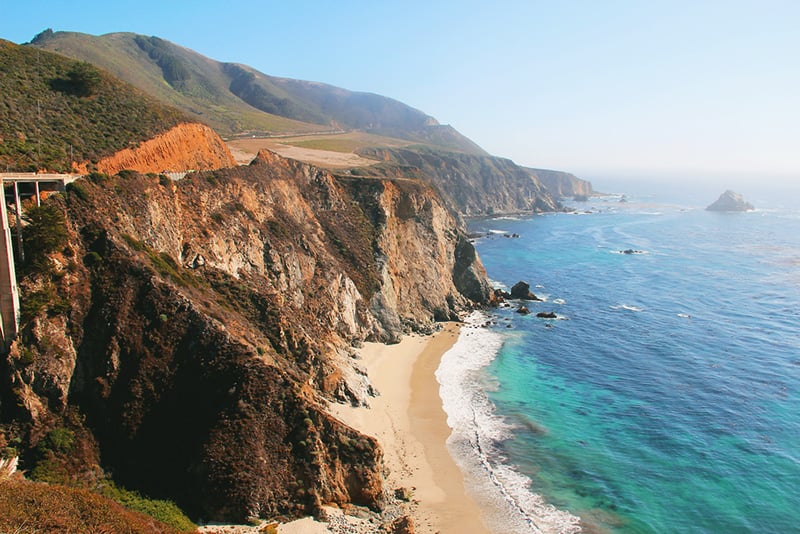 Without a doubt, you always want to make your dive trip to Southern California well-prepared so that nothing will let you down. If you are looking for the best time to visit, how to get it, as well as what should be included in your dive kit, you should see the following section.
1. Southern California Diving Conditions
The weather in Southern California is ideal for diving all year round. However, visibility will change depending on the seasons. Fall offers excellent visibility, while Spring is too windy, making it harder to see more than two feet at that time.
The water temperature ranges from under 50 degrees during summer months to under 70 degrees Fahrenheit in winter. Therefore, a wetsuit is optional in warm periods, but it is a must in the coldest months. In addition, a pair of scuba gloves is highly recommended to wear as well.
2. How to Get There
There is an international airport in Los Angeles (FlyLAX) that mainly supports domestic travel. Besides, some flights fly between states and from the USA to overseas.
3. What Gear to Bring
If you want to dive safely, there are some other tools you should pack into your scuba kit. Below is the most effective and practical equipment for you to consider.
A knife – it is so necessary when you are stuck in the kelp forest. Or, under emergencies, a knife or any cutting tool enables you to cut off weight pockets to float more quickly.
A dive light – it is helpful for night dives and cave explorations. It also helps you see more clearly when visibility is inferior on windy days.
First Aid Kit – you unconsciously may be hurt by sharp points below the surface. In that case, it will protect your wound from infection.
A Surface Marker Buoy or a finger spool – optimizes your safety. In addition, it serves as a sign indicating where the diving boat will pick you up.
Marine Life in Southern California
The aquatic life in Southern California is diverse, with a wide range of reef fish and macro creatures like sharks, dolphins, and so on. Some of them are easy to see, while the others require a little effort.
Below are the top five must-see animals in Southern California.
1. California Sheephead
California sheephead is friendly, which means that they allow divers to get close while swimming. Their natural habitat is kelp forests and rocky reefs. A fun fact about sheepshead is that they are born female, and just some individual adults turn into a male to support breeding.
Sheephead plays a vital role in keeping the number of California sea urchins stable.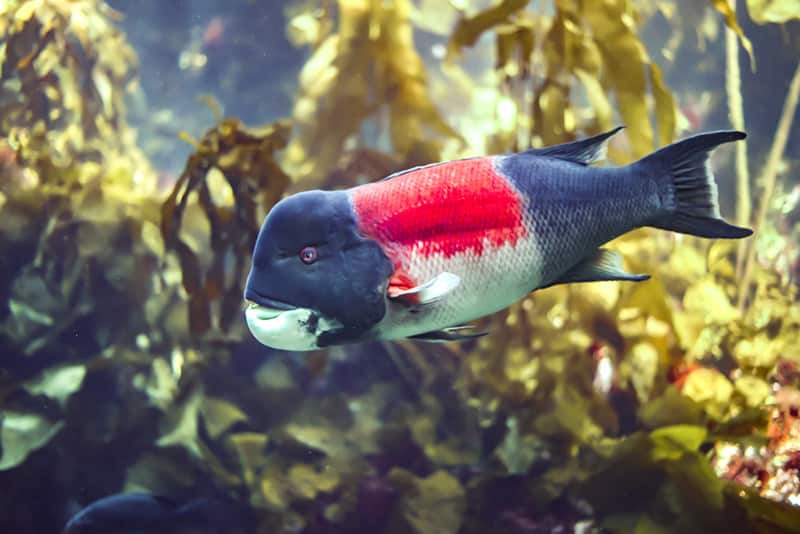 2. Garibaldi
Garibaldi is easy to spot due to its bright orange body and willowy fins. These fish gather primarily in the Channel Islands and Lover's Cove of Catalina Island. These locations offer them lots of rocky bottoms that make their home.
This iconic fish of California state belongs to the damselfish family and is the biggest member as well.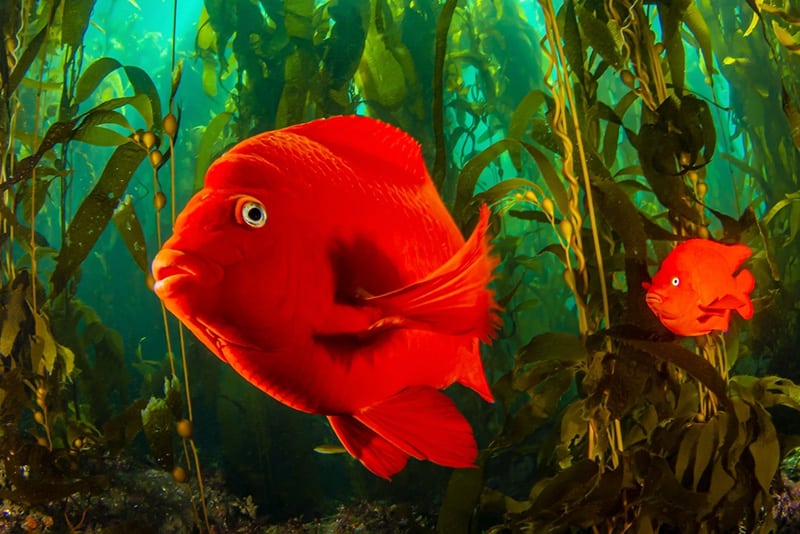 3. Giant Sea Bass
Giant sea bass is one of the largest species that you can find in Southern California. These huge creatures love living in kelp forests and rocky caves. It is listed as an endangered animal due to excessive fishing in the past. But now, much effort has been made to save them.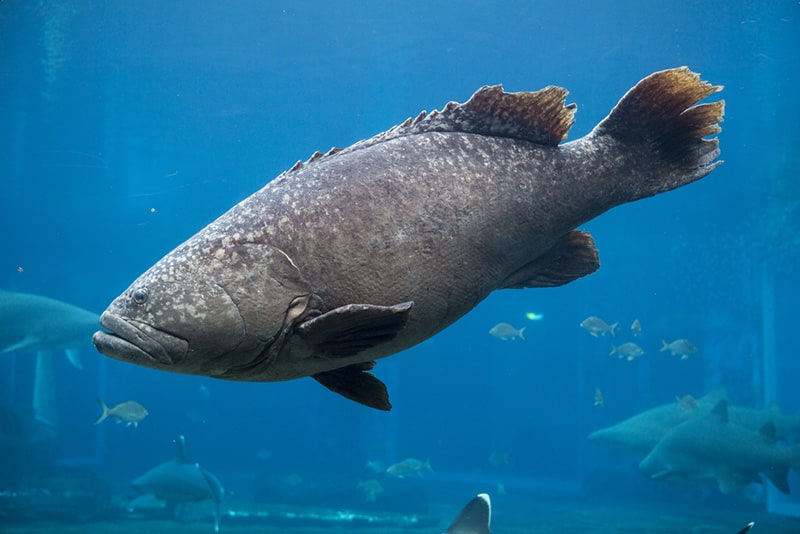 4. Round Stingray
You may spot round stingrays when scuba diving along the Southern and Baja California coasts. These animals live in sandy and muddy bottoms, which give them more effortless chances to ambush prey.
The best time to see those lovely creatures is to visit Southern California during warm months, October, for example. That's the time when round stingrays mate and breed.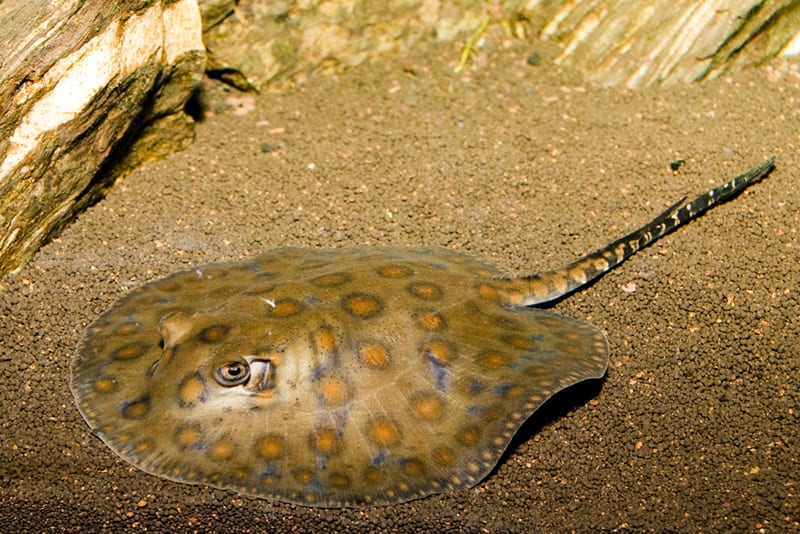 5. Sea Lions
Sea lions are considered intelligent mammals, commonly found in Southern California for a few reasons. First of all, this place offers them various food sources such as fish, clams, and squid.
Besides, sunny beaches along Catalina Island's shoreline are the best destinations for sea lions to sunbathe, sleep, and relax.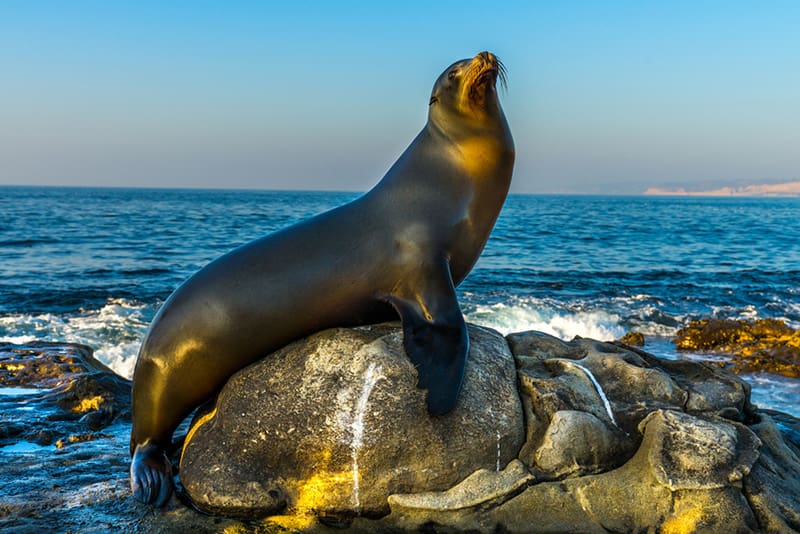 Best Dive Operators in Southern California
Getting some trustworthy dive operators in your mind is not a bad idea, especially if this is the first time you have come to Southern California. Below are my top three suggestions in case too many strange companies confuse you.
Malibu Divers – gives online diving courses for free, dive boat trips, and rental equipment at affordable price tags. Contact (310) 456-2396 or visit https://malibudivers.com/ to know more details.
Diving Catalina – offers excellent scuba tours, Whale Shark Expedition, and other premium services. Phone (310) 510-8558 and check its website at https://divingcatalina.com/ to book now!
In2Deep Diving – a reliable dive shop to get PADI 5-star instructors, operates underwater photography classes. Call (424) 744-8384 or visit https://www.in2deepdiving.com/ for further information.
Best Resorts in Southern California
Accommodation plays a crucial role in creating a perfect dive trip. For a recap, below are the fundamental criteria for you to compare when choosing where to stay. Besides, I also suggest the top five resorts most preferred by divers.
Resorts
Star
Popular amenities
Address & Contact
Waldorf Astoria Monarch Beach
5
Spa, pool, hot tub, beachfront
● 1 Monarch Beach Resort N, Dana Point, CA 92629
● (949) 234-3200
Surf and Sand Resort
4
Spa, pool, free Wi-Fi, beachfront
● 1555 S Coast Hwy, Laguna Beach, CA 92651
● (888) 579-8544
Hyatt Regency Huntington Beach Resort And Spa
4
Pool, beach access, free Wi-Fi, air conditioning
● 21500 Pacific Coast Hwy, Huntington Beach, CA 92648
● (714) 698-1234
The Ritz-Carlton, Laguna Niguel
5
Spa, pool, hot tub, beach access
● One Ritz Carlton Dr, Dana Point, CA 92629
● (949) 240-2000
Montage Laguna Beach
5
Spa, pool, free Wi-Fi, beachfront
● 30801 S Coast Hwy, Laguna Beach, CA 92651
● (866) 271-6953
Conclusion
Having understood how superb scuba diving is in Southern California, you should be aspiring to pay a visit this summer. Incredible diving experiences will allow you to escape from exhausting working days and refresh yourself.
I hope that you have already known which is your dream dive spot in Southern California as well as its abundant marine life. Besides, you may know what to pack into your suitcase for a dive trip apart from your scuba kit.
You can help other divers, including your family members and friends, know about this useful knowledge. Please share this article with them by using the social links below. Also, comments and questions relating to this subject are welcomed. You can send them via the comment section below.
Related Articles: