There is no doubt that scuba diving is one of the most exciting aquatic sports globally. It is accessible for both adults and children. By exploring the magnificent underwater world, divers can get incredible experiences that they will hardly forget for the rest of their life.
Nevertheless, like any other outdoor activity, scuba diving comes with various potential dangers, some of which even lead to fatal accidents. These hazards are mainly generated as a result of high water pressure, toxic sea life, and equipment failure.
My article is written with its key aim to give an overview of the inherent risks of scuba diving. The practical information here can help you maximize your safety when participating in this adventurous sport.
Besides, I have also attached numerous valuable tips that you should strictly follow to avoid unexpected incidents.
The 7 Risks of Scuba Diving
Scuba diving is exciting but extremely risky as well. It forces you to enter a foreign environment where you must use some extra gear for breathing underwater. This results in a wide range of dangers that pose a common cause of diving-related deaths.
Below is a list of hazards you may confront during a dive. However, you do not need to worry because most of them can be eliminated thanks to proper training and thorough preparation.
1. Drowning
Drowning occurs in the highest frequency for scuba diving, and most of that case leads to death. This fatal accident is mainly caused by a feeling of panic or a severe non-diving-related health problem that scuba divers can encounter regardless of their ages.
To be more specific, if your scuba tank suddenly runs out of air while you are still below the surface, you will be prone to overreact. Therefore, you may lose your temper quickly and make poor decisions, resulting in lower chances of survival.
In addition, you should not attend a dive if the physical condition of your body does not support it. A diver who has an illness relating to cardiac or respiratory must report in his or her medical checklist and receive special consultation from a professional instructor.
Divers of all levels should not ignore the importance of health conditions. They will not imagine how dangerous a mild heart attack can become while diving. It is likely that you lose your scuba regulator as a result of unconsciousness.
How to Avoid Drowning
Never dive without a buddy to prevent drowning.
Be appropriately trained to scuba dive as well as effectively deal with challenging situations.
Frequently check your pressure gauge and remaining breathable air.
Learn how to survive in an out-of-air case.
Swimming is required for scuba divers. See the reasons here: Do You Need to Know How to Swim to Scuba Dive!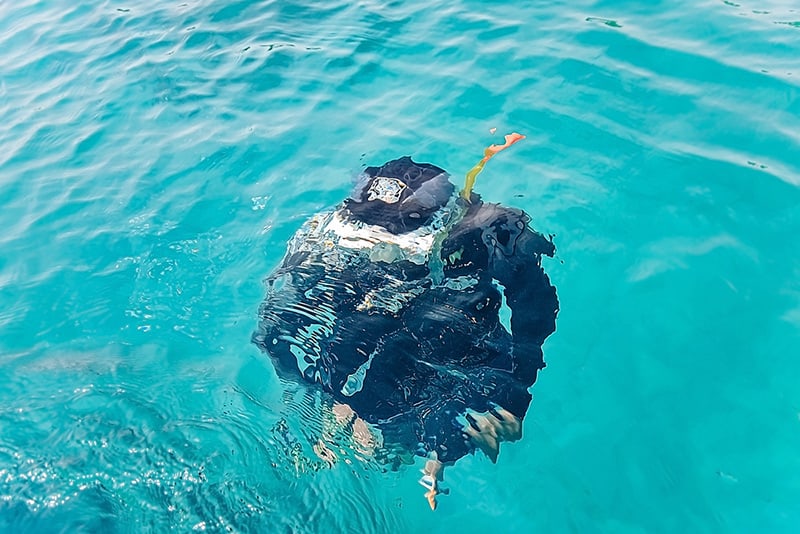 2. Decompression Sickness
Decompression Sickness is one of the most prevalent dangers for scuba diving. It happens when you ascend too quickly from a high-pressure environment to a lower-pressure one. The compressed air used to breathe during a dive has been absorbed exceedingly to your body tissues.
Hence, if you do not decompress properly, the nitrogen in that mixture will form bubbles that block your blood flow. In addition to this primary cause, Decompression Sickness is also the result of many factors, including dehydration, alcohol plus other drug use, lack of sleep, and stress.
Decompression Sickness is detrimental to divers' health, and thereby, it must be cured as soon as possible. Some typical symptoms are joint pain, headache, dizziness, and nausea.
If you delay treatment, your body may suffer permanent injuries such as bladder dysfunction and muscular weakness. Nerve and spinal cord damage and even death are also involved.
How to Avoid Decompression Sickness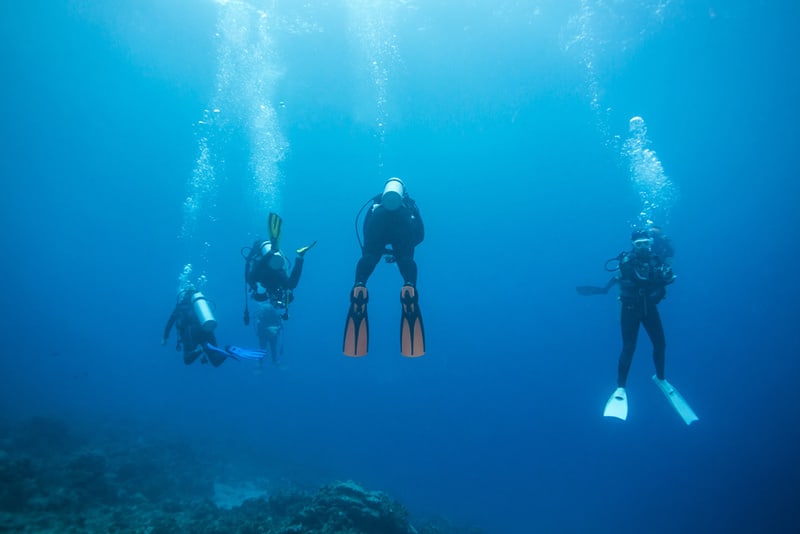 3. Arterial Air Embolism
In addition to causing Decompression Sickness, that your body ascends to the surface too rapidly also leads to Arterial Air Embolism due to pulmonary barotrauma.
The main reason for this risk is differences in pressure between your lungs and the underwater environment. During an ascending process, the more the water pressure is reduced, the more air in the body expands, making your lungs swell and generating fatal damages.
Additionally, scuba diving requires compressed air to breathe underwater, which means that nitrogen bubbles are produced while ascending. This creates blockages that prevent your bloodstream from freely flowing.
How to Avoid Arterial Air Embolism
Ascend to the surface at a slow rate.
Never hold your breath while ascending.
Make sure that you always breathe while diving, even through your nose or your mouth.
4. Nitrogen Narcosis
As I said above, nitrogen contributes to causing many fatal accidents for scuba divers, and Nitrogen Narcosis is no exception. This risk occurs when your body absorbs too much nitrogen, and its narcotic effect makes you feel like being drunk; thus, it is also known as Martini Effect.
Although Nitrogen Narcosis seems not to damage directly to your body, its potential consequences are unexpected. This danger impairs your judgment, leading to risky behaviors through creating a sense of overconfidence.
Nitrogen Narcosis often happens when you dive beyond 80 feet with some common symptoms such as dizziness, euphoria, and anxiety.
How to Avoid Nitrogen Narcosis
Dive with a professional instructor if you want to take a deep dive. He or she is experienced enough to recognize in case you encounter Nitrogen Narcosis.
Ascend slightly to mitigate the nitrogen's narcotic effect.
Do not dive deeper than 100 feet since Nitrogen Narcosis mostly appears at this depth.
Use nitrox as your breathing air mixture because it helps reduce the percentage of nitrogen.
Go deeper gradually. This facilitates your adaptability to increasing nitrogen in the body.
The amount of breathing gas you consume directly affects how much nitrogen your body absorbs. Let's check the Youtube video below to learn some helpful tips about decreasing air consumption while scuba diving.
5. Malfunctioning Equipment
Most amateur people rent equipment at dive shops. However, this is extremely risky since the quality of these rental tools is not always guaranteed. For example, a poor-quality dive computer will offer wrong calculations, resulting in a higher risk of decompression sickness.
Another dangerous case, an inaccurate pressure gauge, may lead to sudden out-of-air situations, which makes you panic as well as increases drowning. In addition, your buoyancy control ability will be affected when a broken scuba BCD significantly alters the amount of air pumped into it.
How to Avoid Malfunctioning Equipment
Carefully check rental dive gear.
Ask for a new piece of scuba diving equipment if you suspect the quality of the current one.
Have your equipment serviced at least once a year.
Check and make necessary setup prior to any dive.
Always dive with a buddy to get emergency support.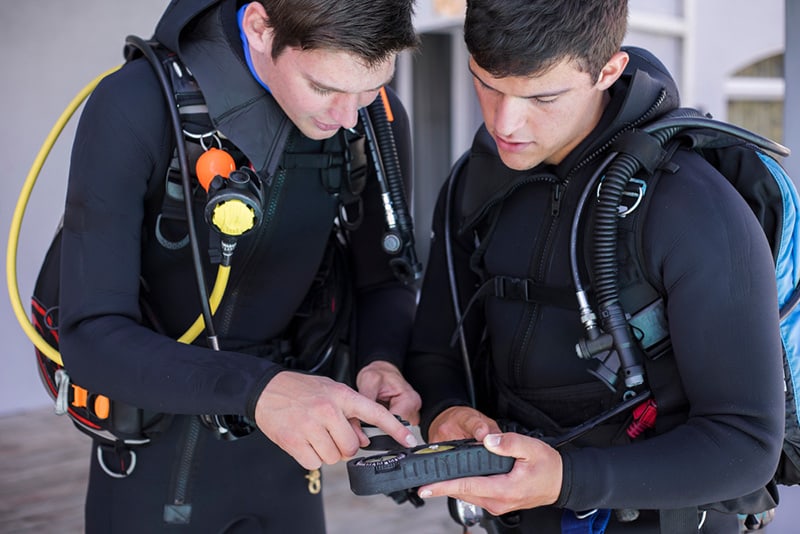 6. Oxygen Toxicity
Oxygen Toxicity is only a problem for deep diving. A standard scuba tank usually provides you with a mixture of breathing gas, including 21% oxygen. That percentage of oxygen is usual for recreational and shallow diving, but it will become poisonous beyond 135 feet.
Besides, oxygen can also become toxic if your body absorbs too much under a high water pressure environment. Consider some early symptoms like nausea and twitching to avoid falling into unconsciousness or tunnel vision.
How to Avoid Oxygen Toxicity
Do not go beyond your diving limit.
Only dive with nitrox or gas mixture if you want to dip deeper than 135 feet and you are an advanced diver.
Never dive with 100% oxygen.
7. Marine Life Hazards
Most sea creatures are not aggressive unless you deliberately confront or provoke them. Although deaths associated with marine animals are rare, they can even occur when scuba divers are unaware of dangerous critters.
These life-threatening creatures include Barracuda, Scorpionfish, Fire Coral, Stonefish, Box Jellyfish, Blue-ringed Octopus, Pufferfish, and more. Sharks are one of the scariest predators in the blue ocean as well.
How to Avoid Marine Life Hazards
Keep a safe distance.
Never touch as well as provoke sea creatures, corals, and wrecks.
When you attend a shark dive, remember to dive with experienced instructors, carefully listen to their guidelines, and follow the rules.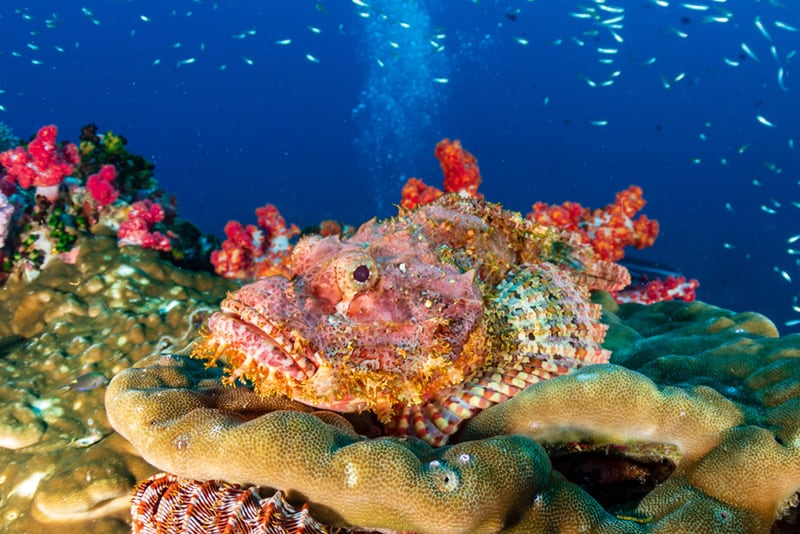 Frequently Asked Questions
Are you still confused about environmental dangers while scuba diving? You might want to check my answers to some of the frequently asked questions in the section below.
What Are the Odds of Dying While Scuba Diving?
The mortality rate for scuba divers is relatively low, with only 0.5 to 1.2 cases per 100,000 dives. This means that scuba diving is less dangerous than most outdoor activities such as base jumping, kite surfing, and skydiving.
Is Scuba Diving an Extreme Sport?
Scuba diving is regarded as an extreme sport for two fundamental reasons. The first one is that it requires you to use additional gear for breathing. And the second one is when your equipment fails to help you breathe underwater, you will need emergency support from your dive buddy.
Is Scuba Diving Dangerous at 30 Feet?
An arterial air embolism is the most outstanding risk you may encounter when diving at 30 feet. When you ascend to the surface from the depth of 30 feet, your lungs literally swell like a balloon if you hold your breath. This causes severe damage and creates blockages in the blood flow.
Besides, 30 feet below the surface is home to a few hazardous sea life such as scorpionfish or stonefish.
What Is the Most Common Injury in Scuba Diving?
Ear barotrauma is the most frequent injury for scuba divers to encounter. This danger happens when your middle ear space fails to equalize pressure changes during the descending process.
Does Diving Damage the Brain?
Scuba diving requires divers to use compressed air for breathing as well as the breath-hold ability for deep adventures. However, this increases the risk of decompression illness. If these divers delay immediate treatment, they can suffer from Acute decompression illness.
Cerebral decompression illness is a severe complication of Acute decompression illness since it can leave long-term damage to the brain of a diver.
Conclusion
The potential hazards of scuba diving are life-threatening and unforeseen. Thus, divers must be equipped with specialized knowledge as well as careful training before every dive. This helps them keep their scuba diving safe, whether they are inexperienced or seasoned.
To sum up, drowning has the highest fatality rate, while decompression sickness is the most common risk for scuba divers. Hence, you should take practical tips such as diving with a buddy and using a pressure gauge to avoid both dangers.
Is there any problem related to this subject that is not captured in the discussion? Do you have suggestions and comments? Kindly forward them to me via the comment box below. And do not forget to share this article with your friends and family members if you find it helpful.