Scuba diving in Maui is undoubtedly an interesting activity that divers of all levels must do. This second-largest island in Hawaii boasts spectacular seascapes, abundant marine life as well as offering incredible diving experiences.
Being a volcanic island, Maui is proud of giving you various world-class dive sites such as Molokini Back Wall, Molokini Crater, Ulua Beach, and Mala Wharf in Lahaina. Besides, its majestic underwater architecture, like lava caves, is also attractive to photography enthusiasts.
My detailed article will provide you with a huge amount of knowledge so that you can enjoy scuba diving in Maui to the fullest. A guideline about choosing the most suitable dive spots to visit, the best time to go, and the finest resorts to stay in will be attached in this post as well.
What to See Underwater in Maui?
Diverse coral reefs in Maui are home to a wide range of endemic fish species, such as four distinct types of butterflyfish, along with moray eels and various nudibranchs. In addition, huge aquatic creatures, including white tip sharks and Hawaiian green sea turtles, are common here.
Additionally, Maui is one of the best places in Hawaii to see humpback whales, which is why there are so many whale-watching tours on the island. Besides, it would help if you did not leave Maui without spotting the state fish called "humuhumunukunuku apua'a".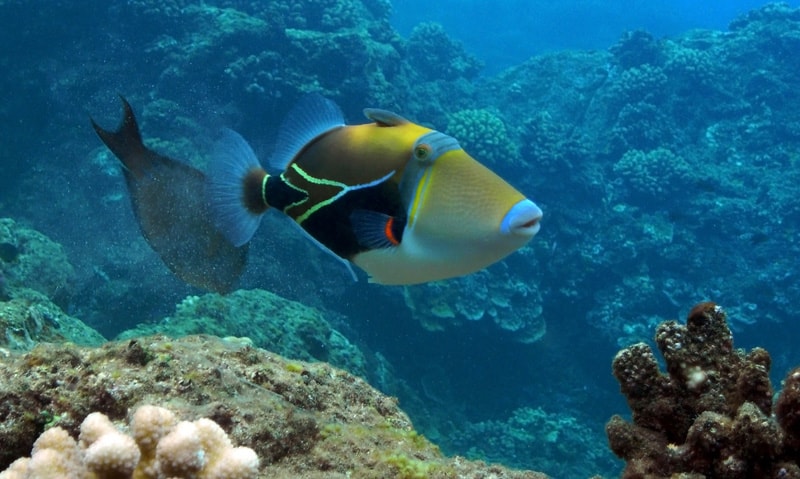 Best Dive Sites in Maui
Maui is a dream destination that entry-level and advanced divers should visit once in their life. This island owns a variety of fascinating diving sites, which may make you encounter certain difficulties to decide where is the most suitable.
However, do not need to worry since I'm ready to give you a hand. I have highlighted the top 4 best places in Maui to go for a wonderful scuba diving trip.
Read more: Scuba Diving Hawaii's Big Island: The Complete Divers Guide in 2023
1. Five Caves at Makena Landing
This dive site is worldwide famous for its underwater caves formed by lava for many years. The sophisticated lava tubes combined with vivid coral reefs make this place's underwater world more unique and stunning than ever.
For that reason, this dive spot is favored most by photographers who usually bring a scuba camera and capture excellent footage. The marine life here is not as rich as other destinations in Maui when it only offers Hawaiian green sea turtles and white tip reef sharks.
However, you still should pay a visit to this dive spot located at Makena Landing because it is one of the few places that enable you to remove your scuba regulator and rest after long dives.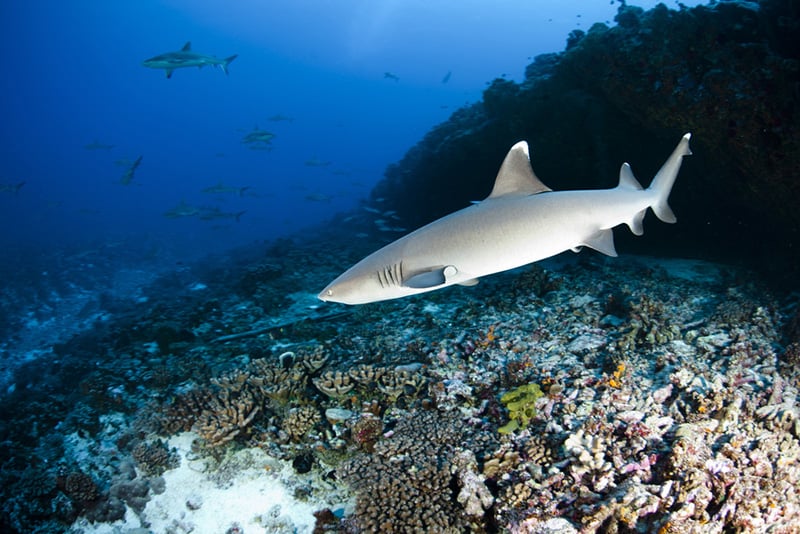 Check out my article about Scuba Diving in Kauai here.
2. Molokini
Molokini is another excellent location in Maui. This area is divided into three main dive spots, and each of them will bring you completely different diving experiences.
Back Wall
With over 100 feet of visibility which makes it easy to see underwater scenes, Molokini Back Wall is a great destination for all divers. In addition to a few typical tropical fish such as frogfish, this place is also home to large sea creatures, including whale sharks and manta rays.
Nevertheless, one thing to keep in mind when scuba diving in this water is that you will need at least two dive tanks to breathe effortlessly and always be careful with strong currents.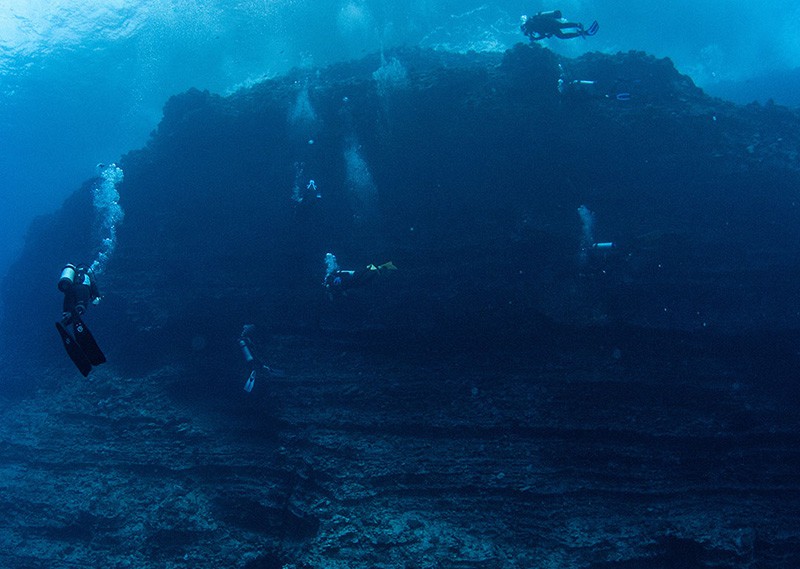 Molokini Crater
Molokini Crater, situated on the Maui south coast, is a part of a 200,000-plus-year-old volcano. It is preferred for deep diving thanks to excellent visibility and mirror-like clear water – two vital factors to facilitate spotting marine creatures and spectacular underwater topography.
This dive site includes fabulous coral reefs, which are originally the natural habitat of various fish pieces such as pyramid butterflyfish, sergeant fish, damselfish, and flame angelfish. Moreover, gigantic whale sharks are popular to see here.
Nevertheless, the biggest downside of Molokini Crater is that it is only ideal for seasoned divers. One main explanation for this inconvenience may be because of its semi-submerged shape, which causes certain difficulties for beginners.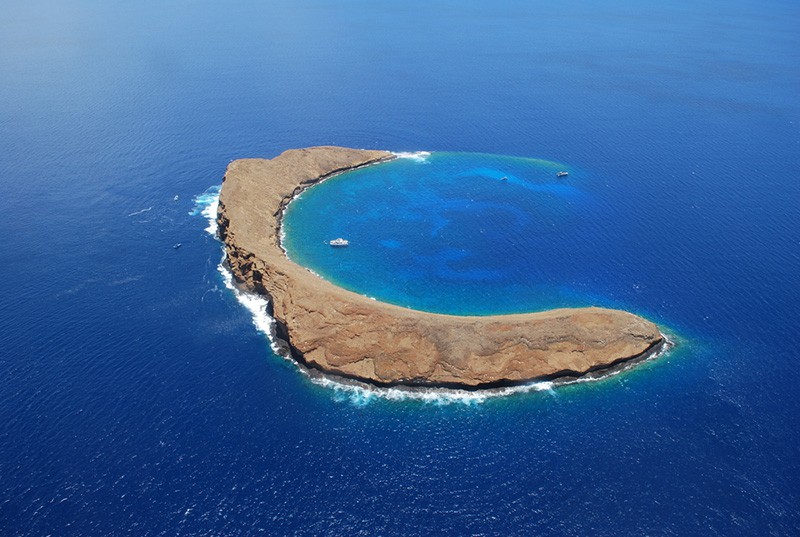 Honolua Bay
Honolua Bay boasts majestic coral reefs, strange tropical fish species aside from gentle manta rays. Its maximum depth is restricted to 45 feet, and thereby, it is so simple to access and dive down regardless of your current levels.
Because Honolua Bay is perfect for scuba diving and suitable for family tours, this dive spot is often crowded with tourists and boats. That is the major reason why you should dive here in the early morning when the water is calmest and clearest.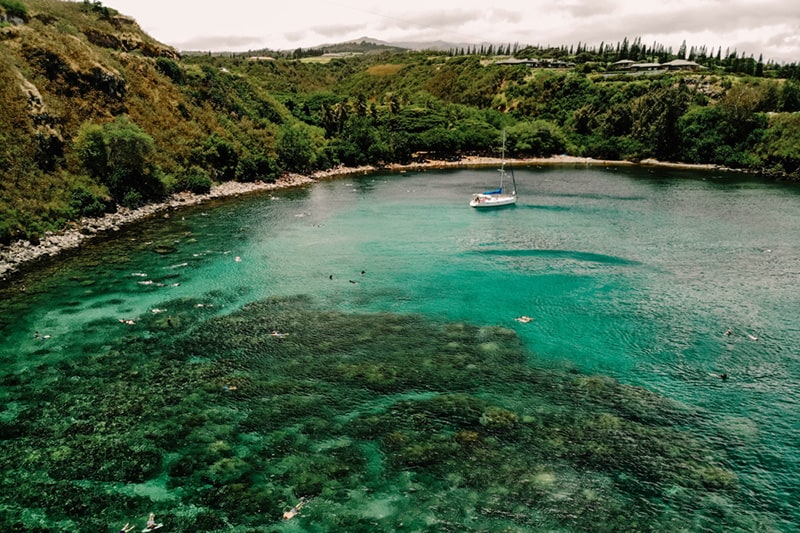 See more amazing dive spots in Lanai island here!
3. Ulua Beach
Ulua Beach, located in Wailea, is the best choice for novice divers when they are guests of Maui. That's because this dive spot has plentiful coral reefs near the shore.
This means that first-time divers only need to make a shallow dive to see the massive underwater world with magical creatures. Furthermore, shore diving is also safer for these beginners compared to deeply diving down to the heart of the ocean.
Learn more about How Deep You Can Dive here.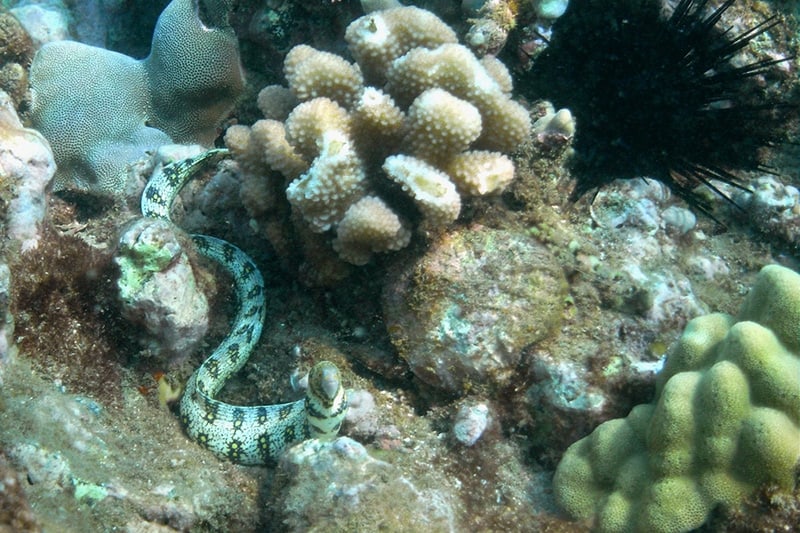 4. Lahaina
There are numerous famous dive sites in Lahaina, but Mala Wharf and Olowalu are the two most popular ones. Depending on your needs, every choice will have its own benefits and drawbacks.
For example, Mala Wharf is great for shore dives, while Olowalu should be your priority in case you love diving at night.
Mala Wharf
This is a great option for beginner and intermediate divers. The rich marine life, warm weather all year round, and excellent visibility are three fundamental factors that make Mala Wharf famous for wreck diving.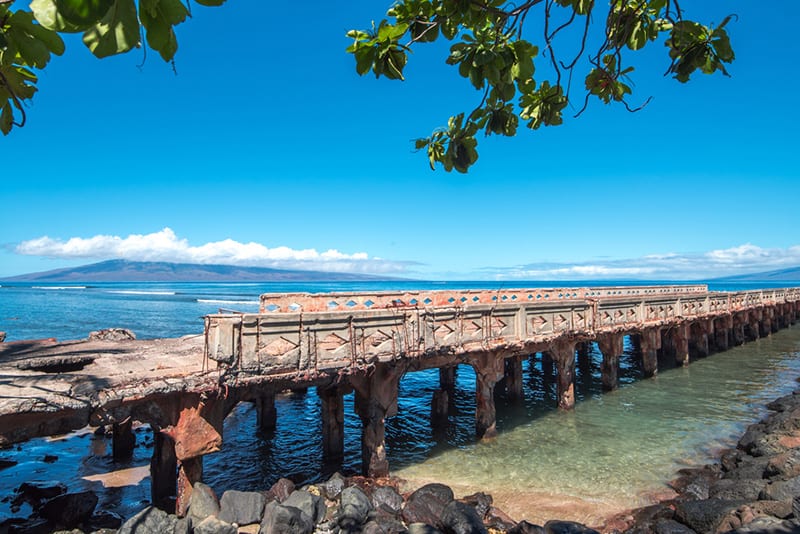 Olowalu
Olowalu's location is on the south coastline of Lahaina, which has long-stretched sand beaches and gorgeous coral reefs that have existed for more than hundreds of years.
The marine life in this water is not as abundant as in other areas, and three typical creatures can be found easily here: manta rays, reef sharks, and Hawaiian green sea turtles. However, a tremendous upside of Olowalu is that its calm surface allows you to scuba dive at night.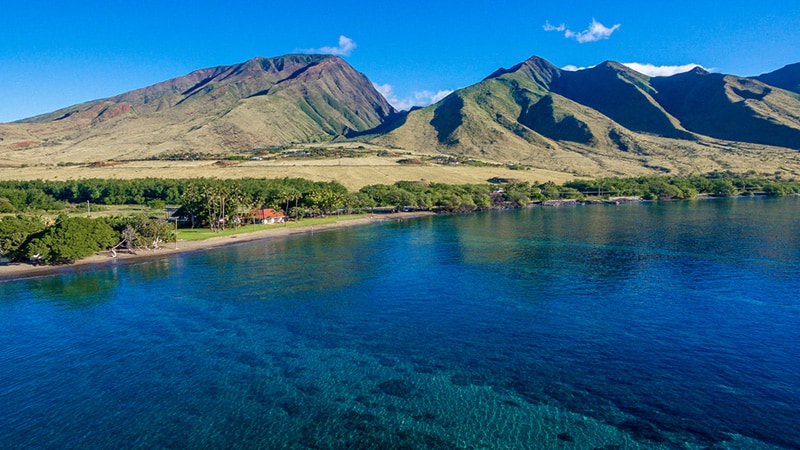 Keep reading: Scuba Diving in Oahu – The Ultimate Guide for Beginners
Divers Guide
There is some useful information you should know before traveling to Maui, like when to go as well as what to bring. The following section will equip you with detailed instruction and, at the same time, suggest the most popular activity in Maui.
Check out my complete guide to Scuba Diving in Molokai island here!
1. Best Time to Go
Although Maui is a year-round destination, I highly recommend you should avoid visiting here in July and August. Because this time is the peak season in all Hawaiian islands, you may likely pay more cost for accommodation as well as other services.
The remaining months are pretty quiet, and you can easily find a hotel at a reasonable price and at the same time avoid crowds as well. However, remember that you should come to Maui in December if you want to see humpback whales.
2. How to Travel Around
The best way to travel among dive sites in Maui is by car. You should rent a car because its flexibility will make it more convenient to choose where to visit next. Other ways to travel around can be considered, such as taxi, bus, and ferry.
However, each way has different advantages and disadvantages. For example, traveling by taxi will cost you more, but it is the fastest. Meanwhile, moving by bus or ferry is significantly affordable but much more slow and hard to use.
3. Water Temperature
Water temperature in Maui always changes from lowest in winter with 74°F (24°C) to highest in summer with 80°F (27°C). You will need to wear a wetsuit to keep your body warm whether you plan to dive in any season. Besides, you can wear an extra BCD for additional heat in the winter.
4. What Specific Gear Do You Need to Dive in Maui?
Below is a list of essentials you should definitely bring for a scuba diving trip in Maui. In case you cannot pack all the following equipment into your suitcase, do not worry since you can always rent them in local dive shops.
5. Whale Watching in Maui
Maui is one of the most popular places to spot humpback whales both from the land and underwater. Late January through March is the best time to see these huge and friendly creatures.
What's more, if you are not lucky enough to catch one of them, you can enjoy funny songs sung by humpback whales when they mate and breed in the waters of Maui.
Find out Maui's four finest whale-watching tours by seeing the Youtube video below:
Best Dive Operators
There are a variety of dive operators in Maui, and, understandably, you will find it difficult to point out which is the finest one. Do not worry since I have read reviews from previous divers carefully as well as considered a few criteria such as rental gear cost and dive sites.
Thanks to that, I have narrowed your choice down to only three dive operators. All of them can provide you with excellent services and are always a safe choice for any diver.
Best Places to Stay
I have listed the top 5 resorts to stay in when you scuba dive in Maui. All the most important information about them has been presented in the table below. Take a quick look!
Frequently Asked Questions
Do you have any questions about scuba diving in Maui? If yes, I have researched and compiled some common questions that are closely relevant from the Internet. All of them have been briefly answered below.
How Much Does It Cost to Scuba Dive in Maui?
Scuba diving in Maui is regarded as slightly expensive since you have to pay for transportation, dive gear, and dive instructor. On average, a diver must pay between $100 and $160 per day.
However, if you are experienced enough not to need an instructor and already bring all dive equipment, you can save a large amount. Besides, dive operators provide divers with multi-discount packages as well.
Read more: How Much Does It Cost to Go Scuba Diving?
Can You Scuba Dive in Maui Without Certification?
No certification is required for scuba diving in Maui. Nevertheless, to ensure your safety utmost, I always advise you to attend a dive course for beginners. I believe you will get useful tips as well as vital instructions about scuba diving before recklessly immersing in the deep blue water.
Conclusion
Exploring the marvelous underwater world can be an unforgettable experience in your life. And your dream can come true just by scuba diving on the Hawaiian island of Maui. Here, the colorful schools of fish along with mysterious creatures will make you feel like being lost in a wonderland.
The warm weather in Maui is ideal for diving all year, while water visibility here is so exceptional. Besides, this island also offers you a variety of famous dive sites as well as fantastic underwater topography. Maui's underwater lava caves are great for taking excellent diving shots as well.
Do you scuba dive in Maui? Please post any suggestions in the comment section below if you have any tips to share. Besides, kindly share with other divers by using the following social media buttons to help more and more people get helpful advice.