When it comes to scuba diving in Oahu, you may think about gentle green sea turtles, world-famous wrecks, and magnificent lava caves. However, it would be a big mistake not to mention schools of sparkling tropical fish swimming along vivid coral reefs.
Meanwhile, Oahu is also an ideal island for first-time divers or beginners to get new certifications. Dive operators here offer various diving courses suitable for all experience levels. They operate fascinating tours as well.
This article discusses all you need to know about scuba diving in Oahu, such as famous dive sites to go to, the best time to visit, and where to stay. Besides, the most crucial survival tips are also attached to this post.
Marine Life of Oahu
Like other islands in Hawaii, Oahu owns an abundant underwater ecosystem with a wide range of rare animals typical for tropical climate. Besides, there are some endemic Hawaiian fish species and strange pelagics as well.
Hawaiian Green Sea Turtles are countless in Oahu, and thus, it is easy for you to spot them while diving on this island. Additionally, there are numerous wrecks here, which means that the abundance of tropical fish is undoubted.
Besides, giant creatures including whitetip reef sharks, eagle rays, and moray eels are also seen. However, you will need to dive deeper to catch them. Furthermore, there are some notable sites you should keep in mind if you want to swim with humpback whales and dolphins in Oahu.
For example, along beaches in the Waikiki coastline, you will have great opportunities to spot humpback whales from land when they migrate through Hawaii. In the meantime, located on the west side of Oahu, Waianae is a remarkable destination you cannot skip to swim with dolphins.
See more amazing marine life of Hawaii's Big Island here!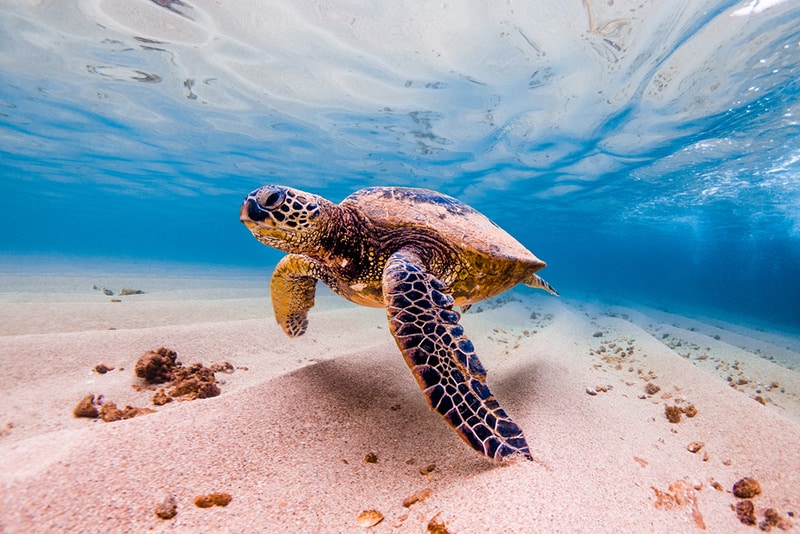 Best Dive Sites in Oahu
With more than 40 destinations suitable for a variety of diving needs, Oahu promises to offer incredible experiences that you will never forget in your life. And if you still have no idea where to begin, below is a list of the six must-see places on this island.
1. Sea Tiger
Sea Tiger is a Chinese merchant vessel that has been cleaned and then sunk intentionally to bring exquisite experiences for advanced divers. Nowadays, it is one of the most famous wreck dive sites in the south of Oahu.
The location of Sea Tiger is about 120 feet below the surface, and thereby, you will need at least two scuba tanks to support breathing among dives. Besides, remember to bring an underwater camera to record stunning footage of fascinating creatures you encounter here.
For example, it is simple for you to spot whitetip reef sharks swimming along the sand or Hawaiian green sea turtles who consider Sea Tiger their artificial habitat. In addition, other rare animals such as moray eels, eagle rays, plus blueline snappers are also found in this place.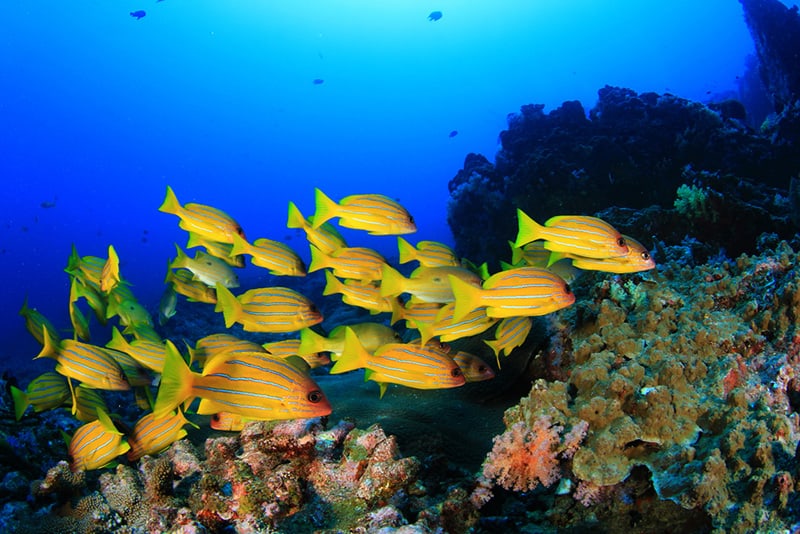 Read more about my guide to scuba diving in Kauai island here!
2. Shark's Cove
Contrary to the name, Shark's Cove actually has no sharks, or very few sightings of these dangerous predators have been reported. In fact, this dive spot is notorious for divers of all levels since it can offer them underwater topography that is so intricate and impressive.
Shark's Cove provides you with lava tubes of different depths as well as swim-throughs of various lengths, making its underwater terrain rugged and challenging. However, this difficulty contributes to becoming a perfect reason to attract scuba divers, snorkelers, and free divers.
As a snorkeler, the shallow depth from 15 to 65 feet is the best choice for you. Meanwhile, whether you plan to scuba dive or free dive in Oahu, I think that you will favor the magical underwater world with countless tropical fish and intricate lava caves of Shark's Cove.
The best time to visit Shark's Cove is summer, and if you are lucky, you can spot rare Hawaiian monk seals sunbathing on the coastal beaches.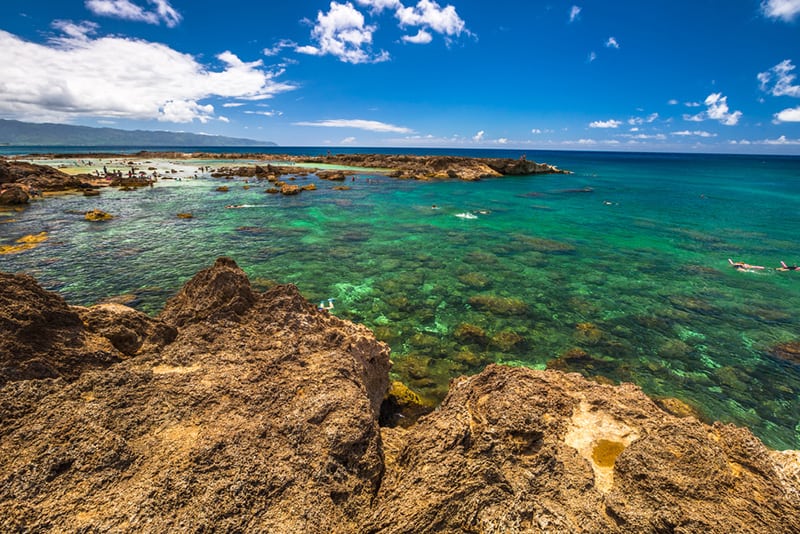 Check out the best dive sites in Maui island here!
3. YO-257
Another excellent option for wreck diving is YO-257. This well-known dive spot is just a 2-mile off Waikiki. You can access YO-257 by boat and enjoy the gorgeous scenery at Diamond Head at the same time.
YO-257 is home to numerous endemic fish species, including butterflyfish and pufferfish. Additionally, white tip reef sharks are also often found here.
Functioning as an artificial coral reef and offering a cleaning station at its stern, YO-257 is also a natural habitat of green sea turtles. However, this dive site is only suitable for certified scuba divers because of safety regulations.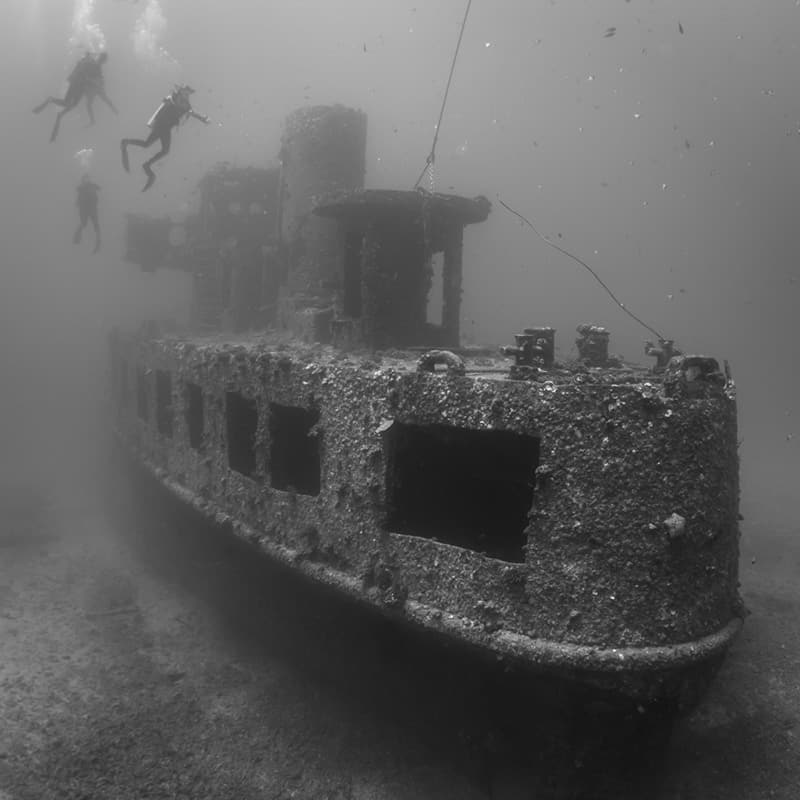 Related: Scuba Diving in Lanai – Things You Should Know!
4. Kahuna Canyon
Thanks to its majestic walls, Kahuna Canyon looks like a replica of the Grand Canyon, except that it's underwater. You will effortlessly spot parrotfish, surgeonfish, sharks, and dolphins while dipping your body in the crystal-clear water of this Oahu North Shore's dive site.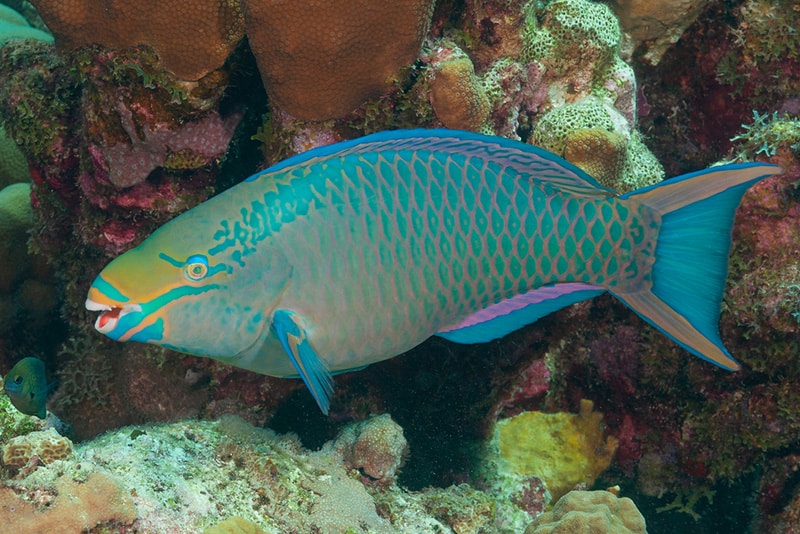 See more amazing dive spots in Molokai island here!
5. Hanauma Bay
This crescent-shaped bay is situated on the southeast side of Oahu, and it has been renowned for snorkelers and local divers many years ago. The mirror-like blue water combined with a calm surface and warm weather make it safe enough for entry-level divers to explore.
In addition, the rich marine life is another good point of Hanauma Bay. This place boasts having more than 50 reef fish species, rare colorful tropical fish, plus typical green sea turtles of Hawaii.
Nevertheless, an outstanding downside of Hanauma Bay is pretty shallow, which makes advanced divers feel less challenging.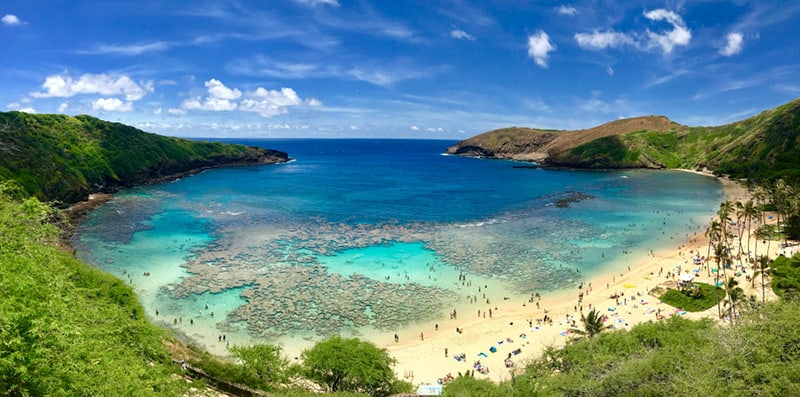 6. Turtle Canyon
As its name implies, Turtle Canyon is one of Oahu's prominent places where most Hawaiian green sea turtles congregate. The primary reason for this is that this dive site offers various cleaning stations and diverse food sources.
Keep in mind to bring a high-quality dive light so that you can admire spectacular coral reefs as well as brilliant underwater vistas even in low-light conditions. Besides, do not forget to get a glimpse of other exciting creatures such as octopuses, eels, and dolphins.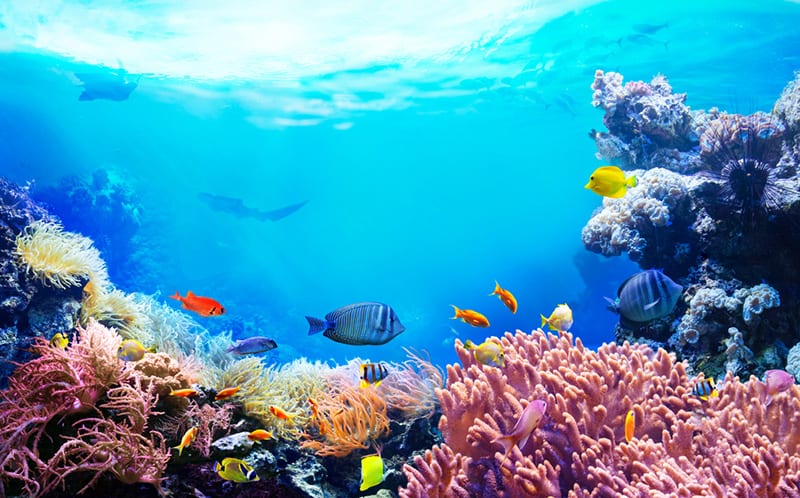 Divers Guide
This section is attached to maximize the comfort of your scuba diving trip. I can imagine how frustrated you will feel if you visit Oahu on a cloudy day and rough sea. In addition, I also suggest some practical ways to travel around Oahu's dive sites.
1. How to Go
Most popular dive sites in Oahu can be accessed by boat. In addition, you can have other choices, including swimming or walking to some specific destination. The following two ways are more economical as well as enable you to enjoy the stellar scenery on land.
2. Water Temperature
The average water temperature on Oahu falls from 76 to 81 degrees Fahrenheit. This is an ideal range for most aquatic sports such as scuba diving, snorkeling, swimming, etc.
3. When to go
Oahu's oceanic water is warmest during the autumn months, and thereby, the period from May and October is the best time to scuba dive on this Hawaiian island. Additionally, summer is another season that many tourists and divers prefer.
Although Oahu is a year-round destination, when diving here, you should wear a short wetsuit along with your gloves to guarantee enough thermal support for the body. What's more, this contributes to helping you stay underwater longer without being frozen.
Safety Tips for Scuba Diving in Oahu
This part will equip you with some valuable tricks and things that should be done to keep you safe during your dives. Please do not skip any tips since they can save your life under a few particular circumstances.
Attend a scuba diving course and get proper training. You should get at least one certification to maximize your safety when below the surface.
Ascend gradually to avoid lung injuries.
Always prepare a plan before any dive. The plan should include survival tips, what to bring, the maximum depth you will dive, bottom time, etc. Read How Deep Can You Scuba Dive here to determine your depth limits.
Ensure all supporting tools are still working correctly, especially your scuba regulator, tanks and dive computer.
Learn how to use your dive gear since there is a considerable difference between utilizing it below and above the water. Check out my article about Using a Dive Computer to know more!
Make sure you do not feel stressed and unwell before diving. Even a slight sense of discomfort may make you distracted and lead to fatal accidents.
Never dive alone. You cannot predict all underwater dangers; hence, you had better dive with your buddy or an experienced instructor to get emergency help when needed.
Best Dive Operators in Oahu
According to previous divers, all of the dive operators I have listed below are the best choices in Oahu. Their contact and website are written for your reference as well.
Dive Oahu – provides excellent diving courses, premium private charters, and thorough dive guidelines. Please phone (808) 922-3483 or visit https://www.diveoahu.com/ to get more details!
Kaimana Divers – gives rental gear at affordable costs, supports shore dives, and holds underwater weddings. Contact (808) 772-1795 and visit the website https://waikikiscuba.com/ for more information.
Reef Pirates Diving – offers you the latest equipment as well as wonderful diving experiences thanks to ultimate services with first-rate quality. Call (808) 348-2700 or check out https://www.reefpirates.com/ to book a tour now!
Best Resorts in Oahu
I have created the following table for you to compare and decide which is the best. I hope that its rating star accompanied by common facilities may help you avoid making a wrong intention.
Resorts
Star
Popular amenities
Address & Contact
Hilton Hawaiian Village Waikiki Beach Resort
4
Pool, spa, beachfront, air conditioning
● 2005 Kālia Rd, Honolulu, HI 96815
● (808) 949-4321
Hilton Grand Vacations Club Grand Waikikian Honolulu
4
Pool, spa, beachfront, air conditioning
● 1811 Ala Moana Blvd, Honolulu, HI 96815
● (808) 953-2700
The Ritz-Carlton Residences – Waikiki Beach
5
Pool, spa, beach access, all inclusive available
● 383 Kalaimoku St, Waikiki, HI 96815
● (808) 922-8111
Four Seasons Resort Oahu at Ko Olina
5
Pool, spa, beachfront, free Wi-Fi
● 92-1001 Olani St, Kapolei, HI 96707
● (808) 679-0079
Turtle Bay Resort
4
Pool, spa, beachfront, free Wi-Fi
● 57-091 Kamehameha Hwy, Kahuku, HI 96731
● (866) 475-2569
Frequently Asked Questions
Do you have some puzzling problems relating to scuba diving in Oahu or just missed out on any knowledge? You had better take a quick look at some of the most frequently asked questions I answered below.
How Much Does It Cost to Go Scuba Diving in Honolulu?
To scuba dive in Oahu, you will have to pay about $372 for a three-day trip. This package has already included a complete set of necessary equipment and some notable dive sites for you to explore in its itinerary.
Where Can You Free Dive in Oahu?
Oahu is an excellent spot for freediving. In addition to Shark's Cove, as I listed above, there are a few other locations that free divers often visit. They are Makua Beach, Electric Beach, and Turtle Canyon.
Where Can I Shore Dive in Oahu?
Shore diving is also an everyday activity in Oahu. This type of diving allows you to see schools of colorful tropical fish, majestic underwater lava architecture, and fabulous marine creatures. Moreover, shore diving does not require divers to dive deeply; thus, it is safer than scuba diving.
If you are a shore diver who plans to visit Oahu, there are three famous dive sites for you to remember. They are Hanauma Bay, Shark's Cove, and Lanai Lookout.
Can You Swim to Turtle Canyon?
Swimming to Turtle Canyon will save you a significant amount of money compared to going to this dive site by boat. You will need a pair of scuba fins, a snorkel, and a snorkel vest to facilitate moving in the water.
Conclusion
Having understood the benefits and drawbacks of scuba diving in Oahu, you should prioritize planning a dive trip soon. Besides, it would be best to decide which gear to pack into your suitcase. You should also determine whether to attend a certification course before your dive.
In case you have no idea of an ideal dive spot, I highly recommend Shark's Cove because of its stunning landscapes and rich marine life. Additionally, I advise you to read all the safety tips and book a hotel room in advance if you visit Oahu in the peak season.
Kindly send them to me via the comment section below if you have questions or suggestions. By sharing this article, you can also help other divers know more about scuba diving in Oahu. Simply press the following social media buttons.