Scuba diving in San Diego offers you great opportunities to admire the elegant beauty of the ocean, rich marine life as well as stunning seascapes. Also, thanks to ideal weather conditions, there are a large number of fascinating water sports for you to enjoy here.
San Diego is home to sunny-kissed beaches and world-class dive spots. Although scuba diving is not the only way to explore dramatic scenes lying under the coast, it is the most effective way to see thriving aquatic ecosystems, spectacular artificial reefs, and exciting giant creatures.
If you begin to feel curious about how fantastic scuba diving in San Diego is, you should read my article carefully. This article will discuss the best dive sites to visit, provide some information before a trip, and suggest reliable dive operators to book a tour.
>> Related Articles: Scuba Diving in California – The Comprehensive Guide in 2023
Best Dive Spots in San Diego, California
Perhaps you may be confused about whether a dive site is suitable for beginners or professionals, but there are some locations perfect for all experience levels.
The following section will present the four best places to dive in San Diego in case you have no idea where to go. In addition, each dive spot is attached with its most outstanding advantages, which explains why you should not skip it from your itinerary.
1. La Jolla
Without a doubt, the most incredible diving destinations in San Diego are located in La Jolla, making it a real paradise for scuba diving enthusiasts. Below are two popular suggestions that I think everyone should not skip.
La Jolla Shores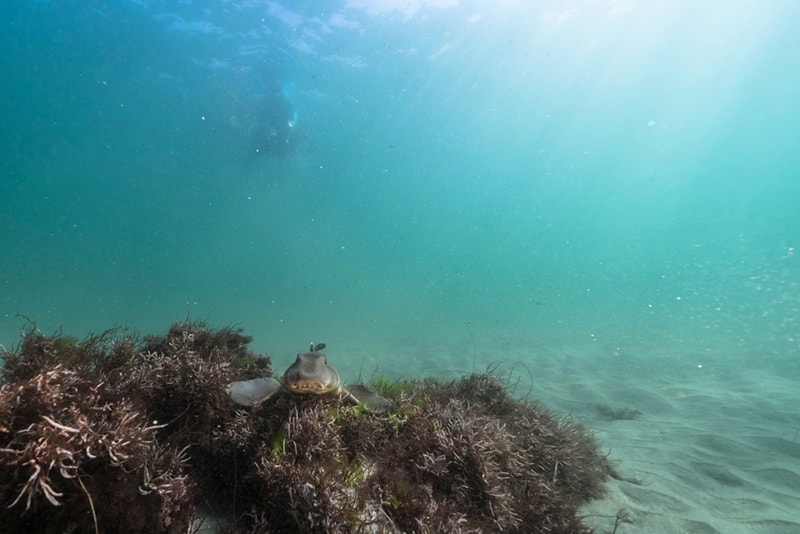 Located in the northern part of La Jolla, this dive site provides you with unique opportunities to scuba dive. It is easy to find a beautiful and strongly flourishing ecosystem below the surface when you enter the water.
A lush and giant kelp forest lies under the coast, and diving through this enchanted area offers you incredible experiences. But be careful with your scuba fins because they are simple to tangle.
In addition, the kelp forest is home to a variety of sea creatures, including guitarfish, California Sheephead, angel sharks, and so on. All these critters are often seen from late July to early September, so keep in mind that period when you come to La Jolla Shores.
Besides, diving in La Jolla Shores is also an excellent chance to access the La Jolla Canyon more easily since most entry points are highly accessible.
You just need to dive along the sloping sand until you reach a vast wall where various animals, especially horn sharks, make it their home.
At 45 feet below the surface, you will be amazed by lots of leopard sharks gathering to breed and nurse their young. Let's pay a visit to La Jolla Shores in summer when it is easier to get a close glimpse of these aggressive predators or even scuba dive with sharks.
Although the waters in La Jolla Shores are pretty shallow and easy to explore, it is not a good idea to dive here during the winter months. That's because the waves can become too rough, while strong currents may cause safety risks for beginners.
>> Learn more about other scuba diving dangers here.
I highly recommend you get advice from a local dive shop if you get to La Jolla Shores at the wrong time.
The following video shows how incredible scuba diving in La Jolla Shores is.
La Jolla Cove
La Jolla Cove is a must-visit diving spot that no tourists should skip. This location is also a world-famous destination for shore divers, thanks to its accessible entrances. La Jolla Cove's underwater world includes giant kelp forests, rocky reefs, and amazing sea caves.
Descend to the shallowest part of La Jolla Cove, and it is simple to spot colorful nudibranchs and sea stars living near seagrass beds. Meanwhile, if you go deeper, you will see enormous long thin kelp reaching the surface, forming a fairy scene for underwater photography.
These verdant kelp forests offer numerous nutrients for a diverse group of sea life, making it an ideal habitat for Garibaldi, lobster, octopus, etc. I make sure you cannot find another healthy and lush kelp bed when diving in Southern California.
While rock reefs are home to stingrays, sea caves are mostly visited by sea lions and harbor seals. Sometimes, uncommon visitors such as broad nose sevengill sharks suddenly appear in front of your scuba camera's lens. You even spot green sea turtles here without diving in Hawaii.
Although most swim-throughs in the caves seem simple to explore, novice divers should not go alone without a professional guide. Additionally, La Jolla Cove's water visibility is not always excellent, and it even declines to under two feet on bad days due to changeable weather.
Therefore, a dive computer integrated with a compass should be included in your dive kit to deal with unpredictable visibility. This gear is indispensable when diving in murky conditions, allowing for better navigation as well as enhancing your safety.
Thanks to protected terrain, La Jolla Cove is perfect for diving when weather conditions are not ideal. Just remember to get advice from the on-site lifeguard station and local dive operators to know where you should go.
2. Coronado Island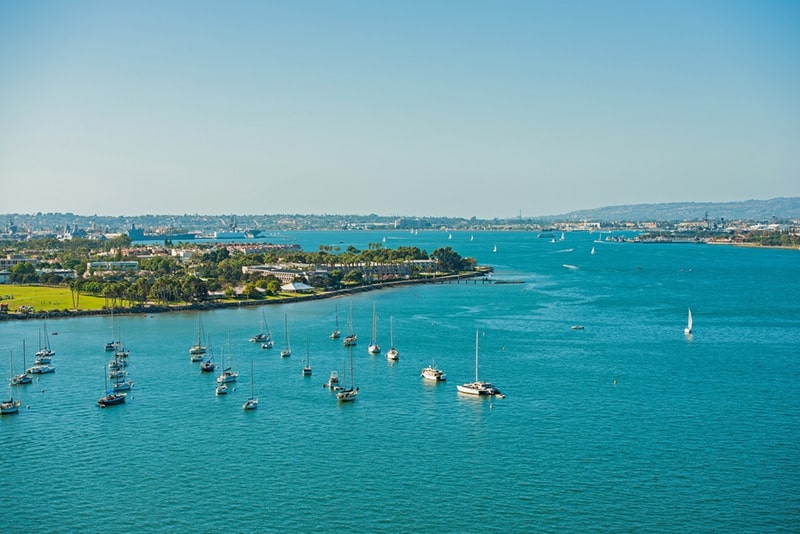 Located just across the Big Bay from downtown San Diego, Coronado Island is highly accessible with four main options. First, you can opt for a car ride through Coronado Bridge. Second, driving across the seven-mile Silver Strand peninsula is also a good idea.
Next, taking a ferry will save you a lot of money. Last but not least, you can experience a water taxi across The Big Bay to admire scenic views along both sides of the road. This place is a paradise for divers of all levels because of its mild surfs and sparkling wide-sand beaches.
Besides, Coronado Island comes with rich marine life as well. Its underwater ecosystem is typical of sea lions, harbor lions, sun stars, abalone, and eels. In addition to scuba diving, this area boasts a host of outdoor recreational activities.
Anytime you visit here, you will have excellent chances to enjoy a wide range of water sports. Coronado Island's gorgeous beaches offer countless choices for fun in the sun. Especially if you travel with your friends, I recommend tour groups try paddleboarding, surfing, kayaking, etc.
3. Point Loma
Point Loma is located in the southern part of La Jolla, and its terrain is not protected from cold water, and ocean exposure like La Jolla Cove does. Nevertheless, this gives Point Loma's water areas more nutrients, which explains why its sea life is more abundant than the further north.
There are plentiful kelp forests in San Diego, but most divers prefer the one in Point Loma. That's because it is the only one that provides you with feelings like genuinely walking in a primeval forest. Here, you can find various rare animals that you cannot see on land.
Bass, treefish, kelpfish, Garibaldi, and numerous nudibranch species can be spotted in Point Loma's emerald kelp forest. In the meantime, crabs, lobsters, and moray eels are often hidden in the rocky crevices. Vivid sponges decorate your view as well.
The depth of Point Loma changes considerably, ranging from 45 to 120 feet. Thereby, you will need to bring a scuba light for a reckless adventure into dark waters. With this gear, your vision is enlarged, while amazing sea creatures can be found more easily.
Explore giant kelp forests in Point Loma with the video below.
4. Wreck Alley
Wreck Alley is another tourist hotspot for adventure enthusiasts in San Diego. Lying a few miles off the coast of Mission Beach, this dive spot is home to eight famous sunken ships. Nowadays, HMCS Yukon and Ruby E are the two most popular shipwrecks frequently visited by divers.
Watch the Youtube video below and learn valuable tips while wreck diving in San Diego.
HMCS Yukon
HMCS Yukon is not suitable for entry-level divers or someone new to wreck diving. The main reason is that it is only seen from 100 feet below the surface. Therefore, you must be appropriately trained to use underwater breathing apparatus like a rebreather and a scuba tank.
>> Read more: How Does a Rebreather Work
Because HMCS Yukon exploration requires deep dives, you should know how to use a console dive computer to track the decompression rate. Additionally, to remove risks related to staying underwater too long, your bottom time needs to be always monitored through a dive watch.
Luckily, HMCS Yukon still remains intact, which means that most entry and exit holes are accessible. However, it would help if you were a certified wreck diver to ensure safe access. Nowadays, this ship is covered with vibrant anemones and California scorpionfish.
Ruby E
Ruby E is not an easy wreck diving due to sudden current changes. But, it is worth a visit at least once in your life because of the stunning scenery and abundant sea life. Ruby E is a smaller shipwreck located at a shallower depth, making it perfect for beginners.
When exploring Ruby E, entry-level divers should watch out for interior structures that have been deteriorating after many years. Sharp metal edges are the most hazardous since they puncture your scuba BCD without any notice.
Ruby E now becomes an artificial reef providing a natural habitat for different sea animals, including moray eels, baitfish, lingcod, greenlings, gobies, etc. Meanwhile, the ship's surface is adorned by white and strawberry anemones, red gorgonians, and pink corynactis.
Divers Guide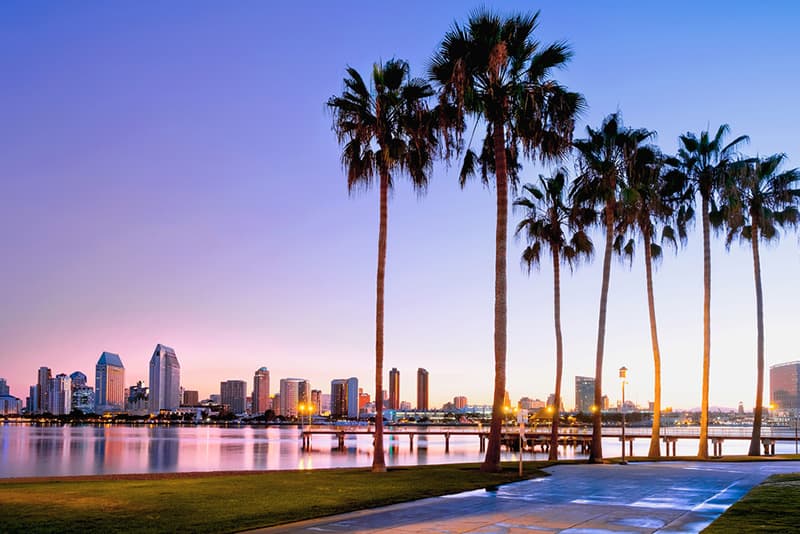 Now, you know more about incredible diving spots in San Diego and the excellent experiences they can give. This section aims to provide guidelines as well as tips on how to make your next adventure into the blue ocean well-prepared.
It is important to visit San Diego at its best time. Otherwise, you are likely to be disappointed due to poor water visibility. Besides, tight-budget divers need to know the least expenditure required so that a trip will not break their account.
1. Best Time to Go Scuba Diving in San Diego
The best time to scuba dive in San Diego is between August and October, when diving conditions are ideal, the water surface is stable, and water visibility is excellent.
2. Dive Conditions
California is regarded as icy diving, and San Diego is not an exception. However, diving in San Diego is not as extremely cold as diving in other parts. Throughout the year, its water temperature ranges from 53°F/12°C to 66°F/19°C.
During summertime, the water temperature can sometimes reach up to 78° F/25°C. In the meantime, the water is coldest in the winter and early spring. Hence, it would be best if you did not dive during the winter months to avoid significant heat loss and strong currents.
Due to the low water temperature, wearing a wetsuit is a must while diving in San Diego. Occasionally, you can wear scuba gloves and thick booties if you do not feel warm enough. A drysuit is also favored by most seasoned divers, thanks to its excellent heat retention.
Visibility in San Diego is not its competitive advantage because the cold water offers lots of nutrients but clouds up the water as well. For some days, strong waves stir up silt and sand, resulting in poor visibility.
But do not worry since the period from July to January is always the best time to see more than 30 feet.
3. Transportation
There is an international airport in San Diego where you can catch a flight from here to overseas and to other states in the USA.
Traveling among dive spots and from San Diego to other California regions is easy as well. You have endless choices such as car rental, taxis, shuttles, buses, trains, etc.
4. Cost of Scuba Diving in San Diego
On average, it will cost you $170 for an introductory course if you have no scuba diving experience before. When certified, you can take a single tank dive that starts from $100.
However, you need to spend another $50 to hire a local boat that brings you to far-off destinations like Wreck Alley and Isla Los Coronados. Besides, if you want to attend a shark-watching tour, you must spend at least $300 to book.
5. How old do you have to be to scuba dive in San Diego?
To participate in a dive course for beginners in San Diego, you must be at least 13 years old and know how to swim. Check out my article on How Old Do You Have to Be to Scuba Dive to discover why scuba diving is limited to a certain age.
>> See also: Do You Need to Know How to Swim to Scuba Dive
Other Water Activities in San Diego
San Diego is famous for scenic coastal beaches and gorgeous bays, making it ideal for a wide range of fantastic sea sports. Whether you are a thrill-seeker or not an adrenaline junkie, there is always something on this shortlist for you.
However, every water activity will require its own specialized equipment as well as the right location to do. So keep in mind to bring all necessary tools. In case you do not want to make your suitcase heavy and bulky, it is a good idea to rent gear from local companies or dive shops.
1. Jetpacking and Hoverboarding
These activities give adrenaline junkies thrilling experiences by enabling them to fly over the San Diego sky. Some popular locations that offer you a chance to try these two sports include Mission Bay and San Diego Harbor.
Thanks to a water propulsion jet, your body will float in the air at the height of 30 feet. At the same time, you can see all the stunning landscapes below. Jetpacking is simple to learn and provides you with great ease of use. Therefore, even someone new can try this sport.
However, hoverboarding is much more challenging than its counterpart. And, you should have previous experience with at least one of the following sports: surfing, snowboarding, or wakeboarding.
Watch the video below and see how fantastic jetpacking and hoverboarding can be in San Diego.
2. Stand-Up Paddleboarding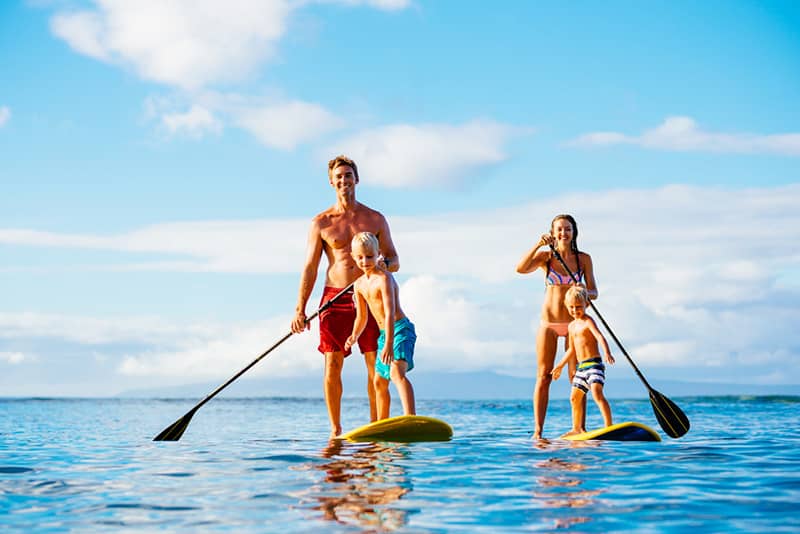 Southern California is a fabulous mecca for stand-up paddleboarders. And La Jolla, Point Loma, and Isla Los Coronados are the three most fantastic havens for this sport in San Diego.
Stand-Up Paddleboarding requires consistent waves, and beaches along La Jolla Shores can ensure that. In addition, you will need a giant board and a long canoe paddle to do this water activity. All necessary gear can be rented at local dive shops.
Stand-Up Paddleboarding is an exciting aquatic sport that also delivers an excellent workout for your arms and back. This outdoor activity is more manageable than surfing; hence, even beginners can try it.
Besides, standing on a large board and skimming across the blue water can be a lot of fun.
3. Kayaking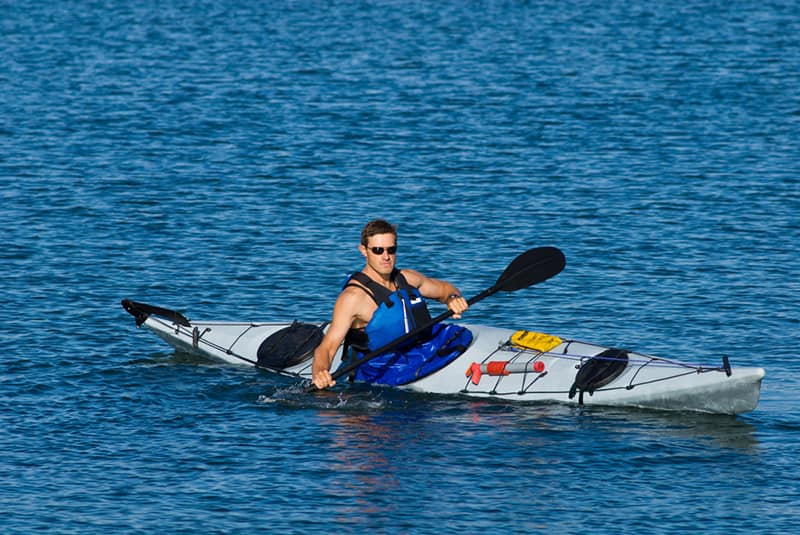 Kayaking is the most effective way to get close to marine life in La Jolla's sea caves. You can rent a kayak and paddles from a reliable dive operator. If you are new to this sport, I highly recommend you book a kayak tour.
These available tours come with various price points, so do not worry if you are a budget-friendly diver. You will be trained to use kayaking skills properly, along with attentive and dedicated instructors. They will point out to you when typical San Diego sea creatures appear.
4. Jet Skiing
Jet Skiing means that you will use jet skis in the waters of Mission Bay and Oceanside Harbor. These wave runners are easy to operate, and even novice riders can control them at ease. Nevertheless, accidents are likely to occur if you cannot catch up with the engine's power.
Jet skiing is another fun outdoor activity that you should try when visiting San Diego.
5. Sailing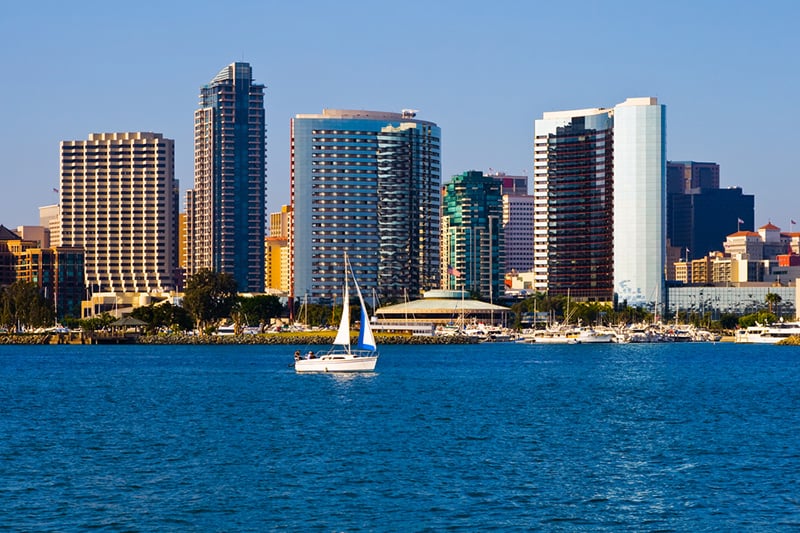 Taking a sailing tour is an attractive suggestion for anyone who does not seek the thrill of extreme water sports. In addition, if you do not know how to sail, it is an excellent chance to learn a new skill.
A lot of lovely sailboats in San Diego are available to rent, and hiring a skipper to operate the boat for you is expected. Private sailing tours are perfect for enjoying the sunset on Point Loma with other family members.
Best Dive Operators in San Diego
Divers, especially entry-level people, often make the mistake of choosing a dive operator to book a guided tour. That's because they are more prone to be seduced by sweet but cliché advertisements.
To help you avoid that case, I have listed the following list after searching on the Internet and seeking advice from seasoned divers.
Beyond Land Adventures – offers experienced and well-trained instructors, sells affordable dive gear, and operates private courses. Check out https://www.beyondlandadventures.com/ or call (619) 366-6266 for further details.
Ocean Enterprises – gives rental equipment and repair services, organizes classes about underwater photography. Visit its website at https://oceanenterprises.com/ or contact (858) 565-6054 to have more information.
San Diego Scuba Guide – provides you with its excellent snorkel tours and offers certified adventure to discover La Jolla Cove. Book now by visiting https://sandiegoscubaguide.com/ and phone (858) 397-8213.
Best Resorts in San Diego
A pleasant and cozy place to stay when traveling is a must if you want to have excellent experiences. Nevertheless, plenty of choices make you wonder which is best. Do not worry because I am here to help.
The following table gives some detailed information about the top five resorts in San Diego. I hope you will find it practical, and based on it, you can make a better option.
Resorts
Star
Popular amenities
Address & Contact
Paradise Point Resort & Spa
4
Pool, spa, hot tub, beachfront
● 1404 Vacation Rd, San Diego, CA 92109
● (858) 274-4630
The Lodge at Torrey Pines
5
Pool, spa, hot tub, beach access
● 11480 N Torrey Pines Rd, La Jolla, CA 92037
● (858) 453-4420
Bahia Resort Hotel
3
Pool, free parking, hot tub, beachfront
● 998 W Mission Bay Dr, San Diego, CA 92109
● (858) 488-0551
Hilton San Diego Bayfront
4
Pool, spa, hot tub, air conditioning
● 1 Park Blvd, San Diego, CA 92101
● (619) 564-3333
San Diego Mission Bay Resort
4
Pool, spa, hot tub, beachfront
● 1775 E Mission Bay Dr, San Diego, CA 92109
● (619) 677-1161
Conclusion
San Diego is a real Mecca for scuba divers for many reasons, primarily because of its stunning beaches and ideal diving conditions. If you have no idea where to go and what to bring for a dive trip, I hope your thoughts have been cleared after reading this article.
Obviously, La Jolla Cove is one of the most renowned dive spots in San Diego, and I believe the diving experiences you get here will not let you down. In addition, it is a good idea to remember the best time to visit San Diego.
Sharing this article with other divers to help them get practical knowledge about scuba diving in San Diego. Kindly use any of the social media buttons below. You are free to share your comments and questions in the comment section as well. Thanks for reading!
Related Articles: