Scuba diving is the best way to explore miracle lava caves and the wonderful underwater world on Hawaii's Big Island. In addition, this is your opportunity to relax after exhausting working hours, refresh your mind, and spend time with your family.
With exceptional visibility and endless coral reefs, Big Island is home to a variety of unique creatures and plants. Like other Hawaiian islands, you still see spinner dolphins, manta rays, and humpback whales here. But you cannot spot Tinker's Butterflyfish except this place.
So if you plan to scuba dive on Hawaii's Big Island, then you are at the right place. In this post, I'll discuss how diverse its marine life is, recommend world-famous dive sites, and suggest some popular activities to do.
The Big Island Marine Life
Plan a fascinating underwater adventure during the time you stay on the Big Island. This section will give you a thorough introduction to the ecosystem as well as suggest popular spots in case you want to see a particular creature.
1. Hawaiian Green Sea Turtles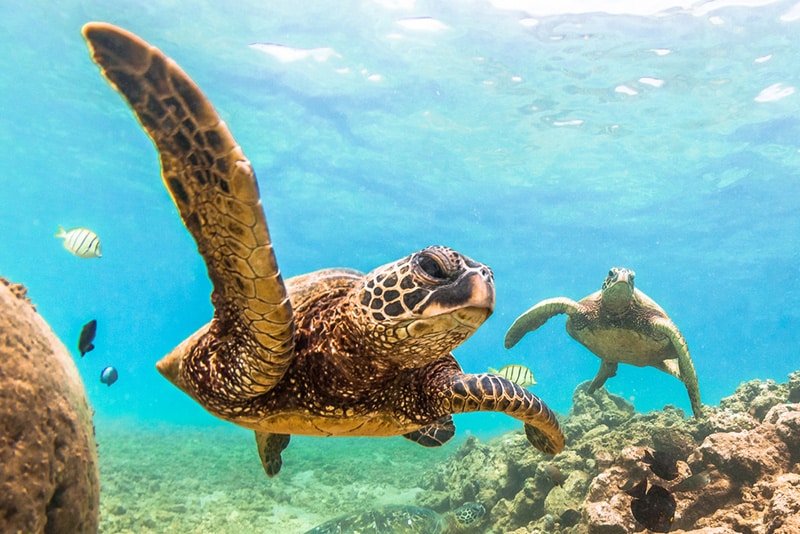 The number of Hawaiian Green Sea Turtles on the Big Island is fewer than on other islands. However, you can still catch them swimming peacefully along the Hilo coast.
In addition, scuba diving is another effective way to see Hawaiian Green Sea Turtles closely. Coral reefs' on the Waialea and Kiholo Bays are their natural habitats, and it's easy for you to spot these gentle creatures here.
2. Spinner Dolphins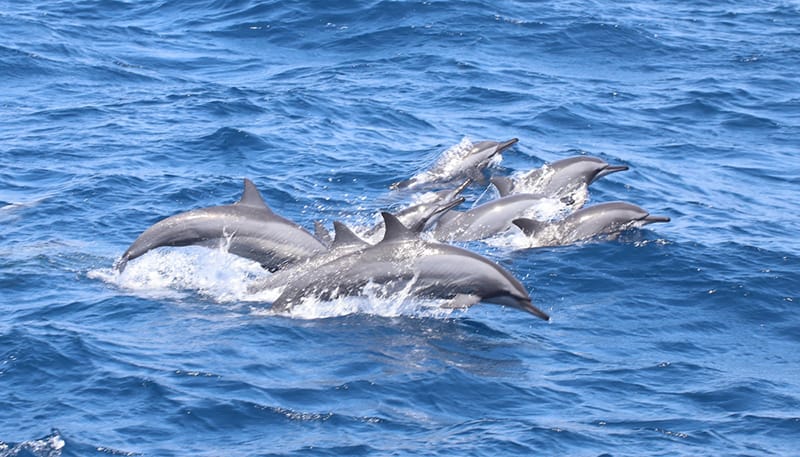 Big Island is also home to well-known spinner dolphins (or named as "Naia" by local people). Let's scuba dive on the Makako Bay of the Kona's north side or take a walk on the Kealakekua Bay's beaches to spot these aquatic animals.
3. Humpback Whales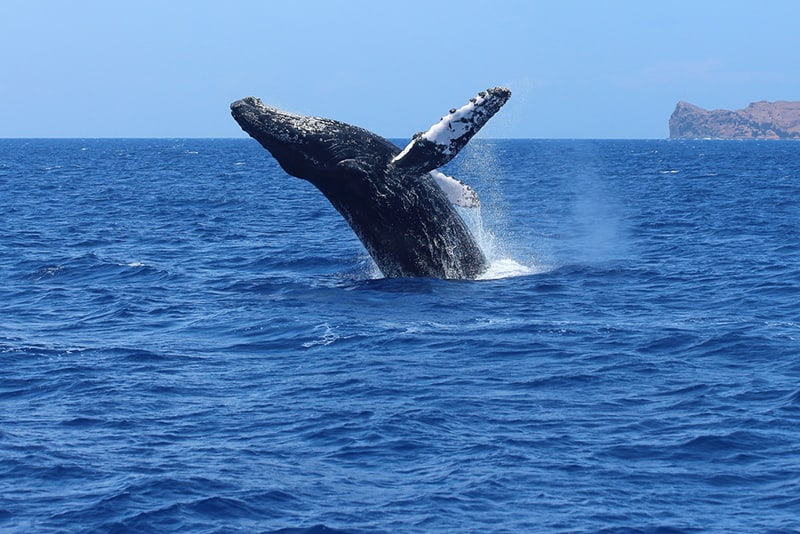 The best time to see Hawaiian humpback whales is visiting the Big Island's Kona-Kohala Coast in winter, particularly from November to April.
During this period, it seems so simple that you just have to stand on the shore and come across these huge creatures through their water spouts. Nevertheless, in case you want to interact with them directly, you will need to dive along the Hilo coast.
4. Fish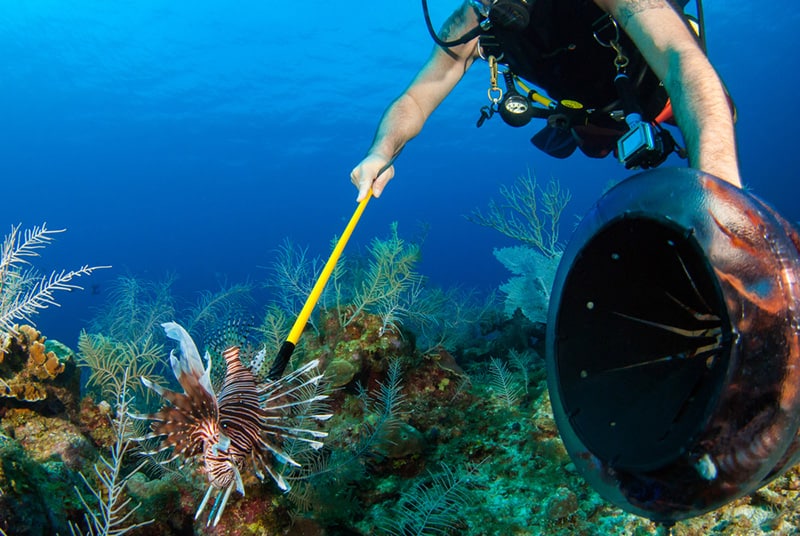 Hawaii is famous for its endemic fish species, and Big Island is no exception. The picture of schools of colorful fish swimming around lush coral gardens is a common sighting for anyone diving on the Kona Coast of Hawaii Big Island.
Please do not forget to bring your scuba diving camera to capture vivid images and videos of Yellow Tang Fish and Lionfish. These are two of numerous Hawaiian typical species that you cannot find in any other waters in the world.
5. Manta Rays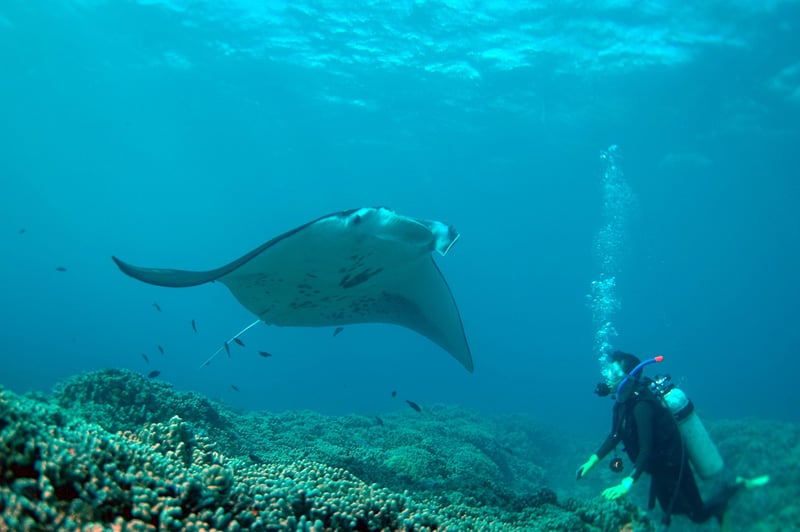 The Kona coastline is proud of being home to more than 100 manta rays. The main reason is that this place owns plentiful premium resorts and hotels. Their spotlights will attract plankton which is the major source of food for manta rays.
Besides, I highly recommend you visit the Kona and Kohala coasts from late spring to early fall. That's because you can spot manta rays at ease during this time as well as the weather is comfortable to scuba dive.
Best Dive Spots in Hawaii's Big Island
A majority of excellent dive sites on the Big Island are located on the west coast, but there are a few exceptions. Below are the finest spots with ideal diving conditions and gorgeous underwater topography that any diver should not miss.
Don't forget to check out my guide to scuba diving in Kauai island here.
1. Crescent Beach
Located on Honokohau Bay, Crescent Beach is a great choice for shore and boat diving. This dive site has magnificent marine life with various tropical fish species, vibrant coral reefs, and numerous pelagic animals.
Besides, only when you dive down to 80 feet can you effortlessly encounter the most notorious creatures of this water – the tiger sharks, whose lengths are up to 16 feet. In addition, Crescent Beach is home to a few unique animals like hawksbill sea turtles and eagle rays as well.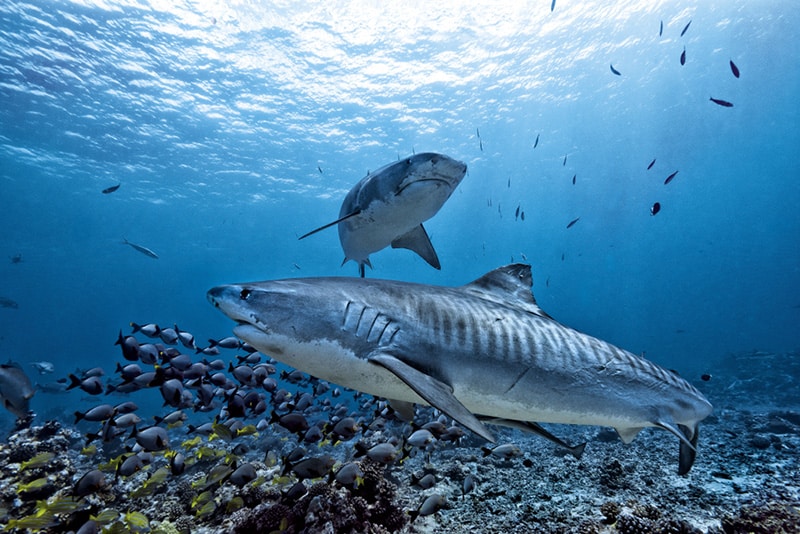 Read on: The Complete Guide to Scuba Diving in Maui for Beginners
2. Puʻuhonau O Honaunau
This dive spot on the Kona's south coast has been popular with local divers for a long time, thanks to its underwater coral gardens and lava caves. It is these flourishing coral reefs that make the Honaunau's aquatic ecosystem abundant and diverse than any other island of Hawaii.
When scuba diving here, some iconic animals you will see are yellow tang fish, triggerfish, octopuses, and eels. Additionally, from a depth of 70 feet to the bottom, you may have a chance to find the Honaunau's exclusive fish named Tinker's Butterflyfish.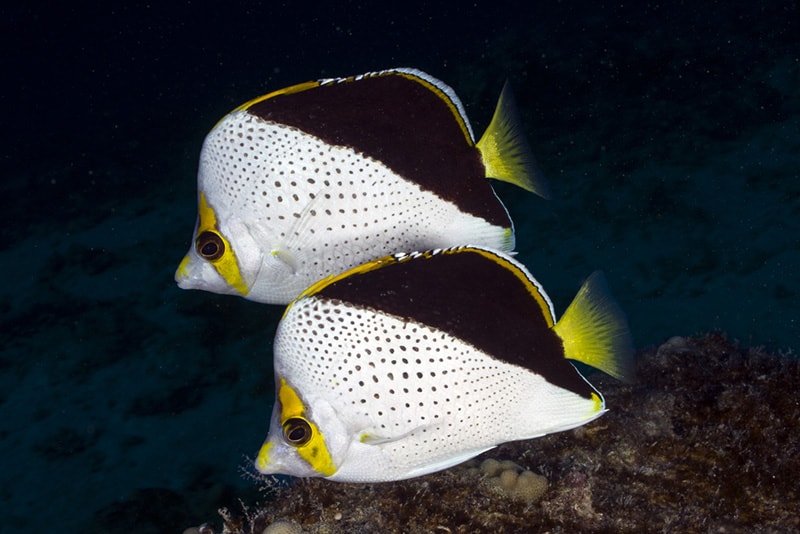 See more wonderful dive spots in Lanai island here!
3. Mile Marker 4
This location lies on the south side of Kailua-Kona, favored by both scuba divers and snorkelers because of its excellent water visibility and stunning lava formations. However, the marine life here is not as remarkable and diverse as other dive sites on Big Island.
Check out the Best Dive Sites in Molokai island here!
4. Kealakekua Bay
Also situated on the Kailua-Kona shoreline, the Kealakekua Bay is another impressive option worthy of much attention. Its sunny weather conditions combined with crystal clear and calm waters contribute to making this dive site renowned all around the world.
This paradise for scuba diving will not let you down because it boasts lush coral reefs where a wide range of tropical fish species live. Moreover, numerous Hawaiian Spinner Dolphins and Hawaiian Green Sea Turtles are easy to catch here as well.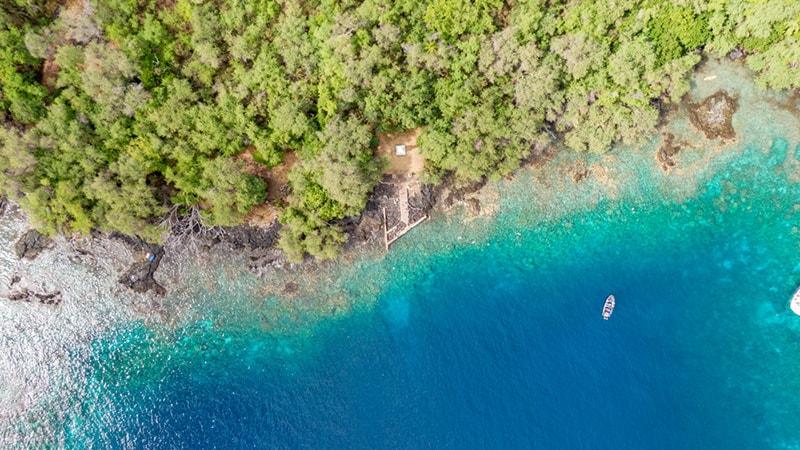 5. Keauhou Bay
Unlike the dive spots listed above, Keauhou Bay is located on the Big Island's west side. This place is also known as its local name, "Manta Village," because of how often you spot manta rays here.
About 20 to 30 feet below the surface, you can easily see harmless and gentle manta rays swimming and feeding. To smoothly explore these fascinating creatures, you will only need a pair of scuba fins that facilitates moving underwater and a GoPro to capture amazing footage.
Common Activities
Big Island is ideal for both night and day dives. Besides, it attracts divers of all levels with distinct shallow and deep diving destinations, which gives you incredible experiences. I have listed some of the most prevalent dives you should try at least once.
1. Manta Ray Night Dive
Aside from admiring underwater majestic lava palaces and tubes, seeing manta rays is another interesting activity that all divers should not skip. When you come to Big Island, remember to visit Keauhou Bay, where you just submerge yourself about 35 feet to spot these quiet creatures.
Additionally, Manta Ray Night Dive is suitable for both advanced and novice divers. Therefore, feel free to experience this dive regardless of your current diving skill.
Check out the video below and see what you can expect at a manta ray night dive.
2. The Long-Range Dive
This activity is only suitable for experienced divers with at least 25 dives. The Long-Range Dive will help you explore pristine caves and unknown areas off the Kona coast. I believe this is a memorable experience in your life.
About equipment, you need to wear a high-quality BCD to get neutral buoyancy, bring two scuba tanks on your back, plus a set of diving regulators that support breathing underwater.
Read more about some top-rated travel BCDs in 2023 here.
3. Black Water Dive
The first thing to keep in mind about Black Water Dive is that you must be a seasoned diver. Most dive operators will require you to experience at least 25 dives before, which ensures that you can tackle underwater emergencies and know how to keep yourself safe.
Now, let's delve into some detailed information. First of all, Black Water Dive will be implemented at night, and thus, you can consider it as a nighttime journey. Next, you're going to dive down to where it can be up to 3000 feet below the surface while a 45-feet tether dangles your body.
This sounds extremely dangerous and even deadly; however, according to a few predecessors, this opportunity can give you a sense of sereneness, like being in another world. Notably, you can spot unique creatures that you cannot see when scuba diving along the Big Island coastline.
Nevertheless, as I said before, you may face various unpredictable challenges during deep diving. For that reason, you should equip yourself with helpful gear such as a scuba mask to resist underwater contaminants or a wetsuit to keep the body always warm.
Read more: the top 7 Best Full Face Scuba Masks in 2023
Besides, a dive computer that prevents you from diving beyond your limit must be included in your tool kit as well.
Check out my articles about How to Use a Dive Computer and How Deep Can You Scuba Dive for more information!
The following video shows you how wonderful it will be during a black water dive.
Divers Guide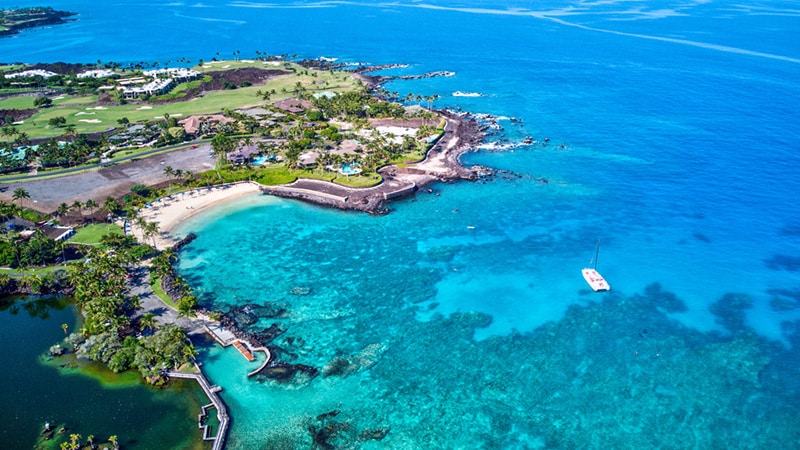 This part is attached to provide you with a detailed travel guideline. Do not skip reading it since I think you will have lots of useful knowledge here.
1. Diving Conditions
The Big Island offers you various dive sites. However, most popular spots belong to two main parts: the western side (referred to as Kona Coast) and the eastern side (considered as Hilo Coast).
Thanks to the world's largest volcano – Mauna Loa, almost harsh and vigorous winds blowing to Big Island's west coast have been prevented. Hence, the Kona side can provide you with calmer waters as well as warmer and more comfortable weather to dive all year round.
In addition, although the winter months are the best time to see humpback whales, they are not perfect for scuba diving. The reason is that Hawaiian oceanic waves will be much higher during this period compared to other seasons.
This leads to reducing your water visibility, and thus, causing certain dangers for diving. Therefore, my advice is to visit Big Island from spring to fall if you love diving and spend winter spotting Hawaiian rare pelagic creatures.
2. Water Visibility
The Kona Coast is filled with sunshine, and it is obvious that your water visibility in this place cannot fall below 100 feet. However, remember that Big Island's waves will make a huge difference in underwater vision between wintertime and the rest.
This means that the waters off the Kona coast will be murkier during the winter months, and thus, you should bring a scuba light to see farther and clearer, even for shallow diving.
Water visibility relies much on local weather conditions, and from that, it will decide whether you should go snorkeling or scuba diving.
3. Dive Shops
I have compiled a list of the best dive operators as voted by Hawaiian divers. These companies here are all reliable and easy to access to book a tour. Let's take a quick look if you are in a hurry.
Jack's Diving Locker – provides scuba diving courses for all and offers Black Water Dive. Call (808) 329-7585 or visit https://www.jacksdivinglocker.com/ for further information.
Kona Diving Company – operates Manta Ray Night Dive and gives rental dive equipment. Phone (808) 331-1858 or visit https://www.konadivingcompany.com/ to get a consultation.
Kona Honu Divers – supports Black Water Dive and The Long-Range Dive. If you are interested, contact (808) 324-4668 or check out https://konahonudivers.com/ to book now!
4. Resorts
The following table compares some of Big Island's famous resorts based on three fundamental criteria. I hope the information it provides will help you a lot.
Resorts
Star
Popular amenities
Address & Contact
Four Seasons Resort Hualalai
5
Spa, pool, beachfront, Wi-Fi
● 72-100 Ka'upulehu Drive, Kailua-Kona, HI 96740
● (808) 325-8000
Mauna Kea Beach Hotel
4
Spa, pool, beach access, Wi-Fi
● 62-100 Mauna Kea Beach Dr, Waimea, HI 96743
● (808) 882-7222
Fairmont Orchid
5
Spa, pool, air conditioning, Wi-Fi
● 1 N Kaniku Dr, Waimea, HI 96743
● (808) 885-2000
Waikoloa Beach Marriott Resort & Spa
4
Spa, pool, beach access, Wi-Fi
● 69-275 Waikōloa Beach Dr, Waikoloa Beach, HI 96738

● (808) 886-6789

Hilton Waikoloa Village
4
Spa, pool, beachfront, Wi-Fi
● 69-425 Waikōloa Beach Dr, Waikoloa Village, HI 96738
● (808) 886-1234
How to Get to Big Island
Big Island owns two main airports located on the western and eastern sides, which facilitates moving among Hawaiian islands and from Hawaii to other states of the United States.
In case your area does not support a direct flight to the Big Island, you will need to fly to the Hawaiian island of Oahu first and then continue flying into Kona or Hilo.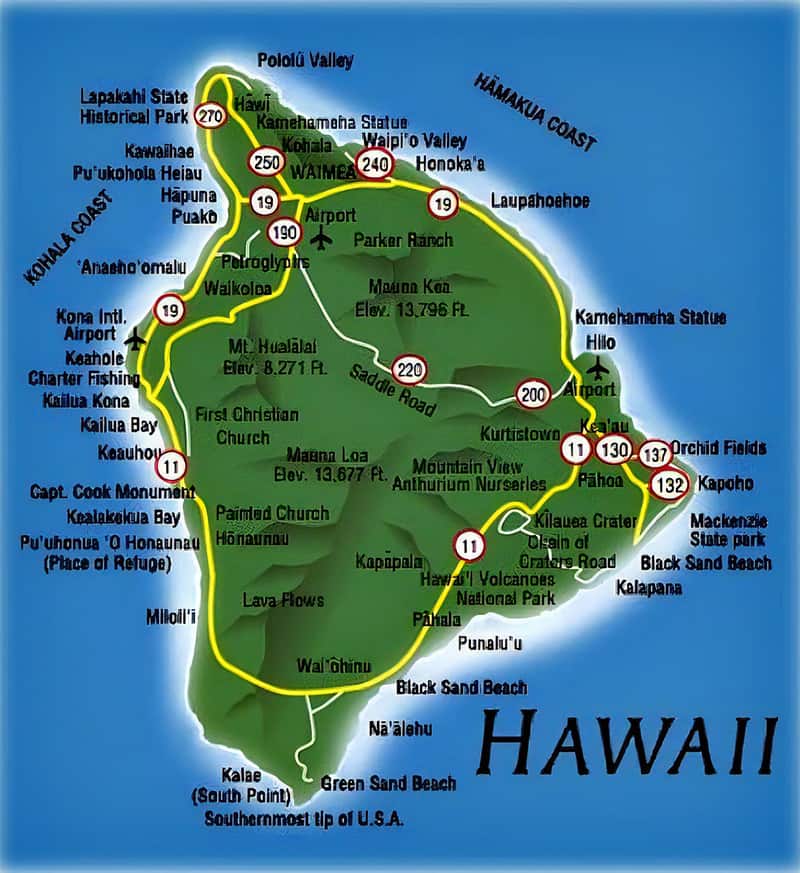 What to Expect on a Big Island Liveaboard
Since Big Island provides you with too many well-known dive sites, you cannot explore all these spots in just one trip. Therefore, a better choice is to join a liveaboard tour that can cover almost all outstanding destinations and engaging activities.
However, one downside of the liveaboard tour is that it only focuses on giving you popular dive locations on the Big Island's west coast.
That's because the Kona's pleasant weather plus its serene water and stellar underwater lava architecture make this place convenient for diving. Meanwhile, the east side's waters are less stable, and its diving conditions are not always perfect.
The Bottom Line
In case you are looking for a Hawaiian island where you can freely explore brilliant coral reefs and thriving marine life, Big Island is a place you have to drop by. I hope that this comprehensive article has provided you with enough vital information for a great vacation.
Do you have any comments or suggestions to share? Kindly post them in the comment section below. Besides, if you find my article useful, please share it with your friends and family as a way to motivate me to write more. The following social media buttons are always ready to help.