North Carolina is home to thousands of wrecks, giving it the name "Graveyard of the Atlantic." Thanks to that, scuba divers around the world cannot skip visiting North Carolina if they want to experience excellent wreck diving.
In addition to the large number of shipwrecks gathering here, North Carolina boasts abundant marine life, from massive pelagics to small fish species. When diving here, it is common to spot huge groupers, enormous lobsters, and giant stingrays.
North Carolina's dive spots are suitable for divers of all levels; however, each location has its own attraction. In this article, I have thoroughly reviewed everything you should know before a dive trip. I have also included a few frequently asked questions for your reference.
Best Places to Scuba Dive in North Carolina
Each diving destination below has received positive feedback from previous divers, as well as is safe to dive. The following detailed reviews will provide you with valuable information about what to expect to see underwater, safety tips to consider, and who should dive there.
1. Nags Head / Oregon Inlet
Nags Head is the most prominent diving destination on the Outer Banks, where you can find fascinating experiences. This place is home to soft white sand dunes, sun-kissed beaches, and spectacular seascapes.
These unique conditions make you feel like scuba diving in West Palm Beach, South Florida. The marine life in Nags Head is abundant thanks to the large number of shipwrecks on the bottom.
These wrecks now function as artificial coral reefs, providing a healthy habitat for a wide range of sea creatures.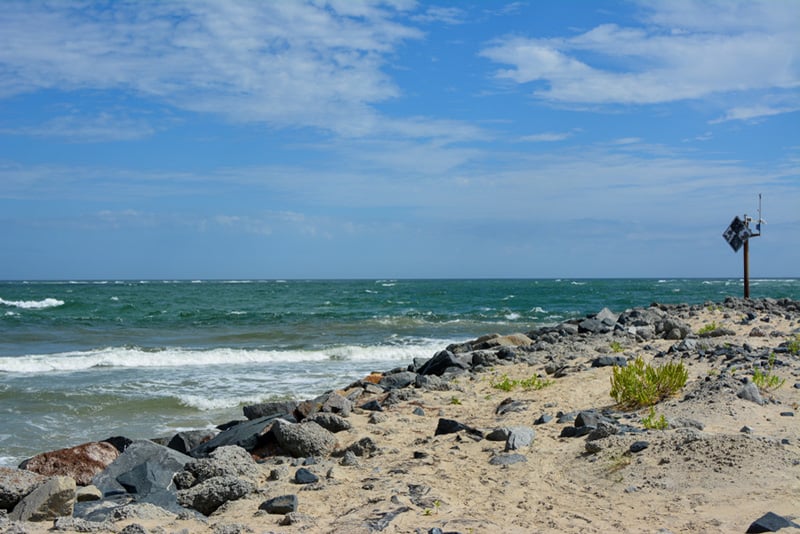 2. Cape Hatteras
Cape Hatteras is also known as the Graveyard of the Atlantic. That's because this area witnessed the highest density of shipwrecks in the US. The rough terrain, combined with treacherous waters, makes it hard to scuba dive here; thus, only seasoned people are welcome.
Besides, Cape Hatteras is where the Gulf Stream's warm currents and cold northern flows meet, which contributes to drawing countless pelagics to visit. This diving spot boasts rich sea life with hundreds of shipwrecks resting underwater.
The most notable inhabitants to spot here are sand tiger sharks. Unlike great white sharks, this shark species is gentle and docile; thereby, it is safe to have a close look at them. But remember not to directly touch on them because sharks may misunderstand that you are provoking them.
Sand tiger sharks swim slowly. Thanks to that, it is easy to capture photos of them. In addition, excellent light conditions and crystal-clear water facilitate underwater photography. Do not forget to bring an underwater camera to take pictures of sharks during the summer months.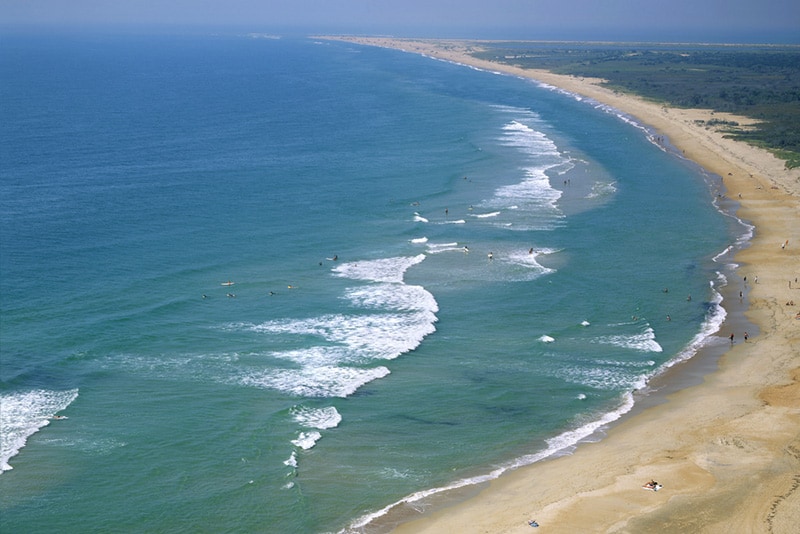 3. Crystal Coast / Morehead City
This area includes the sandy beaches of Emerald Isle, along with gorgeous Atlantic Beach, world-famous for wreck diving and fishing for a long time. You should rent a car to travel to different dive sites on Crystal Coast.
Most scuba diving activities in Crystal Coast are exploring shipwrecks as well as artificial reefs. The marine life here is diverse with colorful fish species, while diving conditions are perfect. The waters are crystal clear, and you can see more than 50 feet most of the time.
Underwater photographers also love this place because excellent visibility helps create fantastic footage. Some popular activities during a dive trip include spearfishing, lobstering, seeing sand tiger sharks, and so on.
On land, you can enjoy picking up shells along the coastal beaches. You can also get premium experiences by deciding to stay in a hostel or hotel. Both choices are available, and you are free to choose which one is more comfortable.
The following video shows Crystal Coast's underwater world is filled with sand tiger sharks.
4. Wilmington
You may find this exceptional diving destination after an hour of driving to the north of North Carolina. Like other dive spots here, Wilmington offers you thrilling encounters with sand tiger sharks. Besides, anyone who loves exploring historic sunken ships cannot skip visiting.
Nowadays, Wilmington also maintains a few intact shipwrecks below its water surface, which are reminiscent of significant events in the past. Located just ten miles from the shore, this diving spot is easy to access, especially by boats.
The video below showcases how incredible scuba diving in Wilmington is.
5. U-352
U-352 is the most famous wreck in the North Carolina underwater world, drawing thousands of scuba divers who flock here to explore every year. The ship is now located at a depth of 110 feet below the surface, which gives novice people a little difficulty in diving.
Changeable water temperature, rippling currents, and poor visibility make it hard to explore U-352. However, any reckless scuba divers who can reach here will receive historical experiences that they cannot have anywhere else around the world.
Wreck diving is not safe for all divers. Watch this video and learn some valuable tips for protecting yourself underwater.
6. Aeolus
Aeolus is a ship that has been sunken intentionally to support the North Carolina artificial reef programs. Nowadays, various tropical fish species and pelagics make their home here. At a depth of 110 feet, Aeolus is broken into three major pieces due to the storms' severe impacts.
Sand tiger sharks are the most common inhabitants of Aeolus. You will see they are swimming in large groups around the wreck. It is reported that there are 12 individuals already spotted in these waters, giving you extraordinary shark dive trips.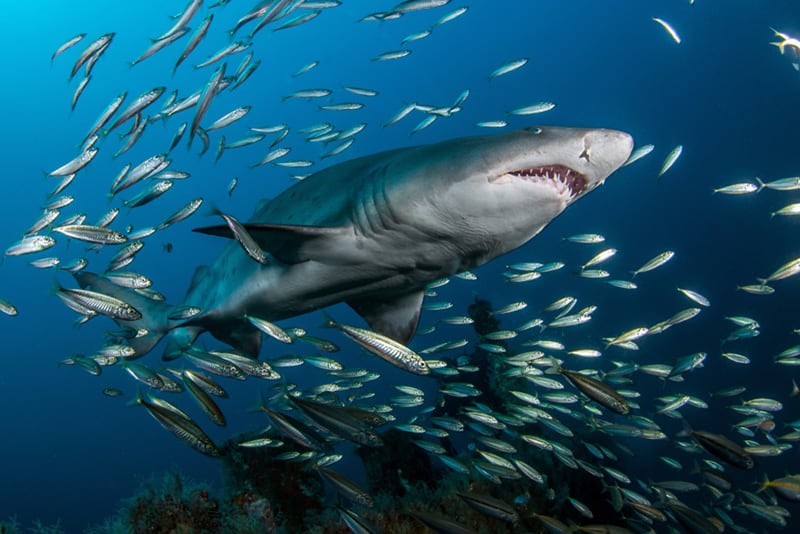 7. Proteus
Although Proteus now includes mainly massive debris, this is enough to recall that it was once a luxury passenger liner. Located at about 120 feet under the sea, it is apparent that only advanced divers should join the dive.
Lying approximately 20 nautical miles south of Cape Hatteras, this 390-foot wreck functions as an artificial reef today. It boasts rich sea life from tropical fish to pelagics such as stingrays, grouper, African pompano, giant amberjacks, and barracudas.
In addition, Proteus is also a tourist hotspot for shark diving because sand tiger sharks are common sightings here. Previous divers have reported that hundreds of individuals are spotted on this site.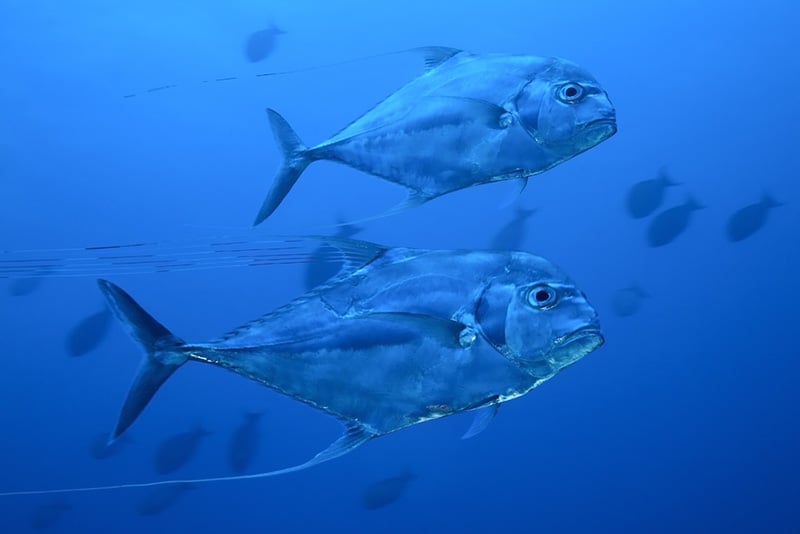 8. USS Indra
For entry-level divers, USS Indra can satisfy their desires thanks to its shallow depths and unique position. You just need to dive down 30 feet under the sea and see the ship. In addition, the maximum depth is only 60 feet, which means that it is ultra-safe even for kids.
The water surface here is calm, where almost no strong currents can be found. Thanks to that, USS Indra is a fantastic location for divers of all levels, especially beginners. Moreover, because this dive spot is close to the shore, you can easily access it without a boat.
That's the main reason why most wreck diving classes are operated here. Overcoming the ravages of time, USS Indra still remains intact to this day. Besides, you will have unforgettable experiences in your life when you see sand tiger sharks circling around the wrecks.
Most shipwrecks in North Carolina require deep diving to explore, but USS Indra is different.
Divers Guide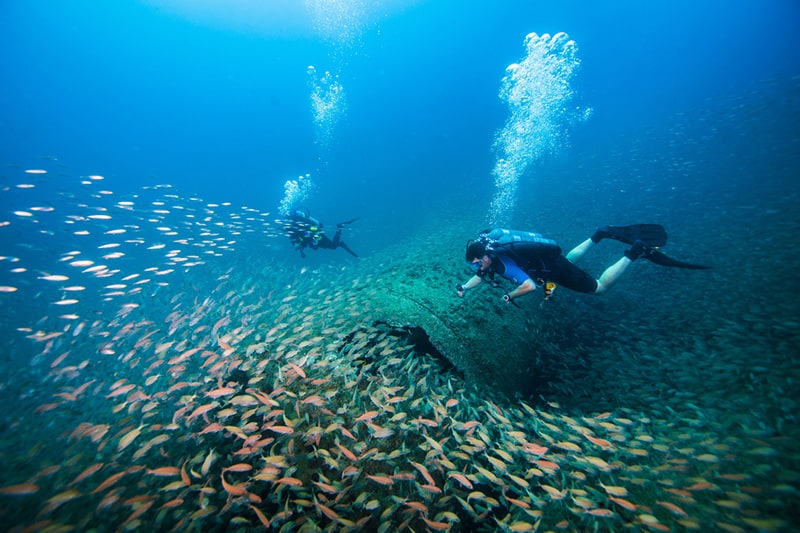 The following section gives background information on diving in North Carolina, such as the best time to visit and how to travel. It would be best if you did not skip reading this essential information since it contributes to deciding whether your dive trip will be comfortable or not.
1. When to Dive in North Carolina
The peak season to scuba dive in North Carolina is between May and October, while diving conditions here will be perfect from June to August. Underwater visibility is often 50 feet most of the time, but it can span up to 100 feet on good days.
Scuba diving in North Carolina is not as chilly as in California because its average water temperature is around 82°F/28°C throughout the year. In summer, the temperature can peak at 85°F (30°C), while it will bottom at just 72°F/22°C during wintertime.
Entry-level divers will need to wear a 5mm wetsuit to keep warm during the winter months. In addition, they can wear scuba gloves, dive booties, hoods, and so on for additional warmth. See what to wear under a wetsuit by checking my article: What to Wear Scuba Diving.
For seasoned divers, they just need a drysuit to prevent heat loss during long dives. Nevertheless, they should equip themselves with a dive computer to monitor dive time and track remaining breathable air.
>> Find out the 9 best affordable dive computers here.
2. How to Get There
North Carolina has two main airports, which are located in Durham and Raleigh, and it takes you about 90 minutes to reach the coast, no matter where you depart from.
Best Dive Operators in North Carolina
Below is a list of the most reliable dive operators in North Carolina so that you can book a tour or join in a scuba diving lesson. Each suggestion is attached with its website link as well as the most outstanding services it gives.
Olympus Dive Center – operates scuba certification courses, offers cheap gear rental, and gives fabulous dive trips to far-off destinations. Call (252) 726-9432 or visit https://www.olympusdiving.com/ to know more.
Discovery Diving Co Inc – provides beginners with comprehensive training courses, supports private charters, and suggests where to stay. Contact (252) 728-2265 or go to http://www.discoverydiving.com/ for more details.
Aquatic Safaris SCUBA Center, Inc. – provides tank fills, equipment maintenance, and gear rental. You can book a scuba diving charter if you dive with your team, and join in scuba classes. Phone (910) 392-4386 or visit https://www.aquaticsafaris.com/.
Best Resorts in North Carolina
Accommodation plays a vital role in deciding whether you feel comfortable during a trip. To help you avoid staying in expensive hotels without enough amenities, I have searched the Internet and written down the following table.
Also, each location is linked to its website so that you can check whether there are available rooms or not. Let's get started!
Resorts
Star
Popular Amenities
Address & Contact
Skyline Lodge
4
Free parking, free Wi-Fi, air conditioning, breakfast
● 470 Skyline Lodge Rd, Highlands, NC 28741
● (828) 526-4008
The Holly Inn
3
Pool, spa, free parking, free breakfast
● 155 Cherokee Rd, Pinehurst, NC 28374
● (844) 330-1664
The Omni Grove Park Inn
4
Pool, spa, hot tub, air conditioning
● 290 Macon Ave, Asheville, NC 28804
● (800) 438-5800
The Ballantyne, a Luxury Collection Hotel, Charlotte
4
Pool, spa, hot tub, free parking
● 10000 Ballantyne Commons Pkwy, Charlotte, NC 28277
● (704) 248-4000
The Greystone Inn
4
Free parking, free Wi-Fi, air conditioning, spa
● 220 Greystone Ln, Lake Toxaway, NC 28747
● (828) 966-4700
Frequently Asked Questions
Do you have any questions associated with scuba diving in North Carolina? Or did you miss some essential details in the article? Let's check out a few frequently asked questions related to this topic and enlarge your knowledge.
Why Are There So Many Sunken Ships in North Carolina?
Unique terrain in North Carolina is the main reason why more than 5000 shipwrecks rest here. This area has lots of narrow inlets, small islands, and coastal rivers, while its barrier islands make it hard to access the mainland.
Therefore, rescuing or salvaging sunken ships is not an easy task. In addition, offshore Cape Hatteras, cold waters from the north collide with the warm currents from Gulf Stream, leading to more storms and few good harbors to anchor.
How Deep Is the Graveyard of the Atlantic?
Most shipwrecks in North Carolina lie at a depth of 135 feet under the sea; thus, only advanced divers can be allowed to dive here.
Conclusion
With a variety of shipwrecks to explore just during a single dive, North Carolina gives you endless experiences you cannot forget in your lifetime. Additionally, you will have excellent opportunities to face-to-face with tiger sharks here.
If you have no idea where to dive in North Carolina, U-352 is the most sought-after wreck diving destination. In the meantime, novice divers will prefer USS Indra due to its shallow depths and highly accessible position.
By now, you should have a full understanding of where to scuba dive in North Carolina. If you have any doubts, kindly put them in the comment section below. I'll appreciate it if you can share this article with other divers to motivate me to write more.
Please use any of the social media buttons below. Thanks for reading!
Related Articles: