It is undoubtedly true that Destin is among the best places in Florida to scuba dive! As you all know, the Gulf of Mexico, along with the Atlantic Ocean, lines the coastal borders of Florida. Destin lies in the Northwest part called Panhandle and adjoins the water of the Gulf!
The average ocean temperature in the Gulf of Mexico is usually warm in all seasons. Hence, scuba diving in Destin is possible at any time during the year! No wonder why Destin has become a household name when it comes to diving!
If you wish to have a wonderful time in this city, read my article immediately! I will help you go through some helpful knowledge about scuba diving and the unique features of Destin. Believe me! Every section below will challenge your expectation!
The Marine Animals in Destin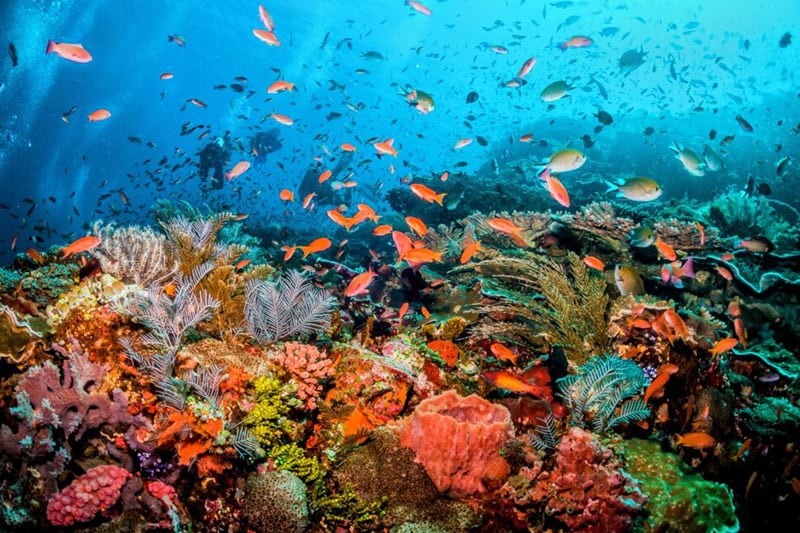 Do you know that Destin is home to hundreds of aquamarine species? It is because the Gulf of Mexico surrounds almost half of the coastal lines of this city! Join me and find out what sea animals inhabit there!
The most popular sea creature in Destin is probably the dolphin! With a population of around 40,000 individuals, dolphins appear very often here in the open sea. One of the best ways to watch dolphins is to take a dolphin cruise!
In addition, Destin is famous for its extensive coral reef systems. These reef barriers house several schools of fish of different species. You can expect to see flounders, sea pufferfish, small snappers, wrasse, redfish, and sheepshead! Don't forget your scuba camera!
Besides colorful fishes, you can admire some beautiful sea crabs. They turn up a lot in both natural and artificial coral reefs! Among the most popular are blue crabs and hermit crabs. Pack your things and come here to admire some wildlife spectacles!
Furthermore, you can also catch sight of sea turtles. Most of them usually swim near the pier. You may be able to take some beautiful pictures because they sometimes get close enough for you to do so. Some kinds of octopuses and jellyfish will also make their appearance.
Best Spots for Scuba Diving in Destin
Not only Hawaii has the best dive sites, but Destin also does! In other words, Destin can offer some of the most fantastic spots for scuba diving in the United States! Keep scrolling down and discover what they are!
1. Destin Jetties
Destin Jetties perhaps is a common name among divers around the world. There is a little fun fact that the place is regarded as the luckiest fishing village because of its diverse marine biodiversity.
Snorkeling and scuba diving are the most popular ways to watch the underwater world in the jetties. However, the battle between scuba diving and snorkeling is still a controversy as each activity offers distinctive experiences under the water.
To be more specific, you can stand the chance of witnessing several kinds of fish in different seasons. There are black drums, amberjack, trout, and Spanish mackerel from spring through summer. Meanwhile, flounders and redfish appear during the rest of the year.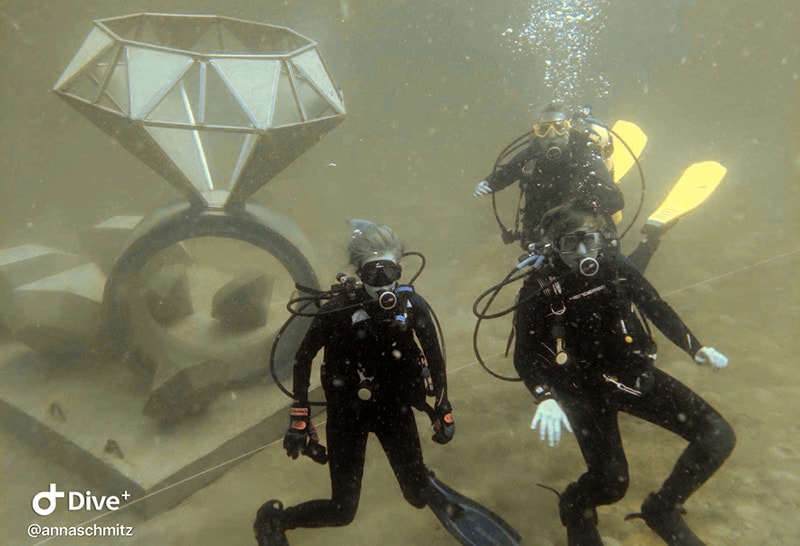 => Check out the best dive sites in Sarasota, Florida here!
2. Tug Boat Janet
The wreckage of the tugboat Janet is another fascinating scuba diving site. It sank to around 93 feet underwater in October of 1997. After being discovered, the tugboat is open to divers worldwide.
An artificial reef complex known as Okaloosa Haven was built on the M/V Janet. Hence, many species of fish swim to the wreck and inhabit it. This fascinating fact attracts thousands of divers worldwide to come here to watch the incredible wildlife.
Scuba divers often say the boat is teeming with kingfish and baitfish. Besides, there are also triggerfish, amberjack, grouper, and snapper. On top of that, you are advised to equip yourself with some scuba lights to watch the tugboat.
Let's see the M/V Janet in this video:
=> Read more: the best guide to scuba dive in Florida Keys
3. Mohawk Chief
Like the M/V Janet, Mohawk Chief is also a tugboat. Its sinking date was on June 23rd, 2003. Since you can reach the boat within 30 meters, the visibility is excellent. However, this wreck is far from the shore, so you must travel by boat before diving.
With six reef complex structures, the Mohawk Chief acts as a home to several types of aquamarine animals. In particular, goliath grouper, amberjack, and baitfish dominate the vessel. You can also swim through the pilothouse to explore the inside parts of the boat.
Additionally, you can expect to observe sand dollars as the tugboat is located in the center of the sand dollars complex. Sometimes, you will witness some nurse sharks as the Mohawk Chief lies in the open water.
Check out the video below to discover the Mohawk Chief in Panhandle:
4. Fort Walton Beach
If you are a little bit afraid of the mysterious open water, you can go scuba diving on Fort Walton beach instead. This dive site is adjacent to the shore. Therefore, it is suitable for both beginners and recreational divers.
The natural limestone reefs are highly incredible. They house large quantities of fish, so you can wish to have a wonderful experience while diving at the Fort Walton seaside! The lionfish is an invasive species, and thus you can see them very often!
Not far from the beach is the Miss Louise wreck. Like other sunken wrecks, this ship is associated with artificial reef systems and is a fantastic place for scuba diving. Fortunately, its depth is so shallow that divers don't need special training.
Admire the aquatic world under Fort Walton Beach by checking the video below:
5. Destin Bridge Rubble
In the mid-1970s, a boat called Bridge Rubble to a depth of fewer than 70 feet in the sea of Destin. This leads to another introduction of a spectacular scuba diving site! Put on your scuba suit and head to Destin to explore the Bridge Rubble!
Since the boat has been under the water for a long time, it has gradually become a sizable fish haven. There are three separate reefs: Main Stack, North Stack, and East Stack. The Main Stack has the most extensive profile of up to 69 feet.
You can expect to observe a wide range of marine creatures. The boat's structure offers many hidden places for eels, octopuses, and lobsters. Some big-size animals like sharks and manta rays also appear around the Bridge Rubble.
Watch the video below to see Sandbar sharks and a school of Spadefish in Destin Bridge rubble:
Divers Guide
One more critical section of the diving guideline in Destin is some breakdowns of desirable water temperatures, diving equipment, and diving tips. If you want to have a comfortable and safe experience, don't ignore the lines below!
=> Check out the completed guide to scuba diving in Venice Florida here!
1. Diving Conditions
You may have heard that Florida is suitable for scuba diving all year round. Remarkably, the water of the Gulf of Mexico, where Destin lies, is warm enough for water activities during all seasons. However, when it comes to visibility, there are some favorable periods.
Take a quick look through the table below!
Air temperatures
20°C – 28°C
Ocean temperatures
13°C – 27°C
Water visibility
50 ft – 100 ft
Wetsuit Thickness
3 mm – 5 mm (summer and spring)
6 mm – 7 mm (autumn and winter)
2. Suggested Equipment
The water environment is unpredictable. Therefore, when participating in activities that are associated with water, you should carefully prepare some specific gadgets to warrant your safety. In this subtopic, I will suggest some necessary equipment for scuba diving.
First, it is crucial to wear a scuba wetsuit with suitable thickness. A flimsy suit may not keep your body warm, and an extremely thick one can prevent you from propelling through the water quickly.
Next, you should invest in a scuba mask to protect your face. Remember to opt for the right size to avoid having any trouble with loose or tight protection masks underwater. Choosing the wrong face mask can cause you to be subject to stinks from sea animals.
You may also need a couple of scuba fins to help you dive with ease. Otherwise, you have to make a great effort to tackle with bare feet, especially in deep dive sites. Scuba lights are also among the indispensable gadgets for wreck diving.
Your diving experience will be more interesting if you bring a scuba camera to save some beautiful memories underwater. Many people say that GoPro has the best cameras for scuba diving. Why don't you visit their websites and purchase one for yourself?
3. Wreck Diving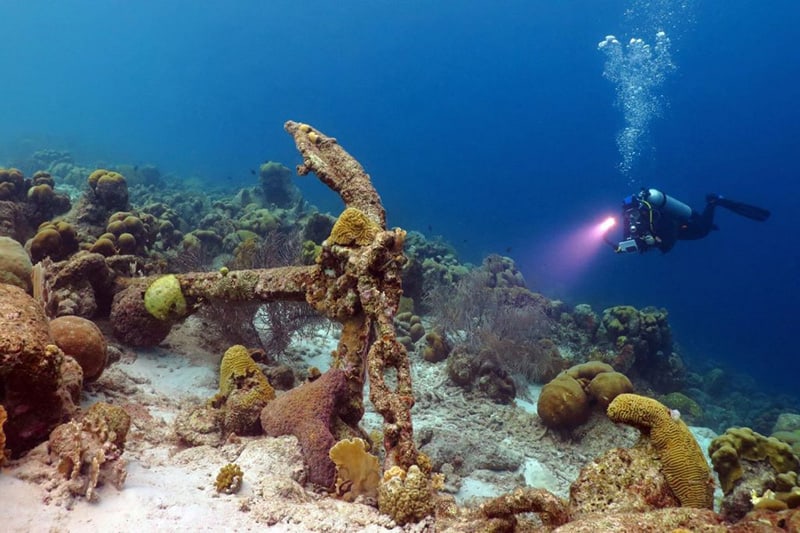 There are many shipwrecks under the sea in Destin. Therefore, when scuba diving in Destin, you may also have the opportunity to experience wreck diving. If you are new to this branch of scuba diving, I will provide valuable instructions.
First of all, make sure you are well-equipped with diving gadgets. Especially, pay more attention to the quality of your scuba tank because you will need to dive deep under the water to reach the wreck. A minor mistake can even result in your fatality.
When a shipwreck is diver-friendly and is open to tourists, you can usually swim through them to explore the inside. However, some tugboats or aircraft are extremely large, and you can get lost in them. Hence, remember to dive with a group or your diving instructors.
Moreover, visibility can be a big problem when wreck diving. If you can't see clearly, you might get entangled and injured. Therefore, you should bring a couple of dive lights because they can prevent you from losing vision and act as an SOS sign in emergencies.
Some other safety accessories may include gloves and scuba knives. You will also need some extra breathing gas when you want to dive into a deep shipwreck. It will be far safer if you can afford a dive computer to help you identify your location.
Check this article to learn more about using a dive computer.
Ways to Watch the Marine Life in Destin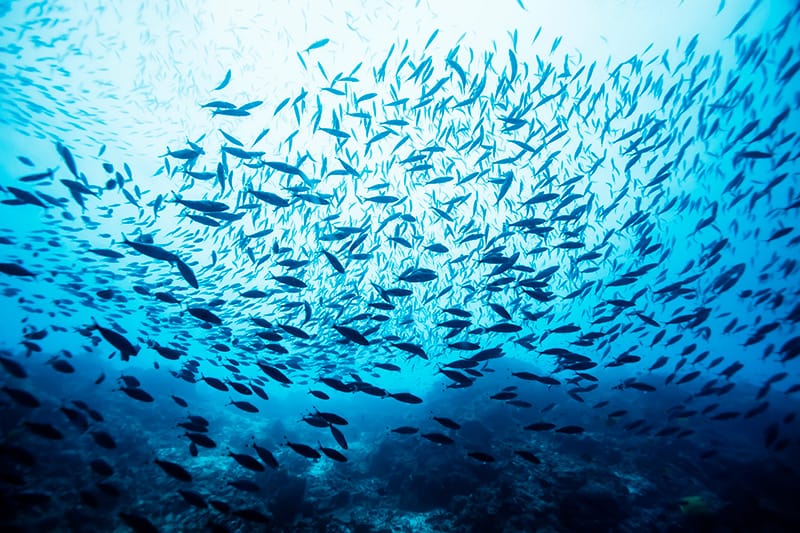 Undoubtedly, Destin has one of the most diverse marine biodiversity in Florida. Therefore, the local people often exploit the mesmerizing sceneries as a tool to attract tourists all over the globe. Visitors can admire the wildlife in different ways and from various angles.
An interesting activity is to take part in a dolphin cruise. A large population of wild dolphins live in Destin and have become a tourist attraction. You can wish to float on the crystal clear water and witness dolphins swimming around!
In addition, the Okaloosa Island Pier is famous for its wide range of sea turtles. Specifically, there are several species of saltwater turtles swimming around the pier. They also occasionally get close enough for visitors to take some spectacular photos!
If you want to challenge yourself a little bit, snorkeling is an ideal experience for you to try. Typically, people will snorkel in shallow water, so non-swimmers are also congenial! You will stand a chance to wear cool goggles and observe schools of fish under the water!
Another fascinating way to watch marine life is to go scuba diving. You will need a special suit to dive deep under the water. Scuba diving allows you to see the magical world of coral reefs and colorful fishes under the water's surface. You can even swim through some shipwrecks!
Top Diving Centers in Destin
If you wish to be supported by the professional diving community, it's a great idea to experience the service of some prestigious diving centers. Besides selling high-quality diving gadgets, these centers also play the role of diving operators that offer courses and scuba diving tours.
Since Destin is a paradise for scuba diving, there are hundreds of diving centers in this city. However, remember to make sure that you book service from an accredited operator. Let's find out what the top diving centers in Destin are!
Best Beach Hotels in Destin
Besides excellent diving services, Destin is also famous for many wonderful beach resorts. Since you may expect to spend unforgettable days in Destin, I'll list some of the finest coastal hotels and resorts.
The table below will help you contrast the prices and amenities of the top six waterfront hotels!
Hotels / Resorts
Address & Contact
Price
Amenities
Hilton Sandestin Beach Golf Resort & Spa
● 4000 Sandestin Blvd, Miramar Beach, FL 32550
● +1 (850) 267-9500
From 207$
Eight bars and eateries, two hot tubes, three pools, a posh spa, indoor/outdoor event space, programs for kids.
The Henderson Beach Resort & Spa
● 200 Henderson Resort Way, Destin, FL 32541
● +1 (855) 702-3087
From 221$
An ice cream shop, a seafood eatery, a beach grill, a bar, outdoor pools, fitness classes.
Wingate By Wyndham Destin
● 117 Palm St, Destin, FL 32541
● +1 (850) 502-8968
From 113$
Hot breakfasts, free parking, an outdoor pool, a whirlpool tub, a fitness center, meeting space
Henderson Park Inn
● 2700 Scenic Hwy 98, Destin, FL 32541
● +1 (888) 836-1105
From 219$
Breakfast buffets, afternoon tea, picnic-style lunch boxes, a communal fridge, sunset cocktails, beach chairs, bikes.
Hidden Dunes Beach & Tennis Resort
● 9815 US-98, Destin, FL 32550
● +1 (800) 225-7652
From 150$
Tennis courts, tennis lessons, pools, hot tubs, a basketball court, gas grills.
Club Wyndham Majestic Sun
● 77 Seascape Dr, Destin, FL 32550
● +1 (850) 269-3000
From 151$
Indoor and outdoor pools, hot tubs, tennis courts, a fitness center, a golf course, bike rentals.
Frequently Asked Questions
If you are reading this line, you must have grasped some basic knowledge about scuba diving in Destin different sections above. Nevertheless, there may be a few more questions that you are pondering over.
When Is the Best Weather in Destin?
Since Destin is a city in Florida, its weather is cozy all year round. Therefore, ocean and air temperatures are relatively high and suitable for different kinds of water activities. However, some best times of the year when visiting Destin offer the best experience.
The summer months may be the best season to pay a visit to Destin. When setting foot in Destin from April through May, the temperatures range around the most comfortable degrees, from 70°F to 80°F. This is also the desirable weather for scuba diving and snorkeling.
Early fall might also be the perfect time to visit Destin. The climate is still warm enough for different activities under the water. However, there will be some rain during this season. The rain won't last long so don't worry about it!
How Deep Can I Dive in Destin?
It depends on different factors. First, the kind of watersports you take part in will decide how deep you can dive. For example, snorkeling will allow you to reach a depth of up to 30 ft under the water, while scuba diving will involve up to 100-foot diving.
You may wonder whether it's dangerous to scuba dive to a great depth. However, if you are a professional, I believe you can feel brave and confident enough to do so. By contrast, if you are a novice, you can ask an instructor to accompany you on your dive trip.
Conclusion
Destin is genuinely one of the most worth-visiting beach cities. The diverse range of marine animals makes Destin unique and stand out among coastal destinations! It would be great if you stand the chance to visit this city once in your life!
There are various water animals for you to admire, from dolphins to turtles! Accordingly, several recreational activities are open to tourists to admire the mysterious and magical world under the water surface.
When it comes to scuba diving, Destin can offer some of the best dive sites for amateur and professional divers. Besides, different excellent dive operators would do wonders for your experiences! You can also spend the nights in some fine coastal hotels and resorts.
If you intend to travel with your family or a group of friends, share my article so that they can access some helpful information. By reading this topic, I hope you can prepare for some great moments in Destin!