For divers, conquering new depths is always an exciting challenge. To dive deeper, you not only need to improve your skills but also upgrade your support equipment.
The ocean is attractive but also full of danger. Hence, if you reach a certain realm, you can be crushed by water. Besides, external factors such as weather also significantly affect your diving depth.
However, humans are not that fragile, and the depth that the divers have conquered will surprise you. Are you curious? How deep can you scuba dive if everything is in great condition? Let's find out together!
How Deep Can You Scuba Dive?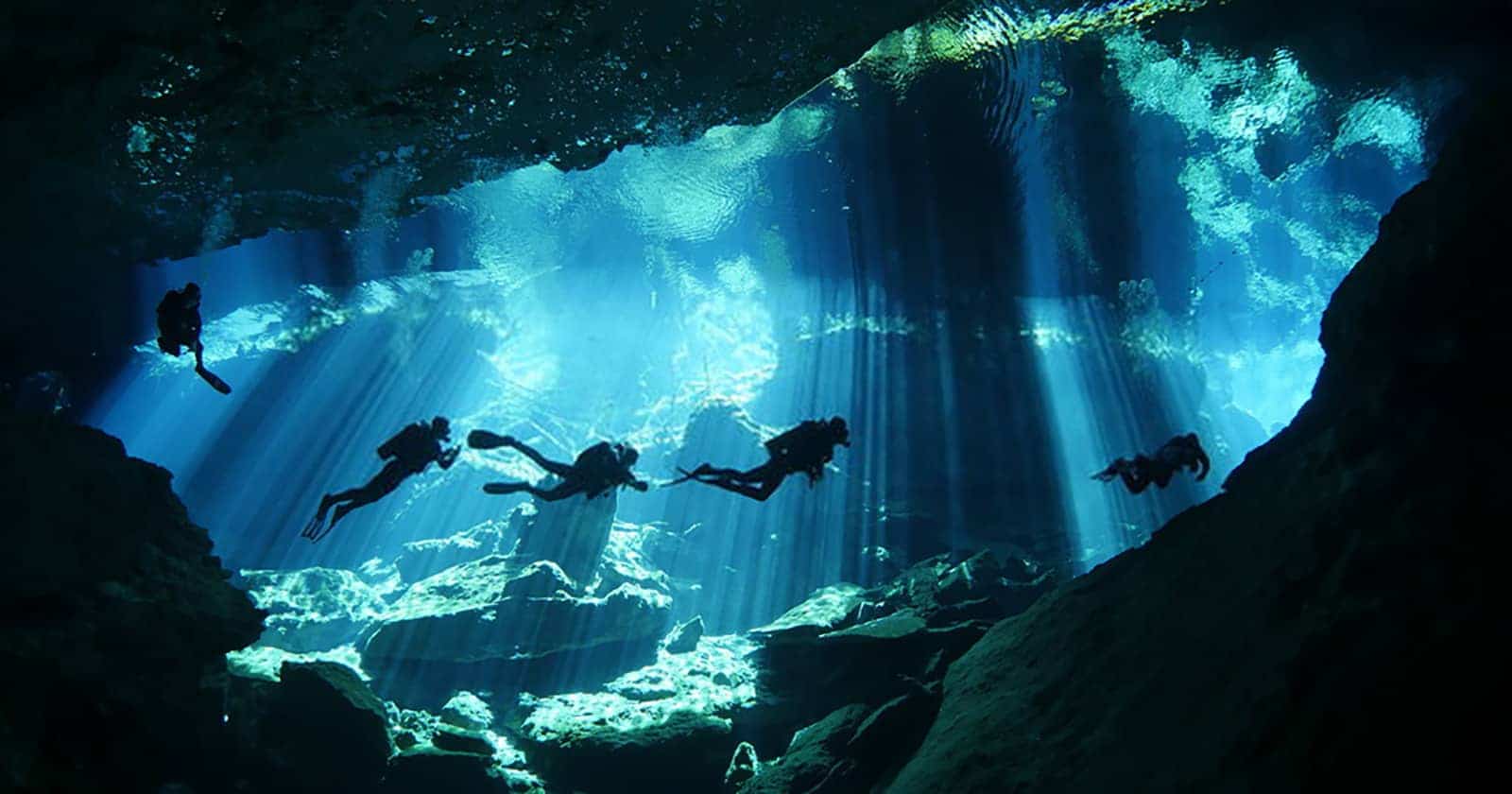 Basically, the human body is 60% water, and the remaining 40% is body tissue. The air spaces surrounded by that 40% tissue, such as middle ears or lungs, are most vulnerable to crushing underwater.
Therefore, the human body can only sustain a certain depth of water. Typically, in recreational scuba diving, divers can go down to the maximum depth of 130ft.
However, this is only a number for reference. In fact, different driving conditions, your level of experience and skills will produce different results. Keep reading to find out how deep you can go in some common dives!
1. How Deep Can Humans Dive Before Being Crushed?
No one dares to claim exactly at what depth people can be crushed, because it also depends on many factors. However, in most cases, human bones will be crushed under the impact of 11,159kg per square inch.
To have such a large impact force, humans must be at a depth of 35.5km, which is three times deeper than the deepest part of the ocean recorded. Therefore, you are unlikely to be crushed when diving, as you may encounter several risks before reaching such a depth.
For example, you may experience ruptured eardrum or sinus pain while descending due to the water pressure, which may cause injuries and prevent you from descending farther..
In addition, you can also suffocate nitrogen gas. Because the deeper you go, the more minerals there are. 40% of these minerals are not water, so it has different ways of extraction. Therefore, the deeper you go, the more difficult or impossible it is to decompress.
2. How Deep Can You Dive Without Diving Equipment?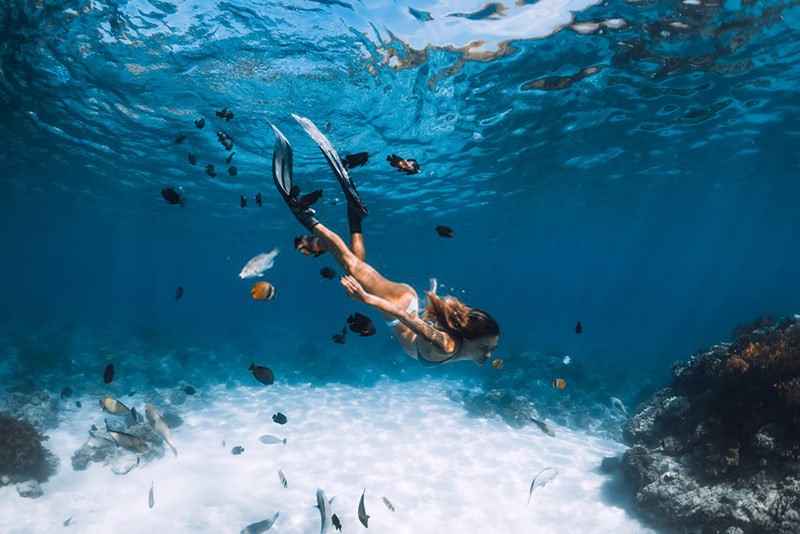 Despite the controversy, some adventurous divers still want to try their hand at free diving for more excitement. You can try it, but this method is not recommended because it is extremely risky and can cause deadly dangers.
Diving without equipment requires divers to be trained professionally. Besides, there are always observers on the shore to promptly rescue in unexpected cases.
With good health, great skills, necessary equipment, and in ideal conditions, a professional diver was able to reach a record number of 328ft.
This result is a miracle because starting at a depth of 300ft, the water pressure will slow down your heart rate. Besides, the lungs also begin to squeeze, and blood vessels also constrict. Therefore, people with physical issues may fall into a coma.
So, I still advise you not to try too hard although there are people who have successfully crossed the 300ft level. It is better to improve your skills and dive only when you have adequate support equipment to ensure safety.
3. How Deep Will You Dive Without Decompression?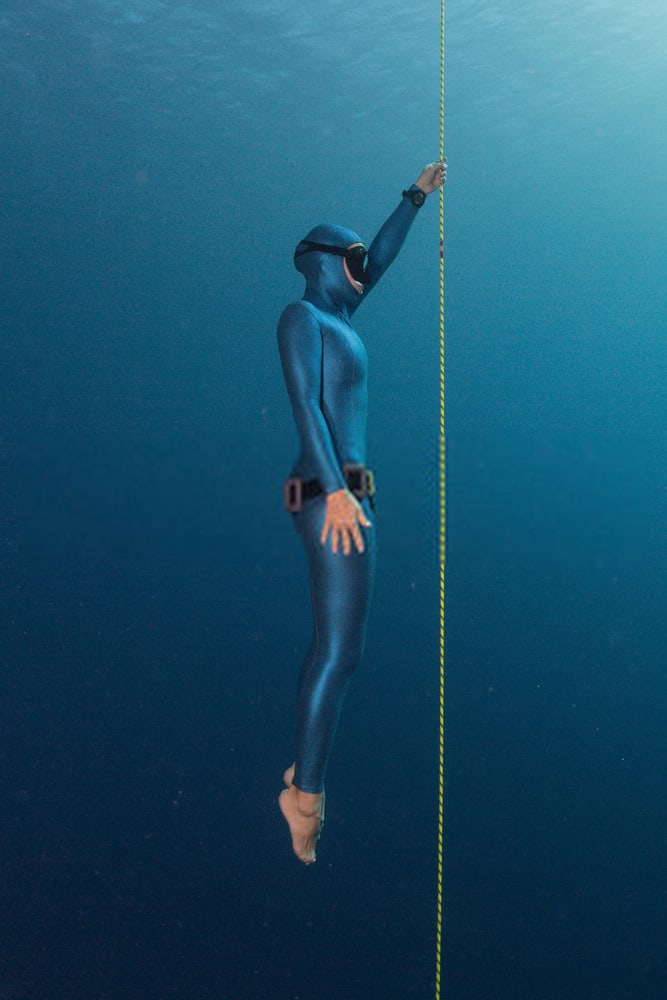 Theoretically, humans can dive to 130ft without decompression. This is also the depth at which gas narcosis starts affecting most divers and causes injuries. Therefore, if you exceed this threshold, your life may be at risk.
Decompression is the act of stopping one or several times when ascending so that the body can release the absorbed nitrogen gas out of the tissues. This will help you get rid of the accumulated nitrogen gas in your body.
Therefore, if you do not decompress, it means that nitrogen gas is still in the body. And when the gas level exceeds the allowable limit, it will turn into bubbles and lead to compression sickness.
However, the number of 130ft is just for reference. In fact, there are also unexpected risks and influential factors. Therefore, you should make 3-minute safety stops to guarantee your safety.
You can also watch the maximum depth of an average person in the deepest sea in the world in this video:
Safe Depth for Divers
As a recommendation, a recreational diver with good skills and adequate diving equipment should only dive at 130ft. This is the no-depression limit at which the amount of nitrogen gas starts to increase beyond the body's tolerance.
In fact, many professional divers have conquered depths of more than 1000 ft. Like Egypt's lieutenant colonel Ahmed Gabr, he dived to 1090ft and stayed there for 14 hours with over 60 different gas tanks.
However, this is the record of professional divers, and you should not risk your life trying. The deeper you go, the greater the pressure, and the faster air consumed. Thus, an air tank at 30ft can last for 2 hours, but you will use up the similar tank in about 10 minutes at 130ft.
The ocean at 30ft also has a lot of interesting things to admire. With adequate skills and sufficient air, you can stay underwater for up to 2 hours at this depth.
If you want to stay longer, you must have good diving equipment and more professional technique. Therefore, it's important to improve your skills and don't be stingy on your equipment, because all you receive in the ocean is worth what you give out.
What Happens if You Go Too Deep in the Ocean?
When diving deep, you will face a large impact from the water and the accumulation of nitrogen gas. These effects pose a lot of danger to you.
Even if you don't know how to handle them well, you can get injured or lose your life at any time. The deeper you go, the greater the water pressure. Here are some of the common issues that happen due to the water pressure when you go too deep in the ocean!
1. Barotrauma
Water pressure has a strong impact and force on your body, especially air-filled parts like eardrums, sinuses or lungs. As you go deep into the water, increased water pressure leads to the decrease of air volume in your body.
Therefore, if your body can't balance the pressure with surrounding water, barotrauma will occur. Specifically, you may suffer from sinus pain or ruptured eardrum when descending.
At the same time, as the heart rate decreases, blood vessels can burst rapidly. It may cause damage to your health if you try to stay longer. Therefore, it's better to go up quickly when you feel the water pressure is unbearable.
You can refer to the relationship between depth and water level pressure below:
| | |
| --- | --- |
| Depth (ft.) | Pressure (bar) |
| 1 | 0,03 |
| 20 | 0,6 |
| 30 | 0,9 |
| 50 | 1,49 |
| 100 | 2,99 |
(source: engineersedge.com)
2. Nitrogen Narcosis
You also have to deal with an increasing amount of nitrogen gas when you deep dive. As nitrogen builds up in your brain and prevents it from working properly, you will feel like you are drunk, floating and not of sound mind.
However, this is also the moment that will kill you the fastest if you do not quickly regain control and return to the water.
After that suspended state, nitrogen begins to flood the brain and nervous system, causing drowsiness, even unconsciousness. At this point, no one will be able to save you.
Recommendations indicate that starting at 100ft, asphyxiation will begin to occur. However, many divers are just physically fit to hit the limit at 60 or 70ft.
Therefore, you must not be subjective but listen to your body to act accordingly.
3. Airless
Air will be consumed faster as you advance. Therefore, if you do not pay attention, you will fall into a state of suffocation once the dive exceeds the preparation gas level.
If this condition persists, it will affect your life. Thus, you should always carry a spare tank and follow the initial setup or dive.
The placement of the scuba regulator also greatly affects shallow diving. You should also adjust the position of this device to suit your goals.
Safe Deep Diving Tips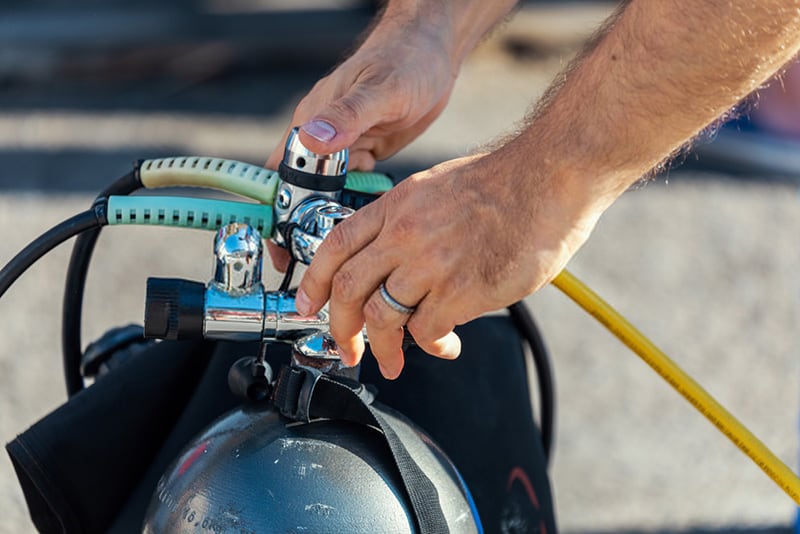 The aquatic environment always has unexpected dangers, especially at greater depths, the more difficult it is to handle situations.
So, with the following tips in mind, you will always have a safe and fun journey of discovery.
1. Plan Your Dive
Your diving journey will become safer if you have calculated in advance the depth, the amount of air prepared, the time underwater, and some other information.
When everything is planned, you just need to follow the plan; the chances of going wrong will be very low.
2. Always Do a Safety Check Before Diving
Before disembarking, divers will undergo a final safety check. This check is to make sure all your devices are still working properly.
You should also adjust the scuba BCD and the oxygen mask so that they fit well, and when you jump into the water, they don't fall off.
Check out the 7 Best Full Face Scuba Masks Reviews here.
3. Regularly Monitor Dive Computer
The dive computer will clearly display all the necessary parameters. In addition, this device also has a hazard warning.
See more diving computers reviews:
Therefore, you should bring it to a place where it is easy to see and monitor more often to handle situations promptly. Of course, if you don't have a computer, you can use a dive watch instead.
Keep reading: Top 15 Best Dive Watches Under $1000 in 2023
FAQS
The wonders surrounding diving are very attractive. Therefore, new miracles or recent discoveries are always of great interest to many people. Below are a few examples:
What Is the Record for the Deepest Dive in the World?
Egypt's Lieutenant Colonel Ahmed Gabr is currently the latest record holder with a depth of 1,090ft 4.5inches in the Red Sea off Dahab, Egypt. This result was created in 2014 when this man reached the age of 41.
This number officially broke the record of South African Nuno Gomes in 2005, also on the coast of Dahab.
Can You Dive Into the Titanic?
The Titanic lies at a depth of 12,000ft, much deeper than humans can reach. Therefore, you cannot dive into this area.
If you want to visit and admire this legendary ship, you can do a submarine tour. It may not be as exciting as the direct experience, but you can also have great emotions through the window.
What Is the Max Depth a Human Can Survive?
The maximum depth that humans can still breathe is 702ft. The person who created this record was Herbert Nitsch in 2007.
How Deep Can a Beginner Scuba Dive?
Through professional training and the support of equipment, a recreational diver can safely dive for about 130ft. However, beginners should only try out at a depth of 60ft.
Read more: Top 15 Best Dive Computers Picks for Beginners
Conclusion
With his extraordinary, man has created great records to discover more about the secrets of the ocean. Surely the above content has helped you answer the question "How Deep Can You Scuba Dive?"
If you know any more specific answers, please leave a comment below to be answered. Do not hesitate to share this interesting content with more friends on social networks.
Happy Diving!