Scuba diving has become so popular these days as an interesting and exciting sport, making more and more people interested in the activity.
These newbies may have numerous questions in mind about this adventurous sport, and "how much does it cost to go scuba diving?" is one of the top concerns.
This question often does not have an exact answer. Rather, it depends. You may have to pay for a diving course or at least a coaching to learn the necessary skill when getting started. You also need to spend on equipment, gear, and more.
So, How much does it cost to go scuba diving? What do you have to pay for? Which factors may affect these costs? Here is a price range with a detailed explanation for your reference. Let's get started now!
How Much Does a Scuba Diving Course Cost?
Obviously, scuba diving is an exciting but challenging sport. If you go diving without necessary skills and adequate understanding, you may risk your life. Therefore, the first thing to do is take a course and learn how to dive properly.
Currently, the demand for participating in training courses is increasing. Thus, tons of diving training courses are widely available.
Most beginner training programs go through three stages:
Learn diving theory
Practice skills in shallow water
Open water diving
For theory, you can choose to study online or offline. Most centers are providing e-learning courses at a lower price than offline classes. You'll normally pay around $70 to $190 for online class materials.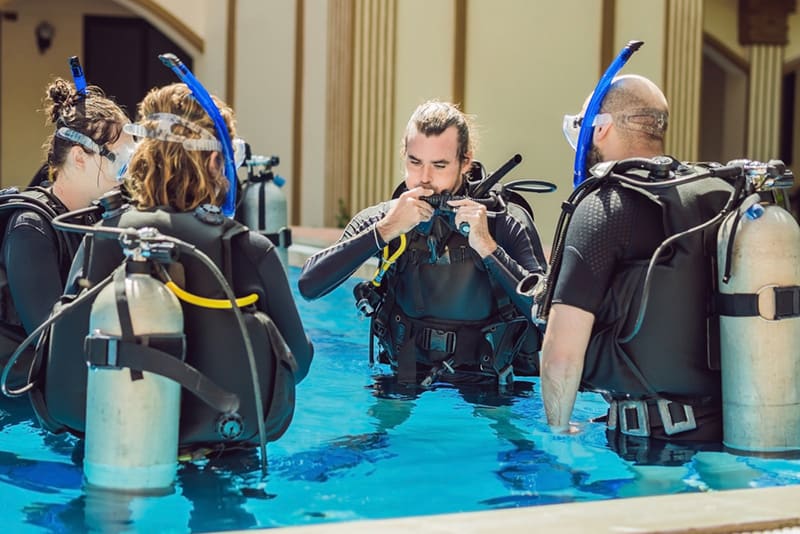 Together with the theoretical class, you also have to pay for practicing. Therefore, when adding the payment for shallow water and open water diving, the cost is estimated from $250 to $350.
To become a professional or qualified diver, you may need a diving certificate. You often need to pay additionally for the certificate, which will cost differently depending on the center and region.
For example, it will cost you $325 or $345 for 4 certified dives in Grand Cayman. If you're in Cozumel, you'll pay between $297 and $325. Going to Roatan, Honduras, will cost you about $220 – $280 to get the certificate.
Thus, to get 4 certified swims will cost you about $220 – $345. This price may change seasonally and annually, depending on many factors like the center you take tests in, your chosen area and some other elements.
So, to complete a course and get a certificate, you will have to pay between $450 – $650.
You can also save money by practicing at a local or family pool. However, as no instructor will assist and give you feedback, the risk of inaccuracies or accidents probably increases.
This can be life-threatening if you dive into the real sea. So, you're better off making a well-deserved investment once.
You can learn more about the difference between some diving courses here: NAUI vs. PADI or SSI vs. PADI.
How Much Does Diving Equipment Cost?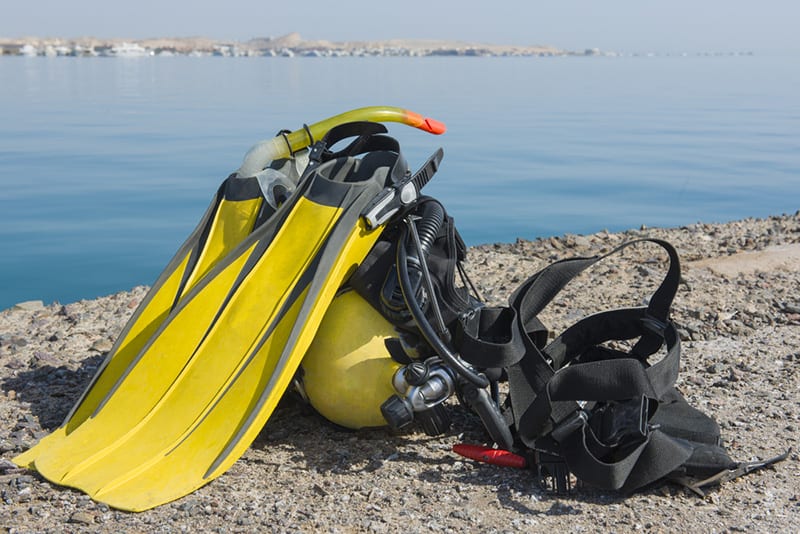 In addition to learning, diving equipment is also an indispensable factor you need to prepare well before entering the water. Some of the most essential items may include dive watches, dive computers, scuba BCD, scuba regulator, mask, scuba fins, etc.
Among them, the scuba mask and fins are the things you have to invest in first as they're not too expensive. Specifically, the mask will cost $20 – 200, while the fins range from $20 – $25.
Therefor, you will spend $40 – $225 for the above 2 items, depending on the quality, brand, professionalism and other factors. Of course, very cheap items are not recommended, instead, you'd better consider the higher-quality and usable equipment. You can check out my review on some good full-face masks here.
The next important device that you must have is the scuba BCD. Normally, divers spend between $130 – $1300 on this item. If you don't aim at becoming a professional diver, a good-quality BCD of around $500 could be a smart option.
Want to get a good BCD for your next scuba diving trip? Check out my article on some of the best travel BCDs here.
Related: What Does BCD Stand For in Scuba Diving?
In addition, a dive computer is an indispensable safety device that is well worth the investment. You can buy a high-quality computer for $2000 or a mid-range one for $150-$500. Learn more about How to use a dive computer here.
Such diving equipment may seem expensive, but you must be aware that your life in the water depends significantly on those items. So, don't prioritize price over quality.
If you have a limited budget, find a way to buy them as a set to get a better price. If possible, you can also try to hunt for discount codes from e-commerce stores for reasonable prices.
In case you have more budget to spend, you can invest in high-end items with excellent quality. You may also consider buying supportive devices or accessories like a GoPro for a better experience.
However, there is no need to worry too much about the cost even if you don't have any money for equipment since there are also many places to rent these items now. A new dive computer can be several thousand dollars, but the rental price is only around ten dollars.
This is quite a small amount, and you will have the opportunity to experience high-quality equipment. Also, you can take the chance to get used to the equipment and try different types. In that way, you'll know which items best suit you.
With masks and fins, you'd better buy yourself a set because the apparel directly touches your skin or covers your body.
Additional Costs to Go Scuba Diving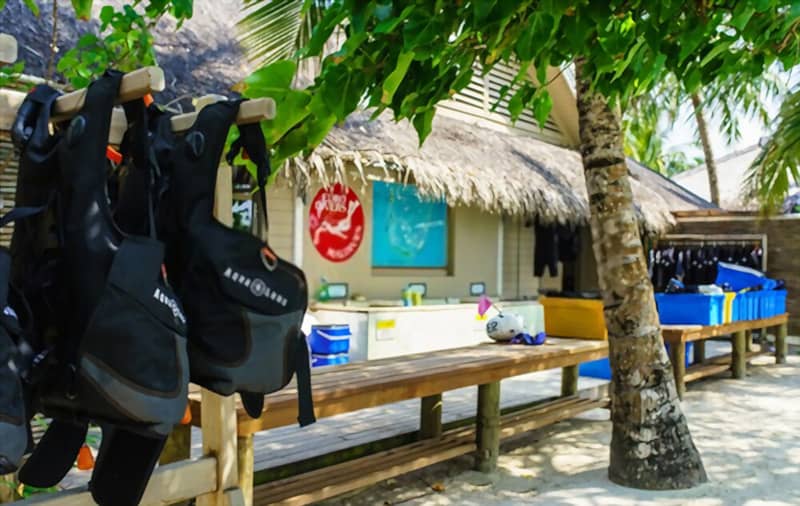 Besides the above costs, your scuba diving trip will cost a little more if you use a boat, stay at a hotel and use high-class services.
Many group divers often hire boats to go diving. Therefore, you will have to pay an extra fee to rent a boat. The price per rental will depend on many factors, but normally the price range is as below:
Sailboats: $10,000 – $200,000 for size 80 – 150ft.
Catamaran: $10,000 – $100,000 for size 50 – 80ft
Motor yachts: $20,000 – $500,000 for 80 – 150ft.
The above price also varies depending on factors like the quality or luxury of the boat. Plus, in the peak diving season, the rental price can be many times higher.
Besides, the cost for accommodations is also considerable. It's hard to estimate exactly the amount you need to spend on accommodation because it depends on the quality and location of the hotel you choose.
The time and length of your stay may also affect the price of the room. Typically, a normal and average place will cost about $99 – $125.
Meanwhile, finer hotels will cost you $325 – $475. This is the rental price for 1 week, and of course, not the price of luxurious places.
FAQs
To give you more insights into the cost of scuba diving, I've gathered and answered some common questions that beginners often ask.
Is Scuba Diving an Expensive Hobby?
Scuba diving is indeed an expensive hobby. As mentioned above, you have to spend around $450 – $650 to get a certification to dive around the world. After that, you need to pay $200 – $2000 on scuba diving equipment. Besides, each dive will cost you about $50 – $70.
Thus, the total cost of a perfect scuba diving trip is $700 – $2720, which is a lot of money for a sport. Overall, though, you'll find it worth the money.
In addition, certification and diving equipment cost only one time. The next time you only spend about $50 – $70. So, if you look at the long-term direction, diving is completely suitable for everyone.
Do I Need to Buy My Own Diving Equipment?
Diving aids are essential, but you don't necessarily have to own them. Advice for beginners is that you just need a mask, air hose, fins, and a wetsuit. These need to fit your body and, when diving in tight positions like a liveaboard, they are very convenient.
For more expensive and advanced machines, you can rent them easily when you go diving. However, if you are a professional diver and make a living by this profession, there is no reason not to prepare these items.
How Much Does It Cost to Get Scuba Certified in Florida?
In Florida, they offer a full range of diving equipment for you to rent from $5 to $50, depending on the item. You can choose to rent each item or the whole set.
Their one-time scuba diving price in Florida will be distributed as follows:
Bubble Watcher Adult: $60
Bubble Watcher children under 12 years old: $55
2 tank diving trip: $80
Night diving trip by tank: $65
Tank tech dive trip: $85
3 tank diving trip: $120
Learn more about scuba diving in Florida here!
How Much Is Scuba Diving in California?
It will cost you $100 – $150 per person on a 1-tank dive and $200 – $250 for a 2-tank dive in California.
How Much Is Scuba Diving in Miami?
Prices in Miami are quite similar to those in Florida. So you can check the prices in Florida before you want to go on diving trips here.
Conclusion
How much does it cost to go scuba diving? A rather large amount of money, but it has long-term benefits. So, instead of confusing yourself with tons of questions, start learning and preparing today!
If you find my content below useful, please share it with your diving friends. Also, don't forget to encourage me by supporting the related articles!