Diving used to be a luxurious, risky, and challenging sport that is unsuitable for the masses, especially the young. However, thanks to the advancement of diving devices, the average age to start learning scuba diving have dropped significa
Besides, modern training programs that are 'age-friendly' make it easy for anyone to become a professional diver. Thus, it's possible to start from a young age if you have qualified health conditions.
Although you can start early, professional institutions are very strict about the age limit. This regulation is established to ensure that divers are physically and mentally developed enough to enter the water safely.
So, how old do you have to be? Is there any regulation? How to know if you are qualified to start scuba diving? If you are a junior planning to start or a parent who wants your child to learn, you should not miss this article!
How Old Do You Have to Be to Scuba Dive?
Most certification-providing centers, like PADI and SSI, set the rule that only children of 8 years old or more can participate in their diving courses. After completing the training program, 10 years old is the right time to 'graduate' and become a real scuba diver.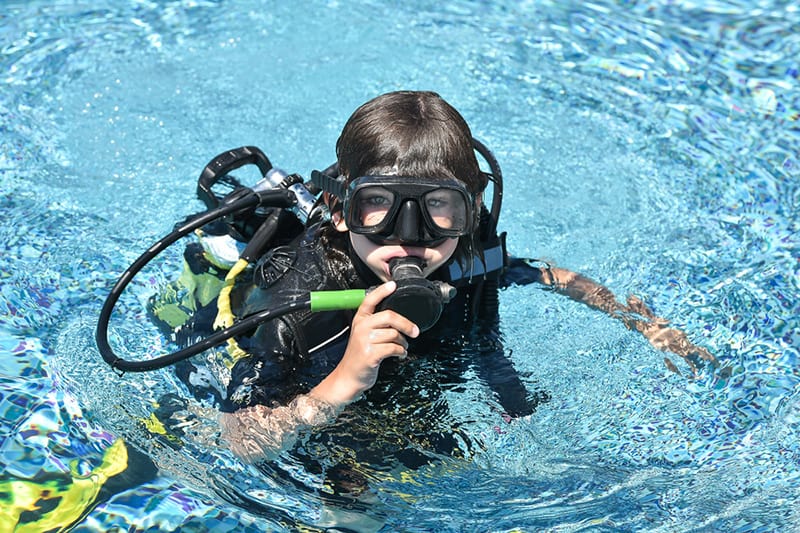 Children today easily explore how magical and fascinating the ocean world is through the media. Thereby, they may soon develop the curiosity of the sea and want to explore. That is why many children insist on learning scuba diving from a young age.
However, to dive safely underwater requires many factors such as health conditions, mental stability, problem-solving skills, and more.
Hence, strict age regulations are set to make sure that the kids are well-developed enough. Accordingly, professional diving courses are not allowed for children under 8 years old.
Starting at the age of eight, children will have the opportunity to participate in diving courses. They learn scuba diving skills through these courses and get used to diving equipment such as scuba regulators, gas masks, etc.
At the same time, children will also learn the theory and practice in non-open water. However, it is not until the age of 10 to 11 that young people can officially dive into the sea under the accompaniment of a professional diver, parent, or certified guardian.
At that age, the allowable depth will be around 40ft or a little bit more. Starting from 12 to 14 years old, children have access to deeper open water up to 60ft. This is also a safe depth for an amateur adult diver.
Through these training sessions, a 15-year-old will finally become an independent diver. At this point, your child is a young adult diver with qualifying conditions and the ability to handle underwater risks.
If you start studying early at the age of 8, you will have more time to practice and master each skill. However, to improve performance, a regular practicing schedule is a must.
The Pros and Cons of Diving at a Young Age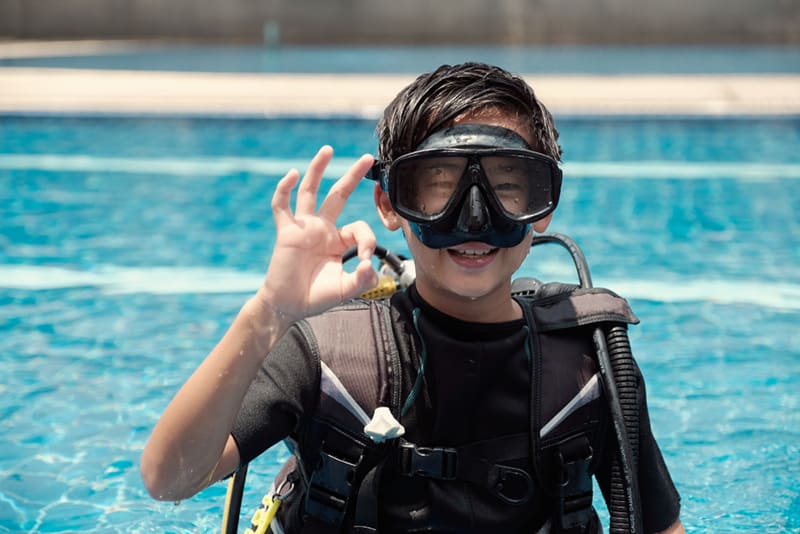 Start diving at a young age, you will have more advantages, and your chances of success will also be greater. However, besides that positive side, there will also be risks.
1. Pros
For some adults, diving is a physical-challenging activity that consumes a lot of their energy. Therefore, if you train and improve your health while getting used to diving since childhood, you have more time to focus on performance and techniques when you grow up.
For most skill-requiring subjects like languages, arts and sports, it's a fact that training from a young age is easier and more effective.
Children have a greater ability to absorb knowledge, and as they are still growing, their body keeps developing to adapt to different requirements of diving activity better during training sessions.
Moreover, when starting early, children will get used to the water environment and gradually develop natural responses to handling underwater situations.
Also, discovery helps develop children's brains more comprehensively. Therefore, learning to dive early benefits the child's intelligence and mental flexibility.
2. Cons
Besides the benefits, your child may also encounter unfortunate risks when starting diving from an early age.
For example, having an accident while practicing will create a fear of water for children. In a worse scenario when it causes severe trauma, the child would have to suffer for the rest of their life.
In addition, sometimes children may become disobedient, which puts themselves in danger if they don't follow the instruction. Therefore, you may need to accompany your child to avoid unfortunate situations.
What You Need to Do Before Diving Underwater
Whether it's an 8-year-old kid or an adult, diving directly into the sea without adequate skills is very dangerous. So, starting by learning everything about diving is recommended.
Related: Do You Need to Know How to Swim to Scuba Dive?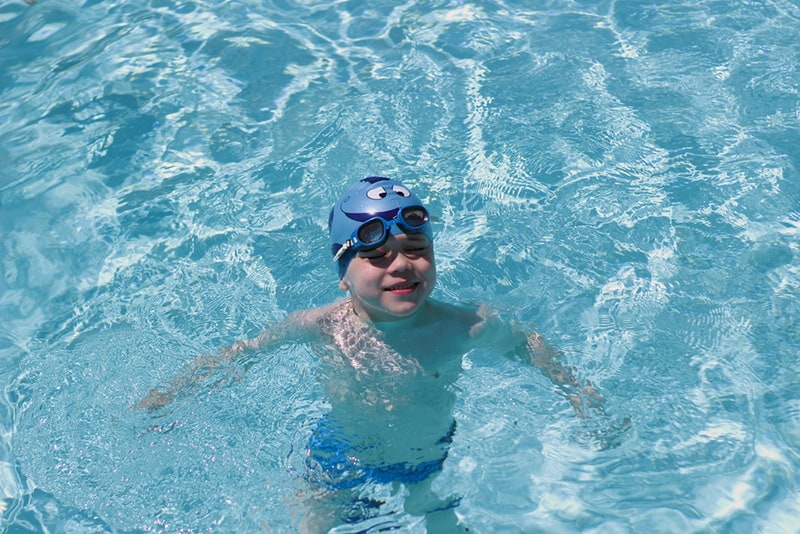 First, you must know all the diving rules and how to dive safely. Particularly, you need to know well about the equipment, how to assemble and use them.
Read on: How to Use a Dive Computer
How to breathe at 60ft and 100ft? What risks can happen in the water? What should you do if you hit rocks or sea creatures? You must know the clear answer to all of the above questions.
There are many courses for kids 8 and under, but the skills you learn there are only good for non-open water environments. Of course, this opportunity is also very favorable for your child to get used to diving.
Specifically, PADI has two programs, the Seal Team and the Bubblemaker. Meanwhile, SSI has the SSI Scuba Rangers program. All of these courses are usually to familiarize children under the age of 8 with scuba diving.
You can see how to get the certificate in this video:
To get certified and dive like a pro, your child needs to complete one of the programs below.
1. PADI Scuba Diving Course
For this course, participants must meet the requirement of being 10 years or older. Your child will start with the most basic class, the Junior Open Water Divers certification.
During learning, you may have to pay for variable costs to purchase additional devices such as a dive computer or a dive watch.
When the child reaches 15, they can get the Open Water Divers certificate as an adult diver.
If children cannot join the offline class, they can learn online as long as they are 13 years old or older according to international internet law.
2. SSI Diving Course
Similar to PADI, SSI's course is for people aged 10 and older. The first certificate of completion is Scuba Schools International, which is identical to PADI's Junior Open Water Divers. When reaching the age of 15, learners' certificates will upgrade to an adult's.
Related: SSI vs. PADI: Which Is Better?
3. BSAC Scuba Diving Course
BSAC stands for British Sub-Aqua Club, also a diving training course for young people. However, unlike the previous two, this class is only open for children from 12 years old.
FAQs
If you still have any uncertainties or confusion, quickly check out the following FAQs to see if anyone has the same concerns!
How Old Do You Have to Be to Scuba Dive in the UK?
In the UK, children aged 10-11 can qualify for referral certificates. However, it is not until the age of 12 that children have the opportunity to dive underwater. This is the minimum age for diving courses in open water locations in the country.
Can 5-Year-Olds Scuba Dive?
As mentioned earlier, children can only officially dive when they reach the age of 10. Therefore, 5-years-olds may not fulfill the physical and mental requirement to learn diving.
Simultaneously, there is hardly any diving equipment for such a young kid, and probably it's not wise to try 'bare-diving' at this age.
Instead, you can have your child learn other water sports like swimming, so that they get used to the water and develop necessary skills underwater before starting to learn scuba diving.
How Deep Can a 13-Year-Old Kid Dive?
Children aged 12-14 can only dive up to 60ft if they have undergone adequate training. Actually, a skillful and healthy minority can dive even deeper, but the safety allowance is only 60ft.
Related: How Deep Can You Scuba Dive?
Conclusion
How old do you have to be to scuba dive? You can start learning at a diving center from 8 years old, practice diving in the non-open water at the age of 10, and be officially qualified to dive into the ocean at 15.
So, if your children love diving but is underage, you can consider taking them to swimming class or let them practice other water sports. In that way, they can get used to the water environment and develop skills that would be useful for their future scuba diving learning.
If you like the content, do not hesitate to share this useful information with your friends and keep following other articles!
Thanks for reading!