To become a professional diver, you must undergo training courses and receive certifications from reputable diving agencies. Nowadays, it is not difficult for you to find a training center.
Among several organizations, NAUI and PADI are two of the top famous and familiar names. The certifications of these two places are equivalently recognizable worldwide.
Moreover, these two centers both provide similar training programs. If so, what is the difference between NAUI vs. PADI? How to choose between NAUI and PADI?
If that's what you are wondering, let's find out together in this article!
What Is NAUI?

NAUI stands for the National Association of Underwater Instructors, founded in 1959 by Albert Tillman and Neal Hess. Currently, this diving center is the second most reputable scuba certification organization, following the PADI.
NAUI has its headquarters in Florida, USA, with several dive centers, affiliates, or professionals worldwide. With such a wide network, they provide various courses for all divers from amateur to advanced levels.
In that way, NAUI has been promoting safe marine discoveries, with the highest standards for recreational diving and leading Technical Training courses. With such a value, NAUI is also well-known as a 'not-for-profit' agency.
What Is PADI?

PADI, also known as the Professional Association of Diving Instructors, was established in 1966, much later than NAUI. However, the agency is currently known as the first-ranked diving organization across the world.
Their operating motto is "Under every rock, around every reef, a discovery awaits." With that in mind, the two founders John Cronin and Ralph Erickson have brought the opportunity for all people to enjoy the real ocean world, promoting adventurous excitement.
Unlike NAUI, PADI is headquartered in California and operates as a profitable business. PADI's main strength over other organizations is its delivery of top-class performance-based and professional diving courses.
Difference Between NAUI and PADI
From the above details, you can tell that the most significant differences between NAUI and PADI are the learning processes and the certifications.
To make it easier for you to consider, I provide a comparison table as below.
| | | |
| --- | --- | --- |
| Criteria | NAUI | PADI |
| Training process | From basic to advanced with free and flexible learning methods | Strictly scheduled training programs |
| Certification levels | Introductory, diver, specialty, technical, freediving, leadership | Youth, Beginner, Continuing Education, Professional |
| Cost | Free | From $99 |
| Advantages | Free, flexible classes | Low output requirements |
| Disadvantage | High output requirements | Fees |
To understand more about the above differences, keep reading to find the details!
1. Training Process
PADI
PADI has always been known as a rigorous training place with a clear and strict learning process. Specifically, students will go through 3 learning stages for the first basic course.
Stage 1: Initial knowledge
At this stage, you will theoretically learn all the initial understanding and knowledge related to scuba diving. Specifically, the lessons will be about diving equipment like diving computers, BCDs, regulators,… or about techniques and skills required in the water.
Read more about how to use a dive computer, or what BCD stands for in scuba diving.
Stage 2: Scuba diving in limited water
Once you've mastered stage 1, you'll move on to practice skills, beginning with using an oxygen tank underwater. For safety reasons, you can only practice in non-open water environments like pools.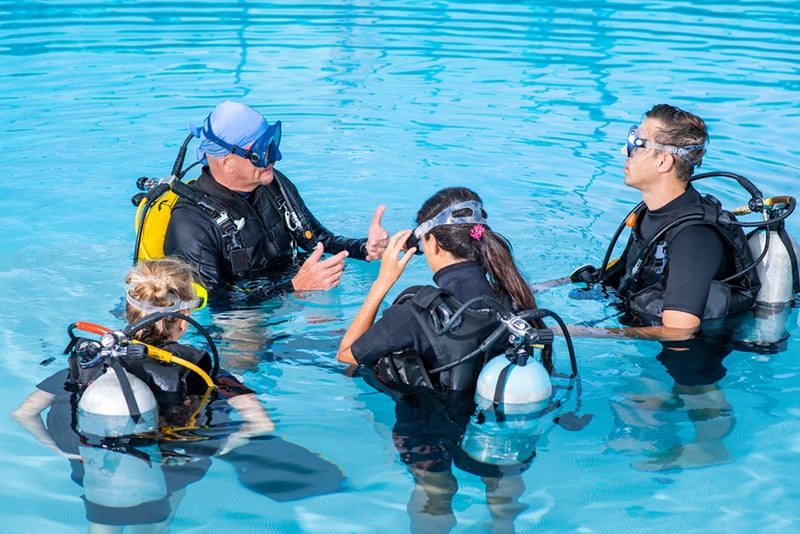 The instructor will guide you with all the necessary diving techniques. Your task is to practice and improve your skills. With PADI, you only have a fixed amount of time to practice each skill, so practicing hard and mastering step-by-step as the designed curriculum is important.
Stage 3: Open diving water
At this stage, you will be allowed to go deep into the real ocean. It is time for you to apply what you have learned and gradually get used to the real context.
For the first time, many beginners may get bewildered and anxious. However, there will always be an instructor who follows you until you are confident enough to dive on your own.
Upon the completion of the above training, you will take a final exam. This test will assess the skills and knowledge you have learned previously. Once passing the final exam, you will receive a PADI certificate.
The time to complete this beginner course is normally one week. After that, you are eligible to dive 18 meters deep. If you want to dive deeper, you need to sign up for more advanced classes such as deep diving, shark diving, or shipwreck diving.
Learn more about how deep you can dive here.
NAUI
Similar to PADI, NAUI's courses are also very diverse and divided into many levels. However, these classes are very different from PADI's.
First, you will go through a fundamental Scuba Training class, where you will learn the basic skills of a diver. This stage is similar to that of the PADI beginner course. However, the learning process here may be more flexible.
Once completed, you can go further with the Advanced Diving class to gain more diving skills such as night diving, deep diving or positioning diving.
Next is the Master of Diving, where you will learn 8 more diving skills. When you're done, you can go up to Diving Techniques, Special Diving Courses, and Professional Diving Courses to enhance your abilities.
If you complete all the advanced classes here, you are qualified to become an instructor at the center.
NAUI's programs are free. Hence, if you have enough passion, you should not miss the opportunity to experience these new things.
2. Certification Levels
The certification levels of these two organizations are similar. The flow will be beginner certification – advanced certification – rescue certification – professional certification no matter where you study.
However, the requirements for each level in each center are slightly different.
For example, the advanced diver at NAUI requires 6 dives with a maximum depth of 40 meters. Meanwhile, PADI divers only need to pass 5 dives in a maximum depth of 30 meters.
In addition, to participate in the NAUI Divemaster course, you must have a minimum of 50 scuba dives in a minimum of 25 hours.
The PADI has simpler requirements, and you only need to have a minimum of 40 recorded open dives to enter the class.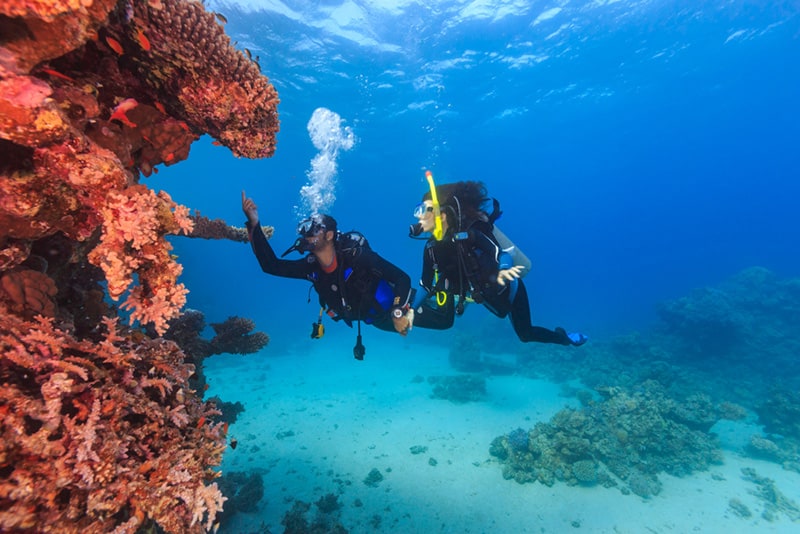 In general, the requirements of the training agency NAUI are somewhat higher and more severe.
However, that does not mean that the students of the PADI center are less skillful because the trainers here evaluate students more comprehensively based on different factors rather than achievement.
3. Certificates Received
These two institutions also pursue different training focuses, so the certificates they provide are not the same.
With PADI, you will become an open water diver, while with NAUI, you will receive a scuba diver certificate.
These two certifications are equivalent in terms of value and recognition. The only difference is that scuba divers will need an extra skill to deal with emergencies.
4. Scuba Diving Certification Fee
With NAUI, you don't have to pay for courses. Meanwhile, you will have to pay from 140-200 dollars for a course at PADI. This may be a motivation for you to study harder and prevent you from giving up.
NAUI vs. PADI: Which Is Better?
Since these two certifications somehow belong to different categories, it's hard to say which one you should go for. Each side has its strengths, weaknesses, and brings certain values to their learners.
Instead of asking others' opinions, it's better to ask yourself. There is no better place than a better fit, so you should carefully research further details to figure out which best suits your needs.
How to Become an Instructor at NAUI or PADI?
To become an NAUI instructor, you must meet the following criteria:
18 years old or older;
Hold the following certifications: NAUI or NAUI Divemaster assistant instructor certification, NAUI Nitrox Diver, NAUI Master Scuba Diver certification, NAUI First Aid for the Diving Professional;
Minimum 60 dives with 30-hour bottom time;
Pass the pre-qualification exam for teachers;
Good healthy.
With PADI, you don't need many certifications, but the number of actual underwater experiences is much higher:
18 years old or older;
Certified diver for at least 6 months;
Get a minimum of 60 dives, including night, depth, and navigation experience;
Get a minimum of 100 logging dives before taking the entrance exam;
Have been in good health in the past 12 months;
Requires CPR certification and first aid training of at least 24 months.
You can see more information on trainer training at the two institutions:
FAQs
I also summarize and answer a few questions that you may want to know about these 2 organizations.
If I Get Naui Certification, Can I Dive in the PADI Center?
Levels at NAUI are similar to PADI. Therefore, a diver who has completed the NAUI certification can dive in the PADI center or any diving organization .globally
Does Naui Recognize PADI Certificates and Vice Versa?
The two certificates are different, but the validity is the same. Therefore, there is no reason why these two organizations should not respect each other's credentials. At the same time, both are also recognized worldwide.
When Will I Receive My Certificate?
For NAUI, it depends on your options. With PADI, you normally receive it about 6 weeks after completing the final exam.
Conclusion
The biggest difference between NAUI vs. PADI is the teaching method and the certification requirements.
However, these points may not significantly decide how skillful you become, as it also depends on your training attitude, physical factors and more. Therefore, do not worry too much about where to study, but rather focus on your practice and improvement.
Lastly, if you find my article helpful, please share it with your friends! Also, don't hesitate to follow and support the related content!
Thanks for reading!