Both snorkeling and scuba diving are exciting activities that help you explore and admire the beautiful underwater world. They may appear to be similar, but in fact, these are two different sports.
Despite significant similarities, you still need different understanding, equipment, skills, techniques, health and financial conditions to practice snorkeling or scuba diving.
What are the similarities and differences between snorkeling and scuba diving? Which one is better? Which best suits you? Keep reading to get the answer!
What Is Snorkeling?
Snorkeling usually uses a mask, together with or without a breathing tube called snorkel and fins to swim into the water. With snorkeling, you can't go deep into the water, but only observe the ocean from the top.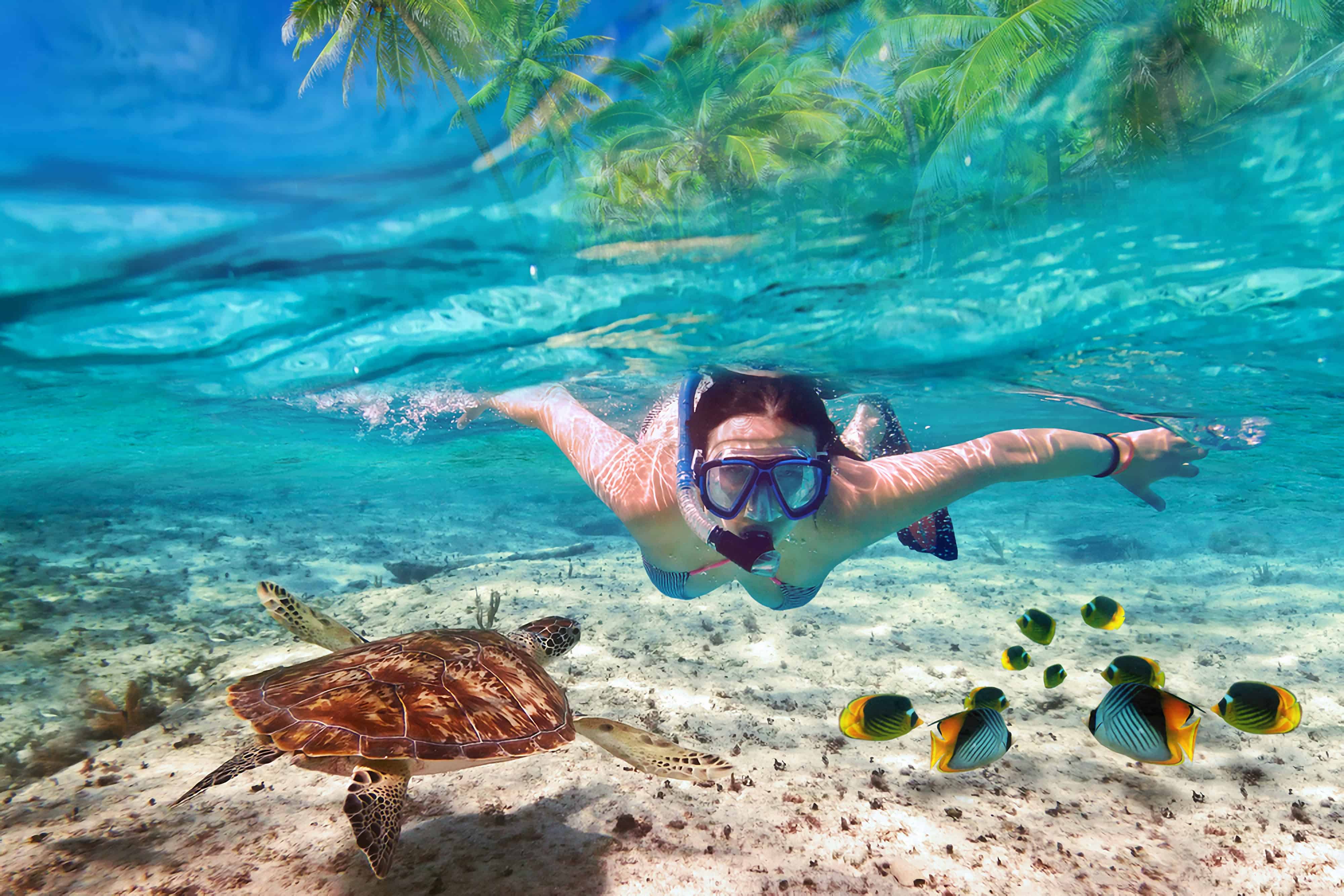 What Is Scuba Diving?
Scuba diving allows you to dive deep into the sea, with the abbreviation scuba and other equipment that assists you to breathe, move and endure the water pressure.
With this sport, you can witness the wonders of the deep sea and observe the marine life of several creatures.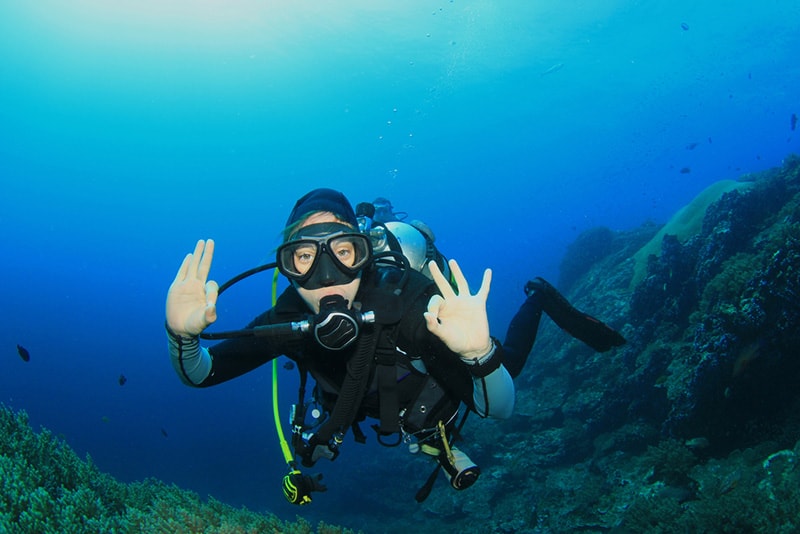 Differences Between Snorkeling and Scuba Diving
Just by the name, you can easily see that the equipment for Snorkeling and scuba diving is different. But that is not the only thing and there are many other differences between the two.
For easier consideration, I've created a comparison table as below.
| | | |
| --- | --- | --- |
| Criteria | Snorkeling | Scuba diving |
| Purpose | Recreation | Recreation, professional sport, exploration/scientific experiment, commerce |
| Depth | At the top of the water | Can be more than 100ft |
| Necessary equipment | Snorkel, fins, and mask | Oxygen tank, apparel, BCD, computer, regulator, fins, etc. |
| Underwater time | Depends on your ability to hold your breath | Depending on the tank you carry, 40-60 minutes or more |
| Breathing technique | Good breathing technique | Not required |
| Skill Level | Not required | Passing the course and having a certification |
| Danger and risk | Roadblocks, scratches, sunburn, threats to sea creatures | Drowsiness, lung congestion, decompression sickness, drowning, threats to sea creatures |
| Activities after diving | Allowed to do all normal activities | Avoid vigorous, high-intensity activities and alcoholic beverages |
| Advantages | Easy, quick, not too expensive | Longer & deeper, more exploration |
| Disadvantage | Limited diving time & depth | Costly & challenging |
For better understanding, you can check the following detailed comparison for each criteria!
1. Purpose
Snorkeling is primarily intended for recreational purposes, so it is convenient and easy to do without many requirements. Occasionally, people may apply this diving type to fish in shallow water or play sports such as water hockey.
With scuba diving, you can explore caves, mysterious coral reefs, or various creatures in the ocean for recreational purposes. These exploration and adventurous activities also have commercial benefits in terms of tourism.
In addition, scuba divers can also make a living from this profession as an underwater tour guide, scientific research diver, marine biologist diver, or professional scuba diver.
2. Depth
The snorkel is a simple breathing tube that connects your mouth with the air above the water surface. Hence, if you try to go deeper, the snorkel would also go below the water surface and become useless.
Meanwhile, when scuba diving, the oxygen you consume is provided by the tank. Therefore, you can dive deep into the sea for a considerable period.
3. Necessary Equipment
With scuba diving, you need more advanced equipment like a scuba tank, BCD, regulator, dive watch, dive computer, and more. These items not only help you conveniently get into the water but also protect you from dangers.
Moreover, you also need to invest in diving gear and apparel like a wetsuit, bag, and scuba mask. These things would protect you from the coldness and water pressure, allowing you to stay comfortable underwater.
Learn more about How much to go scuba diving and How to use a dive computer here.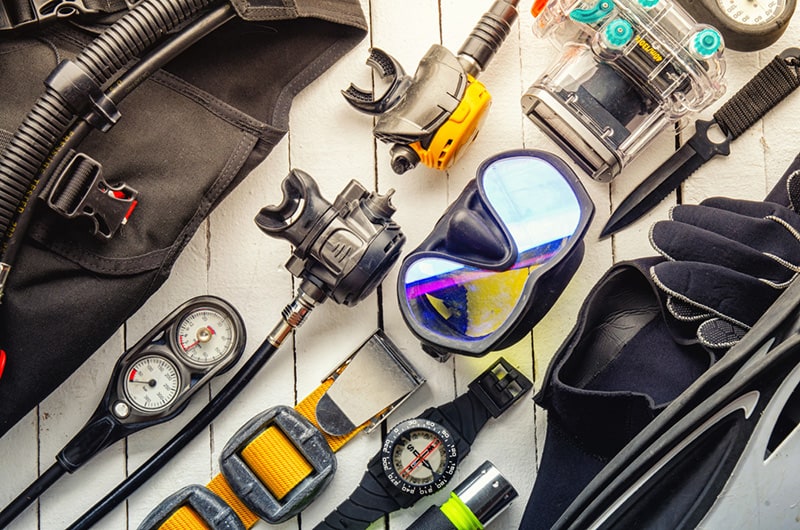 Snorkeling is much simpler. You only need an L or J-shaped snorkel, about 30cm long and 1.5-2.5cm inside diameter, and a mask covering your eyes and nose. You can also bring fins to make it easier to maneuver under the water.
4. Underwater Time
With the help of a snorkel, you still have access to a constant source of air. So, as long as you keep one end of the breathing tube above the water surface, you can stay underwater for hours.
However, if you go deeper, you are limited by how long you can hold your breath, because the simple breathing tool becomes useless in that case.
With a scuba tank, you can stay underwater for hours without having to hold your breath. The amount of air, in other word the tank capacity, will determine your underwater time.
Besides, it is also affected by other factors such as decompression limit or environmental impact.
5. Breathing Technique
When using a snorkel, you must keep yourself at the surface of the water for air circulation. If you want to go deeper, take out your breathing tube and hold your breath.
When you run out of air, return to the surface of the water to get more air, hold your breath again and prepare for the next dive.
You can also consider using a dry snorkel, which allows you to dive deeper. This device has an automatic mechanism that seals the top end to prevent water from entering. Besides, it also has a valve to push water out if water accidentally gets into the pipe.
With the above method, divers need to have good breathing techniques, a healthy lung and body to stay in the water longer.
This technique is not necessary if you are using an oxygen tank. Because with this device, you will breathe through an adjustable tube connected with the tank. It allows you to breathe normally as if you were onshore.
However, you may have to learn several skills and get familiar with the scuba equipment so as to avoid unwanted accidents like decompression sickness or nitrogen narcosis.
Therefore, it is much harder to master scuba diving even though it doesn't require breathing technique.
6. Skill Level
There is no governing organization or certification provider for snorkeling. Therefore, you are not required to undergo training before entering the water.
However, it is important to know how to use the breathing apparatus, safety procedures, and train swimming skills to be safe. Weak swimming skills and no knowledge of water issues may put you in danger.
In contrast, scuba diving requires you to undergo training classes and have certifications from recognizable centers.
Some popular training and certification centers for divers are the PADI and SSI.
See also: NAUI vs. PADI: Which Training Agencies Are Better?
The deeper you dive, the greater the danger. Therefore, prepare all the necessary knowledge to save your life in any bad case.
7. Danger and Risk
Even with adequate equipment and knowledge, the risks when entering the water are not always evitable.
Snorkeling is safer and simpler. The only worry is that you might accidentally get in the way of a boat or jet ski. The risk of drowning is also possible in an unstable and dangerous water environment.
In addition, if you don't wear a protective swimsuit or fully cover your body, you can also cut your hand or get scratched by rocks or other things in the water.
These risks of snorkeling may affect you somewhat, but they are not as problematic as the dangers you may encounter when scuba diving. Even if you are in safe water, bad situations can still happen if you are not skillful enough.
Equipment malfunctions or any mistakes in movements can cause accidents and mortal dangers while you are diving. Therefore, prepare yourself carefully with well-functioning equipment, diving skills and adequate knowledge.
8. Activities After Diving
Since snorkeling doesn't take too much effort, you can go back to shore and do whatever after that.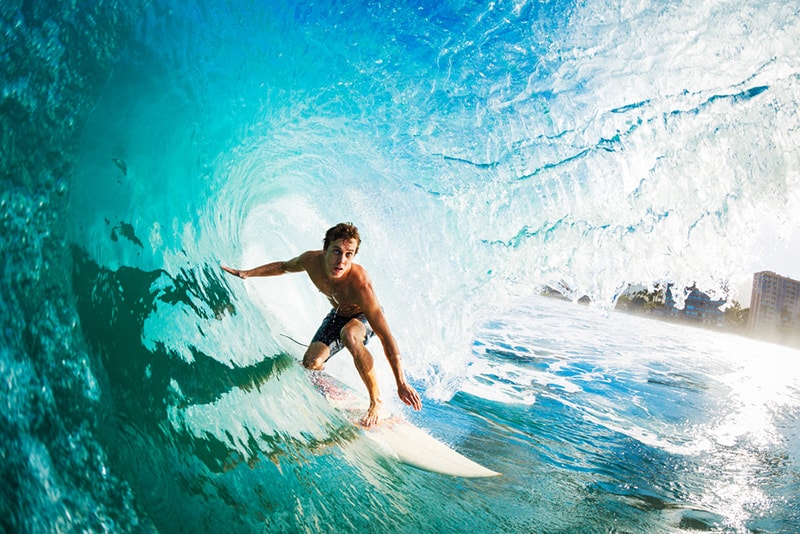 But with deep ocean diving, you need to be very careful. You must follow the health and safety regulations such as not hiking or swinging within 24 hours after diving.
Alcoholic beverages are also absolutely not recommended because they can increase the risk of causing low blood pressure. You should also stay away from intense activities.
Pros & Cons of Snorkeling and Scuba Diving
Both sports are exciting and would not cause severe dangers if you follow the given rules and instructions. However, there still exist some pros and cons that are worth considering.
1. Pros
Obviously, snorkeling is easier and less dangerous. The equipment is minimal and simple, so divers can start at any time without paying too much for training or advanced equipment.
Therefore, it allows you to explore the interesting underwater world without costly payment and time-consuming training.
With scuba diving, you also have the opportunity to admire the beautiful marine life. You can also stay underwater longer to satisfy your curiosity. Best of all, scuba diving not only keeps you entertained but also helps you make money.
2. Cons
Both of these dives can get you into some trouble, even accidents or mortal fangers. In particular, if you are not good at swimming, you will be in danger when using a snorkel.
As for scuba diving, your life is in danger if the equipment is accidentally damaged or you are not well-prepared with enough skills, knowledge, and great physical, mental health.
However, all of the above cases can be overcome if you practice regularly and follow the rules strictly.
To better understand the difference between these 2 dives, you can follow the expert in this video!
FAQs
Each diving method will give you a different experience. You can better understand these two diving methods through some of the following questions.
Should I Choose Snorkeling or Scuba Diving?
Snorkeling or scuba diving serves different purposes.
Specifically, if you are new to open water, I recommend that you start with Snorkeling. This activity will definitely help a lot in case you want to learn scuba diving later.
Conversely, if you want to experience more of the deep sea and are confident enough with that, buy yourself a set of equipment and take a course to get started.
Why Is Deep-Diving Dangerous?
The deeper you dive, the greater the pressure from the water. At the same time, psychological factors will affect your ability to handle risk.
There is also a danger of encountering many large animals that can attack you.
Learn more about how deep you can dive here.
Is It Possible to Breathe Underwater With a Snorkel?
Yes, the vent attached to the mask allows you to breathe underwater. Of course, the diver must stay close to the water surface so that the top end of the snorkel is above the water for air supply.
In case you want to go a little bit deeper, you will definitely have to hold your breath.
Is Scuba Diving Bad for Your Lungs?
Longtime deep divers may have damaged lungs. Over time, it will develop into diseases such as respiratory failure or loss of lung function.
Specifically, at a depth of less than 66m, you can suffer from oxygen toxicity or local convulsions. So, try to stay in the safe zone to avoid any possible danger.
Conclusion
Snorkeling and scuba diving are two different forms of diving, with different pros and cons. They are both worth trying to have different experiences and feelings.
As you have understood snorkeling vs. scuba diving, you may have a clear expectation and comparison. It's your turn to decide which dive suits you better. However, why not try both to double the excitement?
Don't forget to share this content with your mates and keep supporting this website if you find it useful!
Enjoy your dive!