Underwater is a unique environment where there is no air and only water. Definitely, humans can't stay there for long without enough skills and oxygen tanks.
Thanks to advanced equipment, we can now explore the natural world with ease. Many divers say that among dozens of diving equipment such as wetsuits, computers,… the BCD is an indispensable item. All divers, from amateurs to professionals, must have known about it.
Simply speaking, BCD is equipment designed to prevent you from sinking to the bottom of the sea. It also has many other applications.
Are you curious what BCD stands for in Scuba Diving? What is it used for? Let's find out in the sections below!
What Does BCD Stand For in Scuba Diving?
BCD stands for Buoyancy Control Device. It is also known as buoyancy compensator (BC), stabilizer, stab jacket, or wing.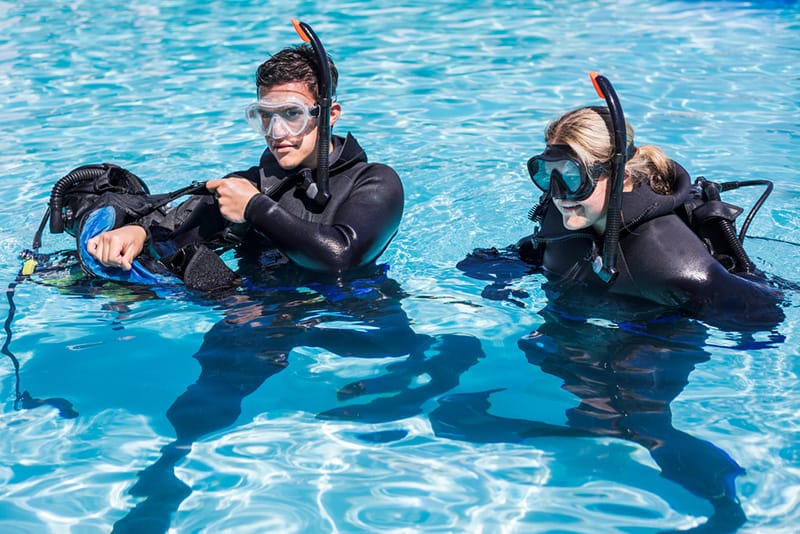 These names may sound familiar to all divers because this device plays an indispensable role in keeping underwater balance.
Just like the gravity and the air that prevent us from floating in the atmosphere, BCD has the same function underwater.
When you put on this device, you will have more control over the direction, neither not sinking too deep into the sea nor floating on the water surface.
After putting on the BCD, you must inflate the bladders of the BCD before entering the water. Interestingly, it will drive you upward if you fart underwater.
Why Do You Need BCD?
Reading through the above explanation, you may have a certain understanding of why divers need the device. But that's not all.
Keep reading to see how wonderful a BCD is in Scuba Diving!
Easy to control: Stabilizer helps you control the depth of the water, or in other words, you will not be floating like an item on the ocean floor. With that function, you can dive into the water easily and reach an intended depth or float to the surface as you want.
Safety: Control on the depth and speed is important to protect yourself as a diver, whether you are a newbie or have been diving for a long time.
Energy-saving: Besides, the BCD will support your movement. That is, you don't need to use too much force, especially when ascending. The item is very useful for divers because they have used up their energy underwater, so it is great to come up easily without much effort.
Features of BCD
BCD definitely helps divers a lot. There are several points to mention when it comes to the outstanding features that this item has to benefit us.
1. Standard Features
Standard features are the basic features that most qualified BCD should have. These are also the factors that determine the quality of a BCD.
Air or expandable bladder
The air bladder is designed to inflate or deflate the BCD according to the user's needs. If you want to go down, use it to flatten your device.
In contrast, in case you want to go up, pump in more air and you can ascend easily without spending too much effort. In addition, the bladder is flexibly used underwater to adjust the diver's stability.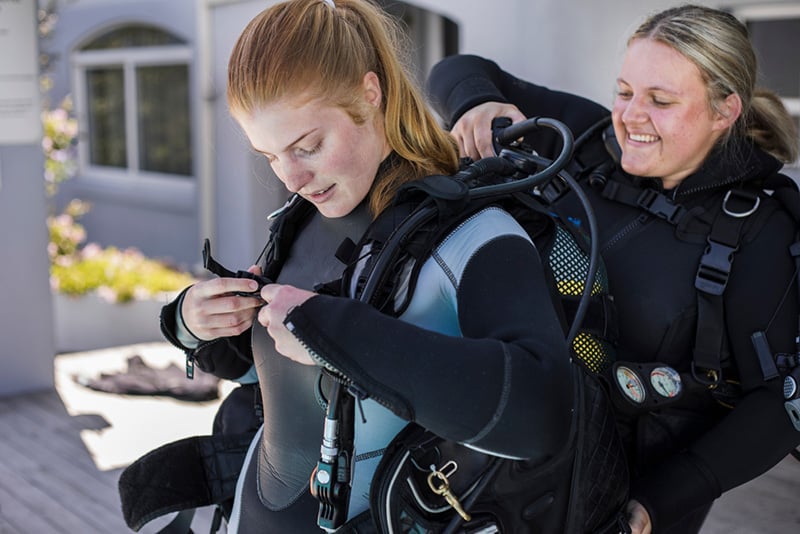 Low-pressure inflator and oral inflation mechanism
You can adjust the air to inflate or have the vest deflated easily thanks to the inflation valve connected to the oxygen tank. After the discharge is complete, the air will return to the oxygen tank through the valve.
In that way, you can preserve the amount of air throughout the process.
Check out Top 12 Best Scuba Regulators in 2023 here.
Deflator mechanism and overpressure valve
Integrated control valves go around your shoulders and waist, with the function of limiting air escape to maintain a sufficient amount of air. The vents are also positioned accordingly, both vertically and horizontally, for emptying purposes.
The straps, buckles, and buttons can be adjusted to fit the body. These parts are adjustable, so when you put the BCD on, make sure it fits snugly on your body to avoid trouble getting into the water.
Padded backplate
The deeper you go, the greater the water pressure becomes, which means that your body is tightly impacted. So, a firm pad on the back will reduce the impact of pressure on your body, helping you stay comfortable and resist potential splash.
2. Optional Features
Besides the indispensable features, there are a few other optional features to aid your diving, improve your underwater experience and safety or serve various diving performances.
Allows weight adjustment
A heavy BCD will help you go down faster, but it definitely makes the way up more challenging.
Therefore, BCD normally has a pocket specifically designed for you to put your weight bag in when descending. When going up, you just need to take it out.
If your BCD has this feature, be aware of storing the weight adjuster somewhere else while cleaning to prevent it from falling on your feet.
D-ring
You can take your GoPro camera, mobile phone, dive light, and other useful small items with you by putting them into a waterproof pouch and attaching it to the D-ring.
Handbag
If your BCD features a handbag, you can utilize it to store small diving equipment or bring some items you need.
Of course, you should bring only the essentials and avoid bulky items so that you can enjoy the diving hassle-freely and handle the underwater situation more flexibly.
How Does BCD Work?
To take control of buoyancy, you must know how to use BCD diving equipment. It is mostly impossible for you to go diving in open water areas without mastering this device.
How to use BCD is not too difficult if you understand how it works. Simply speaking, it operates based on the basic principle – more air, more buoyancy. Therefore, make sure to have less air when descending and more air when ascending.
You can wear the device on your back like a life jacket, thanks to the connection to the accumulator. The Stab Jacket has an air tank contact to add air directly to the BCD of the snorkel using the air blower valve.
When you get into the water, you need to make yourself less buoyant by releasing the air little by little. Slowly release until you are in the desired position.
If you pump in too quickly, the float will become unstable, leading to you deviating from the original plan. This is very dangerous for your life. So please control the amount of oxygen well for each pump.
Besides, you also need to control the decompression process, so a stable speed is necessary and safe.
If the descriptions above still make you wonder, check out some expert explanations in the video below:
BCD Classification
The most commonly used BCD is found in the form of a jacket, vest or back/wing style.
1. Jacket or Vest BCD
This style is common for certified scuba divers. Usually, it is used for diving in warm waters.
These are shaped like drybags so they 'wrap' the divers from back to front. The largest parts will be located under the arms and along the side trunk.
You can float vertically on small surfaces using the jacket style.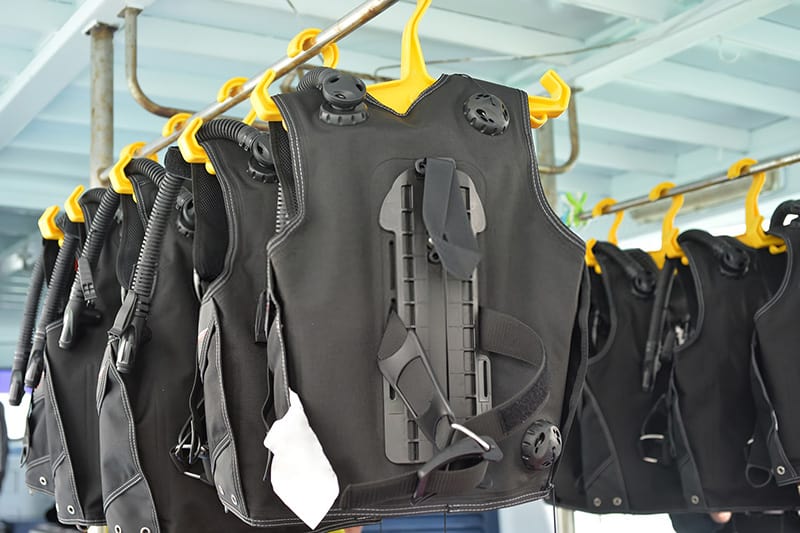 Most divers are very pleased with these types of BCDs since they feel comfortable with the bag and its lightweight. However, some people find the teeth slightly compressed in the chest when the air is inflated, and the movement may be limited.
Check out some Best Lightweight Travel BCDs in 2023 here.
2. Back or Winged Model
This BCD model has air located on the back of the diver and the sides of the tank.
The advantage of this is the untangled front part which is easier for free movements. At the same time, the lifting power it supports when ascending is also greater than other types
Because it can be modular, divers may adjust by changing the rear air center according to their preference and convenience.
Technicians will often choose this BCD series because they have more weight. In addition, this style is also convenient for the diver to go horizontally thanks to the bladders behind. However, it normally does not have a pocket to put small diving gear nor adjust the weight.
FAQs
BCD is always a must-know topic for newbie divers, and there are many queries about this item. So, some of the following answers will help you have a deeper understanding.
Who Invented the BCD?
Edmond Halley – an astronomer who created the BCD, believes that modern humans will see what he has seen in the ocean thanks to diving with rudimentary instruments.
Can You Dive Without a BCD?
You can't seem to dive without BCD support. Without buoyancy aids, you will sink or be unable to stabilize in the water. Many good and professional divers have dived and do not use a BCD, but they still have to bring support airbags.
How Long Should a BCD Last?
If you maintain and repair it periodically, usually once a year, a BCD can be submerged for 8 years, equivalent to 4000 times of use.
Therefore, when buying BCD, you should invest in a reliable brand and quality equipment to have a safe experience.
What Is BCD Size?
Similar to the clothing, BCD normally has 5 sizes, ranging from Small to XX-Large.
| | | | |
| --- | --- | --- | --- |
| Size | Weight (kg) | Height (m) | Waist (cm) |
| S | 54 – 66 | 1,55 – 1,65 | 71 – 91 |
| M | 64 – 79 | 1,65 – 1,77 | 83 – 101 |
| L | 77 – 95 | 1,77 – 1,86 | 91 – 112 |
| XL | 93 – 109 | 1,79 – 1,89 | 101 – 121 |
| 2XL | 106 – 122 | 1,79 – 1,89 | 112 – 132 |
Conclusion
What Does BCD Stand for in Scuba Diving? Have you got your answer already? Hopefully, the above sharing helps you better understand BCD and its importance in Scuba Dive.
From there, you will be motivated to learn and use this tool more seriously to enjoy a safe diving experience.
Please share if you like my explanation about this useful device!
Of course, don't forget to follow and support my other content if you find it helpful!
Thanks for Reading!