When watching the divers begin their journey, many people could not help but be bewildered. They thought there would be some kind of acrobatics or jumping into the water that would create unceasing wows.
However, what they witnessed was just a fall back into the water. So, why do scuba divers dive backwards?
To explain this, many people have mentioned the saying "divers roll backward so as not to hit the boat." Although it is just a joke from a funny story, it greatly impacts people. However, that's not the only thing that makes divers choose reverse diving.
What Is the Backward Roll?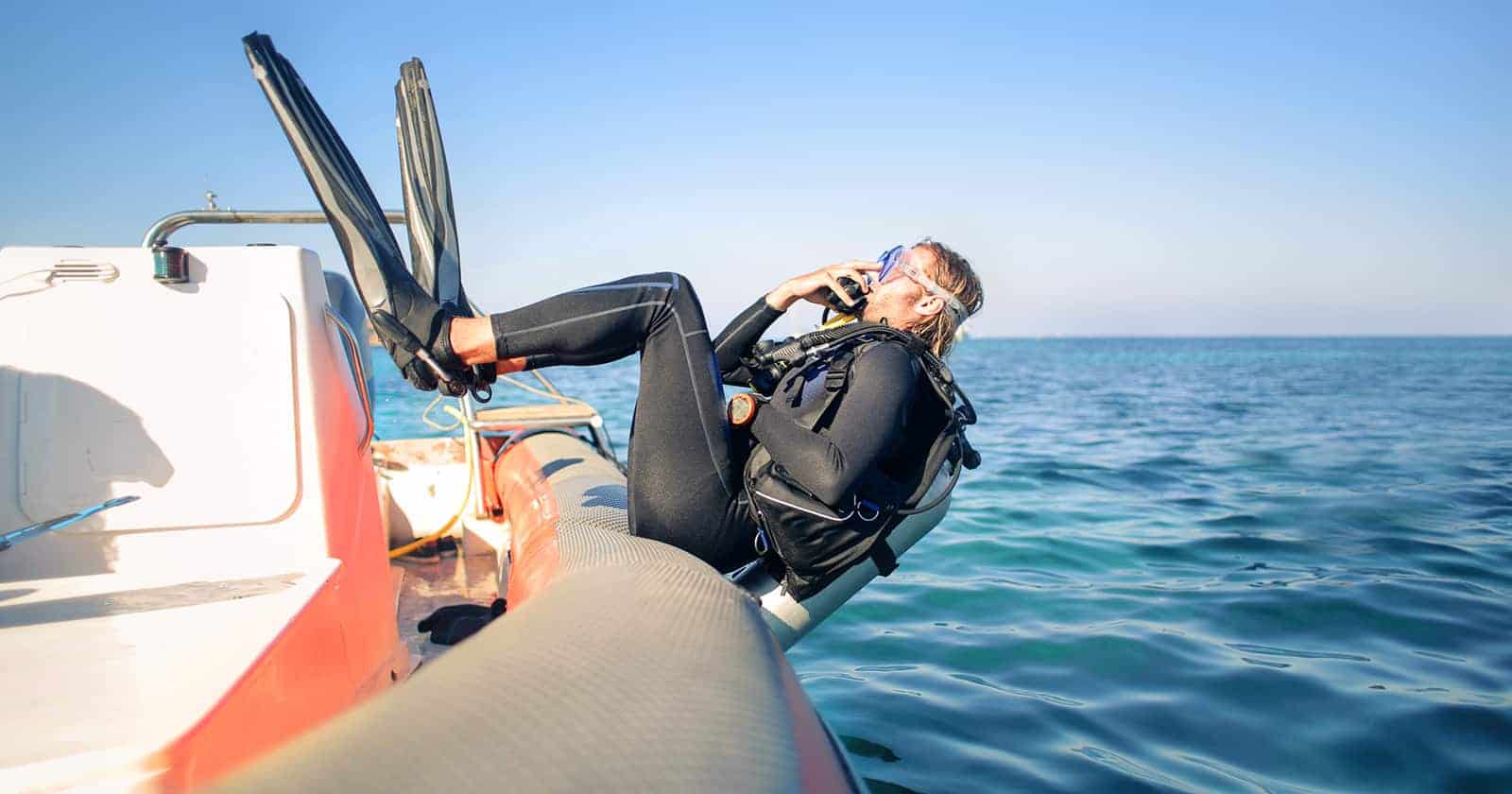 Backward roll is a method used by divers to enter the water with their diving equipment safely. You will see the diver with his back to the water and slowly leaning back to let him fall into the water.
It looks like a joke, but to do it right, you also need to use some techniques and practice repeatedly.
Why Do Scuba Divers Dive Backwards?
Many people wonder what the advantage of this method of landing compared to other diving methods is?
I suggest some of the following benefits that will help you better understand your driver's choice.
1. Reduce Gravity
To dive deeper and longer, you have to rely on a lot of driving aids. All of these items are quite heavy and bulky.
In particular, the compressed air tank or cylinder will usually be located on the back so that this position will be more serious than other places.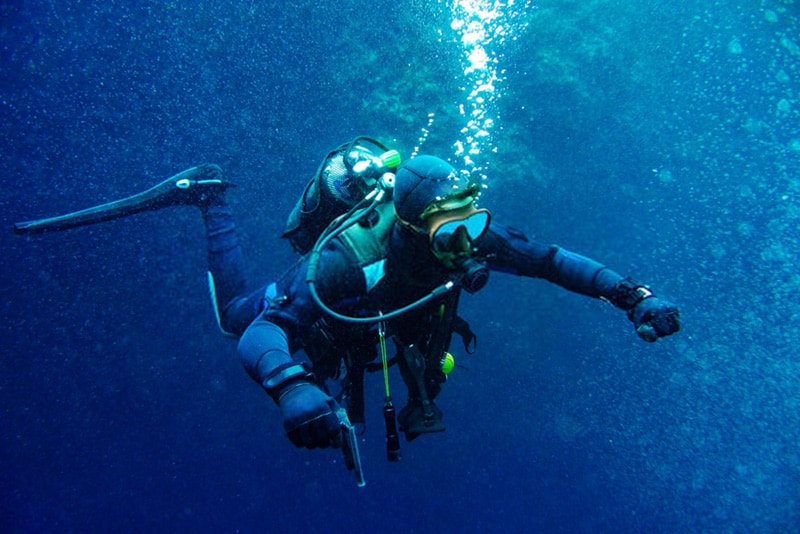 Therefore, according to the principle of nature, you will tend to fall backward. So it was easier to fall back out of the boat and into the water. This is a natural inclination, and you don't need a lot of energy or technical skills.
2. Limit the Impact of Water
When using this method, the compressor or cylinder will contact the water first and break the water. This creates space for you to fall more smoothly and with less pain.
Moreover, lowering your back also helps you preserve fragile items like glass masks. That way, your face is also protected.
If you fall forward, not only is your face at risk of injury, but the regulator is also more likely to slip out of your mouth. And, of course, losing the regulator underwater will put you in danger because of the lack of oxygen to breathe.
Learn more about How Dangerous Is Scuba Diving here!
3. Boat Size
One of the reasons why divers choose to dive backward is because they are on a boat that is too small. The size of this boat is not enough for them to stand up to the equipment and jump off.
Right now, what is more convenient and easier to implement than backward roll?
With these small boats, the bulky machinery is very difficult, so you must handle it skillfully.
All you need to do is sit on the ship's edge and bring all the equipment you have prepared. Then, signal to the boatman to move forward and lean back.
If a boat is full of people, it is difficult for you to move around with dozens of things you are carrying. Think about it; if you don't bump into one person, you will also bump into the other, which is very annoying and affects others.
Thus, if you are already sitting with the device, there is no reason to prevent you from rolling into the water. Not only is it safe, but it's also a lot easier than having to find a nice spot to jump off.
You will spend a lot of energy in the water. So, while on the shore, do everything to preserve your strength and spirit for the upcoming exciting adventure.
You can also see the reasons why divers choose to dive backward in this video:
How to Do a Backward Roll?
You should keep in mind that it's not always possible to dive backward to begin your ocean exploration.
Since the back will be the first to hit the water, only perform this dive with scuba BCDs when the side of the boat is less than 3 to 4 feet above sea level.
After falling into the water, it will be better for you to keep doing somersaults for a few more rounds. Do somersaults in the water and make sure your headlands last instead of your back.
To have a quality start, you need to pay attention to the following steps:
1. Wear Adequate and Correct Diving Equipment
Remember that diving backward will get you off to a good start, but you won't be able to go very far without your diving gear. So first, check all the widgets and make sure they are in good working order.
Check the batteries of diving computers and other related machines, then you bring them to the correct location and convenient to help you. Once you have trusted everything, sit on the top of the gun and face the water to prepare for the next operation.
2. Put Your Hands in the Right Position
After examining the area behind your back, use your right hand to pass through the adjuster to stabilize it with your neck arm and your fingers to stabilize the mask.
Put the other hand in any convenient position. Of course, don't forget to keep the cover; fix the simple hand strap.
3. Start the Journey
When everything is ready, you will begin to fall into the water. Tuck your chin toward your chest and let yourself fall into the water in a backward roll. After the acrobatics, let yourself stabilize and then give the crew a good signal.
Everything is very simple, and you just need to practice hard to have a well-planned and minimal water landing. This is also a very simple and safe method to get into the water.
Other Diving Methods Can Replace the Backward Roll
Dive backward is great, but it's not the only method with these advantages. Some people will be a little shocked if they have to do a few turns, and you can choose some other methods instead.
Many different methods can replace the backward roll, but the following two methods are the most popular and well-known.
1. The Giant Stride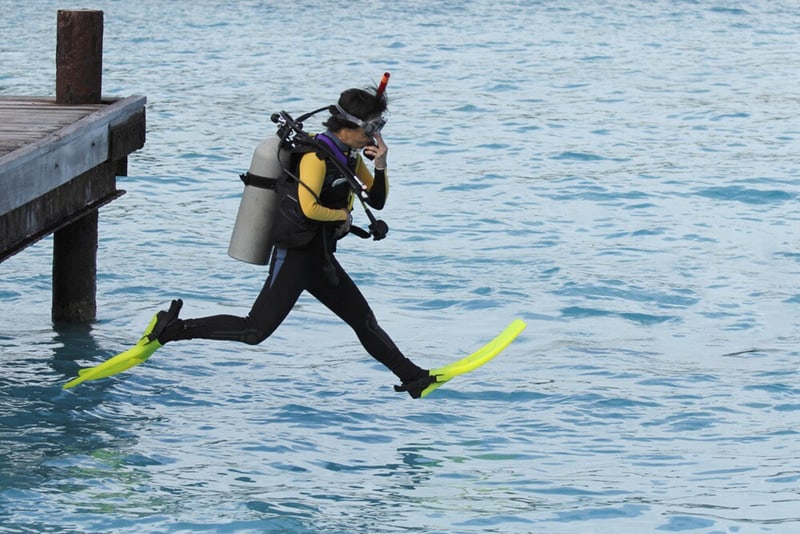 People who have the advantage of doing this method are standing in stable places and not being swayed by water. Some ideal locations are the pier, by the pool, or diving boats in deep, clear water.
Before striding, you should inflate the BCD halfway so that it will not sink to the bottom when it falls into the water.
Then, similar to backward roll, you put one hand over the controller, hold the mask, and check around, including the device and the water.
Next, step out far enough to accelerate and make sure your gear doesn't hit the side of the boat. Once you have made sure everything is as calculated, you take your first step.
Don't get too stressed and nervous! Note that a jump is not necessary in this case. All you need to do is simply take the biggest step possible. Just one step, you will hit the water.
2. The Seated Entry
With a seated entry, your falling into the water is also not complicated. At first glance, this method looks like you're playing with water. It doesn't require any super technical skills, and you won't have much trouble getting it right.
You find a platform location close to the water. Then, put on all the prepared equipment and sit down; your feet will be in the water like the way girls do with water.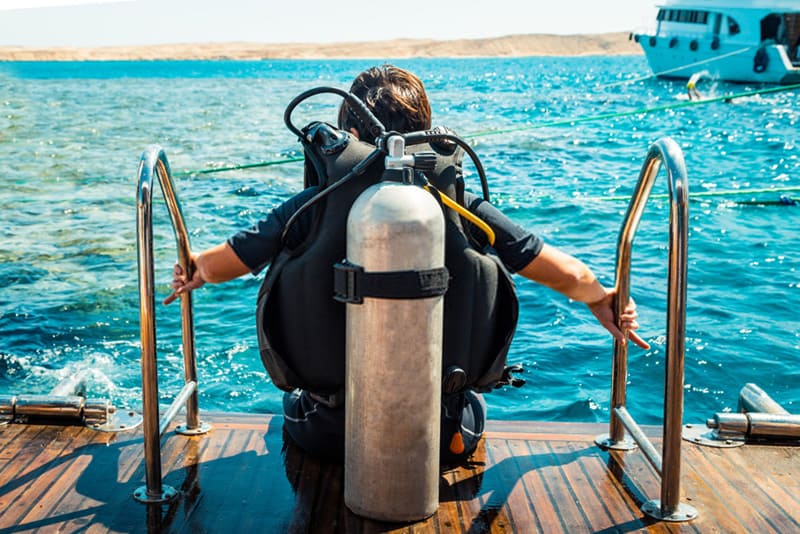 Then, look around the water to make sure it's a calm, unobstructed area and check your diving gear.
Now it's time for you to get into the water with this method. Raise your body over the edge of the boat with both hands and rotate to let your face approach the boat.
However, make sure that the diving equipment carried on your back does not go over the side of the ship before entering the water.
Similar to other dives, you must make sure to keep your diving mask on when you hit the water. This method can overcome the limitation of giant stride because you can use it even in unstable areas.
Conclusion
Surely the above sharing has helped you answer the question, "Why do scuba divers dive backwards? If you are a beginner at this subject, you should try this method. You will find it much easier to start your diving journey.
Last but not least, leave a comment if you have any questions, and I'm ready to answer if possible. Don't forget to share for those new to this subject, which may be useful to them!
Thanks for reading!